A bow is one of the most important pieces of equipment that any violist should possess aside from the instrument itself. Whereas many professionals will often have multiple violas that they use, most will have just one bow, or a definite favorite bow that they use most often, just like a singer to have a customized microphone wherever he/she performs, it is THAT important! And you definitely need a good viola bow!
Hence, it is necessary to do some research and compare different options (try some if possible) before you purchasing one . As a beginner, a good bow can help you quickly enjoy the pleasure of viola playing and take you to the next level.
Before we take a look at the top bow options available in the market, let's first understand the basic elements when choosing a viola bow, it will help you understand what bow suits you and save you some unnecessary spending, as a beginner, you do not want to skip this part.
1. Materials
Knowing the materials will help you to choose the right bow for your level, and it will make the online purchase really easy, as there are some standards here that you can ask for.Students and beginners mostly use bows made of Brazilwood or synthetic materials.
Brazilwood is a generic name given to several kinds of tropical hardwoods used for inexpensive bows. It comes from Brazil as well as other tropical countries.
Synthetic materials from the other hand, are fibreglass or composites, resistant to any change of temperature or any kind of carelessness of an amateur.
Pernambuco is known as the best wood for bows — whether violin, viola or cello! It's a dense, heavy wood that comes from several areas in Brazil and seems to possess just the right combination of strength, elasticity, and responsiveness.
Carbon fiber is a material -of the same quality as pernambuco- that is preferred in the making of viola bows in the last ten years, as it doesn't bend out of shape during the changes of temperature or humidity.
2. Shape
Bows come only as round (French makers stick to that shape) or octagonal. It is said that round bows allow a better control, and octagonal offer a harder, stronger tone and sound. But, the technique of every musician plays such a roll, that we can't conclude to a clear decision. So, many commercial-bow makers take advantage of that, by producing round and octagonal versions of the same bow, putting a higher price on octagonal ones and feeding that way the rumors that want octagonal bows to be better.
3. Weight And Balance
It is more important for the balance of the bow, to have some more grams weighted at the frog, rather than the tip. Then, if the bow feels balanced in your hand, this is it. As an advanced music player, you already have the experience to understand it. But if you are an amateur, I recommend you to just follow the rule of 70 grams weight (a violin bow is 60 grams; a cello bow 80 grams) ). Stay to that standard, or risk to follow your instinct, though as a beginner musician it would be better to have your teacher near you, as an adviser.
Don't forget to hold the stick in front of one eye and see if it is well levelled, from frog to tip, without any bending or twisting.
4. Size
This may sound dumb, but many newbies do not have the correct sized bow, we've seen many youngsters using a 4/4 bow on 3/4 or even 1/2 viola, some do this due to lacking of knowledge, but many others do so to save the money and hassle of switching bows, which is highly unadvisable.One should , always make sure that the size of your viola corresponds to the size of your viola.
Now, let's get take a look at the 10 best beginner viola bows in the market: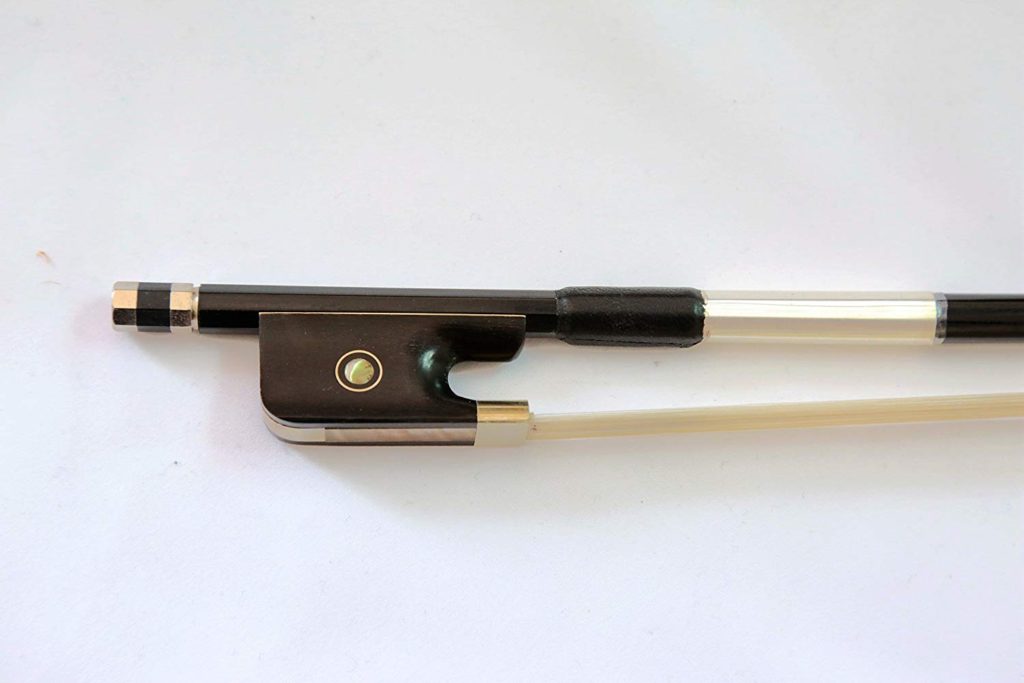 The Vio Music Top Carbon Fiber Viola Bow is constructed with the top carbon fiber material to ensure strength and competence. It is comprised of a natural Mongolian horse hair, an ebony frog, and a Parisian eye, providing maximum efficiency when utilized. The viola bow is designed to be well-balanced and lightweight, and its workmanship is topnotch as well. It creates a full, resonant sound a great spiccato. Overall, such bow is excellent for the money.
The beginning student may find the bow to be a bit heavy, but the heavier weight makes it suitable for strong attacks and a good quality sound. With enough playing, this bow will begin to feel like an extension of your hand
---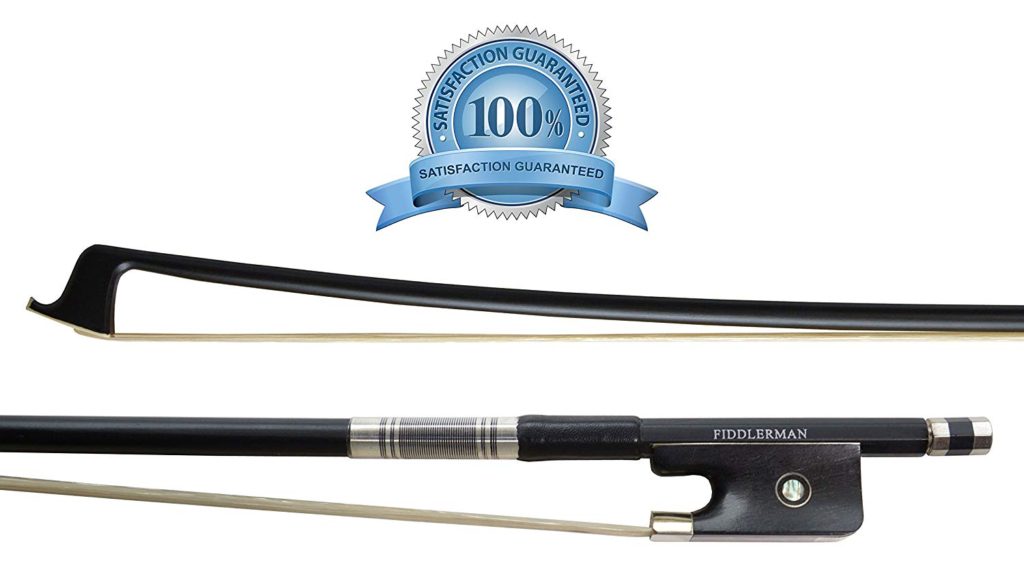 This handcrafted viola bow uses unbleached quality Siberian horsehair. It is resilient, and it offers excellent quality. Just like other intermediate viola bows, this is also a carbon fiber bow manufactured to replicate the weight and curve of the more expensive Pernambuco wood bow. It also features a nicely decorated copper mounted ebony frog and a nice arch with good bounce and action, which makes it easy to control.
The copper mountings are less commonly found in a bow, and they give the bow a slightly inferior appearance to nickel-plating. This is a good upgrade from a beginning bow, but it might now offer the quality level expected or a professional.
---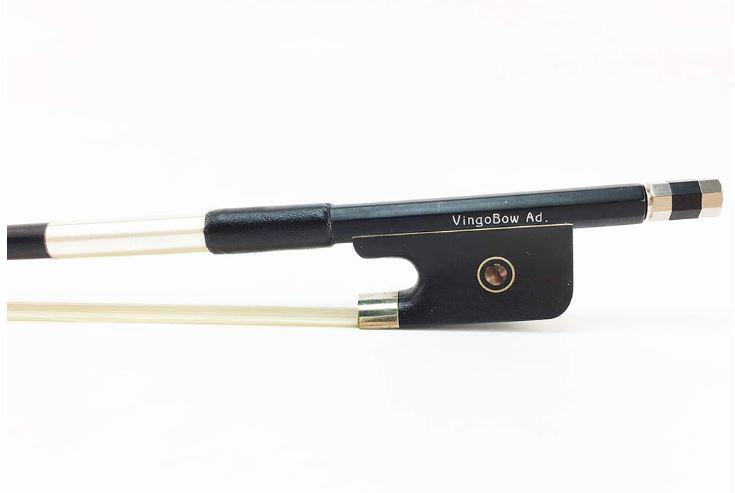 The bow is made of good-quality carbon fiber stick. It's stronger, lighter and more stable than wooden bows. Very suitable as a backup bow or practice bow. VingoBow uses unbleached Mongolia horsehair, which will offer you sweet sound. Black ebony frog shows natural wood grain,and is decorated with classical Parisian eyes.
This model is fully mounted with nickel silver. Genuine leather grip, elegant nickel silver thread winding. All parts are fitted by a same experienced maker from the start to finish. It has a great balance and will provide you pleasant play experience.
---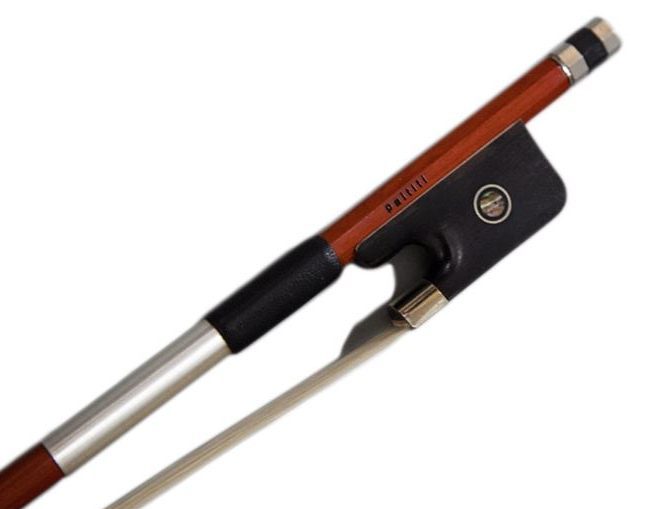 Paititi is a fairly new brand but they really know how to make great bows! This bow is brand new luxurious A grade Pernambuco viola bow with abalone inlays, it has hand carved round stick, double pearl eye, genuine unbleached Mongolian horsehair. It is lightweight, and well-balanced, it has a elegant silver-metal/plastic wrap and leather bow grip which looks very neat. The bow has good stiffness, good control and response, guaranteed to product a bright sound and soft on fingers.
What is better is this bow comes with a very nice high density card board bow case, which helps you protect the bow in transit, it really helps if you do not have spare place in your violin case to carry the bow, so totally worry free!
---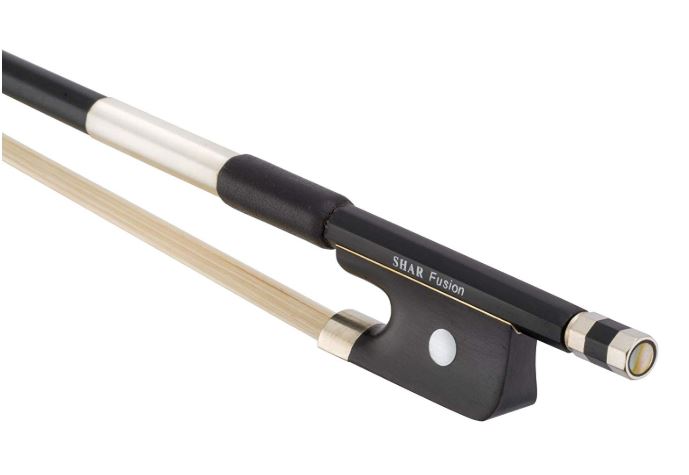 The Shar Fusion Carbon Composite Viola Bow is made up of a high technology composite of fiberglass and carbon fiber. Durable yet highly efficient, the bow is ideal for active young students and their budget-conscious parents, the Shar Fusion performs like much more expensive wood or carbon fiber bows. Professional musicians could also use it during performances.
Moreover, the bow is perfect for budget-conscious viola players. Such viola bow possesses more weight than a standard violin bow, ensuring a reliable equipment for your instruments.
---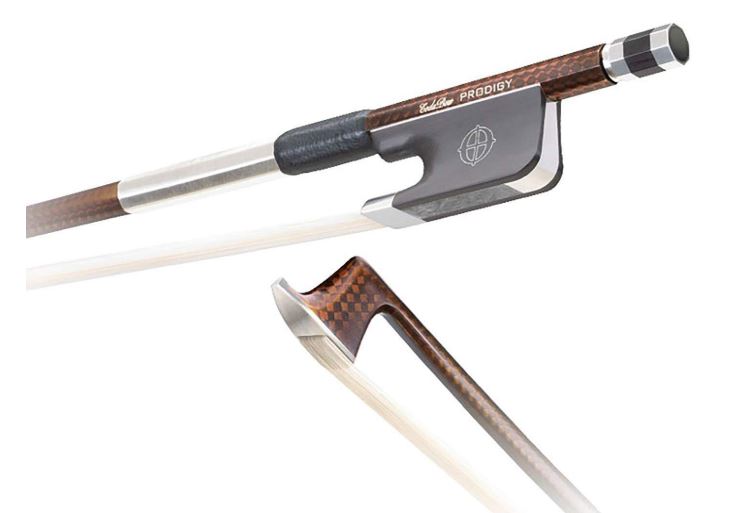 A good choice for serious players, the CodaBow Prodigy is weighted for stability. As a result, students find the Prodigy easier to control and quickly gain confidence in their playing. Also, parents and teachers hear fewer squeaks and squawks! A vast improvement over comparably priced wooden bows, which tend to present the young player with mechanical difficulties – i.e. warp, twist, uneven camber, over-flexibility – the Prodigy is stiff, straight, meticulously crafted, and easy to play.
This bow is a little costly but those that have purchased it have said it is worth the cost. The dynamically balanced shaft offers off-string agility commonaly reserved for high-performance bows while also providing the on-string forgiveness and comfort desired by young players.
---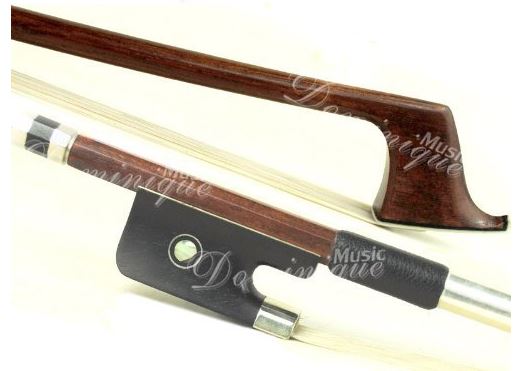 D Z Strad is one of the favorite wooded viola bows with an excellent playability and a quick response. This model 600 viola bow is made of pernambuco wood, is is fully silver-lined, round stick with ebony frog and Parison eye inline. The bow equipped with genuine white, unbleached, Mongolian Grade AAA Horse hair.
The new generation of Model 600 D Z Strad bows is taking the next step to improve the playing and the sound of your instruments. They are completely handmade. The workmanship let it stand out from anything else in its price range. This viola bow boasts exceptional performance for intermediate to advanced players.
---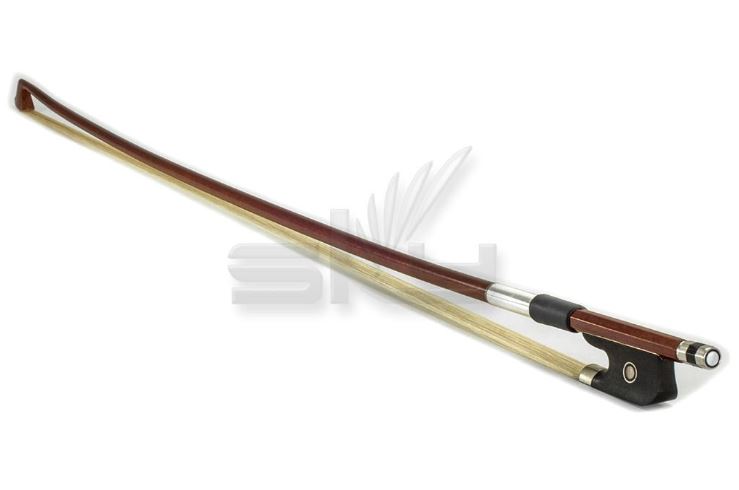 This student level viola bow comes in different sizes and styles to let you choose one that matches your needs. Like most beginner viola bows, Sky viola bow is designed from Brazil wood and genuine horse hair. It has a comfortable grip, elegant finish, and it has a decent weight balance.
This bow is very affordable compare with others we have mentioned before, but still possess the characteristics one would be looking for in a good bow, straight, well-balanced, good stiffness, strong and comfortable. If you just need a cheap replacement bow that does not suck, you should get this one.
Read More: TIPS on How to Care and Maintain a Bow