Ukulele Size Guide
Ukuleles come in four primary sizes. From smallest to largest, they are soprano, concert, tenor, and baritone. Each varies in size and tonal range.
Soprano, concert, and tenor ukes are all tuned the same way: G-C-E-A. This is known as standard tuning, which means that if you learn to play on a soprano ukulele, you will also be able to play a concert or tenor.​ The baritone is the biggest of the four types and produces the same sound as the last four strings on an acoustic guitar. Baritone Ukulele is tuned D-G-B-E. This is exactly like the four highest-pitched strings of a guitar.
This picture below will give you a better idea of how these ukuleles look like, for detailed information of which ukulele suit you better, please refer to this article — Types Of Ukulele: A Complete Overview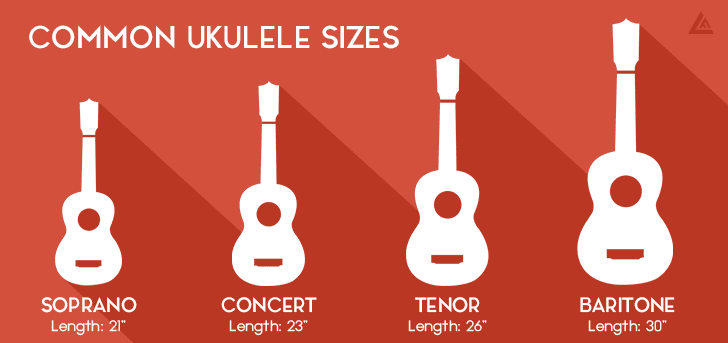 BLANK
Top Brands
Kala
Kala is one of the oldest beginner ukulele brands, and they've managed to greatly expand their product line over the years without compromising quality. Prices range from very low to high, depending on a variety of features. Overall, Kala ukuleles sound fantastic, offer reliable performance, and look beautiful.
Cordoba
A company that's very well known for its high-quality classical guitars, Cordoba also offers a wide selection of ukuleles, with a focus on entry-level and medium-range players. Cordoba ukuleles are very well-built, and it's not at all surprising that they are made with good-quality tone wood.
Oscar Schmidt
You might recognize this name as a well-known guitar maker, what you may not know is they also make topnotch ukuleles with consistent great looks, outstanding quality and fantastic sound. Like many other manufacturers, Oscar Schmidt ukuleles come in different size, shape, material and finish.
Luna
Luna Guitars was co-founded by Yvonne de Villiers, who was an accomplished stained-glass artist. Luna offers a variety of artfully crafted instruments, many with tribal and tattoo-inspired artwork. Prices range from very low to several hundred dollars, and there are many body styles available, including a fantastic uke banjolele!
Martin
While these days Martin is mostly known for their high-quality acoustic guitars, the company has a rich history of uke-building that goes all the way back to 1917. While prices are quite a bit higher than some other ukulele manufacturers, these instruments are top-notch and with proper care, they will last a lifetime.
Lanikai​
Lanikai was founded in 2000 and is distributed by Hohner, a company well known for producing quality folk instruments. Lanikai is a popular brand for ukulele players and is one of the best ukelele brands because they offer a wide range of both entry level and high end models at a reasonable price point.
Donner
Donner manufacturers high-quality ukuleles and sells them direct at prices that are tough to beat. Donner's ukes are simple but well built. They have tight, clean craftsmanship and play very well right out of the box. Most of Donner's ukes come in a package that includes a gig bag, tuner, extra strings, strap, and picks.
BLANK
Top Soprano Ukuleles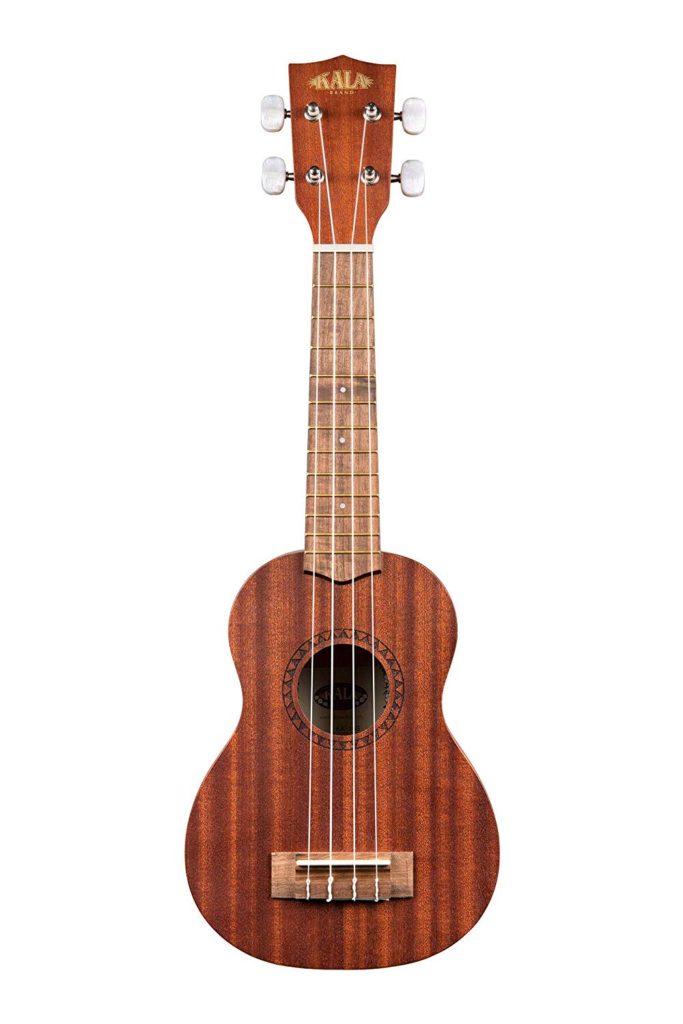 Kala KA-15S is perhaps one of the most popular Kala products for beginners. KA-15S has a traditional mahogany body and neck, which delivers a bright and lively sound without focusing too much on either end of the tonal spectrum. You can enjoy a warm, smooth, but powerful tone, and enough volume to perform in a group at the picnic or garden. This ukulele's satin finish and geared tuners provide an antique, and well-played feeling. You can always feel that your ukulele is well cooperating with you to stay in tune. KA-15S was made of Rosewood fingerboard and bridge which is durable, strong, and aesthetic.
If you are a guitar expert, you would see that this product is really an excellent ukulele for beginners because of its deep shade of brown wood with a dark black grain running through, and the visible wood pores. Moreover, the fretwork is much better than $400 guitars.
---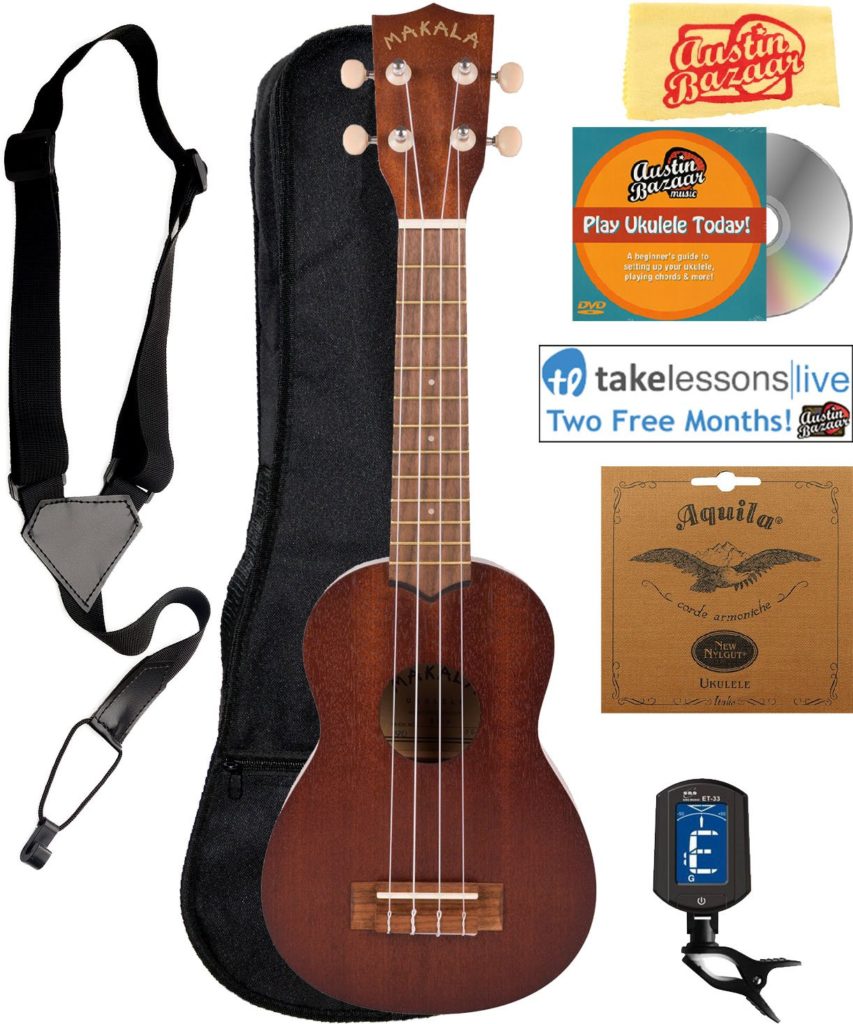 Another soprano ukulele was introduced from the Kala brand for ukulele beginners is Kala MK-S Makala. This produce set brings to buyers a MK-S ukulele, a gig bag, digital clip-on tuner, an instructional DVD, and a polishing cloth. Everything you need to start playing is all-in-one. Instead of spending money many times on buying ukulele accessories, you will just need to order a bundle which involves all necessary stuff.
This ukulele is considered as an excellent ukulele not only for beginners, but also intermediate players. Highlighted features of this ukulele are mahogany neck, which produces a focused sound, Agathis body, and rosewood fretboard. The polishing cloth is well-made though it is a little bit small for the ukulele. The gig bag is also nicely designed.
---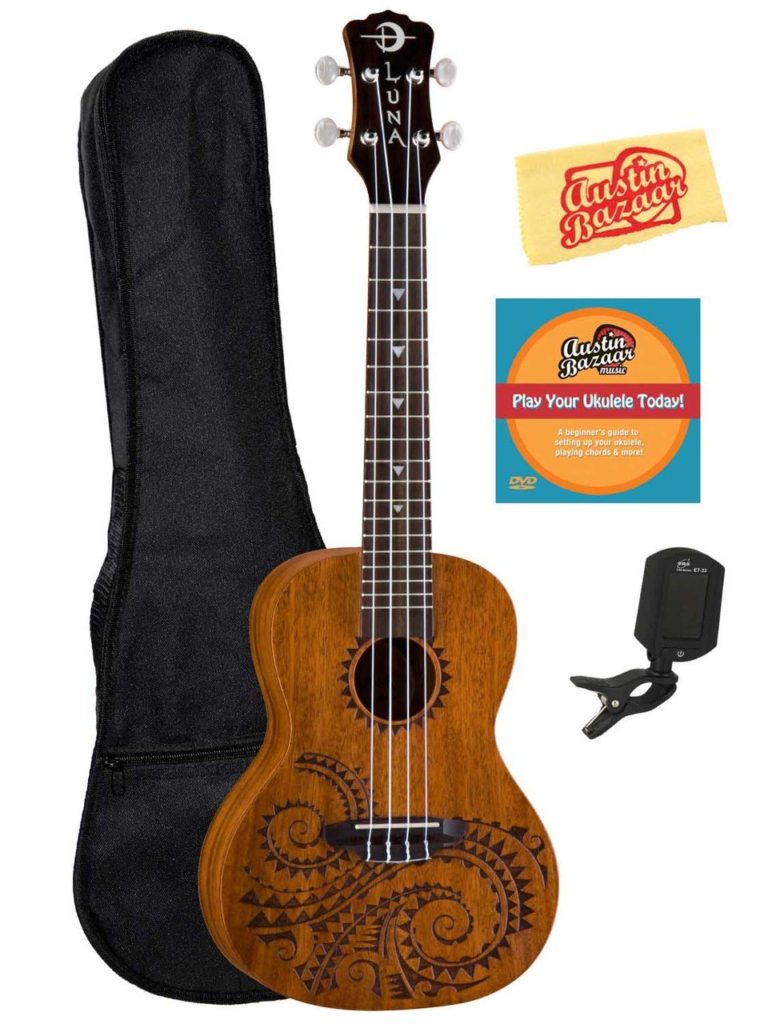 Among various ukulele brands, Luna introduces a concert ukulele which has become a popularity in the ukulele market, called Luna Tattoo Mahogany Soprano Ukulele Bundle. At the top of the ukulele, there is the laser etched design which makes it look more beautiful and special compared to other ukulele types. It can be a tattoo, flowers, peace sign, or turtle. Not only the look, but the sound is also incredibly great. The ukulele is durable with laminate wood and a mahogany outer veneer.
When you look closer to the top back and sides, they are quite plain. The finish is in satin and the edges are unbound. The tune is well stayed which you won't have to tune it often or change the strings. Some people reviewed that it had few defects about the color which somehow is drippy looking.
---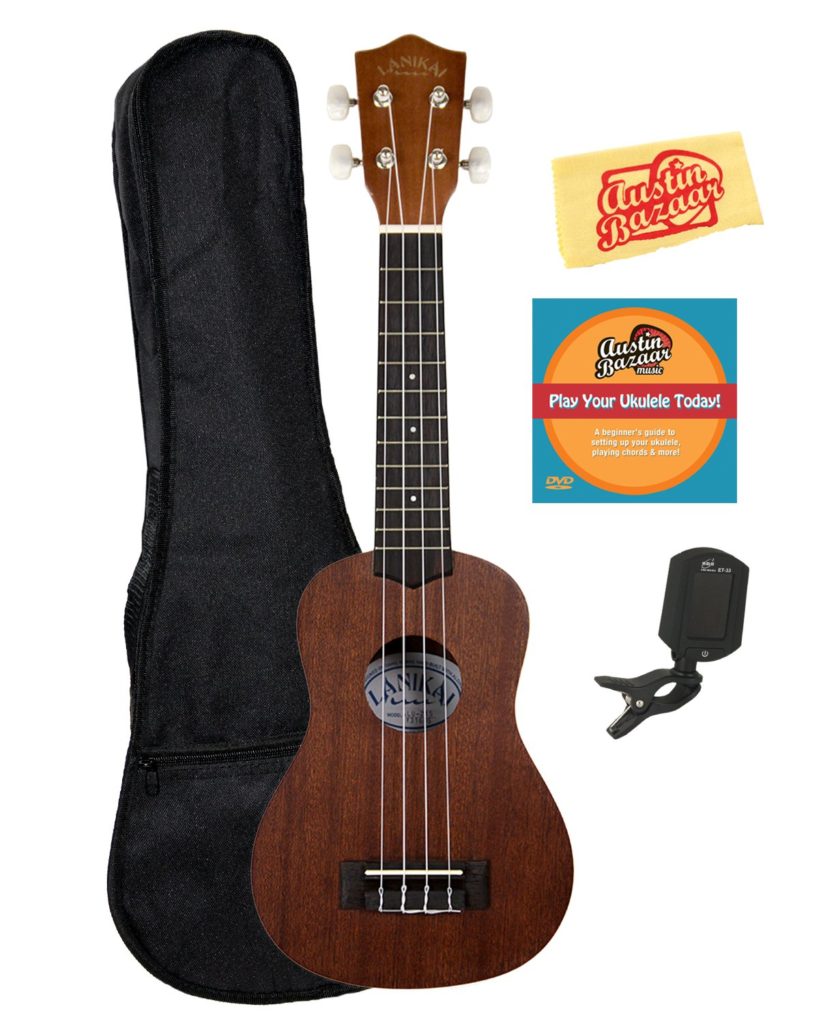 Here is a perfect example of a great beginner friendly ukulele. It is soprano size model from Lanikai, one of the best rated ukulele manufacturers, and if you are searching for a great soprano ukulele for a beginner then this is probably the one for you. This is probably the best soprano sized ukulele at this price range so it is great for those who wish to learn this noble instrument. But you should always make sure that the size is right for you since this is the smallest type of ukulele.
It comes as a bundle with gig bag included, DVD for learning, tuner for tuning (along with the batteries), the ukulele is pre-strung and you will also get a polishing cloth. Basically, if you are a beginner and you want to buy it all at once at a decent price you should check out this bundle. And now let us talk about the ukulele model itself.
---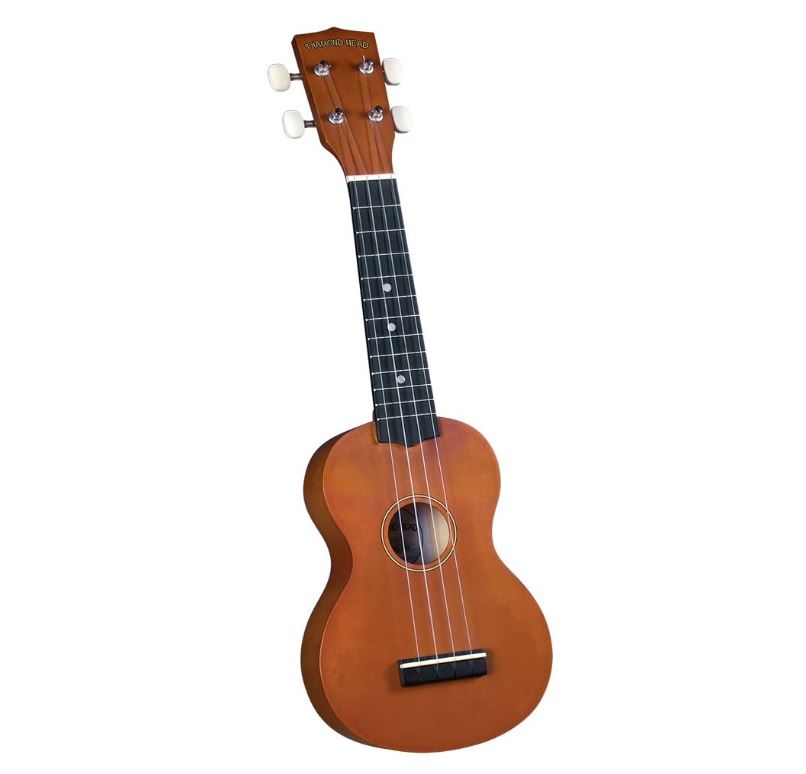 Diamond Head's DU-150 Ukulele is a traditionally-shaped mahogany soprano ukulele. It's essentially a budget instrument that most beginners would love for its affordable price, but that shouldn't give you the wrong impression. It's capable enough of satisfying the needs of more seasoned musicians.
This ukulele features a durable maple body, a maple neck, and a beautiful white hardware set. The high-gloss finish makes it look ravishing, but it also makes it quite sturdy. The special geared guitar tuners are also a part of Diamond Head's DU-150 design, and they make sure that this ukulele remains in tune at all times.
BLANK
Top Concert Ukuleles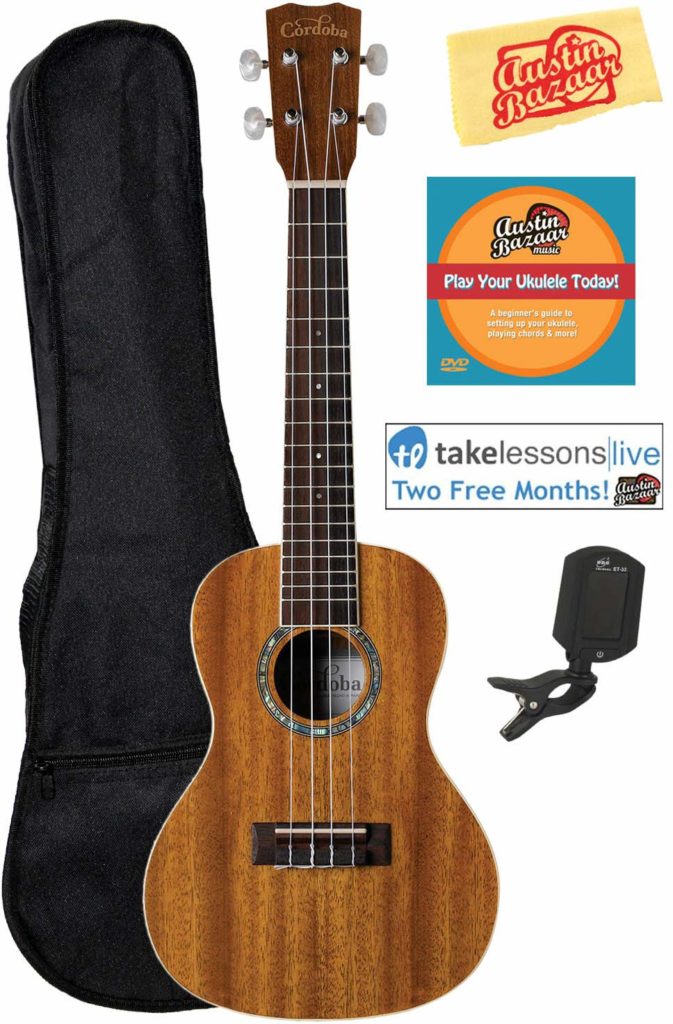 Cordoba has been making ukuleles since 1997 and they have developed a strong reputation as makers of quality instruments that sound great. The Cordoba 15CM is one of their most popular models due to its solid construction, great sound, and traditional appearance.
Featuring a mahogany body, the 15CM sits at a perfect size and produces a rich, full sound. Its abalone-style rosette and ivoroid fingerboard binding makes it one of a kind. But, it's not all about sound, too. The 15CM displays silver tuners with pearl buttons and premium Aquila strings, completed by a satin finish.
---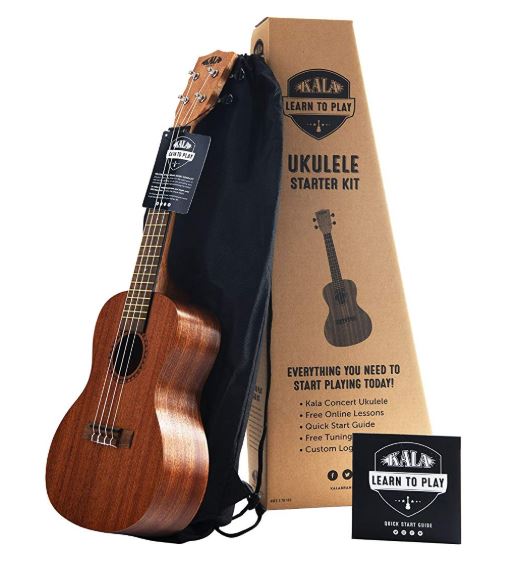 Kala has an outstanding reputation for crafting fine ukuleles, and we were suitably impressed with this one. Its mahogany body and neck are finished in a warm, reddish brown tone, with a rosewood fingerboard and bridge that offer a bit of contrast. The satin finish is a nice touch. The fretwork is excellent, with brass frets that are well-finished and properly seated.
The Kala KA-MK-C Makala offers a classic "ukulele" sound that is resonant, dynamic, and beautifully harmonic, with single notes that sing out well and chords that project perfectly.
---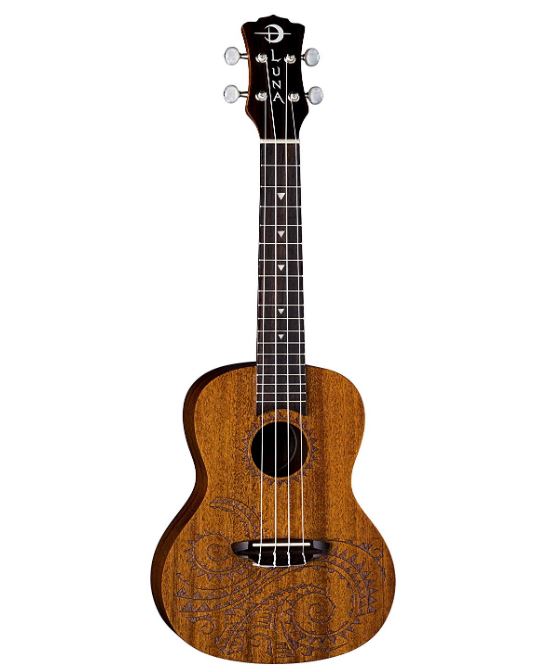 A distinctive finish makes the Luna Mahogany Series Tattoo Concert ukulele stand out. Designed with inspiration from traditional Hawaiian body ornamentation, it incorporates symbols that represent the honu, or Hawaiian turtle.
The "heart song" rosette and stylized sharks teeth fret markers add even more distinction to this lovely instrument.Thanks to a solid spruce top, plus mahogany sides, back, and neck, this ukulele offers a rich, pure sound that easily fills a room more than a standard Soprano ukulele.
---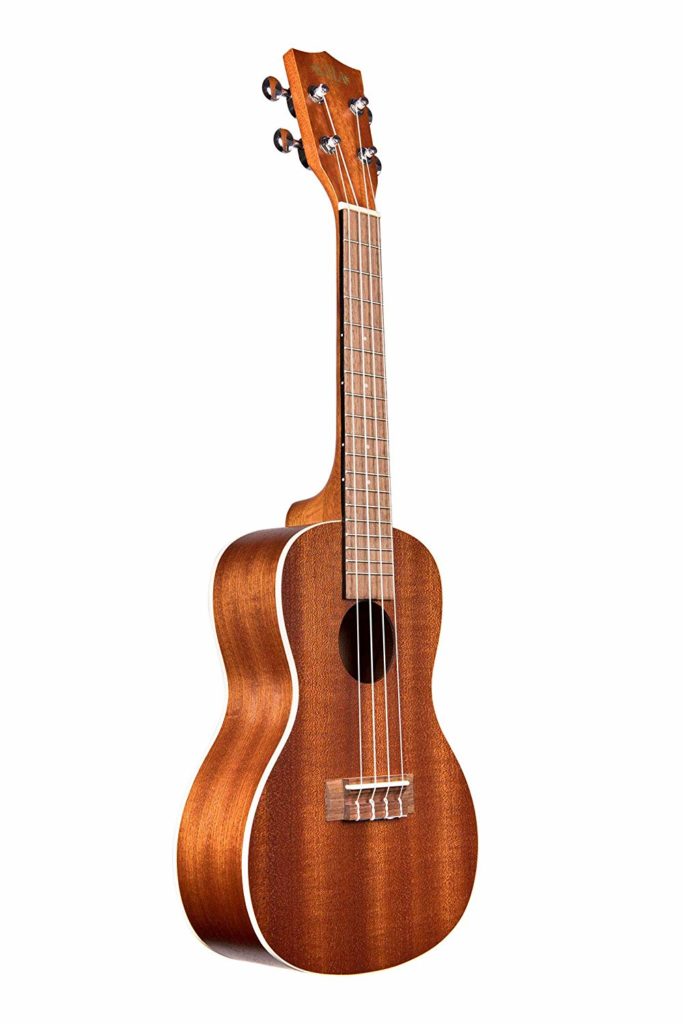 The Kala Satin Mahogany Concert Ukulele (Kala KA-C) is proof that you can buy a top notch ukulele at an affordable price. Kala is a comparatively new ukulele maker, but they have become very popular and have gained a great reputation for their great quality and innovative ukuleles.
This great uke features mahogany construction, a rosewood fingerboard and bridge, and geared tuners. It has a deep and mellow tone, great intonation and it stays in tune. While this ukulele is suitable for beginners, it's good enough to grow with you as you improve as a player. The Kala KA-C is a great concert ukulele for players of all levels.
---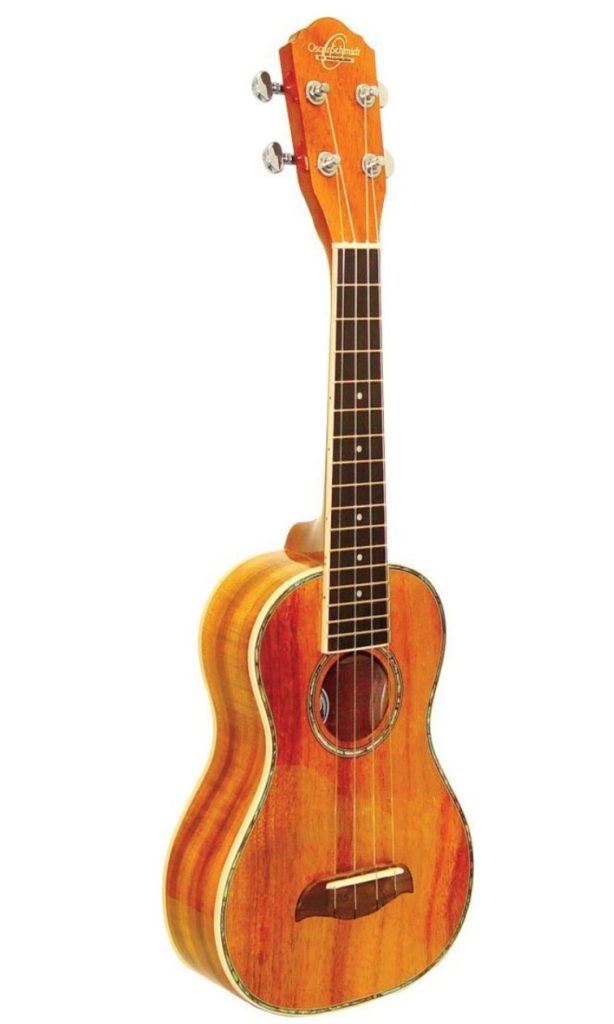 The 15-inch scale length combines with the slightly larger body size, providing plenty of sweetness and a bright, classic ukulele sound. Its deep, glossy finish looks and feels amazing. Abalone shell rosette and binding impart tropical beauty, while the rosewood fingerboard and bridge provide contrast.
Grover chrome tuners help keep the sound true while you enjoy playing your favorite songs on stage or around the campfire. Like many other ukuleles, this one is equipped with nylon strings, and these do need time to stretch before the instrument stays in tune consistently. The chrome tuners have closed backs, and they offer a nice, solid feel.
BLANK
Top Tenor Ukuleles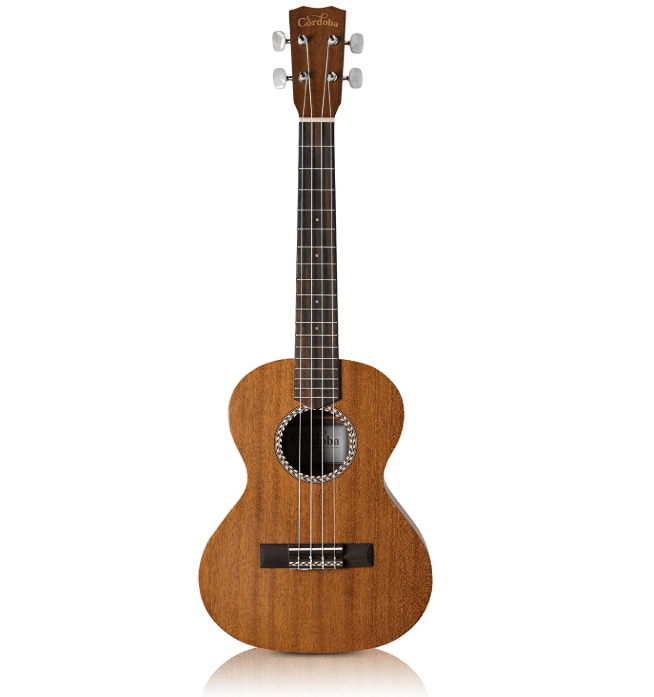 The solid top gives the Cordoba 20TM a solid and punchy tone. As a tenor, this ukulele has a greater emphasis on the bass and treble than smaller ukes, but there is still a good high-end response. The sound coming from this tenor uke is something that you'll want to hear over and over.
The Cordoba 20TM also has an 18-fret rosewood fingerboard with pearloid dot inlays, a rosewood bridge and a rosette with a dual herringbone pattern. It comes fitted with Aquila Nylgut Tenor strings and Cordoba nickel tuning machines with pearl buttons. The Cordoba 20TM is a good investment for ukulele players of all skill levels. With its solid top, it's bound to sound better the more it's played. It has a good playing feel, it's well-made and it sounds amazing.
---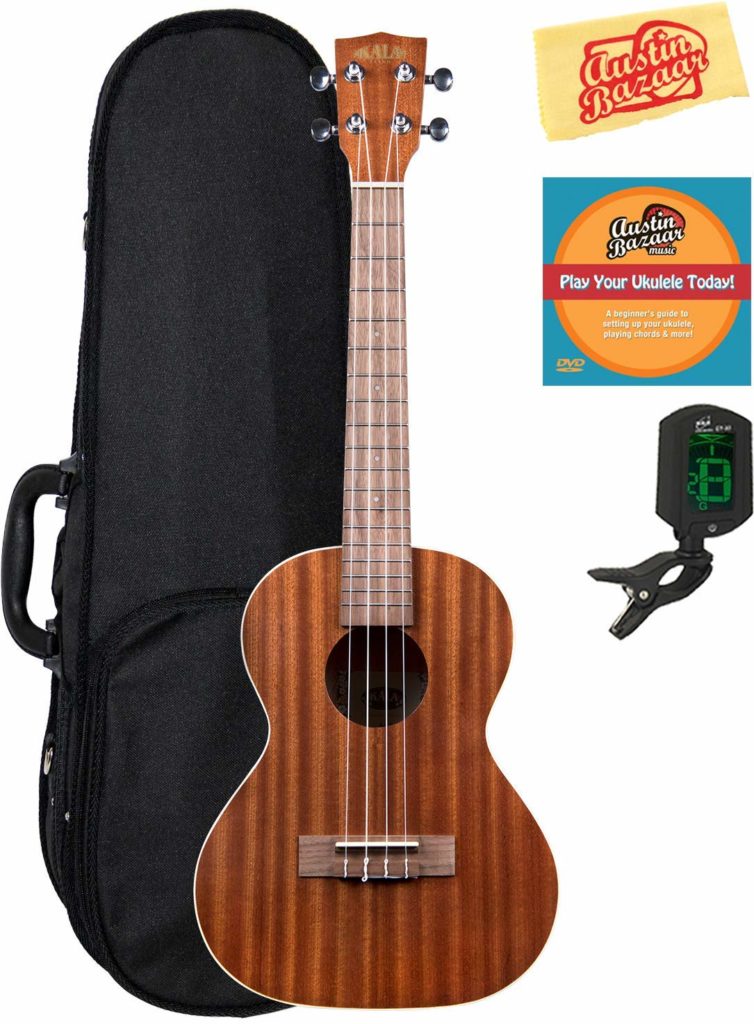 This tenor ukulele is part of Kala's Satin Mahogany line. Like its siblings, the Kala KA-T features a satin-finished laminate mahogany top, back and sides as well as a mahogany neck, also with a satin finish. The mahogany grain pattern gives the KA-T a bold, striking and traditional look while the cream binding adds a classic appeal.
The laminate mahogany construction makes the Kala KA-T better equipped to handle changes in temperature and humidity. Despite the body being made of laminate, the ukulele still delivers a rich tenor tone with just the right punch and woody sound. This tenor ukulele also features a GraphTech NuBone nut and saddle and Aquila Super Nylgut strings for the best intonation.
---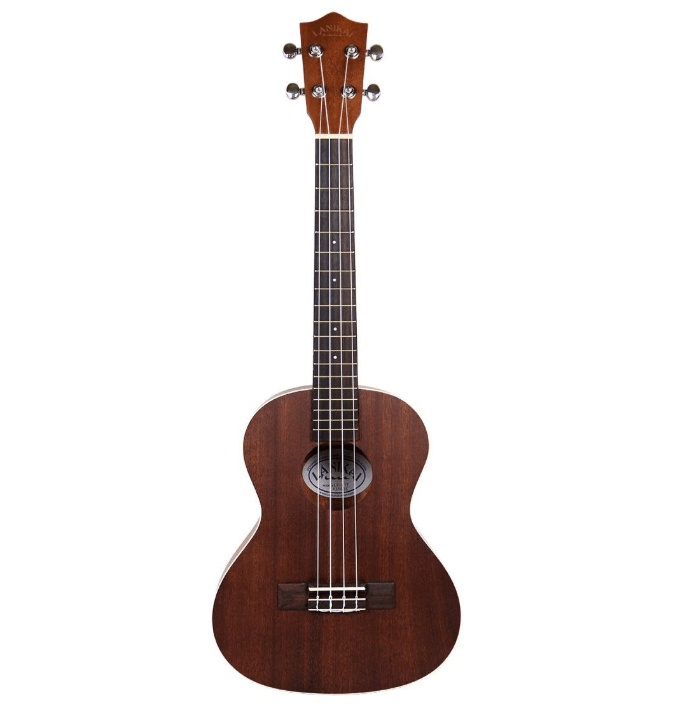 One of the premier manufacturers of ukuleles in the world, Lanikai offers a wide range of high-quality instruments, the most affordable of which is the LU series, namely the LU-11 and LU-21 ukuleles. The LU-21 is constructed with nato top, back, and sides, along with a rosewood fretboard and geared tuners.
The LU-21 is a step up from the LU-11 in that it has a white binding, which makes for a nice contrast/framing of the red-tinted finish, as well as a rosewood fretboard. If you're looking for a quality uke at an affordable price, look no further. | Assembled exclusively by Austin Bazaar, this bundle includes everything you need to start playing right out of the box, including a clip-on tuner, instructional DVD, and polishing cloth.
---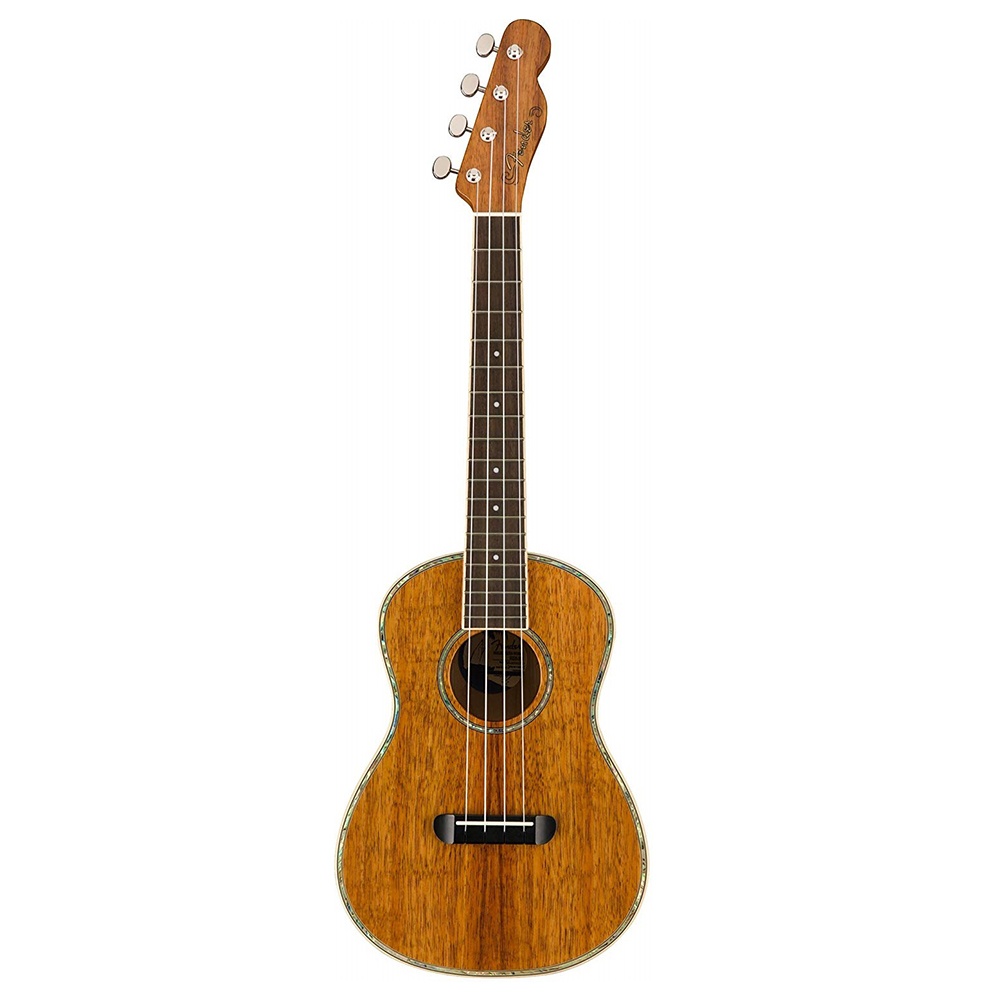 This ukulele's screen-ready looks and headline grabbing features could only have one name-the Montecito Ukulele. Constructed completely from koa, this tenor-sized uke has a rich, sonorous tone, that matches its sumptuously elegant aesthetic. The solid top provides enhanced resonance and sustain, along with incredible warmth and well-balanced projection.
The Montecito's koa body is complemented by blue-green abalone top binding and a bound back and fingerboard for a refined look. Other features include a no-tie bridge for quick, easy string changes, a bone nut and saddle for superior intonation, an abalone rosette, vintage-style closed-back tuning machines and a 4-in-line Tele headstock for that unmistakably classic Fender look.
---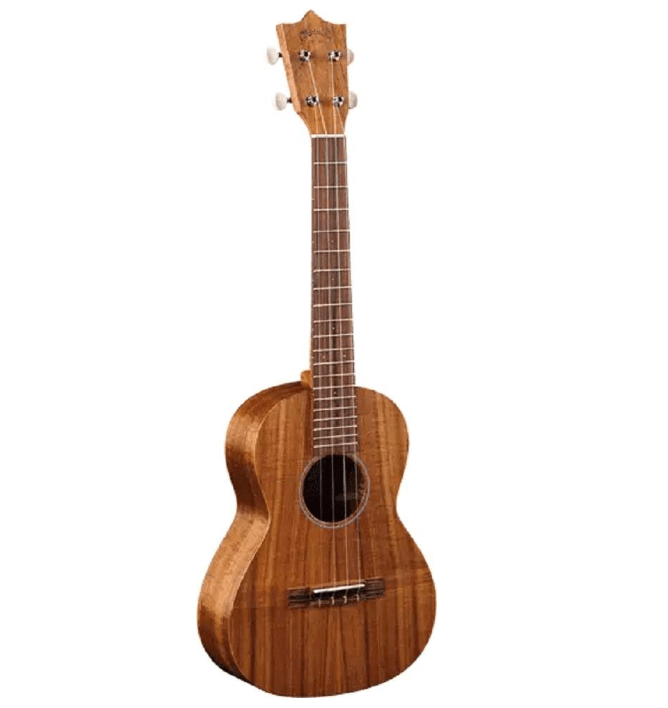 T1K Koa Tenor Ukulele Natural. Martin has built the world's finest ukuleles since 1916, and tenor ukes since 1929 that have long been prized for their full-bodied voice and great volume. The T1K Koa Tenor Ukulele features top, back and sides crafted of solid Hawaiian koa, a wood native to Hawaii and a favorite of island players.
Entire body is finished in high quality satin lacquer, and features an applied dovetail neck joint. The solid koa top gives the uke a balanced tone that would give off more sparkle the more you play, while the solid koa back and sides add resonance. Other specs of the Martin T1K include open-geared nickel tuners with white buttons and a high-quality hand-rubbed satin lacquer finish. The ukulele also comes with a Martin gig bag.
---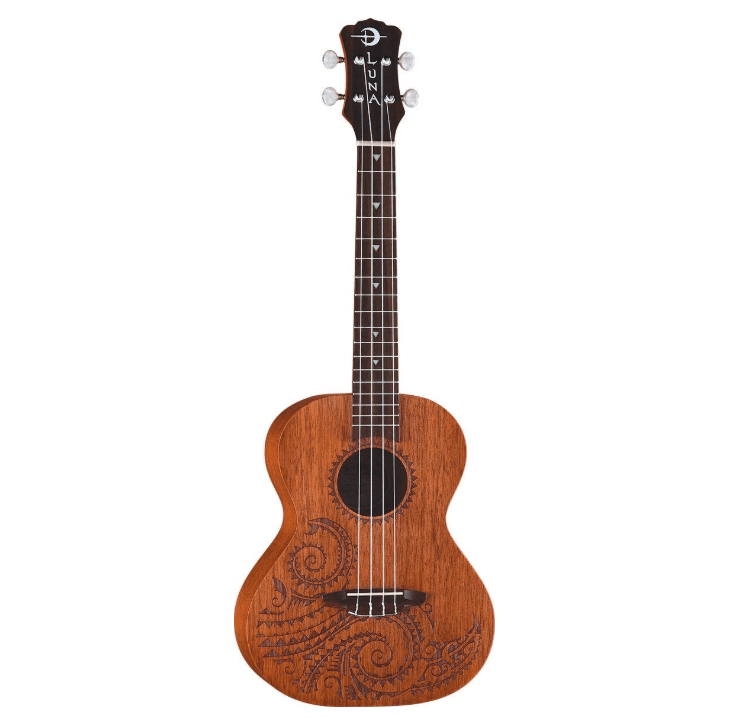 This Tattoo Tenor takes its design from traditional Hawaiian body ornamentation and inspiration from he Pacific Islands. The patterns and layout were strongly geometric and there were many shapes and symbols representing the natural island world: stones, waves, fish, sharks, turtles, rain, sun, and birds. The fret markers are stylized sharks teeth.
The Tattoo Tenor features an all-mahogany body and neck with a walnut fingerboard. Its tenor size offers a great mix of comfort and tone – you can easily get breezy, smooth Hawaiian tones from this uke, without the cramped size of a soprano or concert model. If you're a beginner or more advanced player in the market for a tenor ukulele, the Luna Tattoo Tenor deserves a look.
BLANK
Top Baritone Ukuleles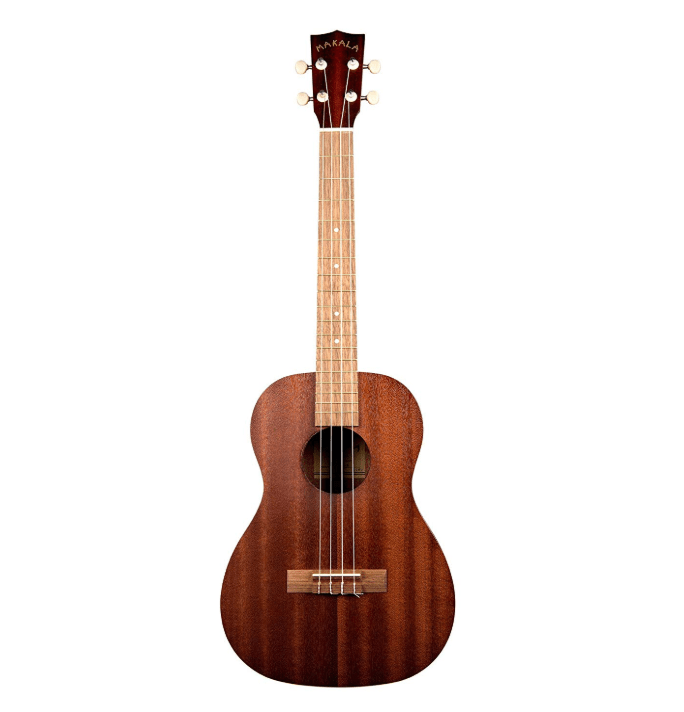 The Makala Classic line by Kala is simply the best entry-level ukulele on the market. Kala focuses on the essentials – quality at an affordable price – making any Makala the perfect ukulele to begin with. Modeled after mahogany ukuleles made over 100 years ago, the Makala line is a truly traditional, vintage ukulele that emits a soft, warm, full-bodied, balanced tone and ages beautifully.
The Makala Series is built using the same construction standards as all our Kala Ukuleles. Comes complete with a beautiful Walnut fingerboard and bridge, Mahogany neck, brass frets, and Aquila Super Nylgut strings from Italy
---
The KA-SA-B Solid Acacia Series Baritone Ukulele is a beautifully crafted baritone ukulele made from solid acacia that delivers classic baritone uke tone. The KA-SA-B's all-acacia body is similar in appearance to koa wood, with beautiful curling and varied grain pattern that improves tonally as it ages. A gorgeous mahogany neck and walnut fingerboard offer great response as well, whether you're chording or playing lead.
Rosewood binding and a GraphTech NuBone nut and saddle also provide tonal support to the already tone-rich acacia body. This baritone uke is ideal for living room jams or warm nights on the beach around a fire with friends. Uke enthusiasts here at Sweetwater love the KA-SA-B Solid Acacia Series Baritone Uke for its playability and tone.
---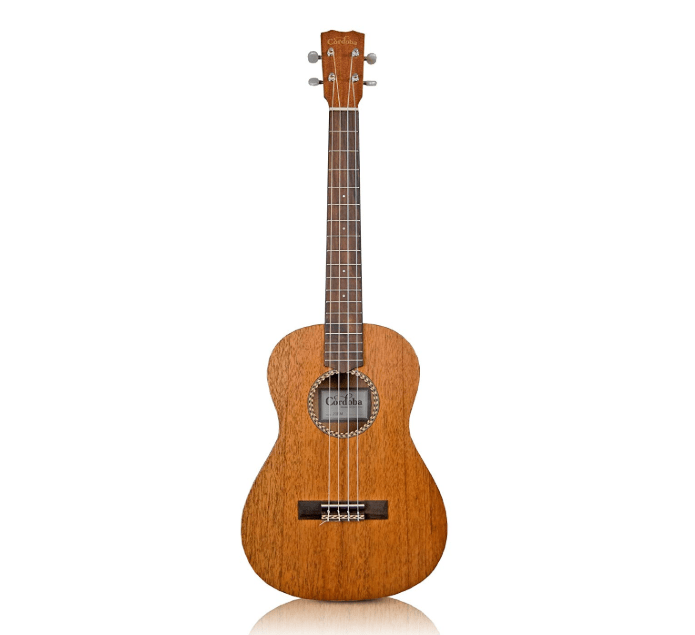 The 20BM is Cordoba's first baritone sized ukulele. It features a solid mahogany top and mahogany back and sides. The natural wood pattern rosette and satin finish make this a truly beautiful instrument for the both beginners and ukulele enthusiasts alike. Topping off the classy, elegant look is a natural satin polyurethane finish that's smooth to the touch and makes playing more enjoyable.
Baritone ukuleles are played in a variety of tunings. Cordoba baritone ukes come set up in one of the more popular tunings, which matches the top 4 strings on a guitar (DGBE). The strings used are Aquila Nylgut baritone uke strings, which include a wound 4th-D and 3rd-G strings, and nylgut 2nd-B and 1st-E strings.
---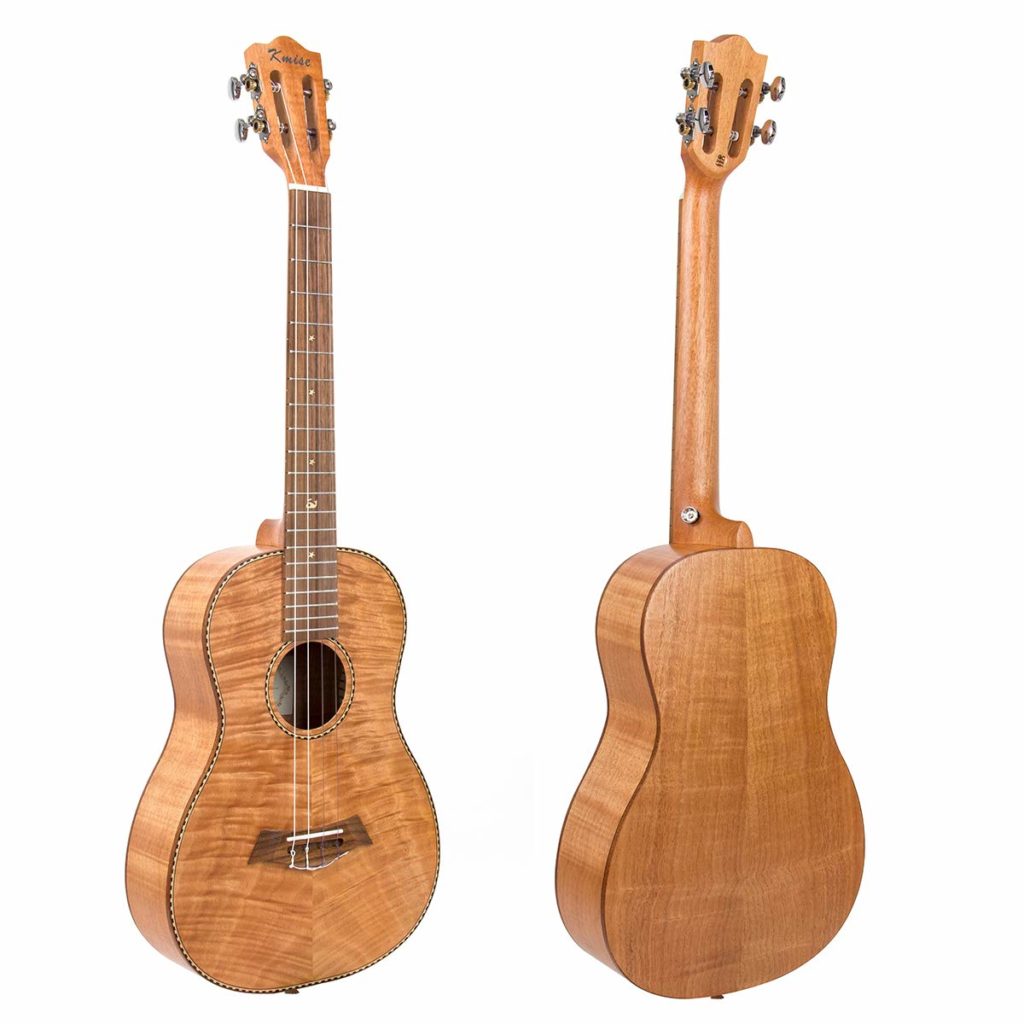 Kmise baritone ukulele is part of Kmise's Okoume series, providing you with stunning looks. One look at its special tiger flame Okoume top, back and sides, it really a special ukulele. Kmise baritone ukulele installed adjustable truss rod, the player can adjust the action according to their need. Rare ukuleles have such feature so this baritone uke really worthwhile to own.
This baritone ukulele also come with a set of 18:1 high-quality tuner, so you know this uke is working well to stay in tune. Pick up this amazing uke and enjoy a quality playing experience! The high-quality strings of this baritone ukulele produce is further proof of Kmise's quality workmanship. It strung with premium metallic & nylon strings, offer you lush and warm sound.
---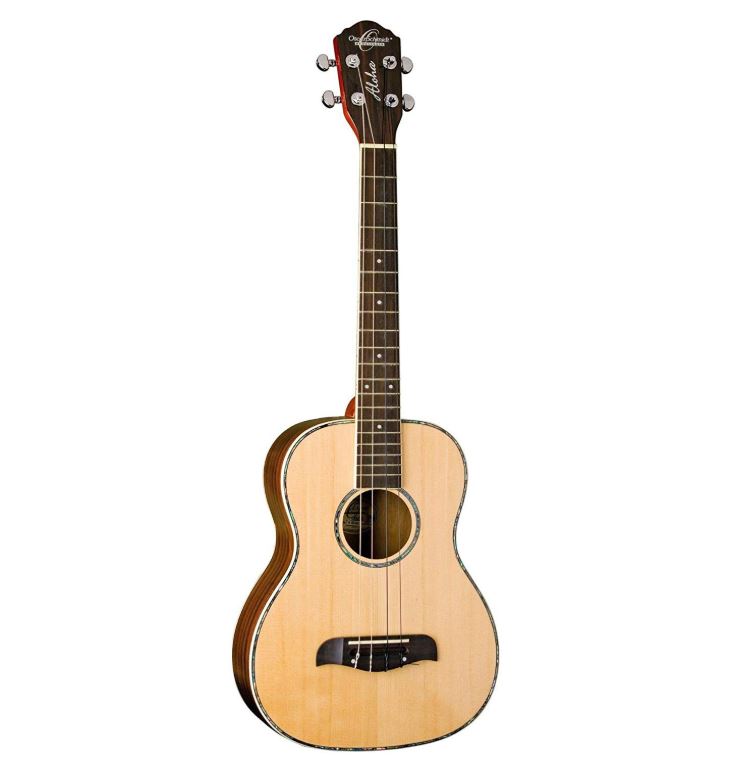 Constructed of Hawaiian Koa, Rosewood, Spruce and Mahogany with classic designs and superior resonance, our popular and affordable Oscar Schmidt Ukeleles are hand crafted for years of playing enjoyment. The Oscar Schmidt OU53S uke features a baritone body size with a select spruce top for sparkling tone. The back and sides of the OU53S are rosewood for full body. Sides for great tone, easy playing and a quality known from a company with over 125 years history of producing musical instruments.
The OU53S also features an inlaid rosette on the perimeter of the uke and around the sound hole. Other features include alalone rosette and abalone perimeter inlay, natural gloss finish and die caset chrome tuners,
---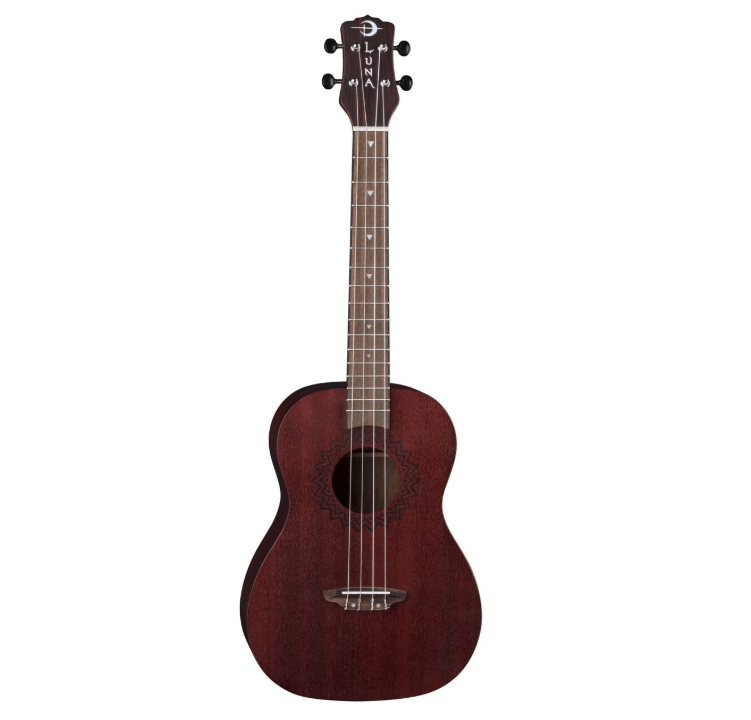 Among enthusiasts, ukuleles crafted out of mahogany are one of the most popular wood choices on the market today. Luna Guitars continues its unique stride in creativity by introducing a full family of Vintage ukuleles dressed in a Red Satin finish, including this Vintage Mahogany Baritone in Red Satin which offers a traditional baritone body, walnut bridge and fretboard, 19″ scale length and beautiful pearl triangle inlays.
The signature laser-etched rosette design around the sound hole compliments its already vivid Red Satin color. Expect that warm, deep bass sound from the larger all-mahogany body and easily keep that rhythm in tune with the sturdy black open gear tuners. A wonderful instrument for players of all skill levels.