Sad but true, viola is a less popular member in the string family, when compare with its big brother cello and little brother violin, but that does not mean viola inferior, on the contrary! The fewer people play it, the more special it becomes! If you are attracted by the mellow, earthy, and sorrow sound viola makes, do not hesitate, pick one of the best student violas listed below and start begin your journey right away! You won't regret.
Size Matters:
Before purchase a viola, it is important to understand the difference in sizes and find the right size for you, unlike violin that would start as small as 1/16 or even 1/32, viola usually would go just as low as 12 inch, which is equivalent to 1/2 violin and as big as 16.5 inches, with 15-16" viola being the most common ones. To understand that size is right for you, refer to the guide below :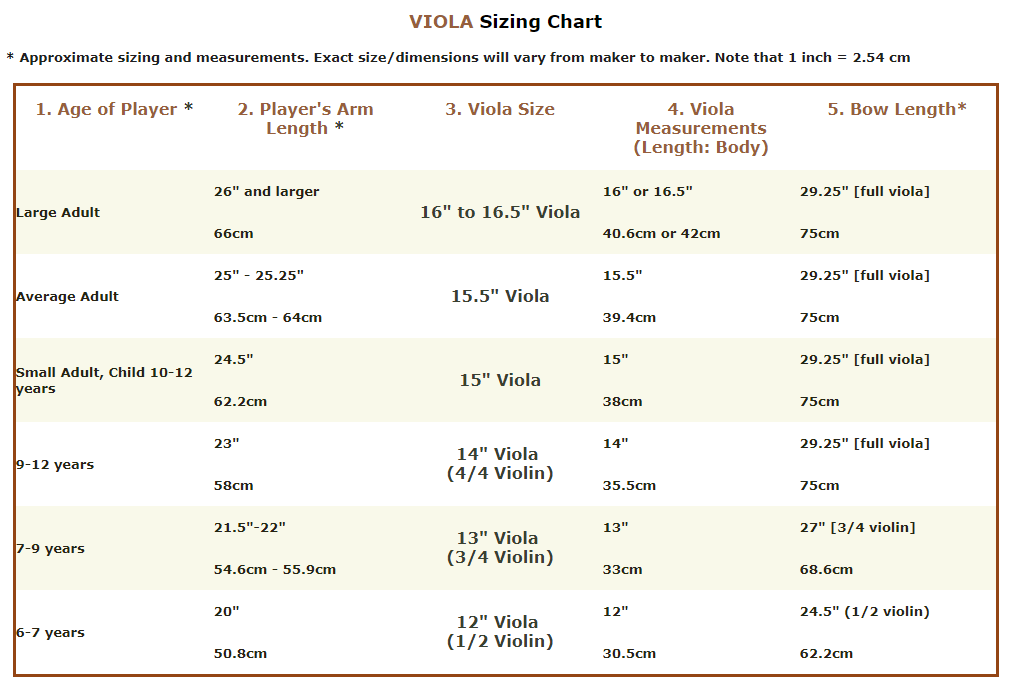 Knowing the size you need to look for, let's take a deeper look at the best violas suitable for students and beginners.
Cecilio CVA-400 14-Inch Solid Wood Flamed Viola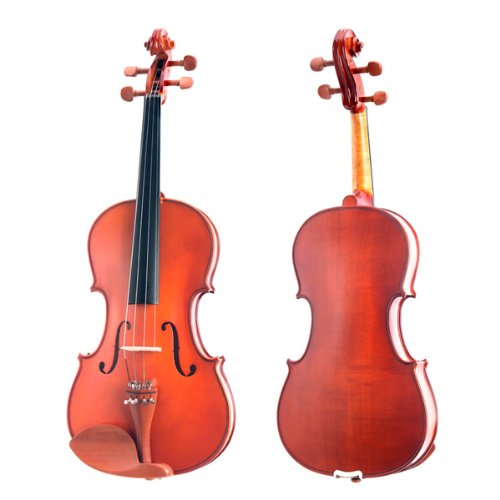 Cecilio is one of the most well-known student viola brand in the market. They produce quality instruments at a fraction of the cost of other big-name players, The Cecilio CVA-400 viola delivers an attractive glistening finish of inlaid purling with flamed sides, hand carved solid spruce top and solid maple back and sides. This viola is available in 7 sizes, covering the need of almost everyone.
This is a complete set and comes with natural color rosewood pegs, chinrest, tailpiece and rosewood fingerboard. The rosewood tailpiece has 4 fine nickel plated tuners which is found in very expensive violas. Viola comes with a Brazil wood bow with ebony frogged and unbleached genuine Mongolian horsehair, a lightweight form fitting hard case with pockets and strap, extra set of strings, quality rosin cake and extra bridge.
---
Mendini MA250 Natural Varnish Solid Wood Viola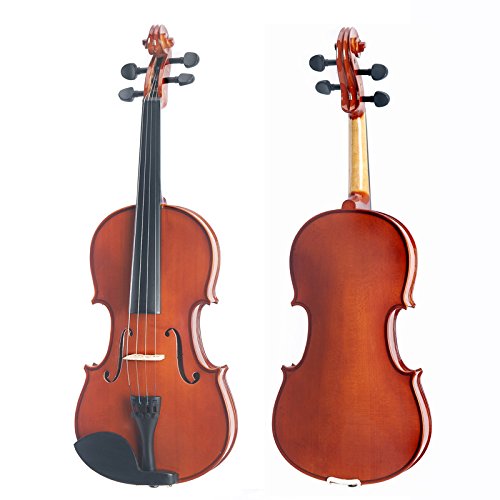 As a sub subsidiary brand of Cecilio, Mendini is famous for making student instruments at very affordable price, and it is backed up with Cecilio quality and warranty! This viola is a remarkably option for students who have never played the viola before and want to try it out for the first time.
It is completely hand-carved with a solid spruce top and maple back and sides. It is fitted with a maple fingerboard, pegs, and chin rest, and an alloy tailpiece with four integrated fine tuners. This viola includes a lightweight form fitting hard, a Brazilwood bow with unbleached genuine Mongolian horsehair, rosin, and a bridge making this package a great deal for beginners.
---
Stentor, 4-String Viola – Acoustic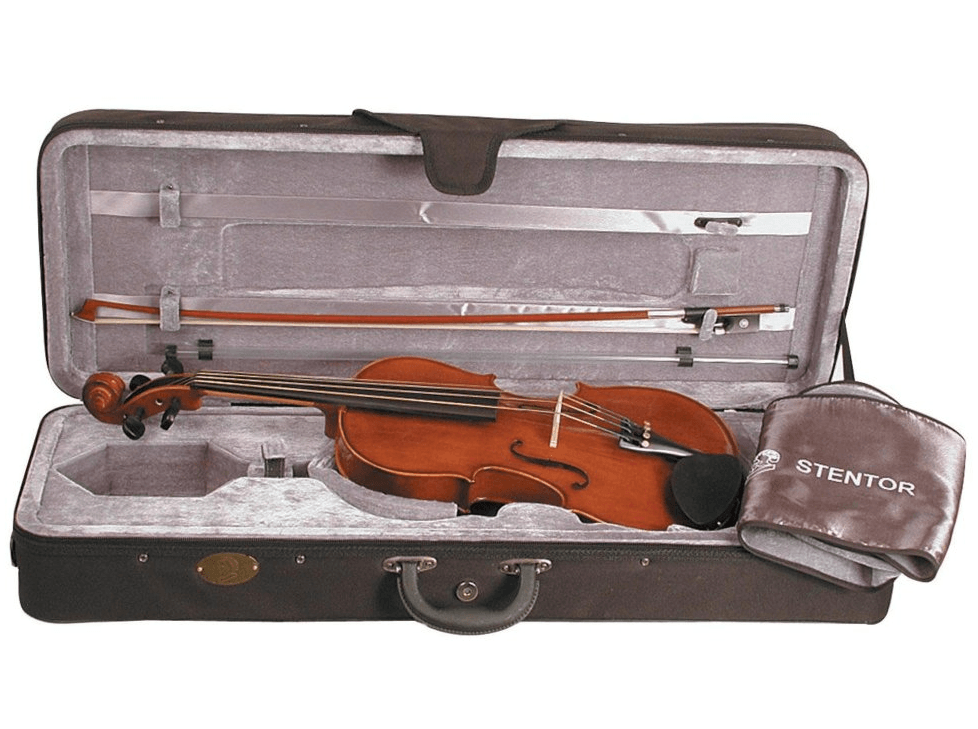 Extremely cost-effective, Stentor has become well known for being one of the highest-quality viola brands. Stentor makes the instruments in Chinese workshops yet checks each viola for quality in its United Kingdom office before conveyance to your home or store.
With a wide assortment of violas available to be purchased, from total novice to intermediate, Stentor probably has a viola for you.Like other instruments on this list, Stentor violas are made out of strong tone woods. The violas come with an ebony fingerboard (instead of the Cecilio above), pegs, and fittings with maple sides and back, and a spruce best. Stentor violas additionally have trimmed purfling to keep the milder spruce wood top from splitting.
---
Paititi 13" Size Upgrade Solid Wood Ebony Fitted Viola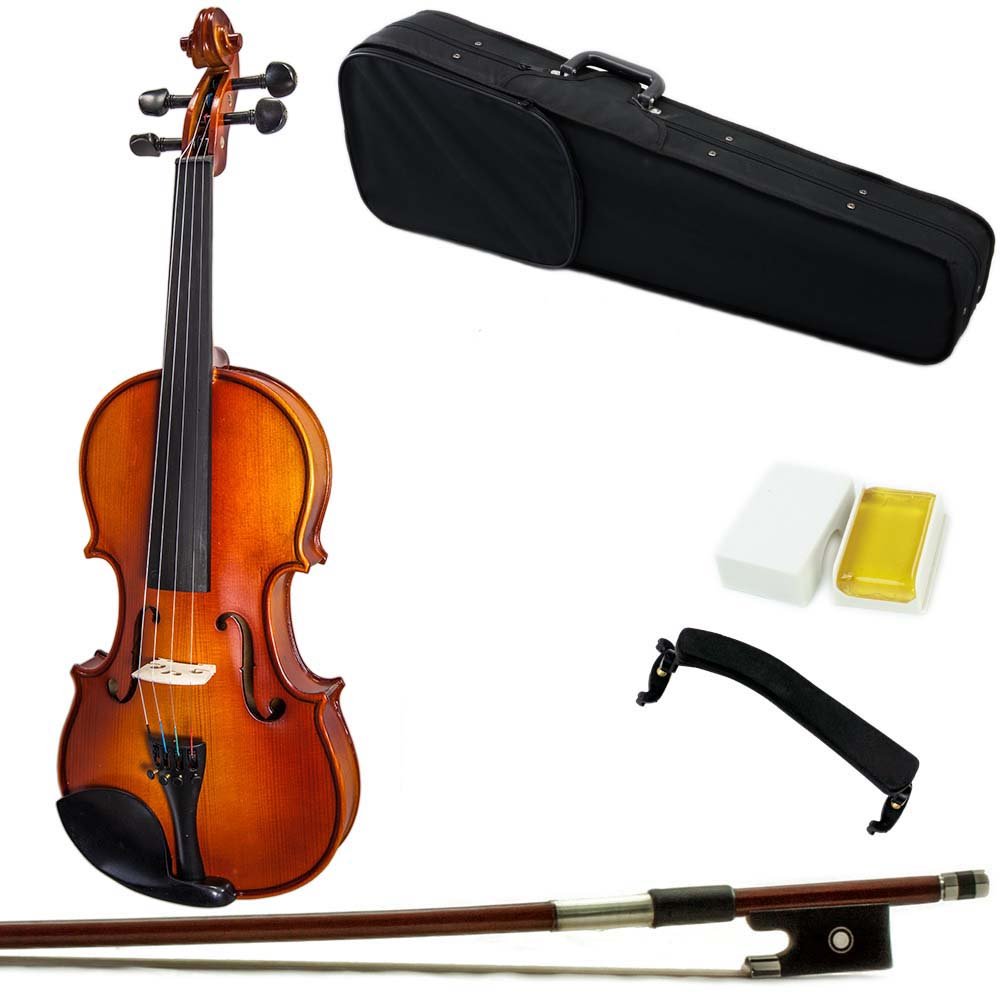 Paititi is a lesser know new brand but has built its reputation for the quality and stylish products it makes, unlike other student violas with regular reddish color and matte finish, this Paititi upgrade solidwood viola come with a very classic oil finish with mix of chesnut and orange color finish, gives it a modern taste.
In addition to its good look, this viola is made of finest solid maple wood, set up and ready to play. This viola has beautiful inlaid purfling, and pegs, chinrest are made from ebony wood. Tailpiece is made alloy with four (4) high quality built in fine tuner. Bow has double pearl eye, genuine unbleached Mongolian horsehair. Lightweight triangular case has rain proof canvas exterior and shoulder straps with sheet music pocket and accessory compartment, cases has two bow holders and a matching blanket. It is available in 6 sizes.
---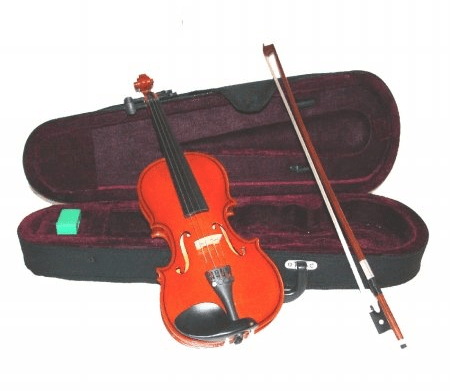 Though won't be a top bet when it comes to quality, Merano definitely deliver on affordability. Many of their violas are just over $100 which makes them especially good for absolute beginners who may not continue playing after their first year. While they won't garner a high resale value, they will certainly meet the requirements of a novice and your budget.
Like Cecilio listed above, Merano viola fingerboards are made out of hardwood instead of ebony, meaning you will most eventually have to upgrade to a better model as your skills advances or have the fingerboard repaired frequently. If you can't afford a higher quality model at this moment, the Merano viola makes a good starting instrument.
---
D Z Strad Viola Model 101 with Case and Bow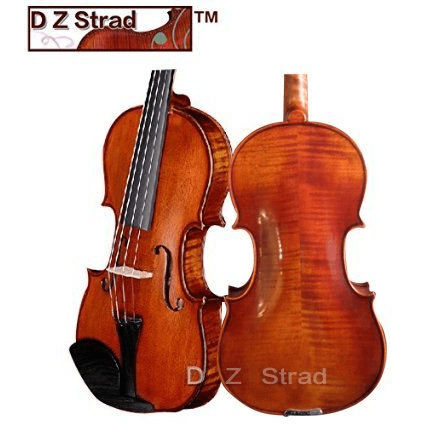 Though famous for making intermediate to professional instruments, D Z Strad also makes great student level violas! Their Viola Model 101 is particularly favored by Suzuki as well as other private teachers. The hand feels, the consistency, playability, and the warm and rich tones that this instrument produces will motivate even the hardiest of students to learn. This is one of those instruments – made by incredibly talented top of the line viola makers (luthiers) – that is especially suited for discerning string players.
The neck, back, and sides are all made from maple while the top is solid carved Italian spruce. It is then hand rubbed with antique varnish. D Z Strad employs old world traditional European practices in the construction of their violas, so you know that every viola is of the highest quality.
---
SKY SKYVA303 High Quality 16 Inch Acoustic Viola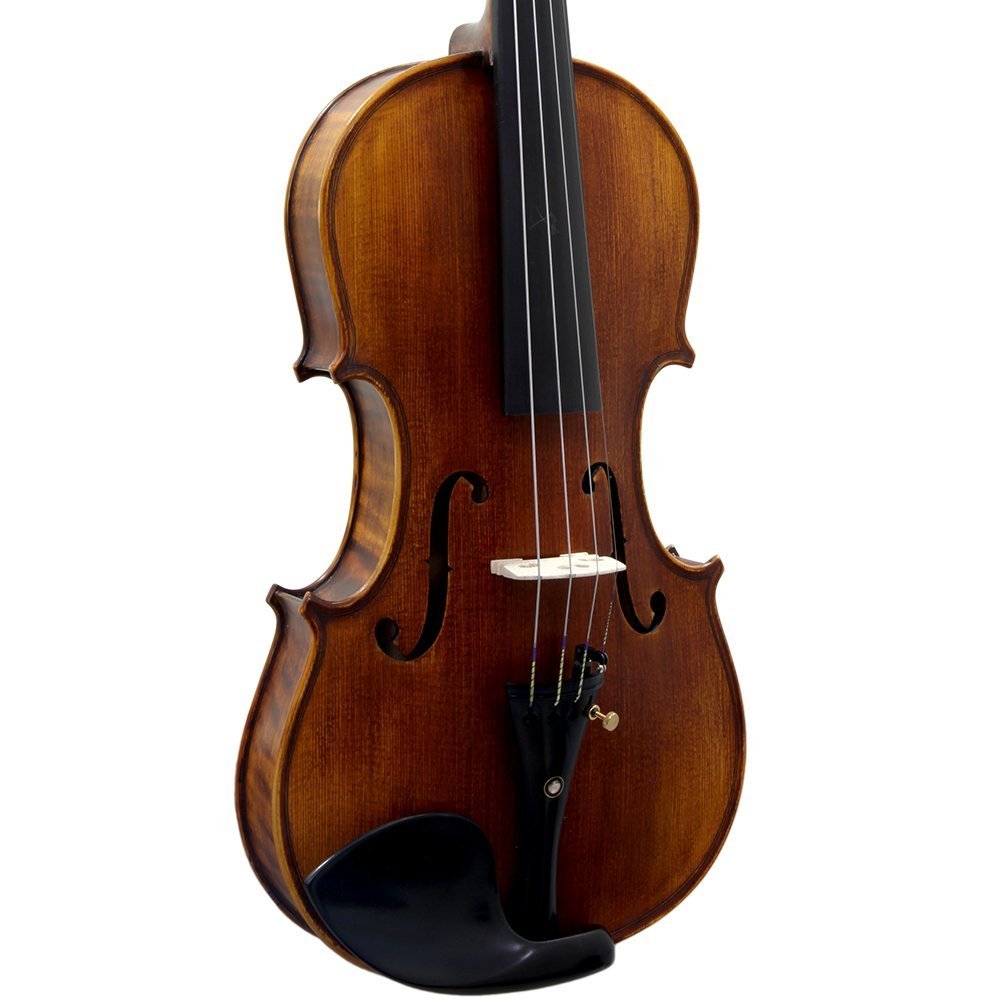 Available in 15.5-, 16-, and 16.5-inch sizes, the Sky VA303 is constructed of solid spruce and maple, and is available in three hand-varnished finishes, each of which look fantastic. This outfit that comes complete with a Brazilwood bow with Ebony frog (not fiberglass) It has double pearl eye, genuine unbleached Mongolian horsehair, nice light weight case and rosin. It comes with a new bridge and high quality strings.
The pegs, chinrest fingerboard, and tailpiece are all made from Ebony for that long lasting effect. They only install one fine tuner on the tailpiece as metal will have a negative impact on sound quality. If you are used to 4 fine tuners, you can request extras at no extra cost, these guys are really accommodating.
---
Cremona SVA-150 Premier Student Viola Outfit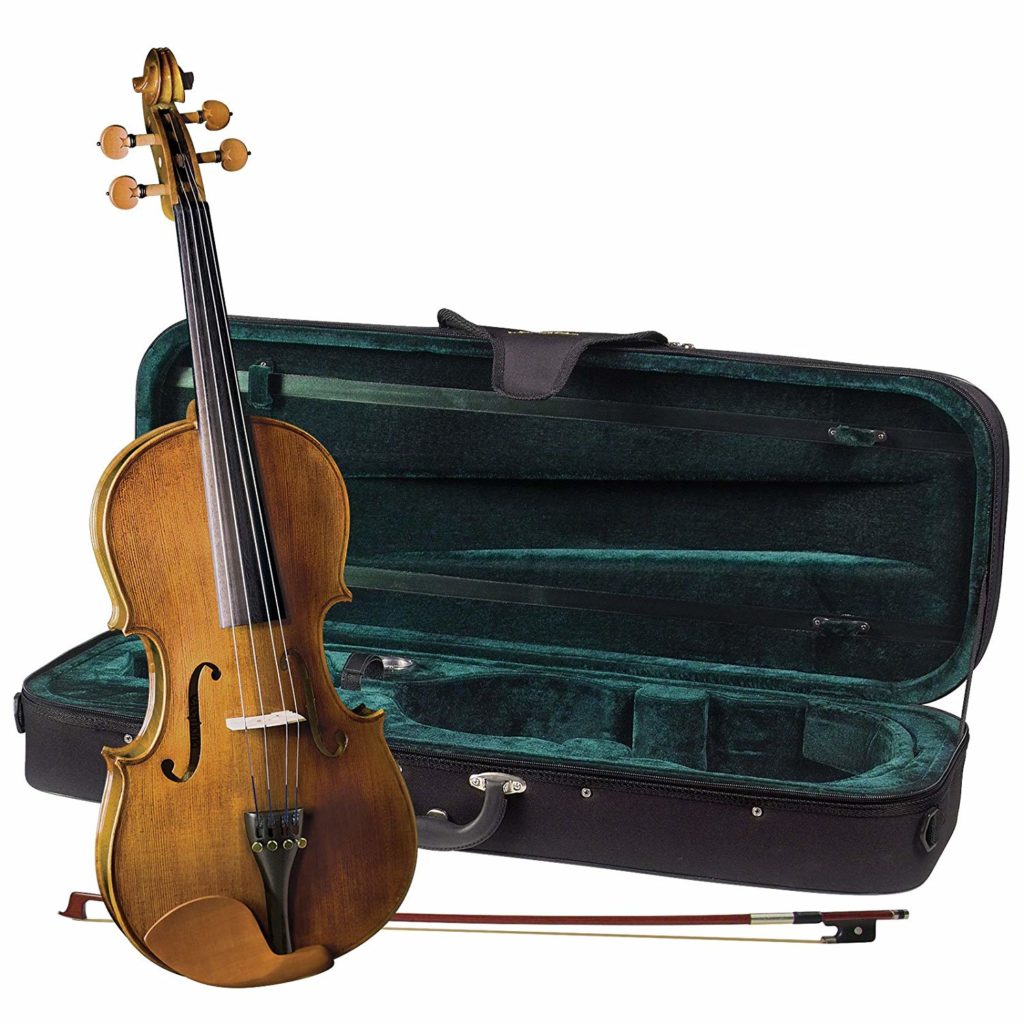 The 16 inch Cremona SVA-150 Premier Student Viola Outfit is made using only selected tonewoods – such as spruce, ebony, and hand-carved marble – to ensure that it produces only the finest sound quality. Its strings are US-made Prelude strings, which are excellent for beginners. It also has upgraded A. Breton VP-61 alloy tailpiece that comes with four built-in tuners to make tuning easier.
The Cremona SVA-150 uses traditionally shaped hardwood fittings of ebony and boxwood to complete its construction while also ensuring proper intonation. This also increases the ease of playability. The fingerboards are made using rosewood and ebony for durability and a smoother play. If you are in the market for a high-quality beginner model viola, then you cannot do wrong with the Cremona SVA-150.