Do you want a guitar tool kit that can handle all of your instrument's setup, repair, and adjustment needs? Or are you only looking for a few tools to make modest adjustments?
While paying a technician for significant repairs makes sense, making minor adjustments using a guitar tool kit is the most cost-effective and easy option. This will save you a lot of time and money in the long run. Plus, if you're more of a handy person, premium kits come with virtually everything you'll need to deal with almost any problem that isn't a cracked neck.
There is a wide selection of tookits available on the market today, with different features and combination of tools. We've narrowed it down to a few major candidates to assist you make the smart choice. We combed through all of the guitar setup and maintenance tool packages and narrowed down the finest alternatives for 2021.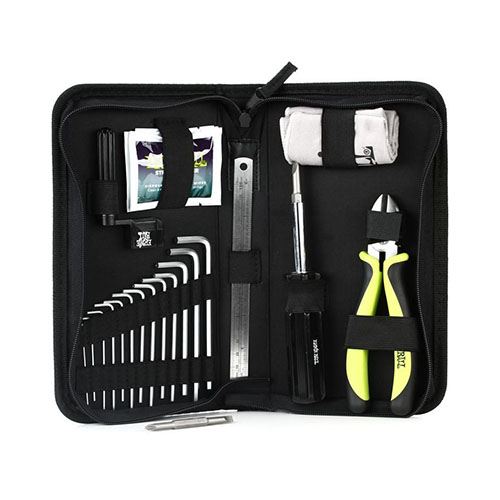 As soon as you see the name Ernie Ball you know you are going to get some quality. So it is with this toolkit. Having been around guitars, strings, and accessories for many years, Ernie Ball will know exactly what is required to maintain a happy, healthy guitar. And this all-in-one toolkit is just what you need for maintaining your guitar and keeping it in perfect working condition.
This is perfect for changing strings, setting the intonation, adjusting the action, checking string height, and more. Having dealt with the potential maintenance issues, they also give you the ability to make sure the guitar will always look great. Wonder wipes and instrument polish are included — also a conditioner for the fretboard and some string cleaner. And to round it all off a soft cloth.
---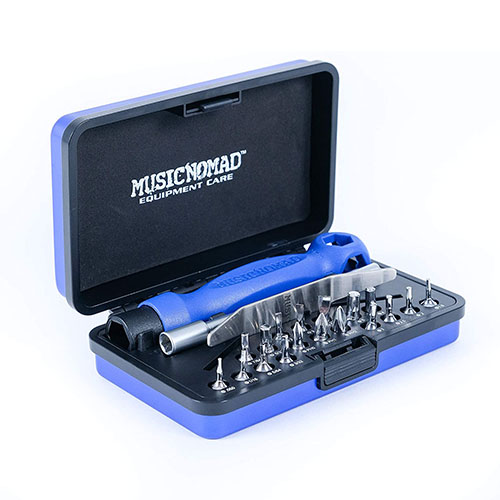 A must have for every instrument case or work station. MusicNomad's Premium Guitar Tech Screwdriver and Wrench Set offers unmatched versatility in one compact, rugged case. Designed specifically for guitars it comes with 18 screwdriver bits, 7 hex wrench sizes, plus our Premium Spanner Wrench. Perfect for making adjustments on all your guitar hardware such as: tuners, jacks, pots, bridges, pickups, tailpieces, string guides, pickguards, tremolos and more.
This ergonomic, large handle is made from strong ballistic nylon material that won't scratch or ding your hardware and is engineered for the most popular hex wrench sizes. It can even tighten nuts in sunken pots and recessed jacks such as tele-cups. That's MusicNomad quality – raising the bar in equipment care.
---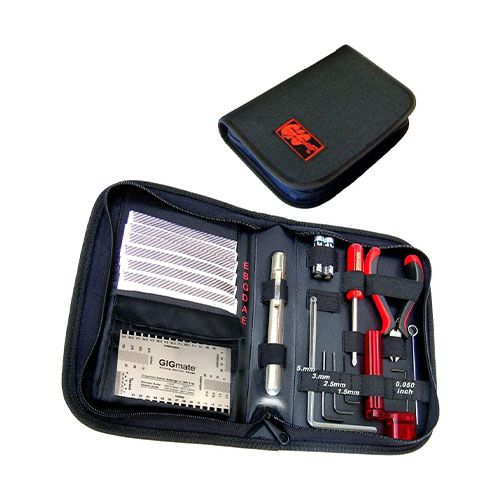 GIGmate's modestly priced tool kit is an all-in-one solution for basic guitar maintenance. It features an LED Flashlight, a carbon steel string cutter, a string winder, and a 2-in-l screwdriver that can be switched from Philips to Flat-type when needed. The canvas case and zipper are durable and the black elastic holders on the inside keep the tools firmly in place.
It has five USA-Made hex wrenches that ought to cover a majority of your needs. The smaller ones are for adjusting saddles and the largest one is meant for acoustic or electric guitar truss rod adjustments. The 2.5mm and 3mm wrenches will work for Floyd Rose bridges. The string winder does a reasonable job on both electric and acoustic guitars and it has a bridge pin remover as well.
---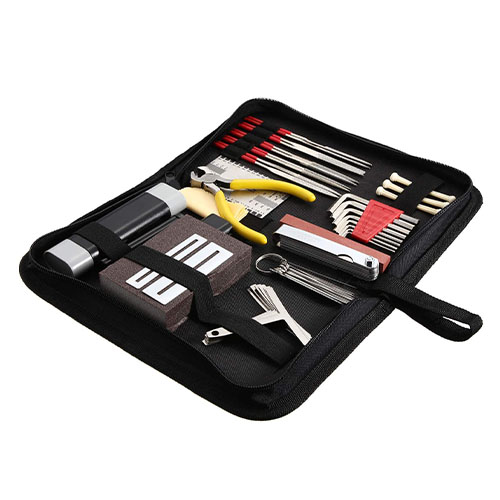 The Mudder Guitar took kit can be overwhelming to look at if you've never owned one of these before. By the time you get through learning the names of half the things in this kit, it makes you respect your luthier a lot more.
It is handy for the basics of cleaning, repairing, and maintaining any kind of stringed instrument. However, you can also use it to change strings, check/adjust intonation, and adjust the action with great precision. Although a 42-piece kit may be heavy-handed for most casual guitar players and hobbyists. This guitar repair tool kit is applicable to change strings, set intonation, adjust action or check string height, great for string instrument cleaning, maintaining and repairing.
---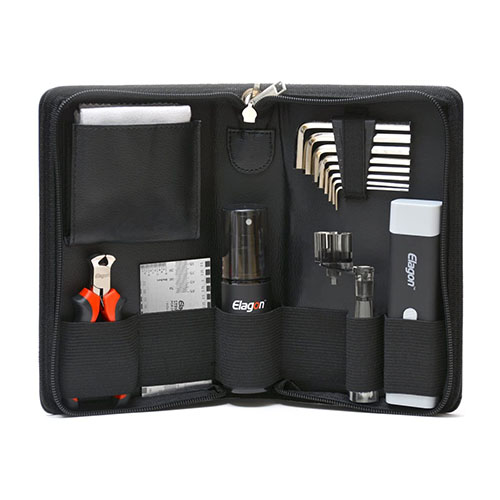 This tool kit has got everything you may need to keep your guitar in top condition. It has some great inclusions with a full set of eight Allen keys that will meet every requirement. There is a bass and guitar string winder and a pair of heavy-duty pliers for cutting strings if necessary. There is also an addition you don't often see, a string action ruler with measurement charts.
This will be useful when you are setting up or adjusting the string height. Unfortunately, there are no screwdriver-type fittings. However, the tools are all well-made and very durable. This toolkit has enough options that it may also suit other stringed instruments like a banjo or a mandolin. In fact, any instrument that can use Allen keys in its setup. The storage pouch is very nicely made in black and has compartments and holders for all the tools inside.