If you play any style of guitar, you know how important capos can be. You're also probably familiar with how detrimental a bad capo can be to your tuning, your instrument, and your tonality. It's important to make sure that you buy the best capo for you, your playing style, and your instrument. To make this easier, we compiled a list of seven of the best choices currently on the capo market.
Types of Guitar Capo
Just like guitar stand and guitar straps, there are different styles of guitar capo, each with their own characteristics.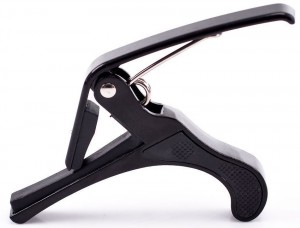 Trigger Capo
Probably the most popular of all designs, trigger capos work using a spring-loaded clamp to hold their tension. Trigger capos function just like the "chip clip" you put on your bag of Doritos. You press the clamp, place over guitar neck, and release, allowing the capo to clamp down on the neck. With this design, players can quickly and easily reposition the capo using just one hand.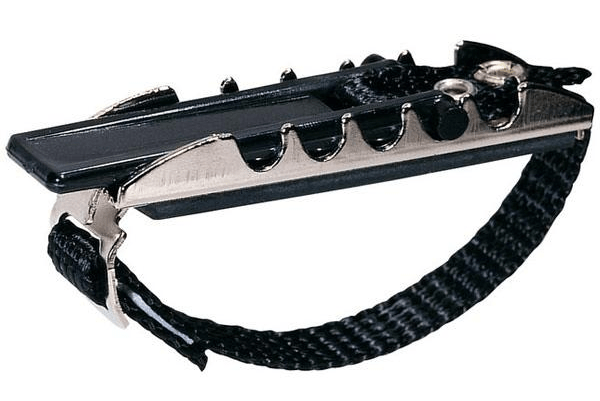 Toggle Capo
A toggle capo is a very lightweight piece of hardware, which uses a notched mechanism for tightening the capo onto the guitar strings. The toggle capos are cheap enough that you can afford to buy a few in case you lose one. Many players (including myself), love them because they are so small and light…you barely even notice them as you play.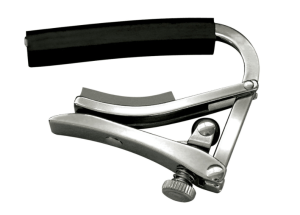 Adjustable Screw
Adjustable screw capos have been around a long time. It feels like any old acoustic guitar case I open has a Shubb hanging out in the pocket inside. This capo operates by having a screw that you tighten down, applying pressure to the back of the guitar neck (typically through an arm). This allows the screw to apply pressure evenly from the back. A good capo for recording or home practice.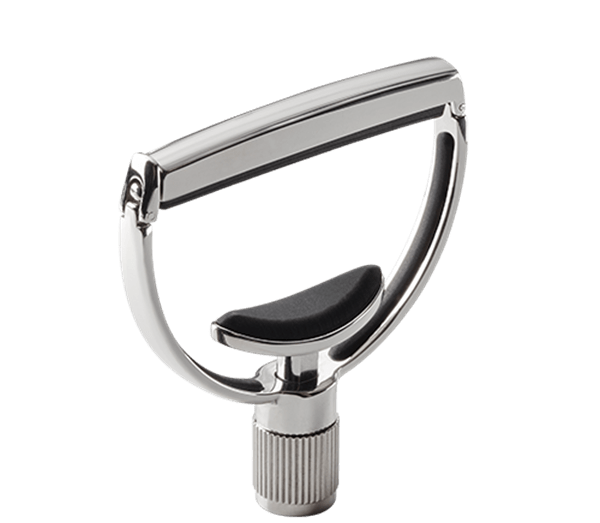 Yoke-Style
Yoke-style capos are similar to adjustable screw capos. They both use a screw on the back of the guitar neck to apply pressure to tighten the capo. The yoke-style capo, though, compeletly wraps around the neck. This allows the screw to apply pressure from dead center in the back of the neck. The front capo pad swings open using a hinge. These capos look very cool (or maybe a bit elaborate, depending on your taste).
Others
Finally, you will also find basic designs such as spring capos and strap capos – both functional enough, although prone to slipping around. Then we have partial capos. This variety is usually a spring or adjustable screw design and has a smaller padded bar, which covers just three strings (missing the outer string) – either 2-3-4 or 5-4-3. This can emulate DADGAD tuning, which is great when you don't want to completely retune your guitar but still want to take advantage of popular tunings.
List of our favorite guitar capos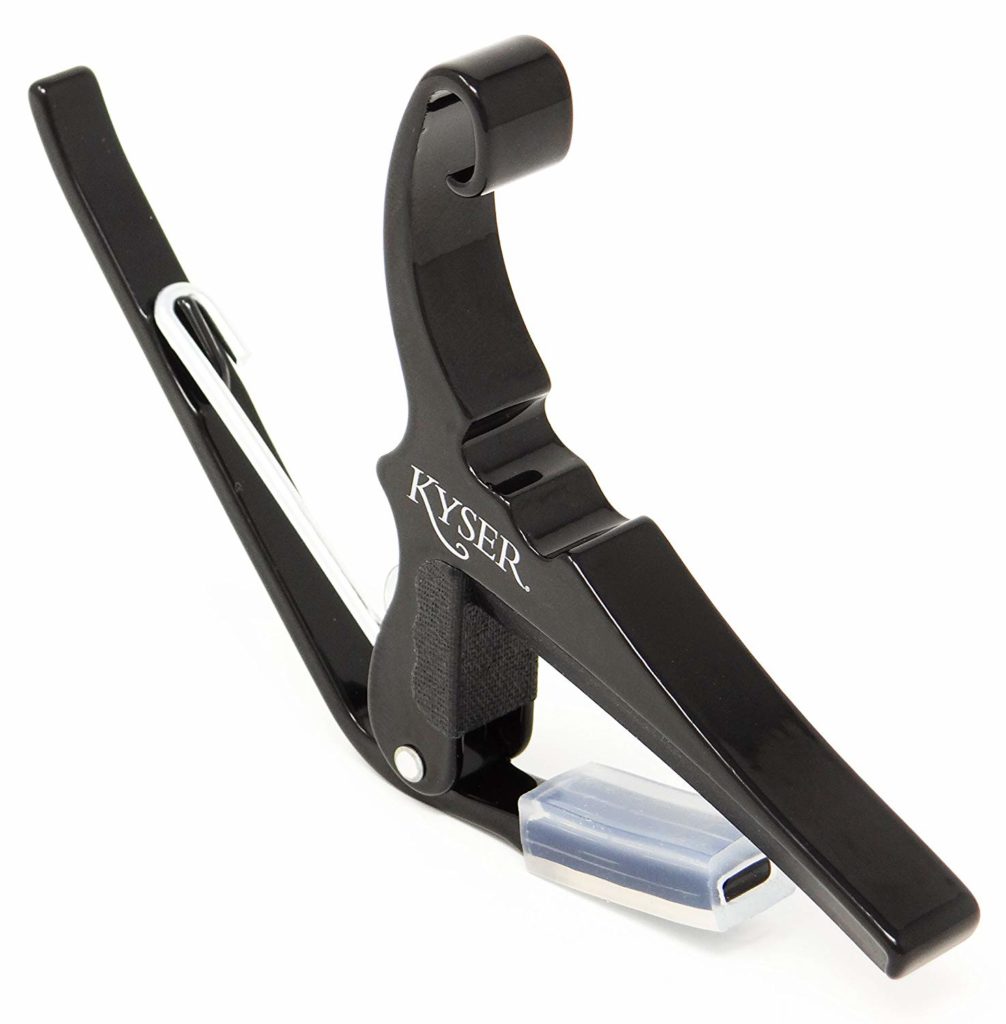 One of the most popular capo choices for a steel-stringed acoustic guitar is Kyers's KG6B Quick Change Capo. Living up to its name, it's a clip-on capo with a reliable spring-loaded mechanism that allows you to clamp it onto your guitar's neck with one hand and crafted from aluminum, it's both durable and lightweight.
If you only gig with one acoustic guitar, pick up a capo like this that can be easily taken on an off and moved up and down the neck without having to pause for too long between songs to unscrew.
---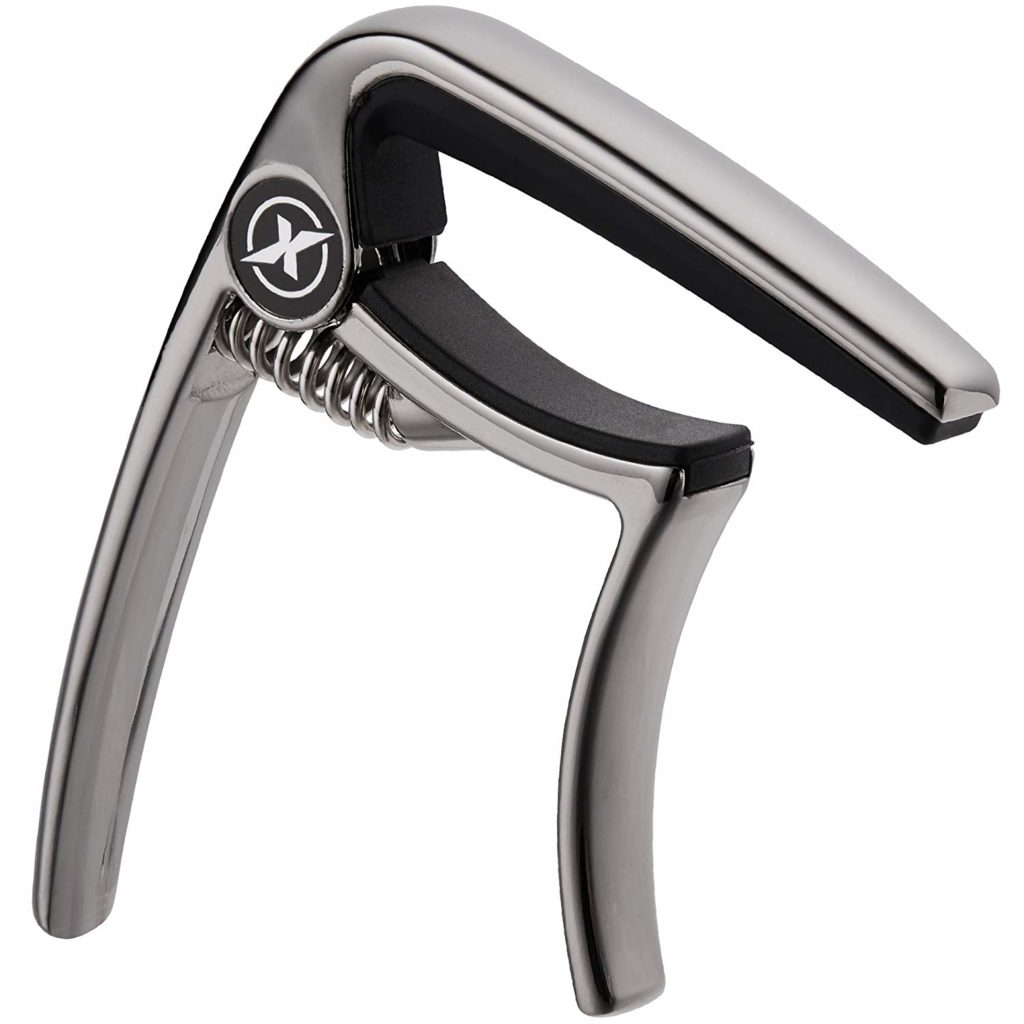 This reassuringly sturdy clamp capo is one of the most popular and highly-rated capos on the market today – and for good reason. Coming in at under $20, the X3 capo is made of a lightweight aircraft-grade zinc alloy, with a polished chrome finish for a very sleek look.
It performs very well, with a memory steel spring and a high-quality silicone pad holding the strings firmly, ensuring great intonation at all frets with no danger of falling out of tune.
---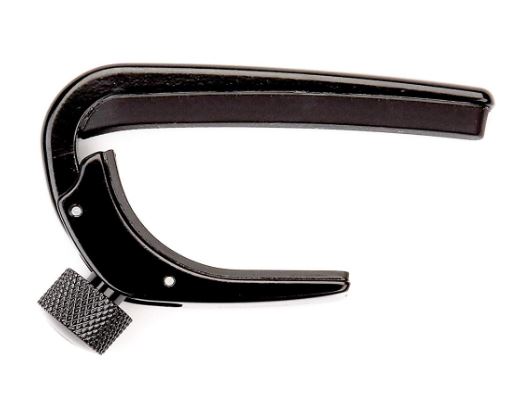 Screw-on capos are the answer to the trigger capos' tension problem, allowing you to tighten your tension to the perfect degree. However, this precision comes at the expense of a quickly movable capo – you're not going to be taking this capo on and off or moving it around the neck between songs with one hand.
That being said, the Planet Waves NS Classical Capo is the perfect choice for a classical guitar. These guitars often have wider necks, meaning that standard capos won't do the job.
---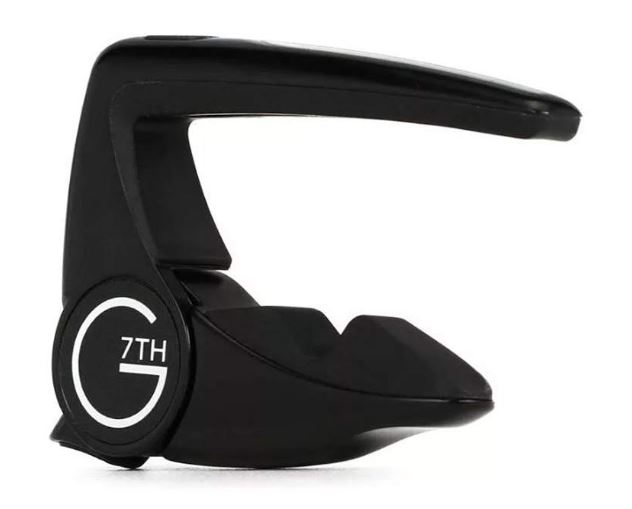 A favorite for acoustic and electric guitar players alike, the G7th Performance 2 Capo takes the cake for best designed capo on this list. The entirety of the capo is lined with rubber on the inside, totally eliminating the potential for sharp edges to mar your instrument. The capo ditched the previous designs that feature levers and other playing obtrusions in favor of a smaller and sleeker design. You can clamp it on with one hand and dial in the tension by squeezing it into place until it's just right. To release, all you have to do is flip the small release.
---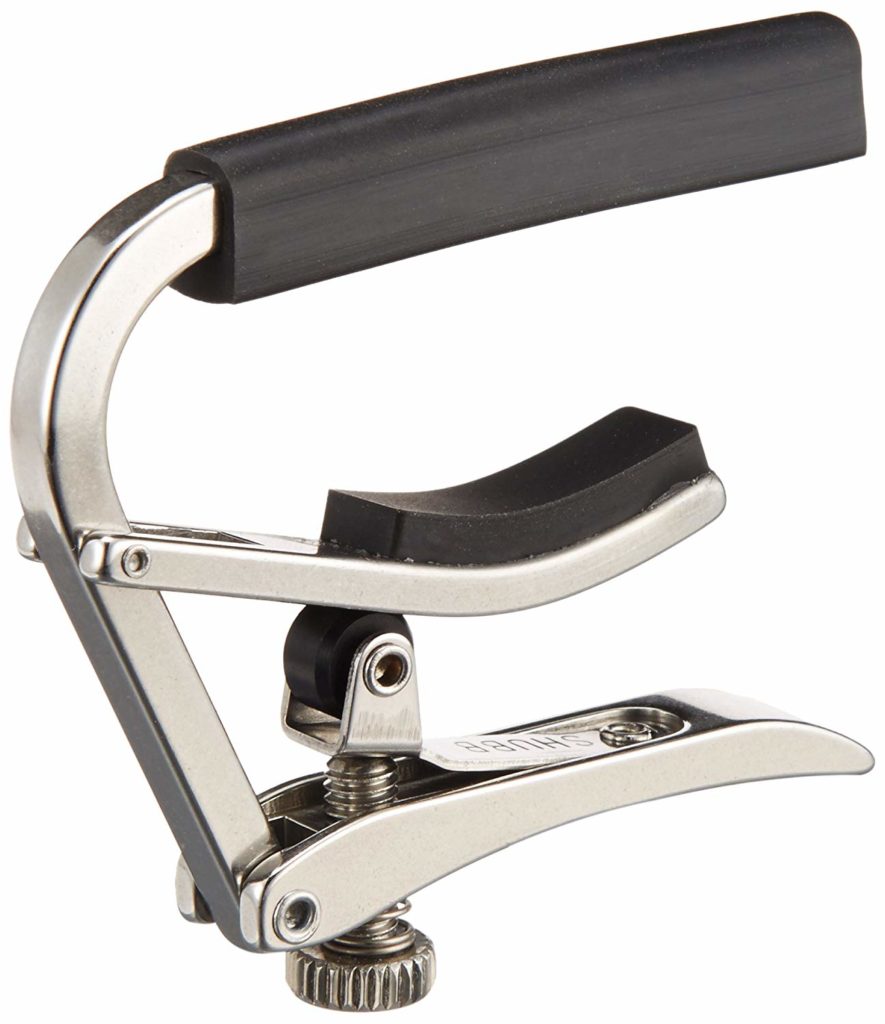 The Shubb Deluxe S Series Capo perfectly marries the quickness of a trigger capo and the precision of a screw-on in one, delightful design. A simple lever allows you to adjust tension, ensuring that you'll be buzz-free and kept in tune.
The capo itself is made of durable stainless steel, while the contact surfaces on both sides of the capo are made of soft rubber. The rubber actually mimics a human finger, eliminating the risk of damage that these accessories can cause your instrument's neck, strings, and fretboard.
---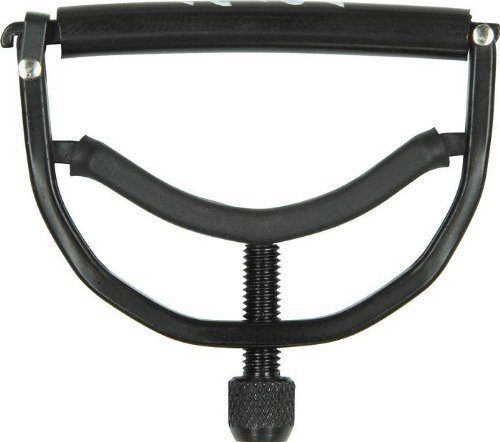 It may look like a medieval torture device, but the Paige P6E is an excellent capo that offers even pressure distribution across all strings, as well as huge tension control with a precise adjustment screw.
This ensures both a buzz-free performance and no tuning issues due to the capo. Made in America, this quality capo is light and sturdy, crafted from lightweight metal with rubber pads. Another advantage is that it is quick and easy to move around the fretboard and conveniently sits behind the nut when not in use.
---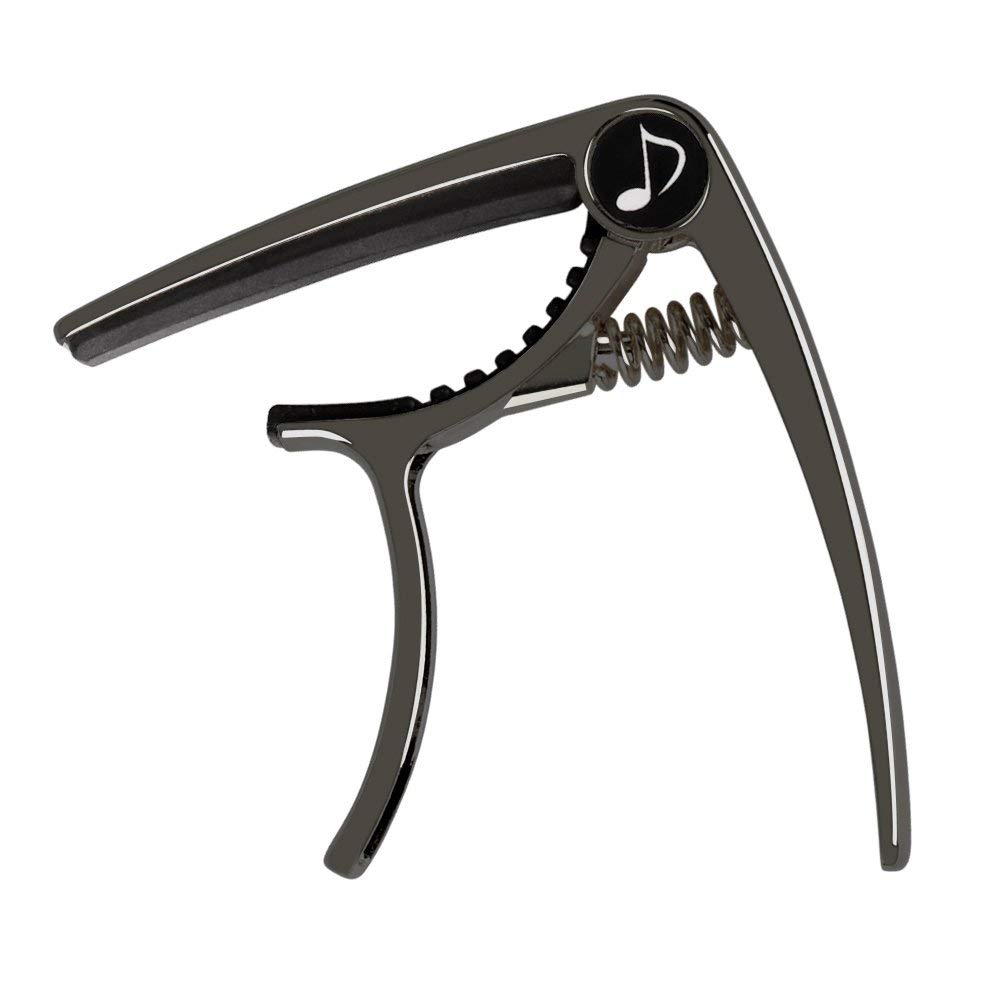 Donner is a brand that specializes in the budget market – so it makes sense that they would add a budget capo to their collection. This affordable clamp capo comes in at under ten bucks and proves a very useful tool.
While it doesn't feel as premium as some of the capos we feature above, it offers good functionality and a quality build. It's made of a lightweight high-quality zinc alloy with a steel spring and silicone pads that compress the strings evenly.