Among all those different and power effects pedals, loopers are probably one of the most useful pedals in a guitarist's arsenal. Looper pedals expand your musical palette in ways that no other effects can, allowing you to clone yourself and be your own backing band. Having a loop pedal in pride of place on your pedalboard will open you up radically different creative approaches that may become your signature with enough practice.
When it comes to the best looper pedals there's a lot to choose from, and we have made it easier for you. Here we run through the 12 best and most versatile loopers on the market, from simple one-knob wonders to pedals that look like the dashboard of the Millenium Falcon.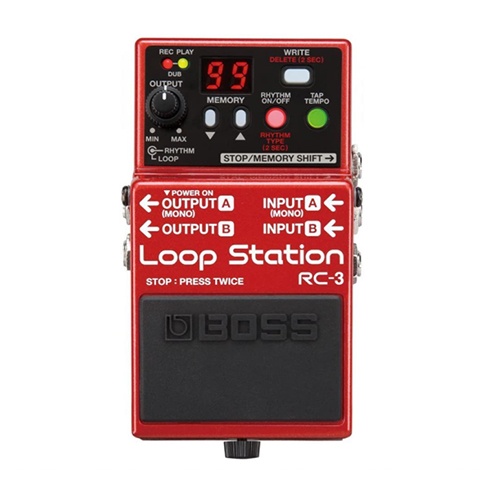 The RC-3 is powerfully equipped yet conveniently housed in a compact pedal. Enjoy up to three hours of stereo recording time, storage for 99 loops, a "real drums" rhythm guide, and USB 2.0 compatibility all in a small BOSS stompbox.
To keep your loops tight and in time, you can play along with one of the basic rhythm patterns in the RC-3's onboard library as you record. Ten types of rhythm types are provided, including Rock, Pop, Funk, Shuffle, R&B, and Latin. A dedicated knob lets you adjust the volume of the rhythm, and you can set the tempo via tap tempo. You can also specify the time signature. When you save a phrase, the rhythm type and time signature will also be saved.
---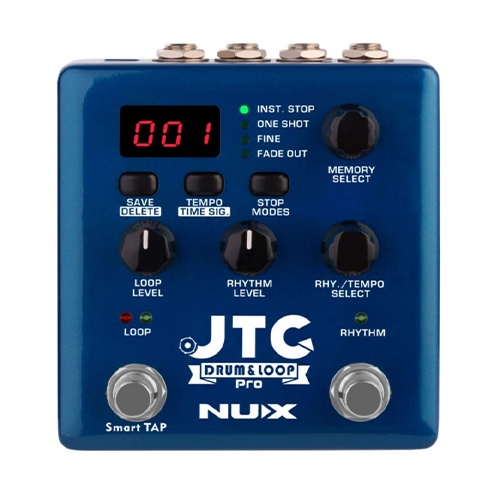 JTC Pro is an advanced pedal with simplified controls. It's a dual switch stomp box pedal with 6 hours of recording capability and 256 loop track memories. It has independent controls for the looper and the drum: left footswitch (LOOP) controls recording, overdub, and start/stop of the looper. This switch also features NUX patented Smart TAP function, which automatically detects whether you want to control the looper or to set the tempo of the drum.
JTC Pro's drum sound is high quality real sound, when you connect to any guitar amplifier or PA system you will hear a full range and dynamic drum sounds, still, if you are using a small practice amplifier there is an optional drum frequency optimization. It makes the drum sounds more clear and helps you to get a real looper experience with the smaller amplifiers.
---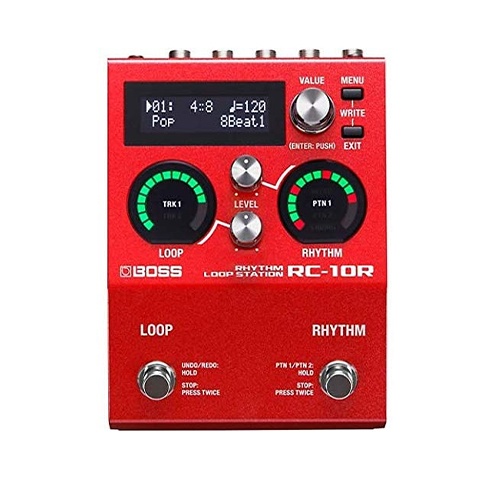 ombining song-based looping and organic rhythms in a compact package, the RC-10R brings fresh inspiration to live performances, songwriting sessions, and daily practice. This next-generation Loop Station is a real-time creation machine, enabling you to develop spontaneous music that moves and grooves with two unique song sections, intros/endings, and rhythm fills.
Onboard controls and visual loop indicators provide easy, self-contained operation, while expanded control is possible with external switches and MIDI. A vast rhythm library is on hand to cover nearly any music genre, and you can even import your own rhythms to personalize the RC-10R for specific songs and styles.
---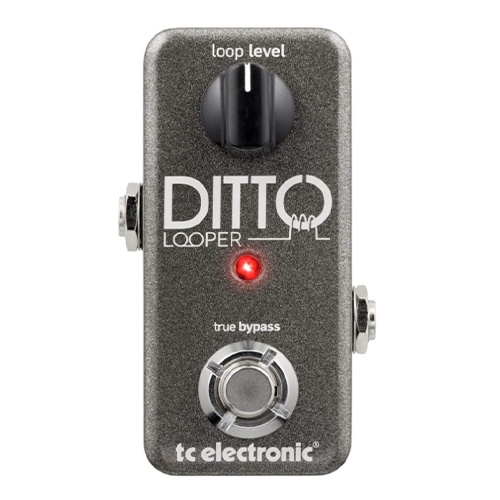 Ditto Looper is the looper you you will try once and love for life – and you've gotta try it. The looper was built onto all that is good about the best loopers, trimmed all the nonessential, mood-killing tech hoopla, and designed a 5-minute looper that is intuitive, tons of fun, sounds great – and won't break the bank!
It's 'one knob' button may seem like a minimalist approach, but all the essentials are there: record, undo/redo, stop and erase are all accessed via different foot-commands that always make sense, whether you are building loops, changing from one part to the next (we're looking at you, live performers) or adding layers to a song. If you know TC Electronic products, you are used to things sounding great.
---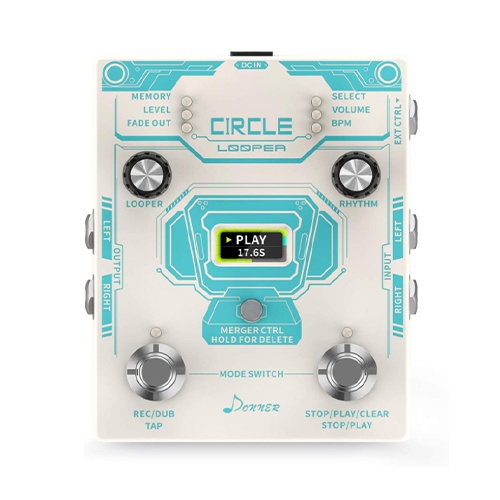 Donner Circle Looper is developing the latest generation of donner looper effect, closer to customer needs in functionality. 44.1kHz 24bit high quality looper and drum machine . 100 different drum grooves from 10 unique music styles. 10 types of metronome settings to choose from . The display shows the duration of the current recording cycle and loop mode (Rec/Overdub/Play). It has both Looper and Rhythm modules. You can switch the modules by pressing both foot switches simultaneously.
Donner Circle Looper has 40 preset slots and each track can store 4 minutes recording, which means you can store up to 160mins recording with Circle Looper pedal. Donner Circle Looper has a display screen showing the time progress and the detail of recording. Just focus on playing better!
---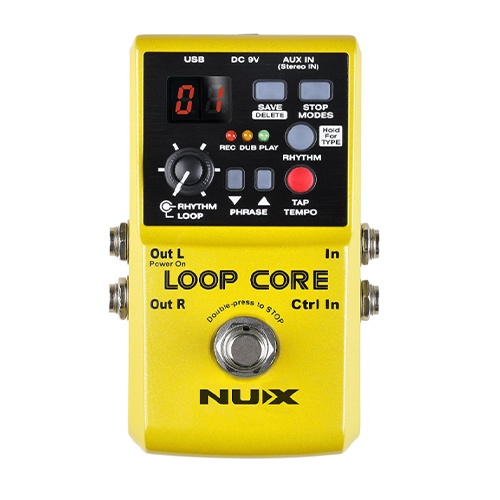 Jamming, Studio, Rehearsal or even Live Performance. NUX Loop Core allows you to record and create music phases and play them back as loops! It has 40 built-in drum patterns and offers you 99 user memories. Whether you practice, compose, or play live gigs, you will get inspired by the well-considered features of Loop Core. Record and overdub as many layers as you need and create an impressive performance with different start modes and finish modes.
Build-in Drum machine with 40 patterns drives you play with the gear, The drum rhythm's are really helpful to strum along with, Operation is simple- adding and deleting layers was easy to learn and being able to save loops.
---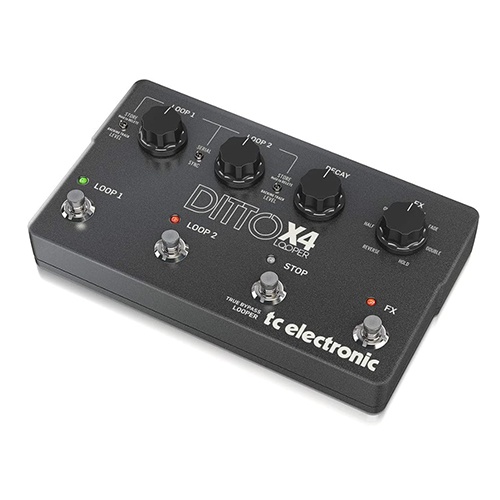 DITTO X4 LOOPER is the pedal that'll let you turn a single moment in time into something truly spectacular. By perfectly merging ease of use with stellar creative features like dual loop tracks, 7 loop FX, loop decay and MIDI sync, DITTO X4 LOOPER will instantly become the canvas on which you paint your multi-layered sonic masterpieces. If you can dream it, you can loop it!
Ditto x4 Looped takes everything that was great about the original Ditto Looped, the ease of use and the pristine sound quality, and adds a plethora of amazing features that'll open new creative doors for every musician out there. The dual loop tracks, two loop modes, loop decay and 7 loop FX make sure that there'll never be a shortage on creative ideas, while MIDI sync and stereo I/O make it perfect for live performances. Ditto x4 Looped also comes supplied with a USB cable for import and export of loops, and its own 9V DC power supply.
---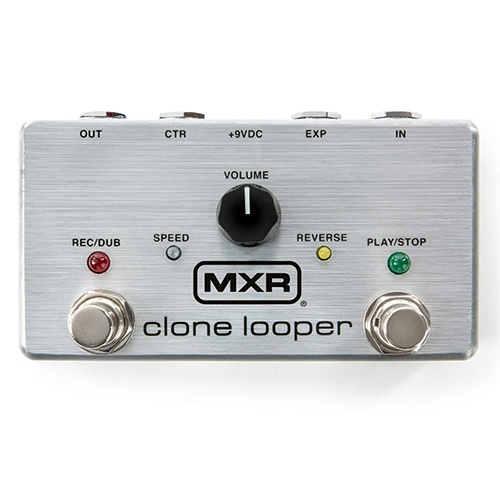 The MXR clone Looper pedal is highly engineered for incredible sound quality, Comes packed with features in a pedalboard-friendly housing, and can be as simple or complex as your needs dictate. In other words, it's got everything you expect from an MXR Pedal. Whether you're practicing at home, captivating audiences with improvisational compositions onstage, or weaving intricate sonic tapestries in the studio, The clone Looper pedal has you covered.
A super convenient LED gives you a flashing 4 count to the beginning of the loop so you can keep your overdubs tight. Loops can be stopped and started in an instant, and your most recent layer can be undone just as fast. Don't be afraid to run effects to your heart's content—the MXR team equipped this pedal with storage sample rates up to 88.2kHz, so it'll handle even high-gain distortion with ease.
---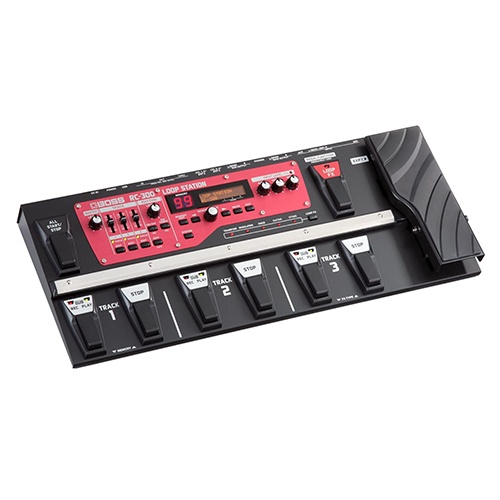 With loop mania sweeping the globe, BOSS proudly announces the most powerful Loop Station ever brought to the market – the RC-300. The new flagship looper features three synchronized stereo tracks with dedicated volume knobs and transport-control footswitches for each track. It's also equipped with pro effects, a master Expression pedal, and a deluxe, ultra-wide control panel for the ultimate in live-performance manipulation.
Plug in your guitar, bass, keyboard, or instrument of choice and create amazing loops in real time. An XLR input is also provided, complete with phantom power, so singers, percussionists, violinists, beatboxers, or anyone with a mic'd instrument can get in on the act, too. The RC-300 lets you record for up to three hours directly to its internal memory, adding effects as you go. Step into the most powerful and inspiring Loop Station in BOSS history. It's the creative powerhouse that musicians have been dreaming of!