Cello is one of the coolest instrument in the string family, but let's face it, it is too big and bulky to carry around and perform like violin or guitar, but good thing is, electric cello is available in the market! They are stylish, cooler(compare to acoustic cellos), and downright fun to play. Since electric cellos are harder to find at local music shops and usually must be purchased online, we have consolidated a list below of the best electric cellos. Know your size before purchase! Unlike acoustic cellos that offer different sizes, most electric cello only available in full size, which is 4/4, it would be best to try a cello at local store before making the final purchase online.
For Beginners (Under $2000)
Cecilio 4/4 CECO-1BK Black Metallic Electric Cello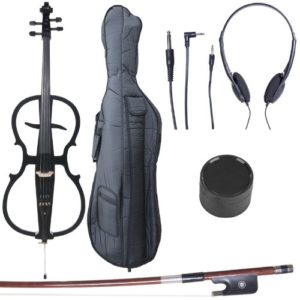 Cecilio is one of the most well-known student cello brand available in the market. They also produce some of the best electric cellos. They offer quality instruments at a fraction of the cost of other big-name players. Cecilio
4/4 CECO-1BK cellos
are made out of hand-carved maple wood with a black metallic varnish. They have an ebony fingerboard, pegs, and tailpiece with mother of pearl inlay and four detachable fine tuners. These electric cello outfits are also very generous. In addition to the electric cello itself, the Cecilio outfit comes with a well-padded lightweight soft-case, bow, rosin, aux cable, and headphones.
So it is a great overall cello package for beginners
just starting out who doesn't have all of the electric equipment necessary.
Cecilio 4/4 CECO-4BK Black Metallic Electric Cello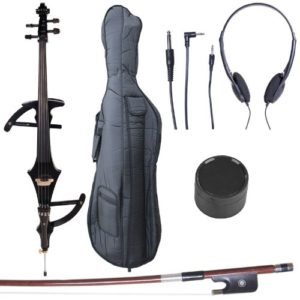 Similar to Cecilio
4/4 CECO-1BK, this Cecilio electric cello is also
made out of hand-carved maple wood with a black metallic varnish. They have an ebony fingerboard, pegs, and tailpiece with mother of pearl inlay and four detachable fine tuners. It has the same package and sold at same price, also a great option for beginner players for a complete package. Only difference is the shape of this cello, which look more unique and stylish, and probably will give your audience a newer impression when playing. Personally, I would pick this one over
CECO-1BK.
Stagg ECL 4/4 BK Electric Cello – Black

Stagg
is a world renowned electric instrument manufacturer. Established in 1995, Stagg has been dedicated to bringing high-quality musical instruments and accessories to musicians of all types, at the most attractive prices. The Stagg ECL electric cello is one more excellent instrument by this company. A great fit for any cellist looking for an electric instrument that fits into a tight space. The Amazon outfit only includes the instrument itself so you will need to refer to our checklist for buying a cello to determine what else you will need.
Leeche Handmade Professional Solid Wood Electric Cello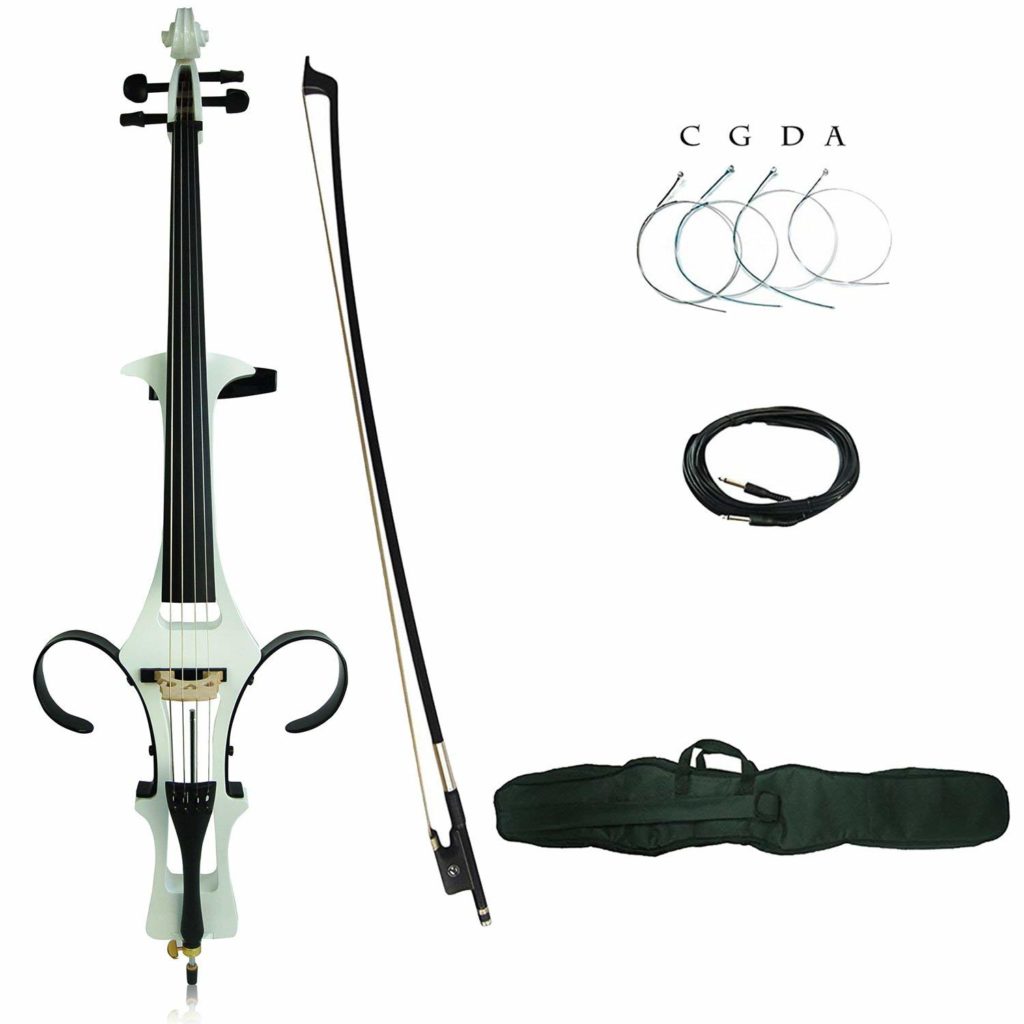 This is a pretty new brand, but looks like they know what they are doing by providing good instrument at affordable price. These Leeche electric cellos use 2.4 inches deep quality plywood body, maple neck, ebony fingerboard and fittings, aluminum alloy tailpiece, professional pick-up system, stainless steel and ebony endpin. They are equipped with German pickup system, which offers high fidelity, high sensitivity but low noise.
Leeche claims these cellos are comparable that of Yamaha's, they come with bag, cable, bow, extra bridge and set of string, you do need to purchase battery though, but that won't be much of a hassle.
NS Design WAV4 Electric Cello – Amberburst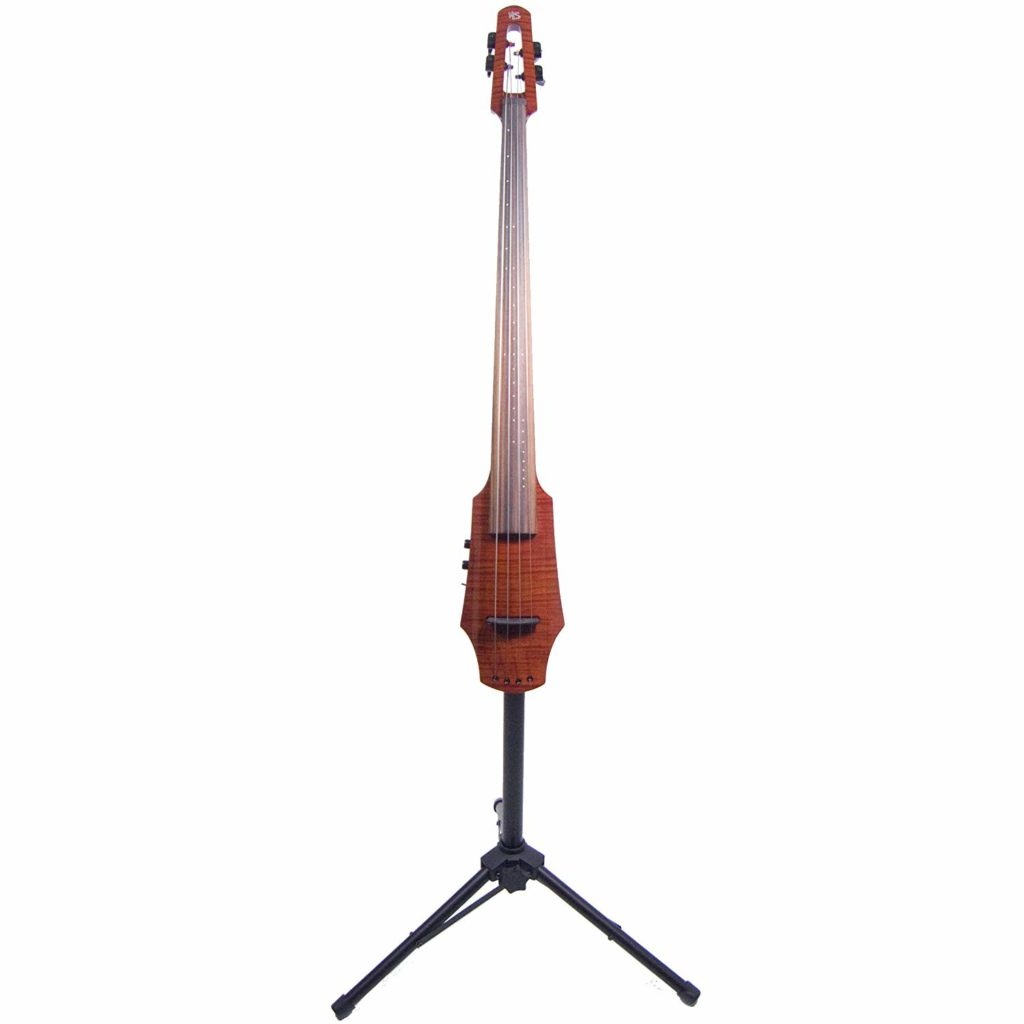 The NS Design WAV cello is the first ever performance quality solid-body electric cello under $1,000. Sleek, portable, playable design and reliably strong, balanced cello tone make this one of the best values on the electric cello market. The body is made with solid, straight grain maple, with maple face or flame maple face on body. A brass pin on the rear of the neck serves as a reference point corresponding to the heel of an acoustic cello. The fingerboard is made of ebony and has inlaid dot markers to reference where various notes are. The instrument is tuned with fully encased worm gear tuners. A convenient switch on the side of the NXT allows you to select sensitivity for either arco or pizzicato play resulting in either more percussive response, or smoother and sustained response, adding a new dimension to what you can create musically. The outfit includes a basic gig bag with the option to upgrade to a harder flight case. Other accessories, including purchasing the cello bow, are up to you.
Yamaha SVC50SK Silent Compact Cello Outfit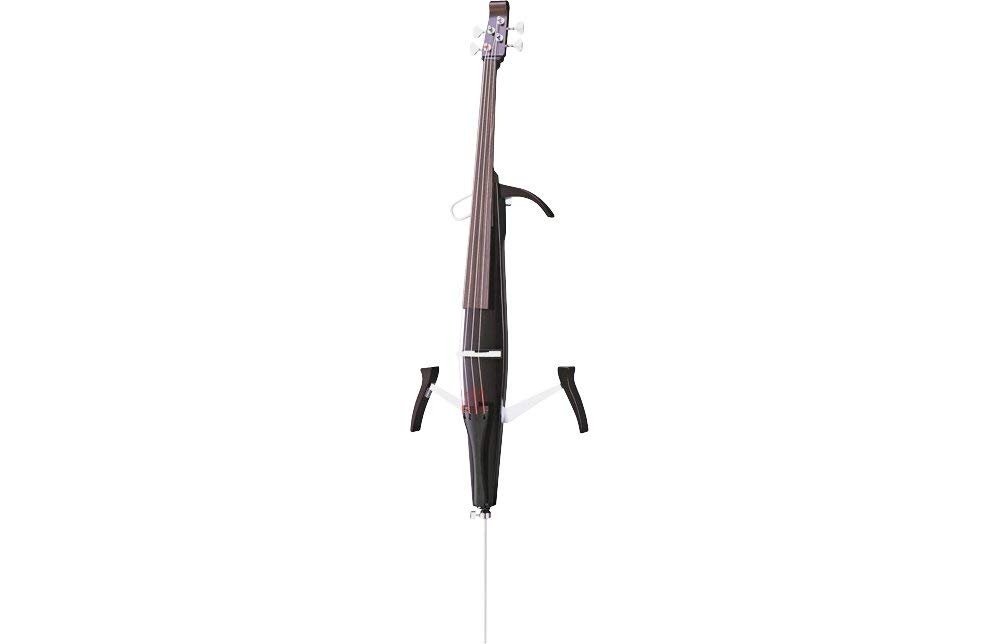 A super-lightweight electric cello, the Yamaha SVC50SK weights only 41.6 lbs making it a great choice for traveling musicians. Made with the high-quality known from Yamaha, the SVC-50 offers the natural feel and resonance of an acoustic cello. The additional chest support makes holding this cello during concerts extremely comfortable. In addition to the reverb section, the instrument is also equipped with Auxiliary In, Line Out and Headphone Jacks People love it, too! It has a 4.8/5 star rating on Amazon and the reviews can't stop praising this instrument. Although this is sold as an "outfit," only the instrument is provided so you'll need to buy a bow and other accessories.
Bellafina Electric Chincello Outfit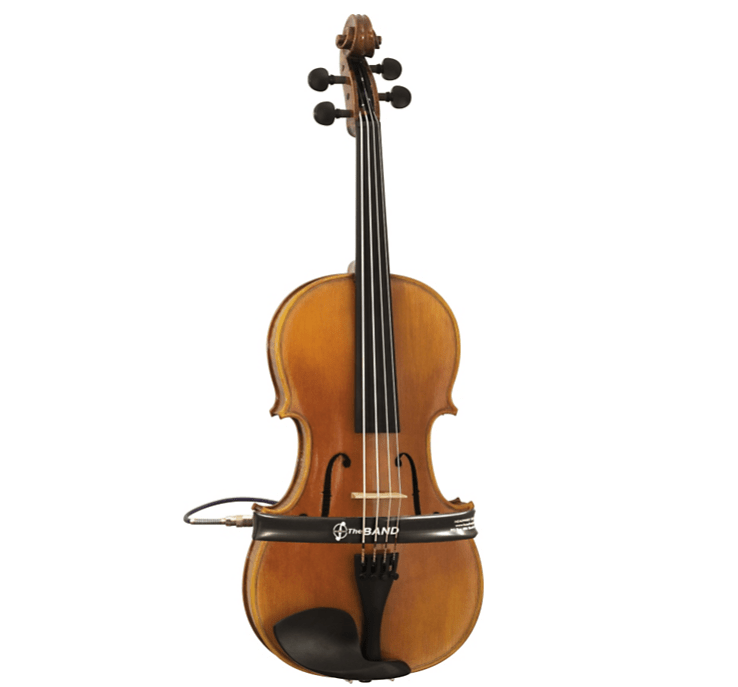 Not exactly a electric cello, but a great gadget to make cello tone without actually carrying a giant cello. Cello tones with cello timbre in a compact size! Just plug into any small instrument amplifier (guitar, etc.), and the sound becomes like a full size cello. Great for pit performances where space is extremely tight, on stage with a cable, or with a wireless unit attached for maximum mobility. Includes ChinCello, case, cello bow, and a Headway viola-sized "The Band" pickup that attaches in seconds to the instrument with no instrument modifications needed. This outfit was the "hit of the show" at the recent American String Teachers conference.
For Pros ($2000 and UP)
Yamaha SVC-110SK Silent Electric Cello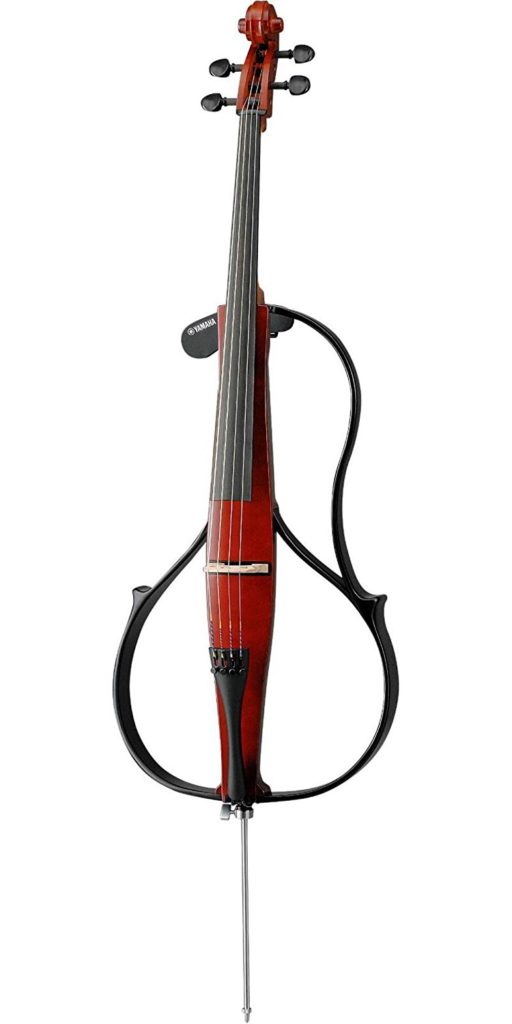 This is a great concert electric cello for a rock or Apocalyptica tribute concert. These cello comes with f
ull bodied frame for traditional feel with Wittner tuning adjusters plus fine tuning control on tailpiece, it produce a realistic acoustic sound.
Customers love this cello because of the high quality. Yamaha is well-known for making very high-quality electric instruments (usually piano keyboards). Featuring a redesigned resonating chamber helps produce the most realistic and "acoustic-like" string tones and resonating sound, this cello is ready for the concert hall. This cello comes with a bag, headphone, and batteries, but you will have to purchase cable and a bow.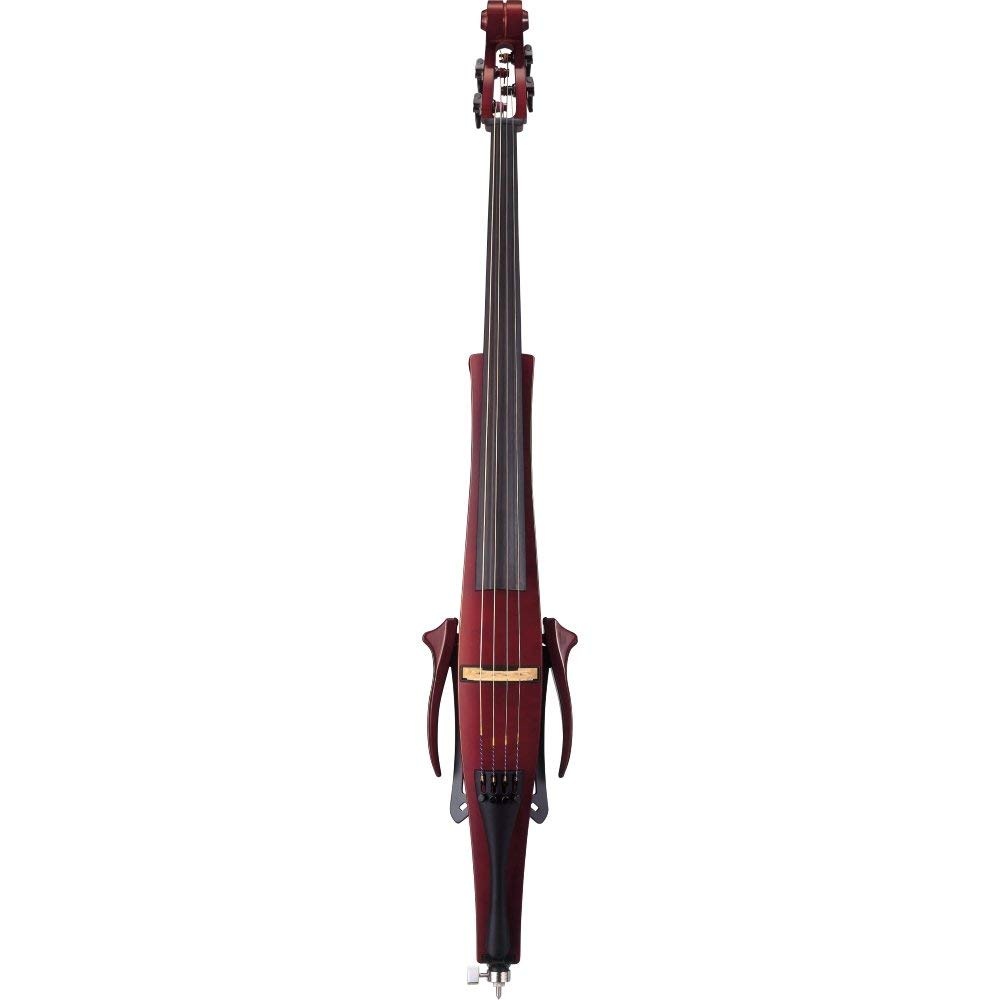 Yamaha is known for producing clean, versatile instruments that come with a few extra features to justify their slightly elevated price tags. The 210 is no exception. It has reverb effects, collapsible bouts, and, among other things, a small resonance chamber that helps it create a quiet analog tone. This isn't loud enough to perform with, but it makes a useful guide for players who are experienced with the acoustic side of things. The initial buy-in is high at $2770, but the quality of the instrument is good enough for it to last and not need much servicing or replacement. This is a long-term commitment, and you might well not have to buy another silent cello for many years.
NS Design CR4 Electric 4-String Cello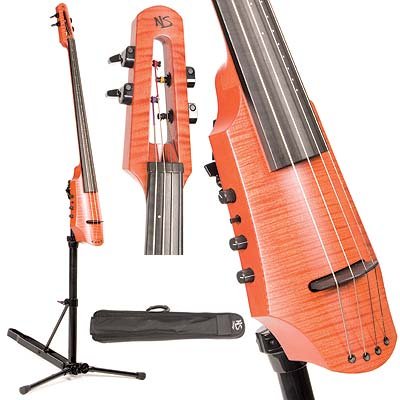 The CR4 Cello features the Polar bridge-mounted piezo pickup system. The Polar pickups can sense either vertical or lateral string vibration. Set in the vertical mode, plucked notes are remarkably even and sustained. In the lateral mode, the pickup has unparalleled sensitivity in the direction of the bow, with more attack when plucked. Attack and decay can be effectively controlled with the Polar pickup system.
This beautiful 4-string cello is finished with a traditional amber stain and a polymer top coat. The solid ebony fingerboard is graduated for each string for ideal playing action. It comes with a gig bag, but you will have to have all other accessories ready to use it.