If you are a true guitarist, few experiences match the rush of playing guitar live on stage, but you're always restricted by the length of your cable. If it's too short, you risk pulling it out of your amp as you strut the stage. If it's too long, you may trip over it. A guitar wireless system not only increases your mobility, but it also gives your stage a cleaner look and can sometimes eliminate ground loops.
Cheaper wireless guitar systems got a horrible reputation in the past. But with the current technological advances in wireless systems, things have changed drastically for the better. Here is a review of the 9 best instrument wireless systems for better performance, and do not worry, you do not need to break a bank to get one of those.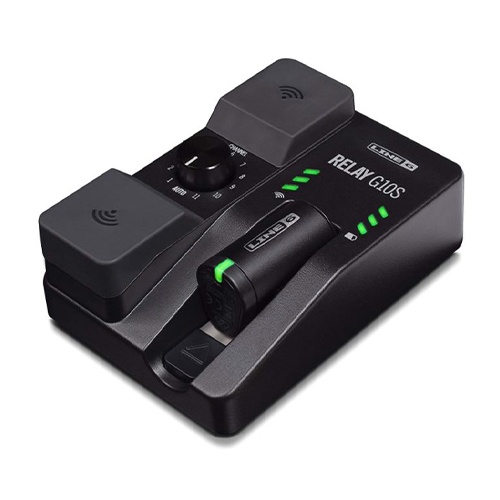 The Relay G10S guitar wireless system is as powerful as it is compact. The stompbox-sized pedal offers professional features, rugged build quality, and plug-and-play operation at an easily affordable price. The Relay G10S system integrates seamlessly into any pedalboard or can function as a standalone unit. It features an impressive range of up to 130' line-of-sight, enabling you to move about untethered on any sized stage—and the Relay G10S works equally well with bass.
The Relay G10S is the newest member of the relay wireless family, a series of products that are embraced by professionals for their reliability, ease of use, and transparent sound. Thanks to the extensive experience that Line 6 brings to designing and manufacturing wireless products, you can depend on the Relay G10S to provide clear and accurate instrument sound, free from interference.
---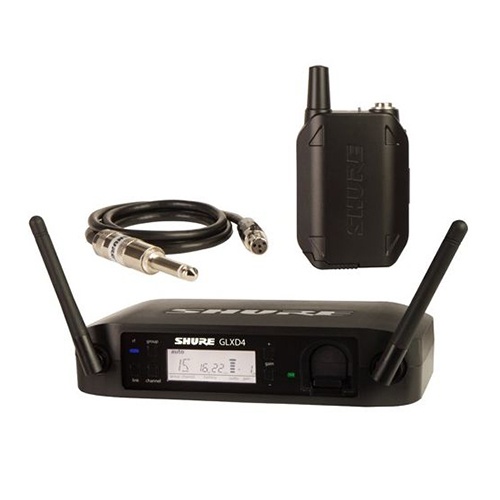 Revolutionary Shure GLX-D Digital Wireless Systems combine leading edge LINKFREQ Automatic Frequency Management technology with best-in-class intelligent lithium-ion battery rechargeability to define the new standard for seamless operation and digital audio clarity. The GLXD4 single channel wireless receiver features revolutionary LINKFREQ Automatic Frequency Management and battery rechargeability. An integrated battery charge port can charge a spare Shure lithium-ion battery while the system is in use.
Up to eight compatible systems can operate in the globally unlicensed 2.4 GHz frequency band. GLXD1 features an ergonomic design and reversible belt clip to fit comfortably and snugly in various positions. For use with GLX-D Digital Wireless Systems, GLXD1 offers up to 16 hours of continuous use with Shure lithium-ion rechargeable batteries.
---
Driven by new BOSS technology, the WL-50 delivers premium sound and a plug-and-play experience that eliminates all the hassles normally associated with wireless systems. The stompbox-sized receiver fits right alongside your other pedals, and includes a docking port for charging the transmitter and automatically setting the best wireless connection. There's even a handy DC output, allowing you to distribute power to multiple pedals on your board.
Setup is quick and simple, and you're able to move about freely while playing at home, jamming with friends, and performing on stage. Once you experience the wireless independence provided by the WL-50, you'll never go back to using a standard cable again!
---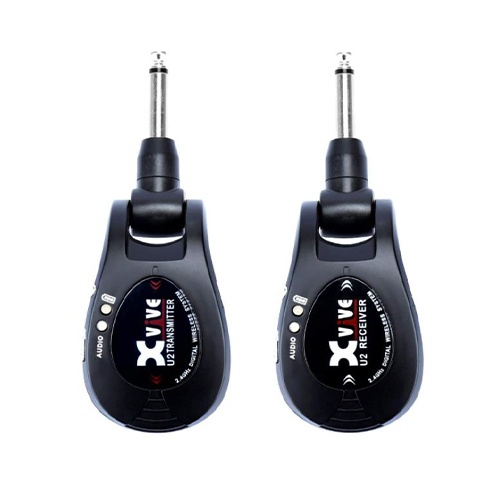 The Xvive U2 system offers four channel choices at 2.4 GHz, and up to 120 feet(normal) of line-of-sight range outdoors, so you can use four sets of transmitters and receivers with multiple instruments (i.e. four instruments, each into a separate amp; or two guitars into pedalboards and then from the pedalboards to the amps), or you can assign multiple receivers to the same channel and use a single transmitter (i.e. one guitar into more than one amp). And, unless you're playing on a football field-sized stage, you should be just fine in terms of distance for most venues.
The compact size and flexibility of the U2 transmitter and receiver units make it a very practical system. They can be carried in a gig bag, guitar case, or pocket! The Xvive U2 is the only system that accurately delivers your tone without compression or compromise—thanks to its wider frequency response, next-generation technology, and greater dynamic range than other wireless systems.
---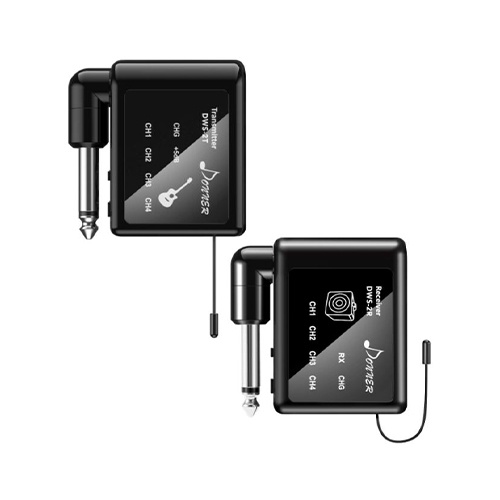 The Donner DWS-2 is a new perfected digital transmission wireless system with no loss in sound quality and less than 2.5ms delay during transmission. And it offers a reliable way to transmit your guitar (or any other electric musical instrument) signal, enabling you to break free from using cables. With a transmission distance up to 200 feet, you are afforded the freedom to roam the stage for a truly dynamic performance. It is great for using with the rechargeable lithuim battery and lasts up to 4.5 hours with one charge. For guitarists, nothing is more important than tone.
DWS-2 delivers your tone without compression or compromise, and give you the response from your instrument that is very similar to what you are used to from a cable. It supports 4 sets of devices working at the same time, one-to-one or one-to-two or one-to- three transmission.
---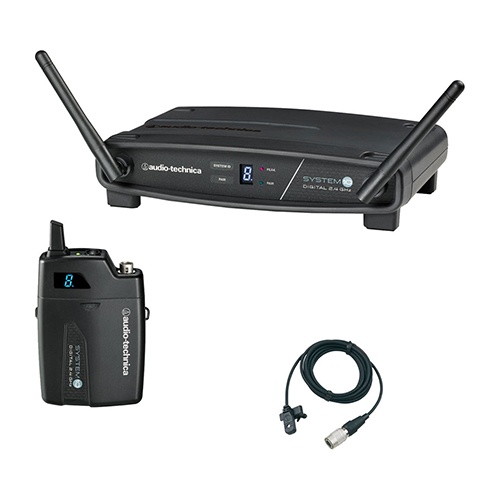 Audio-Technica's System 10 is a digital high-fidelity wireless system designed to provide performing musicians and presenters with advanced 24-bit operation, easy setup and clear, natural sound quality. Operating in the 2.4 GHz range, far from TV and DTV interference, System 10 offers extremely easy operation and instantaneous channel selection. Up to eight channels may be used together without any frequency coordination problems or group selection issues.
Featuring stackable, contemporary styling, System 10 is available in multiple system configurations, with handheld vocal microphone/transmitters and UniPak body-pack transmitters designed for use with lavalier, headworn and instrument microphones as well as electric guitars. Each configuration includes the ATW-R1100 receiver and either a body-pack transmitter or handheld microphone/ transmitter. The ATW-R1100 is a digital receiver offering volume control along with AF Peak and Pair indicator lights.
---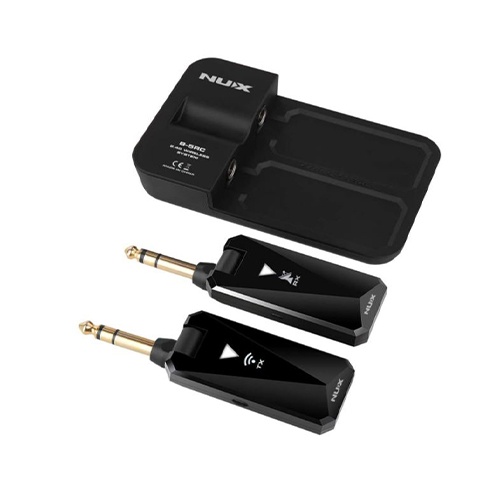 NUX B-5RC Guitar Wireless System is the new portable 2.4GHz wireless system for musical instruments. The NUX engineering team has spent painstaking effort to develop its latest signal processing algorithm to offer you more stable signal, ultra low latency and less interference in reasonable distance, while maintaining the tone and feel of your playing! NUX B-5RC narrows down its bandwidth to 2M with no compromise on sound quality. It's much narrower than most of other similar 2.4GHz wireless systems, especially Wi-Fi and Bluetooth devices.
Moreover, it automatically detects the best channel when it's powered on. Even in complicated environments, the B-5RC will easily find the best way out. The NUX signal-processing algorithm in the B-5RC is the secret to ensure high sound quality under such low bandwidth! We understand how important it is to keep your original signal pure without being badly compressed.
---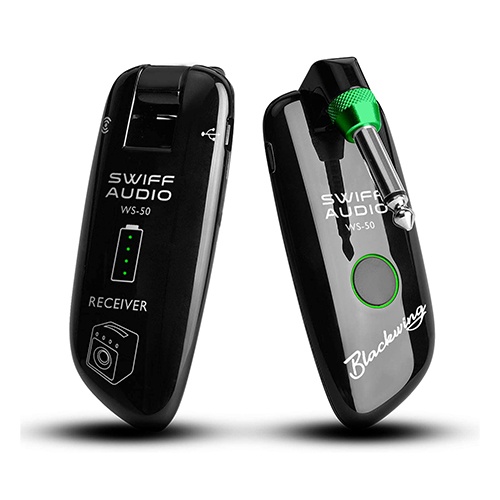 Built-in a 600mAh rechargeable lithium battery, sustainable use for more than 5 hours(a full charge needs 3 hours). Dual-ended USB cable is packed. Besides, double click, check the current battery power, easy operation. Achieving 164ft/50m long wireless transmission range, without signal loss and no lag(outdoor, without obstacle). High Sampling Rate (24bit/48Khz) makes the sound output more representative.
Multiple Channels for multiple devices matching set, there are 10 channels optional each time you turn on the device. Adopts UHF technology, supports more equipments using simultaneously with strong anti-interference capability.VWide Usage: 220° rotatable plug, easy to pair, plug and play. It is available for most electric musical instruments with popular 6.35mm jack.
---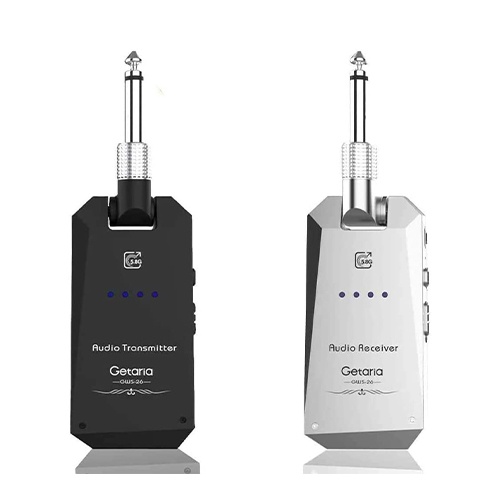 The Getaria GWS-26 Guitar Wireless transmitter receiver offers a reliable and affordable way to transmit your guitar (or any other electric musical instrument) signal, enabling you to break free from using cables. With a transmission distance up to 30 meters, you are afforded the freedom to roam the stage for a truly dynamic performance. Wireless Guitar Supports 4 sets of devices working at same time, one-to-one and no-interference; and one transmitter can transmit signal to several receivers at the same time also,1-Key to change channel conveniently. Easy to use, plug and play.
Wireless Guitar System With an impressive 105dB dynamic range at your disposal, crystal-clear sampling at 24Bit/48kHz, and a frequency range spanning 20Hz to 20kHz,Less than 5.6ms latency, no lag or no signal loss. You can rest assured that the most subtle of nuances with regard to your performance are captured and transmitted with the utmost fidelity.