If you ask what is most important feature a violin case should have, 8 in 10 will tell you sturdiness is the key, if the case is not strong and sturdy enough to protect the instrument, what is the point of having one? If you share the same thought, they you probably should consider a sturdy, strong heavy duty violin case that is made out of solid wood or durable fiber glass.
We have already talked about lightweight cases, so in this article, we will be focus on heavy duty cases, which may be heavier, but will sure to provide you the maximum protection that you are looking for!
Bam France 2002XL Contoured Hightech Tweed-Look 4/4 Violin Case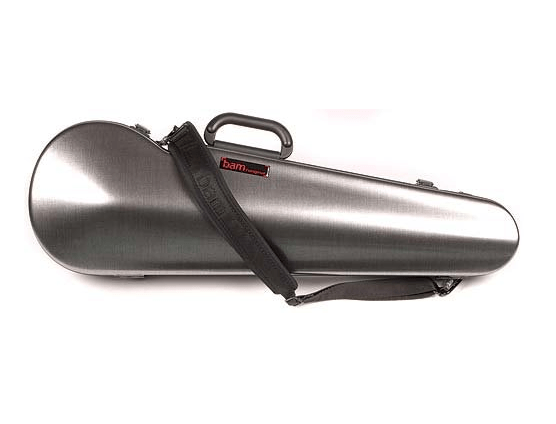 BAM France is famous for its stylish and high quality violin cases, its exterior is built using a triple layer technique, the shells of AIREX, ABS, and PVC combine to serve up first-rate protection. It is one of the highest quality travel cases on the market, outperforming the majority of competitors.
It features an airtight seal which maintains pressure, rendering it shockproof. It also thoughtfully has rubber anti-slip grips to keep the case at its best and prevent it falling over when stationary. It suspends the instrument, with foam cushioning beneath a black plush interior covering. It has spaces provided to carry 2 bows and has a zippered mini-case for storing accessories.
---
Bam Slim Hightech 4/4 Violin Case, Orangey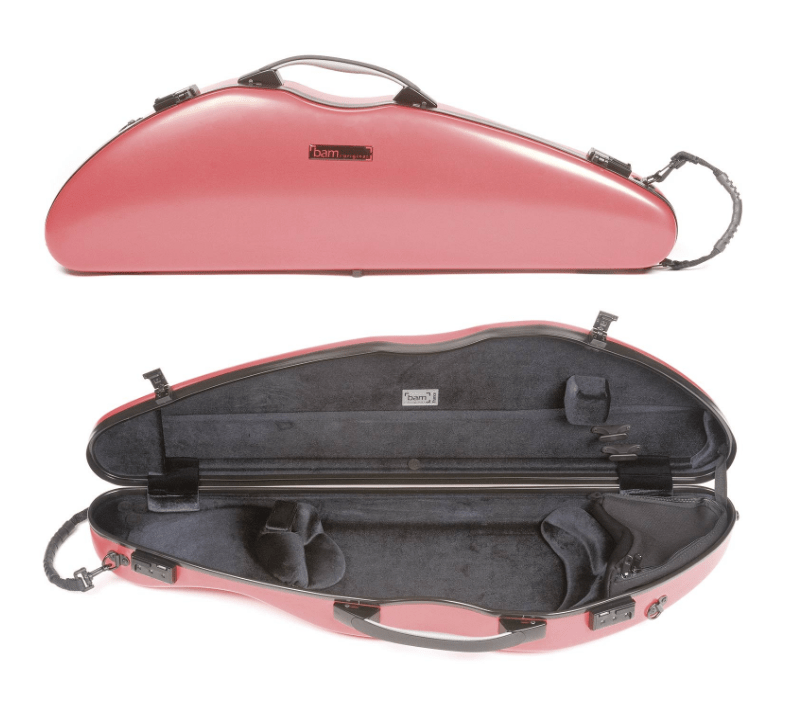 This is another popular BAM case, it features their proprietary triple-ply structuring technique with ABS Airex and injected composite foam. It offers instrument suspension like no other and weighs just 4.2 lbs. The resilient exterior is completely shock proof, surprisingly lightweight and features an airtight seal design to shelter your instrument from the elements and keep it in pristine condition.
It has a dedicated accessories pouch which is removable for easy use. For easy transportation, the designers have incorporated two comfortable neoprene backpack straps. They come in a range of colors the most eye-catching of the lot being their 'Orangey' model.
---
Sky Violin Oblong Case VNCW03 Solid Wood with Hygrometers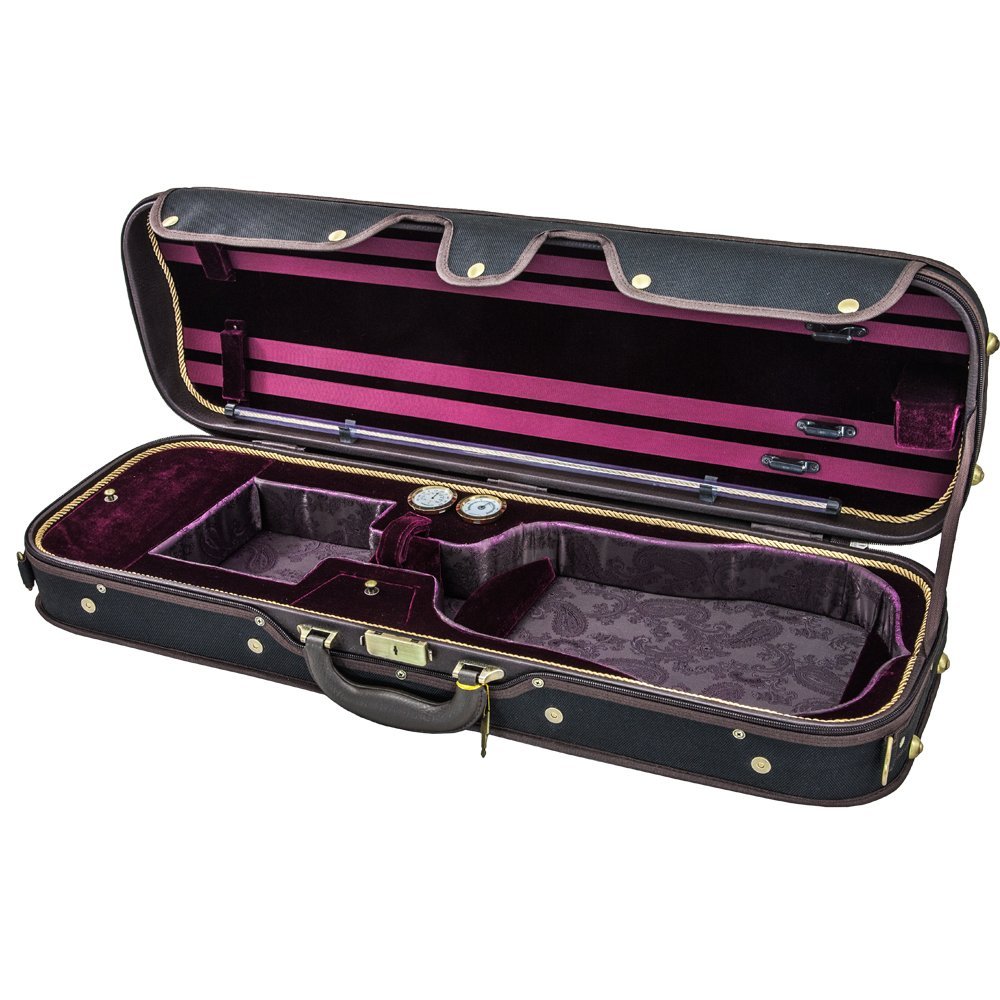 This is a solid wood oblong shape violin case.It has a full-length music sheet pocket at its top. And, there should be no unpleasant surprises with its sturdy zipper as its open and close option. It also features an external hydrometer for humidity checks and control.
On the inside are suede brown and blue cloth cushions to support your violin. At the center of this cushioning are suspensions that absorb shock if the box drops or is hit by another object. This cushion comes with a matching blanket to complete the beautiful design. They have this case in different colors, for the price and quality, this is a no-brainer purchase.
---
Baker Street BK-4030 Violin Case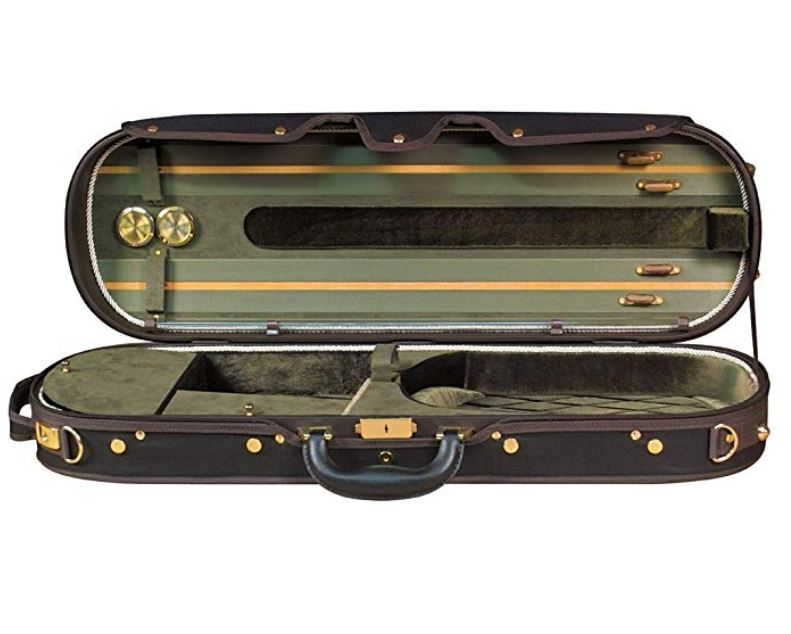 Another luxury model which is reasonably priced is this best seller from baker street products. It is a traditional oblong shape and has been streamlined to keep it compact. It has a sturdy exterior with a plywood core covered in wipe-down, brown textured nylon.
It is zippered but also features a lockable latch for added security. The handle and removable straps are well sewn and are of a leatherette material which is comfortable and durable at the same time. It has plenty of storage with an exterior pocket as well as an interior compartment.
---
SKY Heavy Duty 4/4 Full Size Wooden Pro Double Violin Case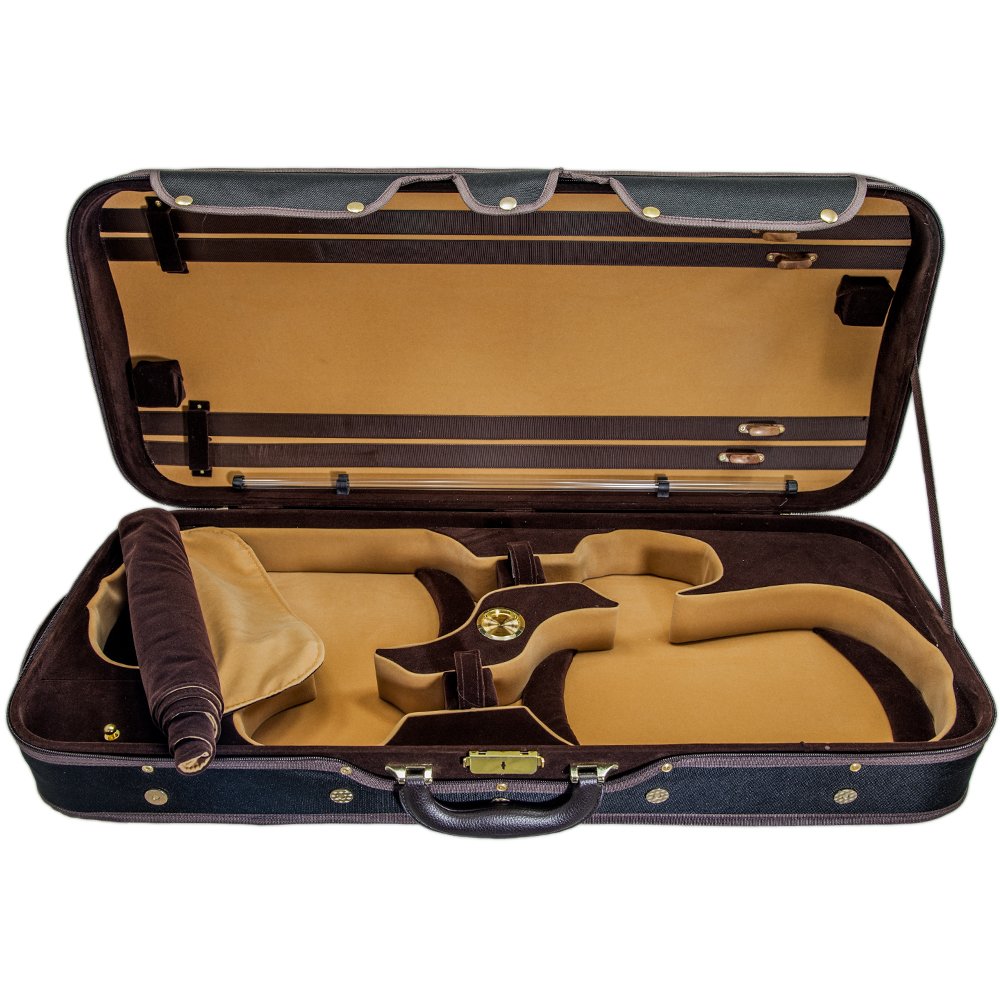 If you have more than one violin that you need to store, or wish to travel with, you may consider purchasing a double or dual violin case, and this SKY heavy duty full size wooden pro violin double case is a perfect option. It offers the ultimate protection for your violins. Its heavy duty condensed molded solid wood is hardy and does not easily break or burst through on impact. The entire interior is well padded for protective cushioning.
It full zippered (grade nylon) music sheet pocket, two convenient shoulder straps, four bow holders, and under handle latch with key ensure that you can easily access your violins whenever you want to, carry them over your shoulder, and safely put the casing under lock and key to prevent unauthorized access.
---
Aileen 4/4 Full Size Luxury Fiberglass Violin Hard Case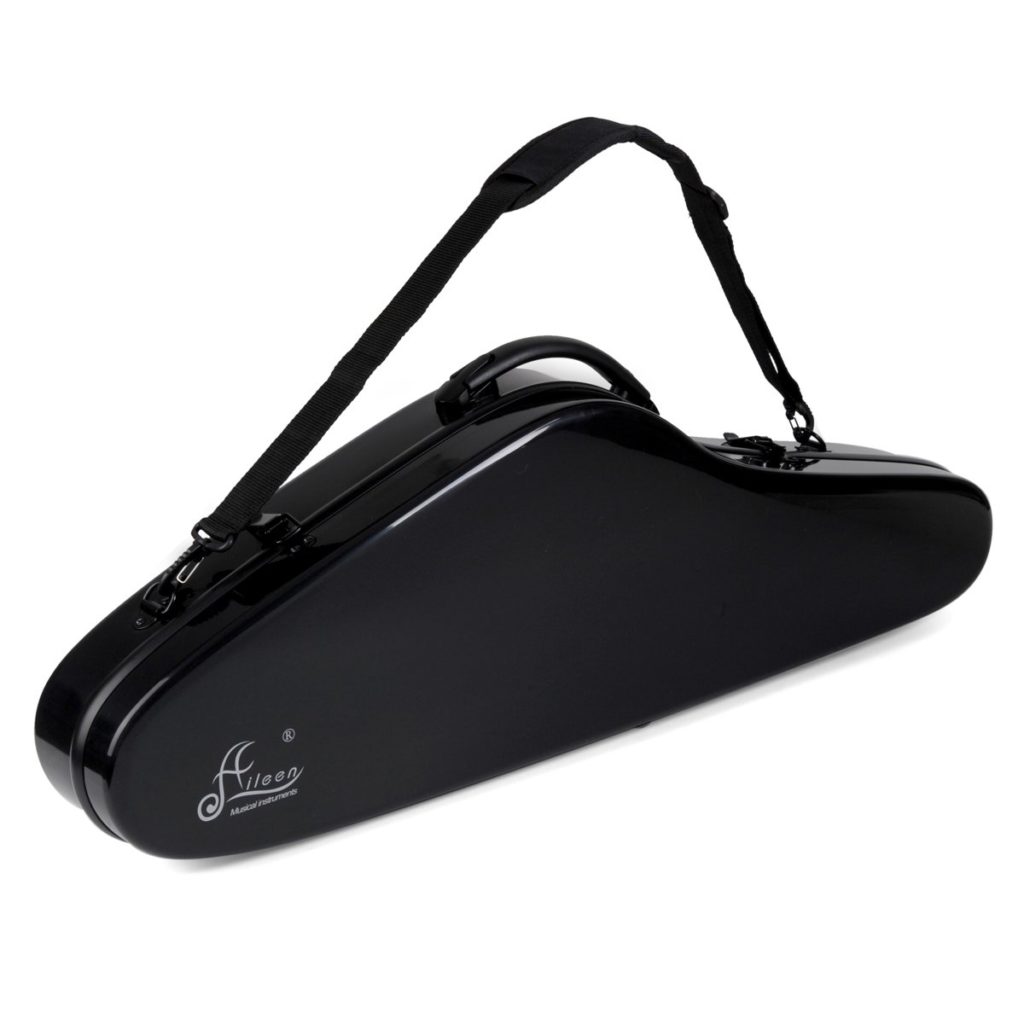 An unusual shape, fiberglass with 4 color options, the Aileen is a stylish case for a small price. It features a contoured triangular design that enables the user to wear the case, like a travel guitar as well a carry it in a suitcase fashion. Every effort has gone into the deign to ensure it is as lightweight as possible for easy transportation. Its dimensions are perfect for a standard full-size violin.
It offers up a luxury, quilted velvet interior which is available in 4 different colors. Inside there is space for 2 bows and despite its compact nature, it conceals a small but adequate compartment for all your accessories. It comes with a free hygrometer to monitor humidity levels and help keep your violin in tip-top condition, extending its life.
---
Tonareli Cello-shaped Fiberglass Violin Case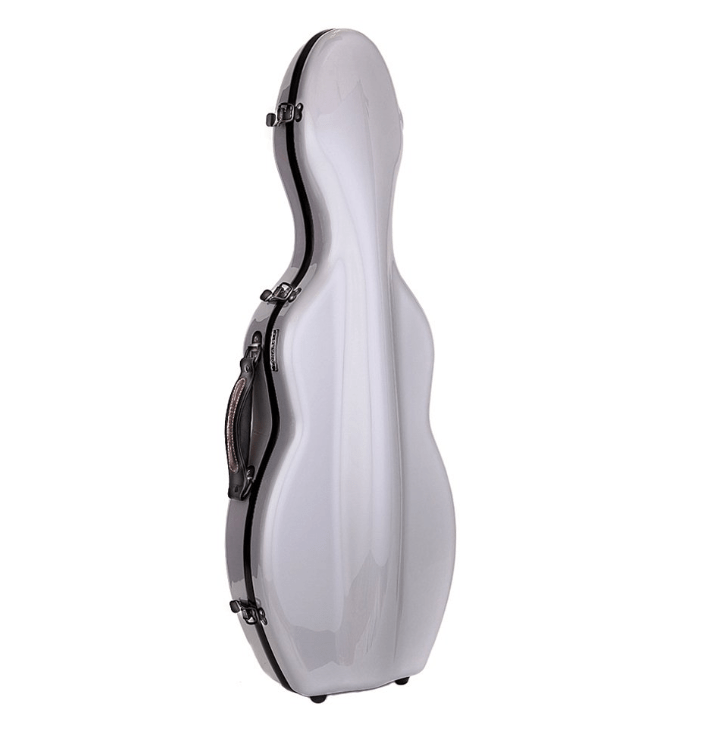 The Tonareli cello shaped fiberglass violin cases are an affordable and stylish case to protect your prized instrument. Constructed of light weight and durable fiberglass, the case is sealed when closed so your instrument is protected from both inclement weather and sudden temperature changes.
There is a removable accessory compartment for rosin, strings, mutes, cleaning cloth, etc. Each case comes with two shoulder straps and a violin blanket. The inside is pretty good looking the foam suspension seems rigid but soft enough to absorb bumping about and features padding at the ends. There is also space to house 2 bows as well as your accessories.
---
D'Luca CP05M-BLBL Heavy Duty Oblong Violin Case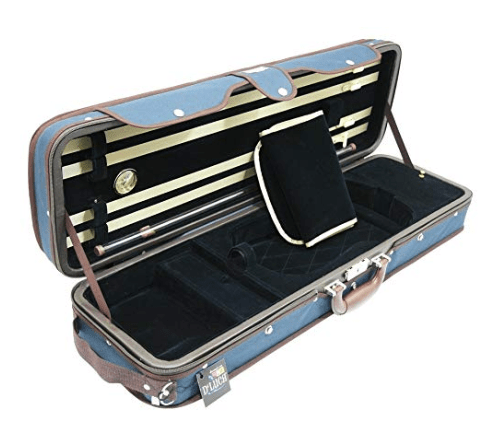 This is another high quality wood case that provide maximum protection. The construction features a condensed molded foam with plywood, making this case extremely durable and reliable for transportation, even on the plane or in other means of public transportation. However, it is still lightweight enough to be easily carried around on your shoulders or in your hand.
On the inside, you can find one end-large pocket to store the violin accessories and even your music sheets. It also comes with four bow holders, while the oblong design provides enough room for your violin to sit comfortably.