For many beginners, rosin is not something that is given much thought until the bow is in desperate need of it, or if the rosin has broken and has shattered into a thousand pieces on the floor. But, if you are an experienced violinists, you know too well what an important role rosin is playing.
Rosin, which is made from pine resin, provides friction between the string and the bow, creating the instrument's sound. You won't have much luck getting real music out of your strings if you don't have it. but if you use too many, you'll end up with a sticky mess. The tricky part about rosin is that it does not come in only one form, it varies greatly in terms of shape, color, and purity, and manufacturers keep their formulas as secret as any winemaker. And here are some things you need to know to decide which rosin would be the best choice for you.
Color: Rosin is available in light and dark forms, which may influence the sound of the instrument. Lighter rosins fits high-string instruments like violins and violas, but almost any kind of rosin will work for any string. The type of strings you're dealing with can also influence the color resin you use.
Precious metal: Precious metals, such as gold, silver, or copper, are often added to rosin formulations because they alter the tone. Gold is said to produce a warm, clear tone (ideal for soloists), silver is said to produce a brighter tone, and copper is said to produce a velvety tone.
Climate: Since rosins can change consistency and sound quality when exposed to different temperatures, some musicians use different rosins for different seasons.
Allergies: Some people develop an allergic reaction to resin, which is unfortunate for a variety of reasons. Changing to an all-natural solution and getting the instrument professionally cleaned might help.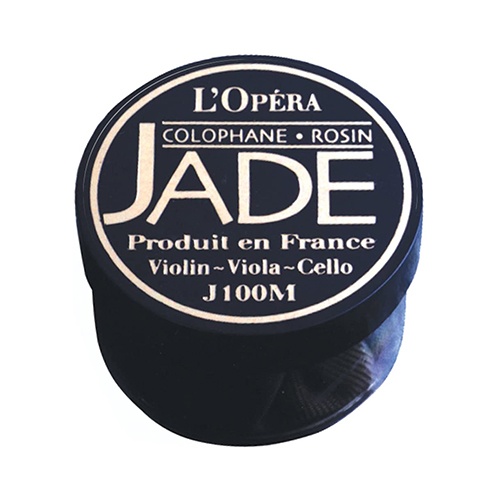 Made in France, Jade L'Opera Rosin is a new refined formulation with remarkable qualities of dust-free adhesion. This rosin avoids metallic residues, which do not contribute to adhesion and may indeed scratch fine varnishes. The result is a highly refined rosin that produces a smooth yet firm grip. Each rosin is mounted on a protective velvet cloth wrap and comes with a protective container. This very popular rosin is well suited for violin, viola, and cello.
---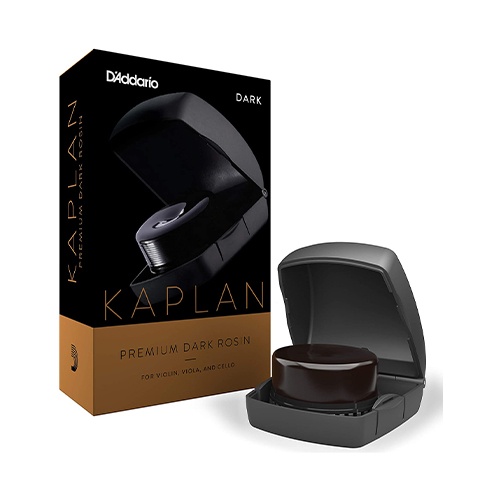 Kaplan Premium rosin is created from the highest quality of natural materials, poured and packaged in our New York facilities under strict quality controls. It's housed in a sleek, modern jewel case for easy access, and applies evenly, without excess dust. Note that the Kaplan Premium rosin cake can be rotated to ensure even wear over time. Available in both light and dark formulas, it's a brilliant choice for violinists, violists, and cellists of all levels.
---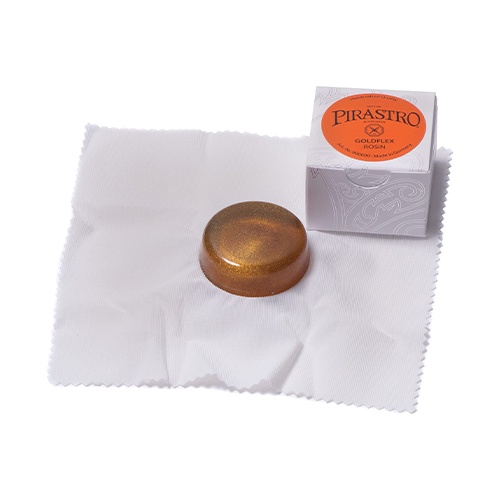 Pirastro Goldflex Rosin features tiny flecks of gold inside the rosin! The addition of gold flecks allows for an extra smooth grip. This is an ideal rosin for students and professionals alike. It gives a warm and bright tone and is ideal for all types of strings. Goldflex Rosin comes in a round cake inside a protective satin-like cloth. This popular rosin is produced by Pirastro, the biggest seller of strings in the world. Goldflex Rosin is well suited for violin, viola and cello.
---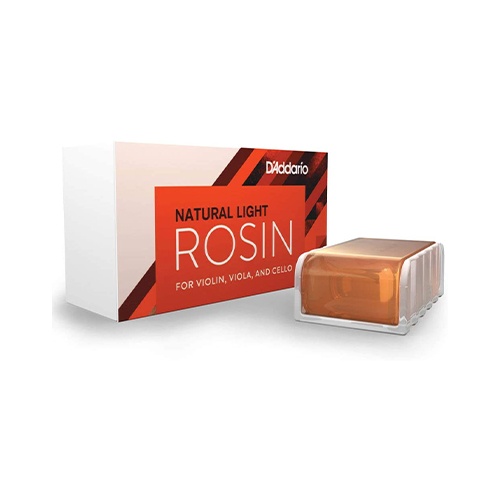 DAddario light rosin is made with all-natural ingredients combined in a special process to create rosin that offers premium performance at a great value. Thoughtfully designed, the light rosin sits in a unique plastic channel that provides an easy grip. Ideal for students, the compact and attractive packaging fits nicely in instrument case and does not take up too much space. Extremely versatile, DAddario natural light or dark rosin is suitable for horsehair or synthetic hair violin, viola or cello bows.
---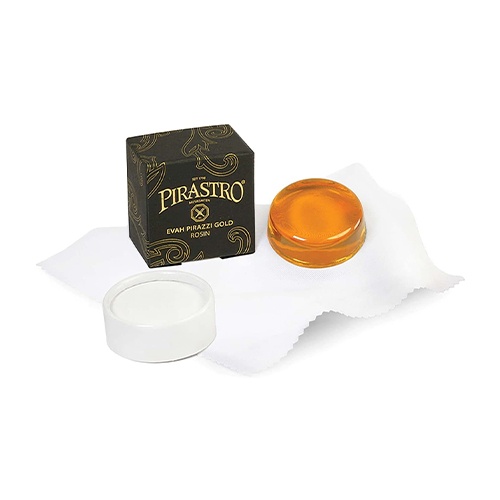 Designed to complement the violin string set Evah Pirazzi Gold, characterized by its seductive and inspiring sound, Pirastro has developed a perfectly matching rosin. It brings to the fore the full sound spectrum, powerful projection and excellent bow response of these strings. Evah Pirazzi Gold rosin increases the ease of response in the softer dynamic range, and maximizes the ability of the instrument to react to bow impulses during fast, virtuosic playing.
---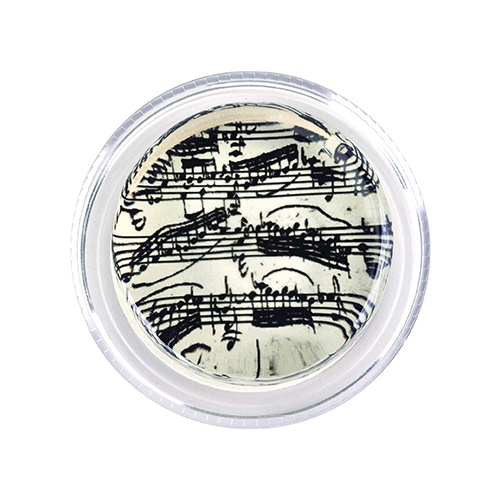 Magic Rosin is an exceptional quality and professional grade rosin that offers unrivaled grip and delivers a clear, complex tone. Unique designs transform Magic Rosin into beautiful music-making tools! The crystal clear, glassy appearance is a testament to the purity of our instrument rosin. Our recipe uses purified pine resins, free of additives like oils, waxes, dyes, and metal fillings that are often used by other manufacturers. Ultra formula is grippier than 3G, recommended for cellists, bassists, or any advanced string player seeking more grip and "pop".
---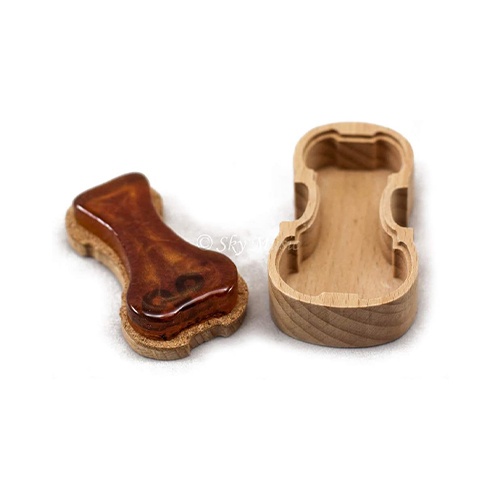 This SKY 9004 rosin comes in an elegant and durable carved burl wood box, shaped like a violin with smooth surface. Each box is a unique work of art. Jade-colored rosin is suitable for violin, viola and cello, and is perfect for summer or winter. The SKY 9004 rosin increases friction on bow strings to produce a pure tone and clear harmonics and helps ensure the sound quality of your music, creating a nice, smooth feel on your violin, viola, or cello.
---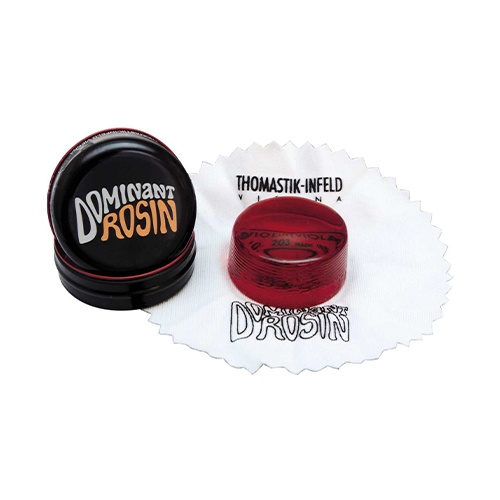 Thomastik-Infeld Rosins are especially designed for specific string lines to offer you the best playing experience possible. They come in individual compositions and degrees of hardness to suit your instrument, accommodate your playing style and allow for different climates. Engineered to enhance the performance of synthetic core strings, the soft texture of the Dominant Rosin produces less dust and won't gum up your bow hair. They enable the bow to grip the string without sounding rough or coarse.
---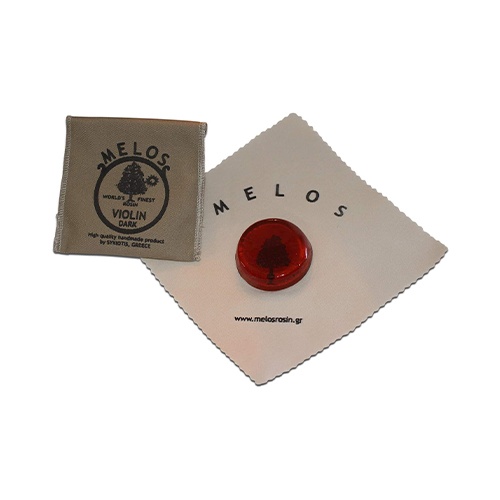 Melos Dark Violin Rosin is one of the world's finest. It doesn't contain chemicals of any kind or fillers like glucose or sugars. Each rosin type is especially designed for that specific instrument and season, softer dark for winter and harder light for summer. Because it is made when we place the order it is always fresh and is 100% handmade. High quality Melos rosin, made of Greek pine-tree colophony, is produced by Sykiotis in Greece.
---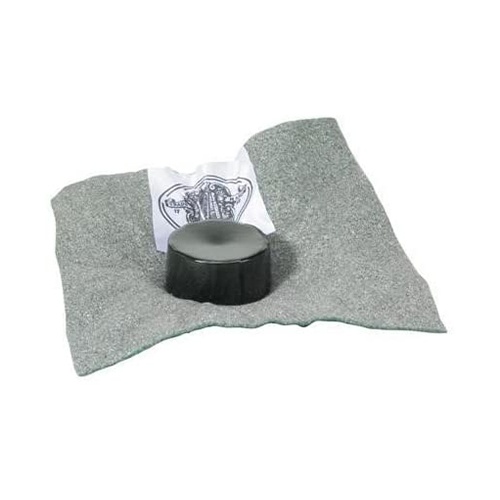 Hill Brand Dark Rosin, considered by many as the ultimate rosin, is used by professionals worldwide. Hill rosins are wrapped in their own padded velveteen shell. This is the rosin that others strive to emulate. Well suited for violin, viola and cello. This dark (green) rosin is slightly softer than the light (amber) and grips abit more. This is genuine Hill Dark Rosin, not an imitation!