Electronic drum kits are extremely popular pieces of equipment. Whether you use them for gigging, practicing or recording, they add so much value in whatever environment they're in. The one downside is that most electronic kits don't have internal speakers, meaning you're going to have to connect headphones to actually hear what you're playing.
Electronic drum sets are a lot more fun when you have a good drum amplifier. Amplifiers are used as speakers for practicing or for smaller gigs. They can also be used as personal drum monitors while gigging. Also, electronic drum amplifiers offer the additional challenge of needing to be able to capture and amplify a wide range of sounds, from the low-pitched kick pad to the high-frequency cymbal pads and snare.
If you are looking for a nice drum amp to start with, you've came to the right place. We've reviewed and summarized a list of 8 best electronic drum amps and monitors for drummers like you.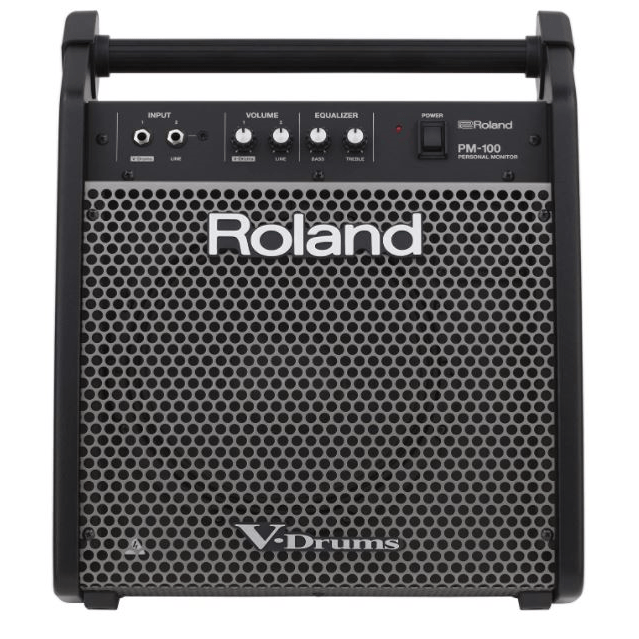 Delivering rich, dynamic sound from a minimal footprint, the PM-100 is the ideal compact monitoring solution for Roland's V-Drums. Equipped with 80 watts of power, the PM-100 features a custom full-range speaker system and rugged cabinet specially optimized for reproducing the famously expressive V-Drums sound and response.
And with onboard mixing capabilities, you're able to connect music players and other devices for practice and enjoyment while playing at home. With its integrated mixer, the PM-100 allows you to monitor backing music and external devices along with your kit. There's also an integrated mixer with independent volume controls and global EQ.
---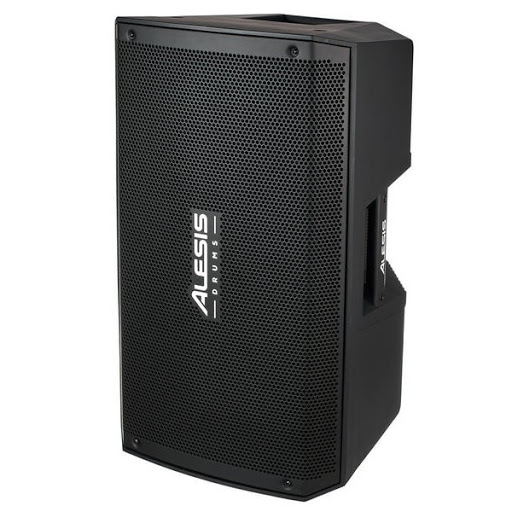 The Strike Amp 12 has all the versatility and features needed to fit in anywhere and it's a snap to set up and use – featuring a lightweight and flexible tilt-back cabinet design that can also be pole-mounted. You can use it vertically or tilt it back horizontally like a stage monitor.
Dual XLR/TRS 1/4-inch combo inputs with independent volume controls and clip indicator means there is virtually unlimited hookup versatility and you'll never unknowingly overdrive the speaker into distortion. There's even an XLR output to link another Strike Amp 12 or send your performance to another input device.
---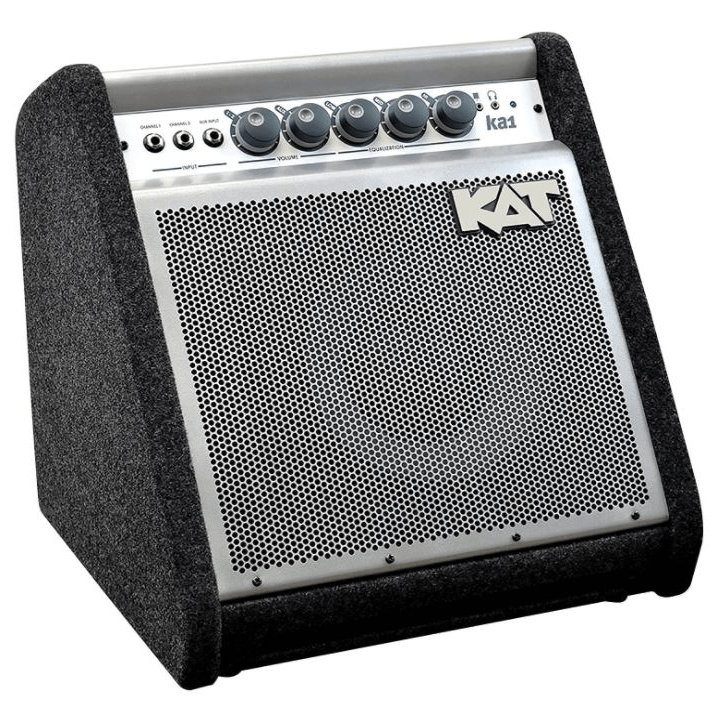 Share your sound with KAT Digital Drum Amplifiers. The 50W KA1 is the perfect choice for smaller rooms or small studio environments. KAT Amps are tailored specifically for digital drums to achieve the most accurate acoustic response.
Features include: Powerful 50-watt sound output in a portable drum amp. Specially tuned for electronic drums. 3-band EQ to fine tune your e-kit. Three 0. 25 inch inputs for other instruments or sound sources. Large carry handle for easy transport. 1/8 inch input for external music players. Durable construction that's built to last .
---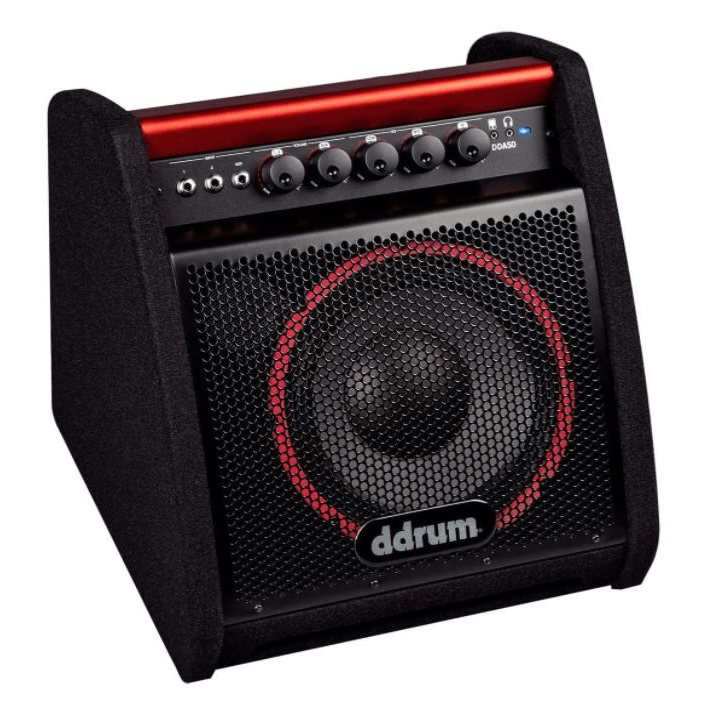 The perfect practice amp, with enough power for the gig. The DDA50 electronic percussion amp is a great tool for the shed and the stage. With a thumping 10″ woofer to feel the bass notes, to the 2.5″ tweeter that keeps the snare cracking and the cymbals brilliant. Also features MP3 input and headphone jack for quiet practice.
Being remarkably realistic in sound, it provides a finely polished and clean output of the music. It provides the most number of options of all the amplifiers reviewed here. It lets you adjust many aspects of your music with the help of a standard set of controls. Frequency, bass, and tone are just a few of the options available.
---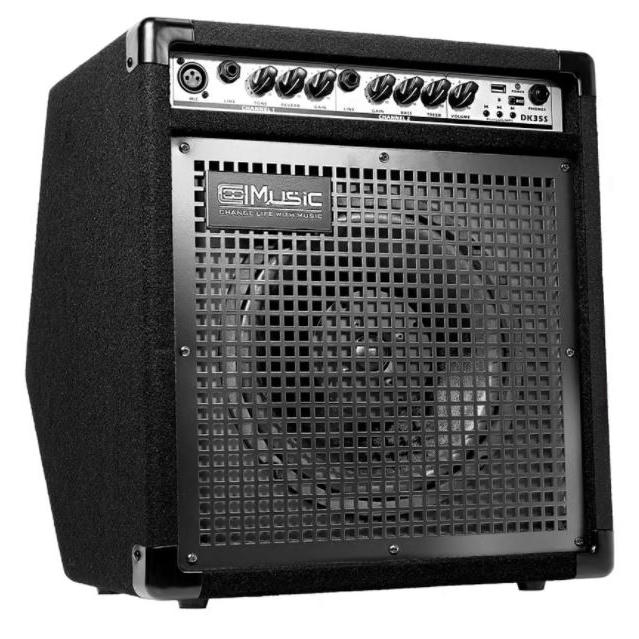 The multifunctional amplifier with big power perfect for electric drum,keyboard and acoustic guitar. It can used for personal practice, band rehearsal and gig performance etc. Bluetooth and MP3 functions is convenience for play backgroud music. Headphone jack for quiet practice, and you could connect another amp or mixer with DI output.
There are 100-watts of power which passes through the 10-inch driver and 1-inch tweeter. This usually makes for an impressive sound. On the other hand, the presence of the 3-band equalizer is an added advantage. This permits you to tweak the sound and play with various combinations to get the desired effects.
---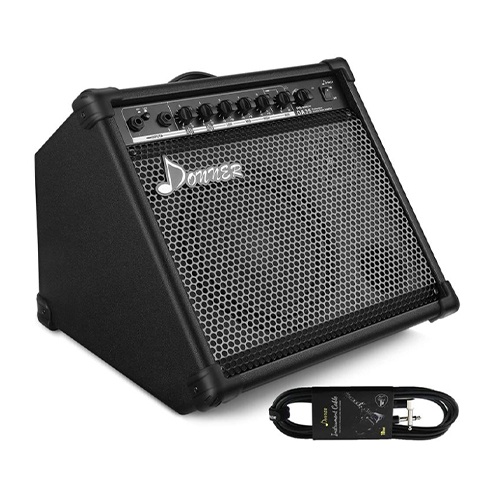 Donner DA-35 35 watt electronic drum amplifier is an innovative 35 watt amplifier. It has two signal input ports. Support line input and microphone input. It is an ideal amplifier for use with computers, mobile phones or any other audio playback devices!
Simply plug the MP3 player/mobile phone/laptop/tablet into the auxiliary input or wireless connect to DA-35, you can enjoy the tracks as you like, and immediately become a member of the band, and use the 1/8-inch headphone output jack for Private practice. The enclosed design provides you with a heavy bass response: the edges are surrounded by hard materials to protect the amplifier from damage, and the rubber pad makes it safe and stable.
---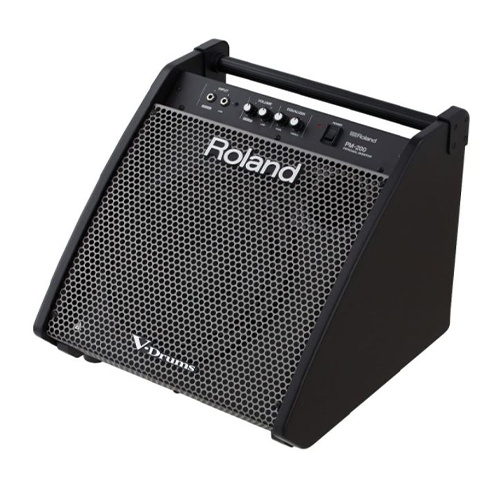 Delivering rich, dynamic sound in a streamlined package, the PM-200 is the ultimate monitoring solution for Roland's V-Drums. The PM-200 is a premium all-in-one monitor designed for use with V-Drums electronic percussion products, with an angled design that provides ideal sound coverage for the seated player.
Packing 180 watts of power, the PM-200 features a custom full-range speaker system and rugged cabinet specially optimized for reproducing the famously expressive V-Drums sound and response. And with integrated mixing and direct output capabilities, it's easy to interface with other devices at home or on stage.
---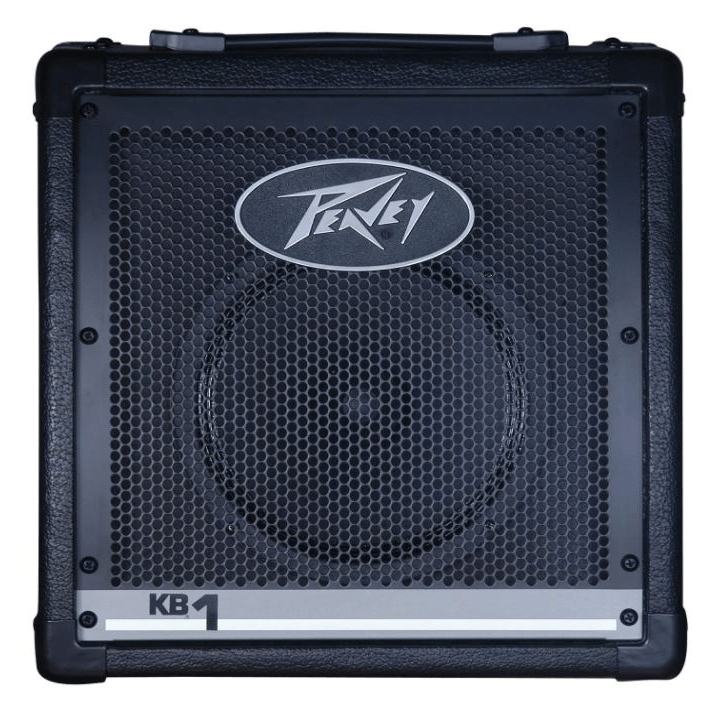 The Peavey KB 1 acts as a one man PA system, having a few instrument inputs and the ability to individually adjust the tone options on each one. It's a small amp, but it has a fair amount of power for its size. The speaker is solid and takes lows and highs very well. When connected to an electronic drum kit, the mix between the drums and cymbals sounds very clean and articulate, with nothing being left wanted.
This amp is best suited for a practice room or small venues. It doesn't produce a very loud output, so it won't work for big venues. The small size makes it easy to position. So, if you're limited for space in your drum area, the Peavey KB 1 would be a good option for you.