Let's face it, acoustic drums are loud! And even though we as drummers don't have a problem with loud drums, our neighbors, parents, and spouses are not always thrilled to hear us practice. A good quality practical drum pads will not only allow you to work effectively on your technique as a drummer without disturbing the entire neighborhood; it also gives you the freedom to move it from one place to another with ease.
If you are searching for a good practice drum that enable you to practice anywhere without disturbing others, you came to the right place! We have done all the research and comparison, sorted out a list of 7 best drum pads available in the market, read on!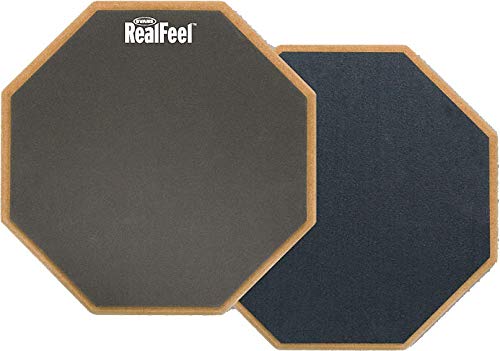 The Evans 2-Sided practice pad is convenient to play with because of its large playing surface that easily fits into any standard snare drum basket. I love the gray finish and the fabric, which is durable and resistant to wear-and-tear.
These double sided practice pads have neoprene on one side and gum rubber on the other. The neoprene surface is hard and is good if you're looking to get a proper workout without getting evicted and the soft rubber side gives you the best rebound.
| | |
| --- | --- |
| Pros: | Cons: |
| Two sizes Available: 6" or 12′ | Some may have chemical smell |
| Double sided w neoprene and gum rubber | Slightly heavier |
| Fits any standard snare basket | |
---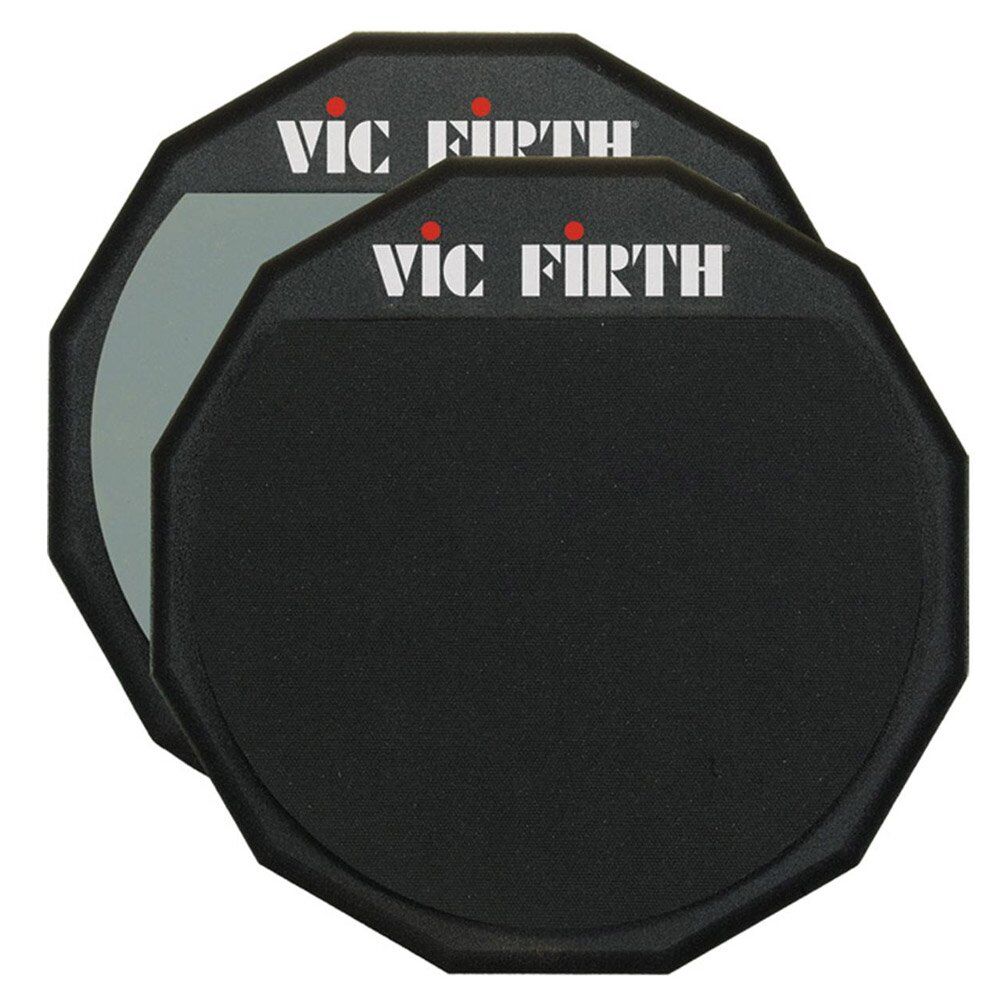 The Vic Firth is very slim and very convenient in size, providing great benefits for the marching percussionists. It is the type of drum pad you can put inside your backpack without feeling too much weight. With it, you can practice anywhere and at any time conveniently. Thanks to its quietness, you can rely on this drum pads for practice while in your dorm or living room with friends or loved ones.
| | |
| --- | --- |
| Pros: | Cons: |
| Available with soft rubber and hard rubber | Too bouncy |
| Double-sided and versatile | Price higher |
| No bad chemical smell | |
---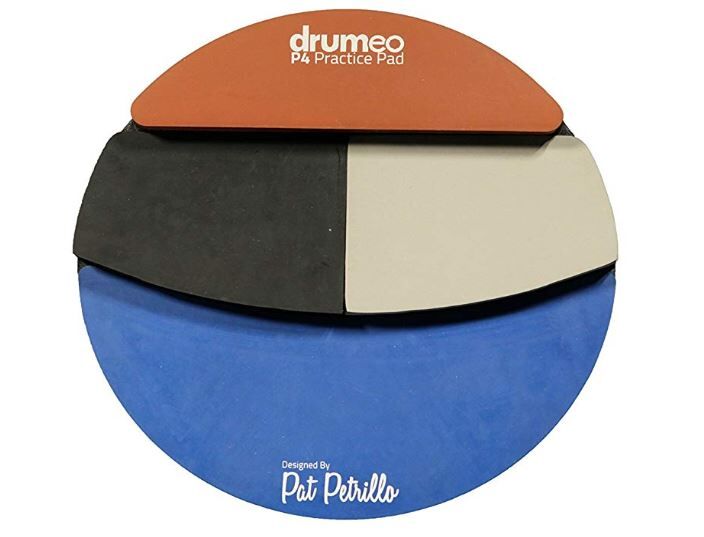 The Drumeo P4 pad is one of the most versatile practice pads you will come across in the musical instrument market. It features four unbeatable surfaces that revolve around three surfaces. It has a standard and well-formulated gum rubber-like design that mimics the quality and performance of the floor tom. The surface of the pad has a feel that mimics a ride cymbal.
It has four different surfaces with different qualities, resembling a snare drum, a hi-tom, a floor tom and a ride cymbal, it's like a miniature drum kit!
| | |
| --- | --- |
| Pros: | Cons: |
| Four different surfaces | Expensive |
| Handmade with premium quality | A bit sloppy construction |
| Noise reduction expert | |
---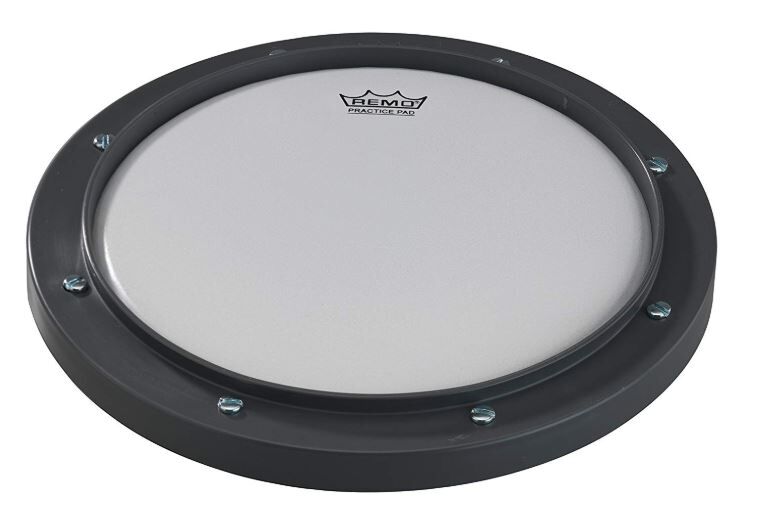 Remo brings perfection for the beginning drum player. However, this drum pad is also fit for an advanced player to play and maintain his or her playing skills. The bottom of the drum features a protective rubber that keeps it safe from scratching and slipping off tables.
Remo features a versatile design on this model as you can easily mount it on a stand for upright playing while enjoying the bounce and feel of a real practice drum. The beauty of it is that it is available in three different sizes namely; 6, 8, and 10 inches.
| | |
| --- | --- |
| Pros: | Cons: |
| Tunable | Smaller than expected |
| Non-slip and non-scratch | Not as quiet as the other brands |
| Replaceable coated drumhead | |
---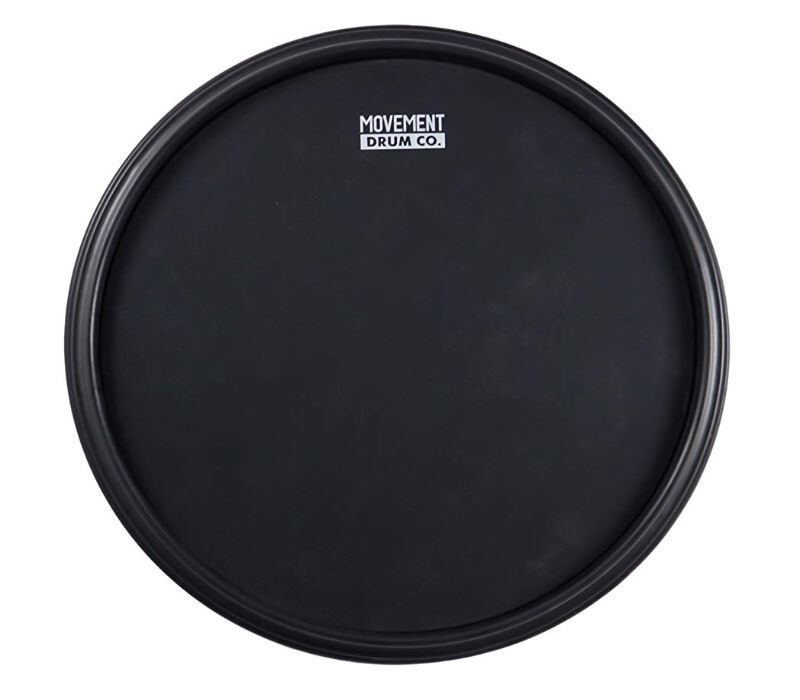 The Movement Drum practice pad features a top side with a responsive silicone rubber pad with a rim. And as the name ("double-sided" suggests), it also has a bottom, rimless side with a denser and quieter surface that keeps the pad steady while playing the rimmed side. It comes with a full rim to keep it perfectly secure, and it's the type you can describe as the king of all practicing pads. The surfaces are easy to change and the elevated rim allows you to add rim shot sound to your practice routine.
| | |
| --- | --- |
| Pros: | Cons: |
| Dual surface for noise levels | Polycarbonate insert may dent |
| Come with 4 different playing surfaces | Laminate doesn't last very long |
| Sturdy and durable construction | |
---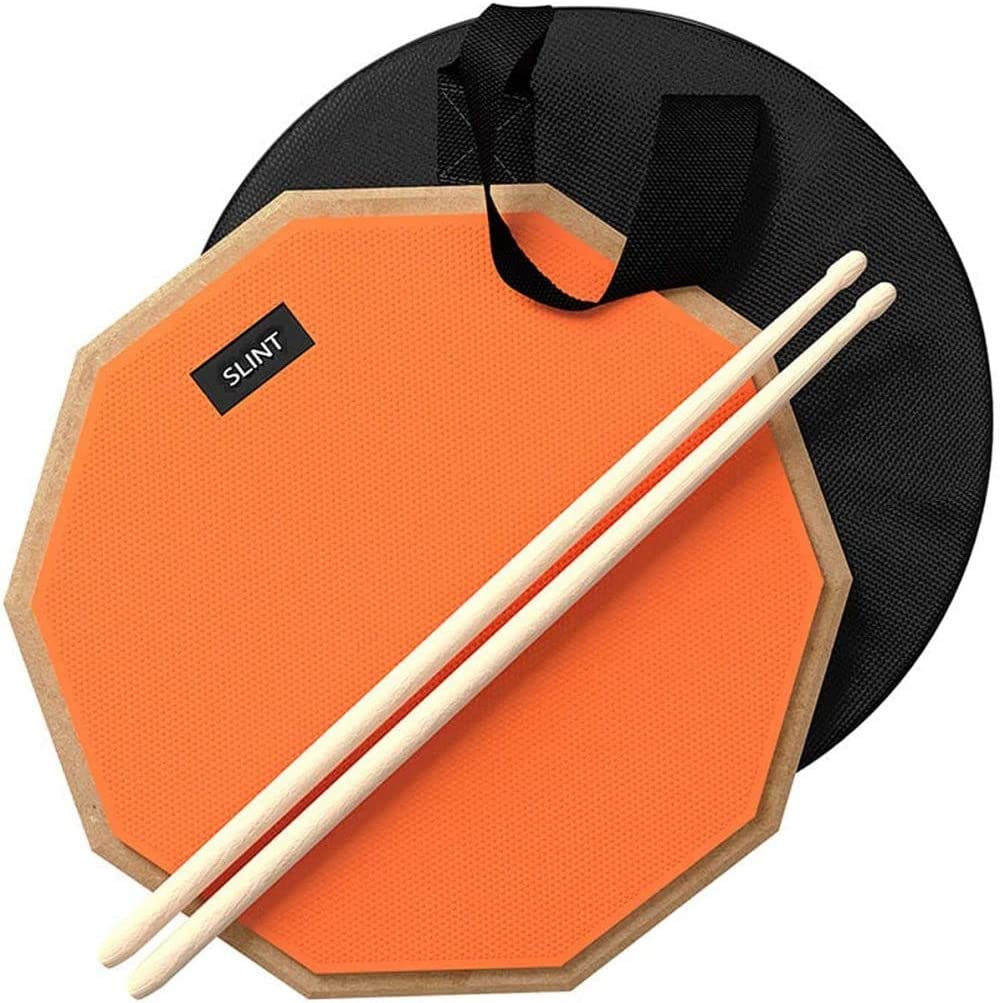 The Luvay is another reliable practice drum that comes in a special octagonal shape and in grey color. Aside from its beautiful shape, it comes with practice sticks well shaped and made from original walnut wood.
To prevent noise and slipping off when hitting it with sticks, the inside of the practice drum is made of sponge. The outside of the practice pad is made of a gum rubber with no smell and it's environmentally friendly.
| | |
| --- | --- |
| Pros: | Cons: |
| Quiet drum practice pad | Not 2-sided |
| Eco-friendly with no nasty chemical smell | Pad may peel off after few weeks of use |
| Comes with free 5A drumsticks | |
---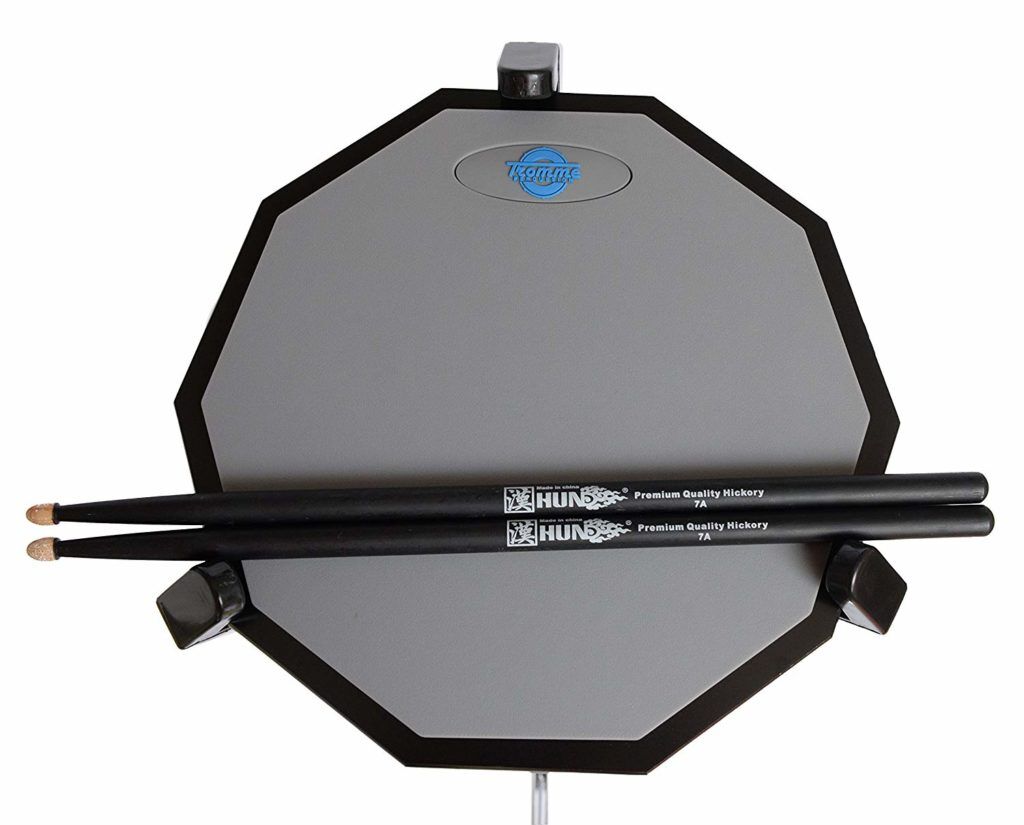 Most of the practice pads for drummers we have looked at so far are made of rubber, so now it's time for something else. This pad is made with silicone instead of a gum rubber surface. The best things about the silicone is that it's non-toxic and it's very durable and quiet.
The drum practice pad is 12″ so it fits inside a standard snare basket, meaning that you can practice at your drum set which is the best, but the dinner table works almost just as well. It's soft, bouncy and responsive, just like Tromme they describe it and it's available in grey and red. A carrying bag is included so that you can bring it with you
| | |
| --- | --- |
| Pros: | Cons: |
| Made with Silicone | A little too bouncy |
| Perfectly fitting in standard snare drum basket | Logo area may peel off easily |
| Feel like real drum | |
---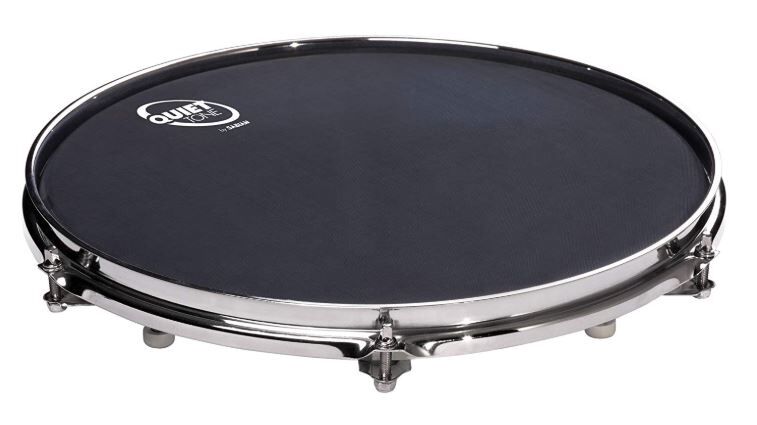 This is an excellent option if you don't want to compromise the real drum feeling, but don't want to disturb your neighbors either. You can almost replicate the feel of a real snare.
It's tunable so that you can change the tension in the head, and even though you might not hear a big difference in pitch (which frankly is quite irrelevant when using a practice pad) you will feel the difference in the bounce. It's lightweight, and it feels like really great quality.
| | |
| --- | --- |
| Pros: | Cons: |
| Specially developed mesh head | Steel pieces rattle |
| Quite and real drum feel | |
| Lightweight | |