A bow is one of the most important pieces of equipment that any violinist should possess aside from the instrument itself. Whereas many professionals will often have multiple violins that they use, most will have just one bow, or a definite favourite bow that they use most often, just like a singer to have a customized microphone wherever he/she performs, it is THAT important!
Hence, it is necessary to do some research and compare different options (try some if possible) before you purchasing one . As a beginner, a good bow can help you quickly enjoy the pleasure of violin playing and take you to the next level.
Before we take a look at the top bow options available in the market, let's first understand the basic elements when choosing a violin bow, it will help you understand what bow suits you and save you some unnecessary spending, as a beginner, you do not want to skip this part.
1. Materials:
Knowing the materials will help you to choose the right bow for your level, and it will make the online purchase really easy, as there are some standards here that you can ask for.Students and beginners mostly use bows made of Brazilwood or synthetic materials.
Brazilwood is a generic name given to several kinds of tropical hardwoods used for inexpensive bows. It comes from Brazil as well as other tropical countries.
Synthetic materials from the other hand, are fibreglass or composites, resistant to any change of temperature or any kind of carelessness of an amateur.
Pernambuco is known as the best wood for violin bows, it's a dense, heavy wood that comes from several areas in Brazil and seems to possess just the right combination of strength, elasticity, and responsiveness.
Carbon fiber is a material -of the same quality as pernambuco- that is preferred in the making of violin bows in the last ten years, as it doesn't bend out of shape during the changes of temperature or humidity.
2. Shape
Bows come only as round (French makers stick to that shape) or octagonal. It is said that round bows allow a better control, and octagonal offer a harder, stronger tone and sound. But, the technique of every musician plays such a roll, that we can't conclude to a clear decision. So, many commercial-bow makers take advantage of that, by producing round and octagonal versions of the same bow, putting a higher price on octagonal ones and feeding that way the rumors that want octagonal bows to be better.
3. Weight and balance
It is more important for the balance of the bow, to have some more grams weighted at the frog, rather than the tip. Then, if the bow feels balanced in your hand, this is it. As an advanced music player, you already have the experience to understand it. But if you are an amateur, I recommend you to just follow the rule of 60 grams weight (a viola bow is 70 grams; a cello bow 80 grams) ). Stay to that standard, or risk to follow your instinct, though as a beginner musician it would be better to have your teacher near you, as an adviser.
Don't forget to hold the stick in front of one eye and see if it is well levelled, from frog to tip, without any bending or twisting.
4. Size
This may sound dumb, but many newbies do not have the correct sized bow, we've seen many youngsters using a 4/4 bow on 3/4 or even 1/2 violin, some do this due to lacking of knowledge, but many others do so to save the money and hassle of switching bows, which is highly unadvisable.One should , always make sure that the size of your violin corresponds to the size of your violin.
Now, let's get take a look at the 10 best beginner violin bows in the market: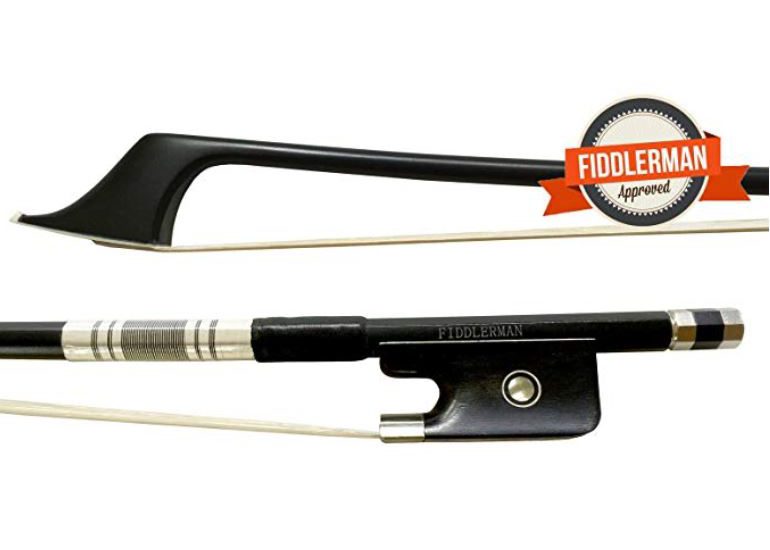 The Fidderman Carbon Fiber Violin Bow has a perfect weight distribution, which enhances balance for great playability degree of responsiveness. Its carbon fiber composite design makes more affordable compared to other carbon fiber models. Using the Fidderman guarantees no finger strains while its quality Mongolian horsehair ensures great response and rich sound.
---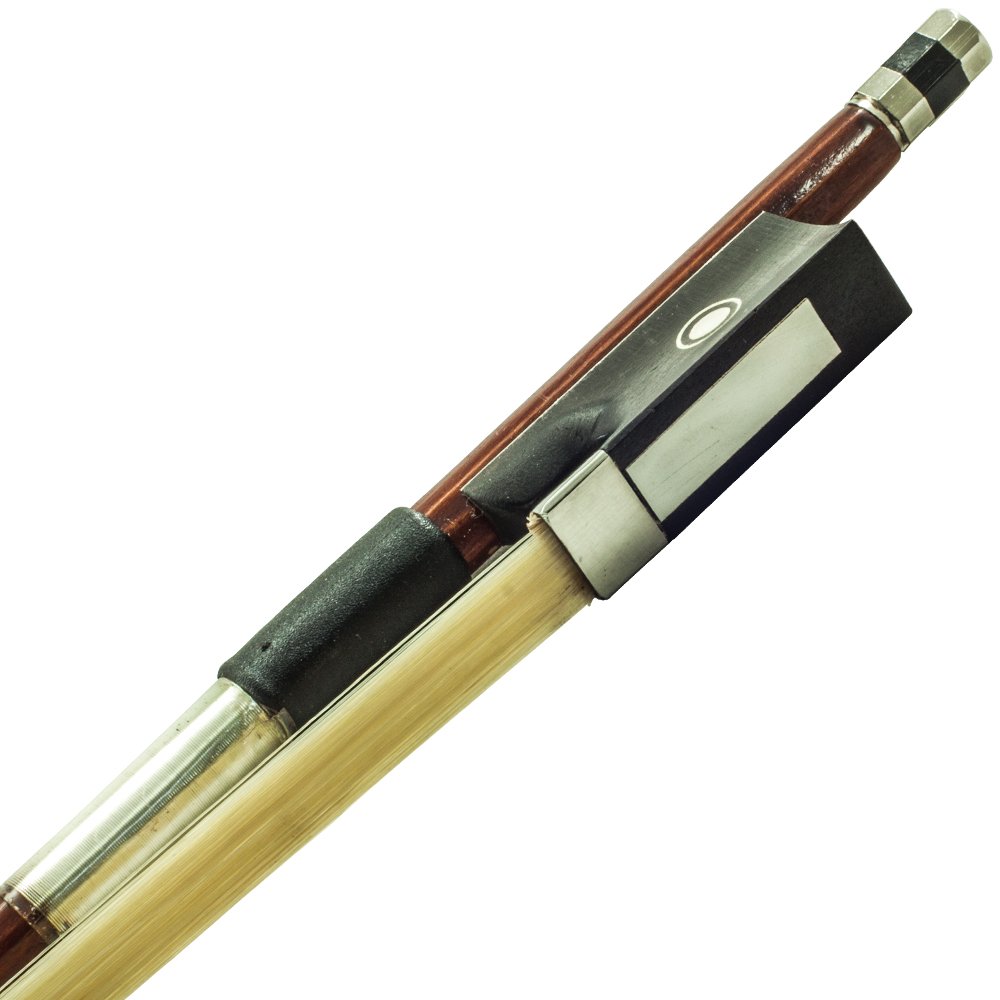 The Paititi Violin Bow is a full-size round stick bow that is made up of Brazilwood. Handcrafted with a high gloss finish, the violin bow is lightweight and easy to carry. It is likewise durable and stable, creating a well-balanced and bright sound. The violin bow is made up of authentic Mongolian horsehair. Because it is soft on the fingers, the bow is recommended for beginners.
---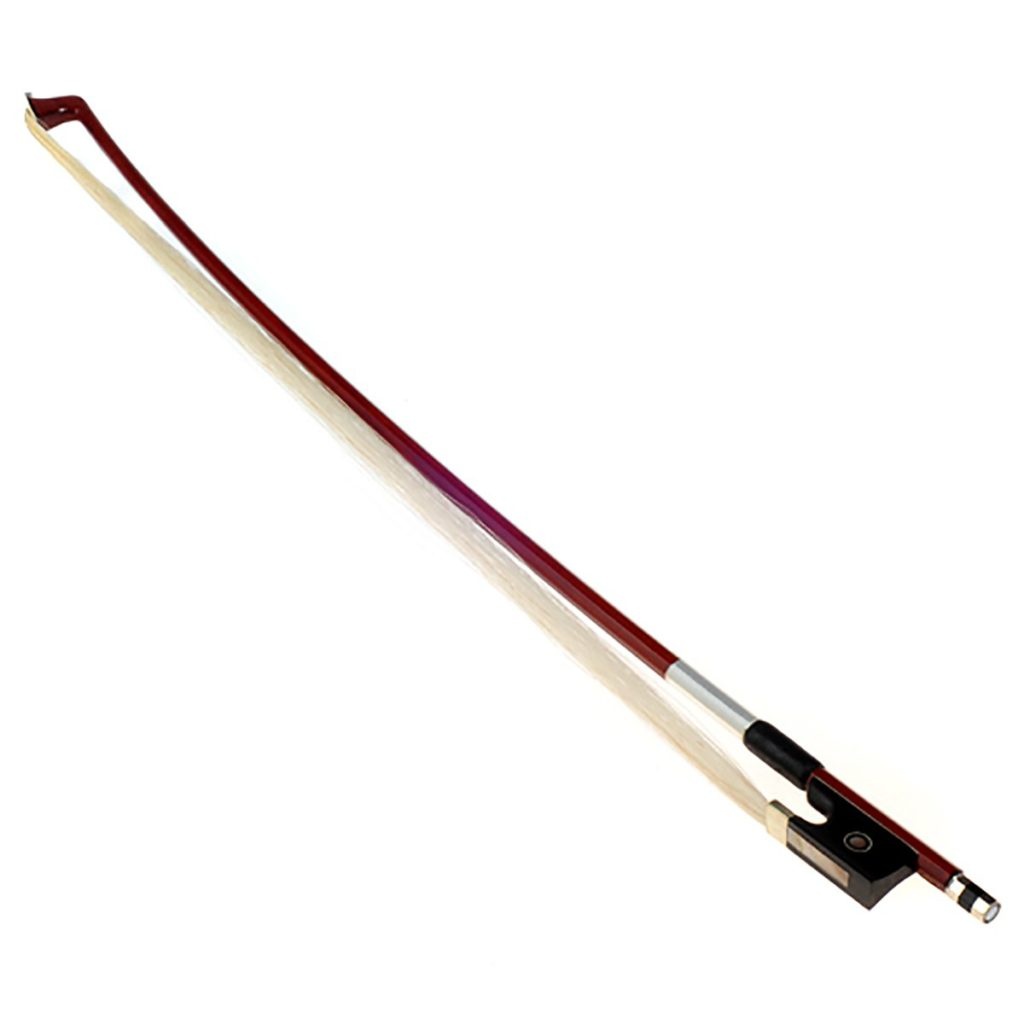 Affordable and unpretentious, this brazilwood model promises to work well as a beginner's fiddle and might make a good gift for the young violin players in your family. The low cost might recommend it as a "baby's first bow" for which it should perform acceptably well, as brazilwood models are capable of delivering a somewhat richer sound than fiberglass alternatives.
---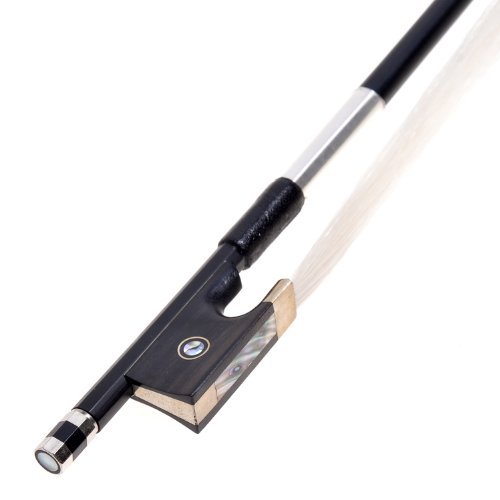 The Crescent Well Balanced Violin Bow is a full-size violin bow which is made up of a carbon fiber material for durability. It comes with an ebony frog with a synthetic grip and faux pearl eyes. It is also equipped with a natural Mongolian horsehair and abalone shell inlay frog slide. Users of the violin bow are ensured of a perfectly balanced and smooth performance when used with the instrument.
---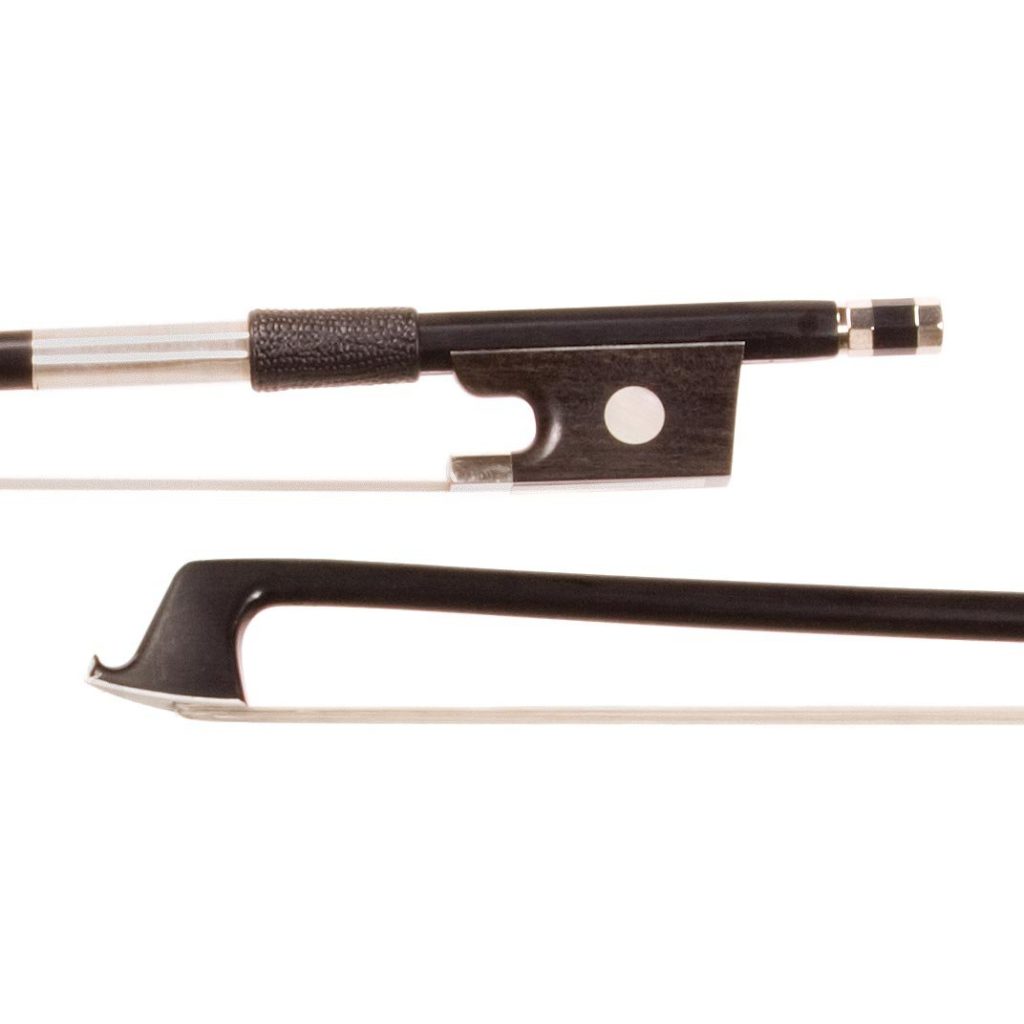 Like most other carbon composite bows out there, the Glasser X-Series will deliver a bright and snappy sound, perfect for playing fast-paced pieces. This quality is especially welcomed by students, who often need to exercise their agility and dexterity, but also more experienced violin players that would require something to balance their lazier Pernambuco with when practicing.
---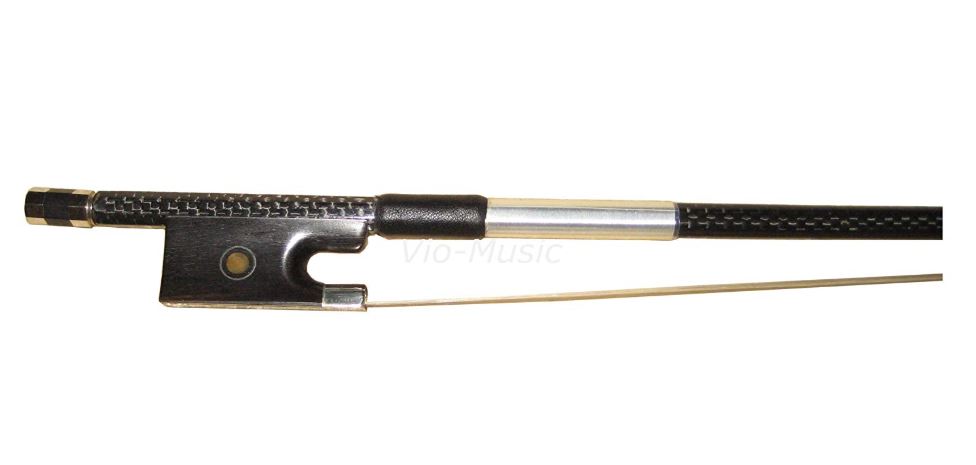 The Vio Music Braided Carbon Fiber Bow features an ebony frog with silver winding which is perfect for beginners and student violinists. Vio features a reliable design that promises the best of performance similar to Pernambuco violin bows. The braided carbon fiber adds much durability to the bow. Decent response, well balanced and playing with this bow is like a walk in the park. The company (Vio) is famous for producing reliable instruments and accessories that will last for many years with the best quality. This model is most suitable as a backup violin bow.
---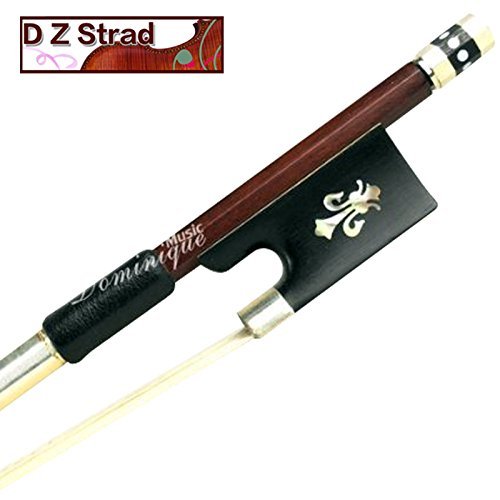 The D Z Strad 200 Violin Bow is made up of Pernambuco wood for a well-balanced full-size violin bow. It is further designed with a stiffness ranging from medium to strong to ensure optimal playability. Furthermore, it is built with resilience and quick response for an excellent performance. It is equipped with an authentic Mongolian horsehair and a traditional frog made from polished ebony. It also comes in five other sizes to suit the size of the violin.
---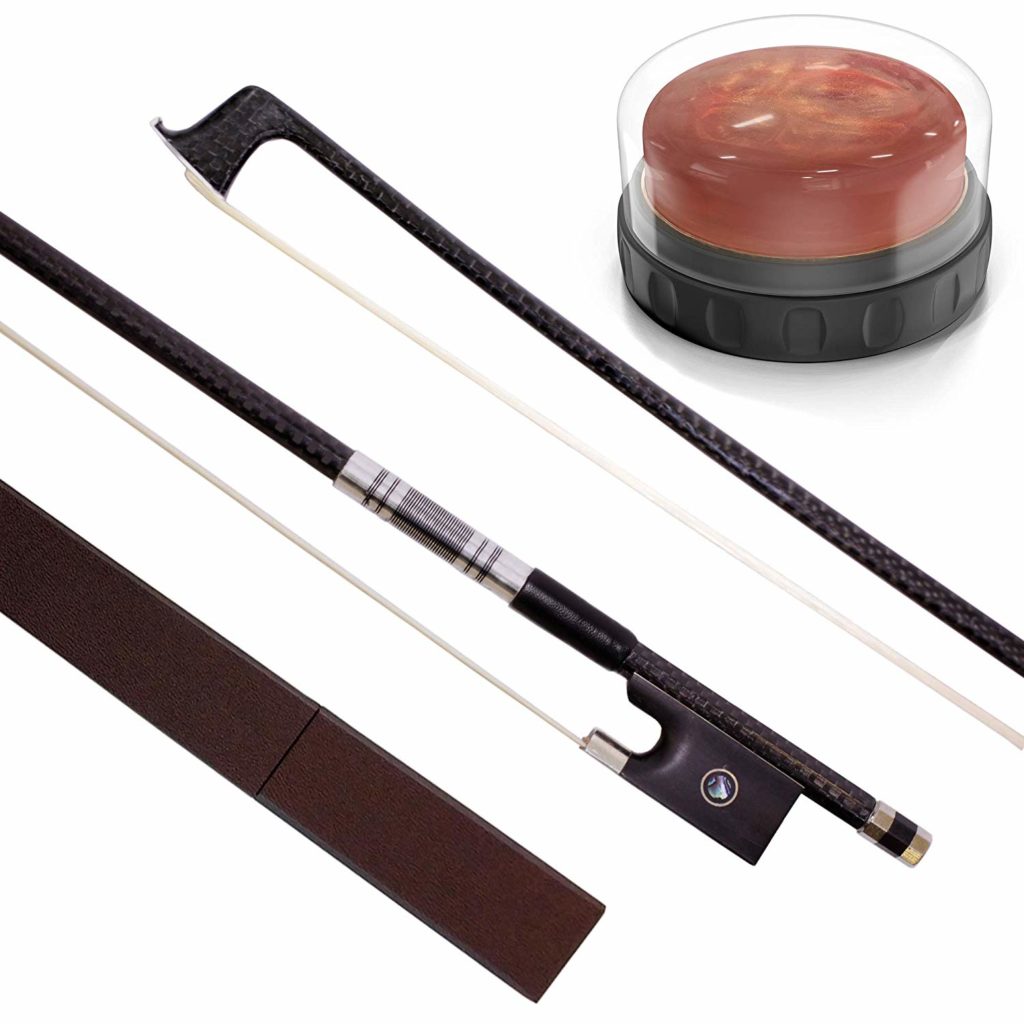 At around 2.2 ounces, this Ace Music bow is very close to the average weight required by most violinists to play a wide range of sounds, at varying speeds and intensities. Customers also find it well balanced, for a good intermediary between big and small sounds. It seems that most manufacturers can get the carbon fiber rod "just right," and this, of course, includes Ace Music.
---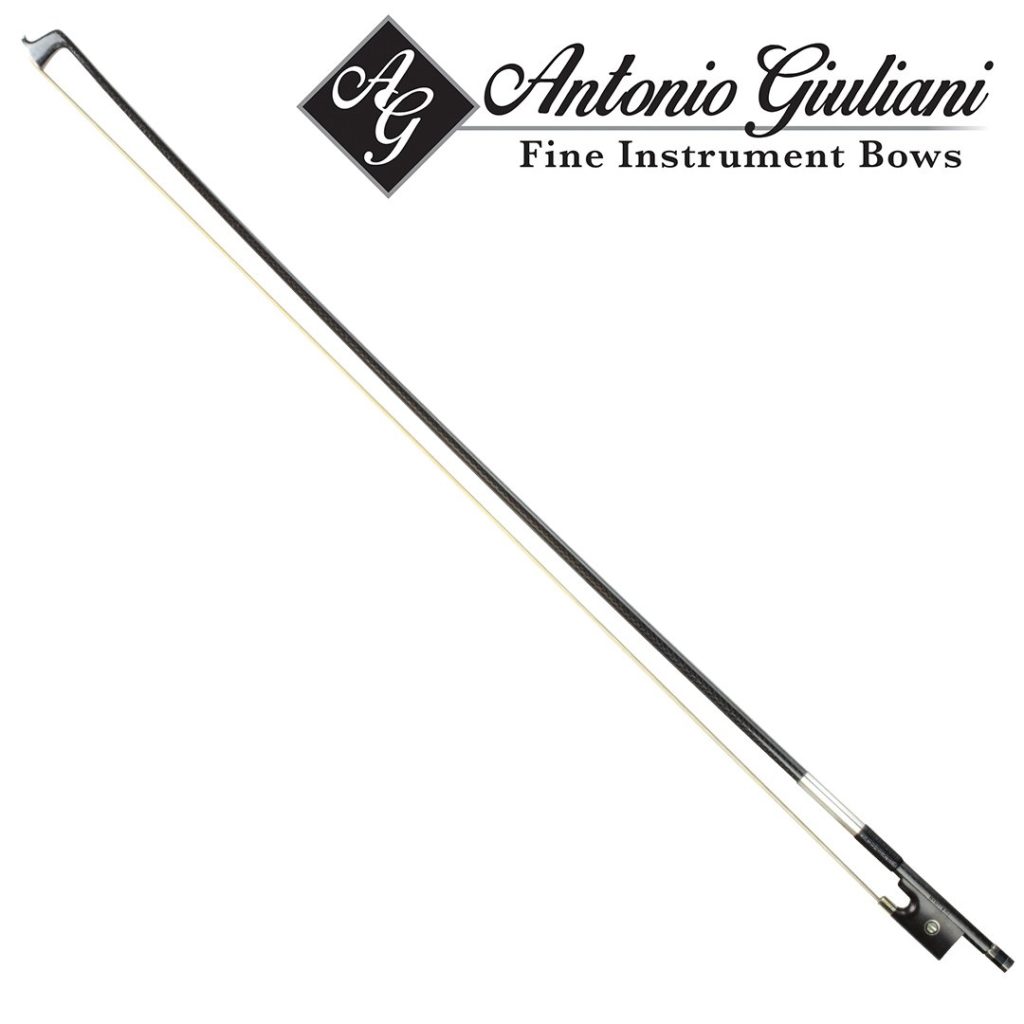 Like with most other models, the mounting elements of the frog are made of copper for good corrosion resistance and nice looks. This bottom part is reported to offer a good counterweight to the rest of the rod, which handles well for both fast and slow pieces. The lower section of the rod is covered in a silver winding, which besides looking good provides for a stronger "base" to absorb the tension of the string. This means you can tighten the screws quite a bit without worries of the bow snapping.
---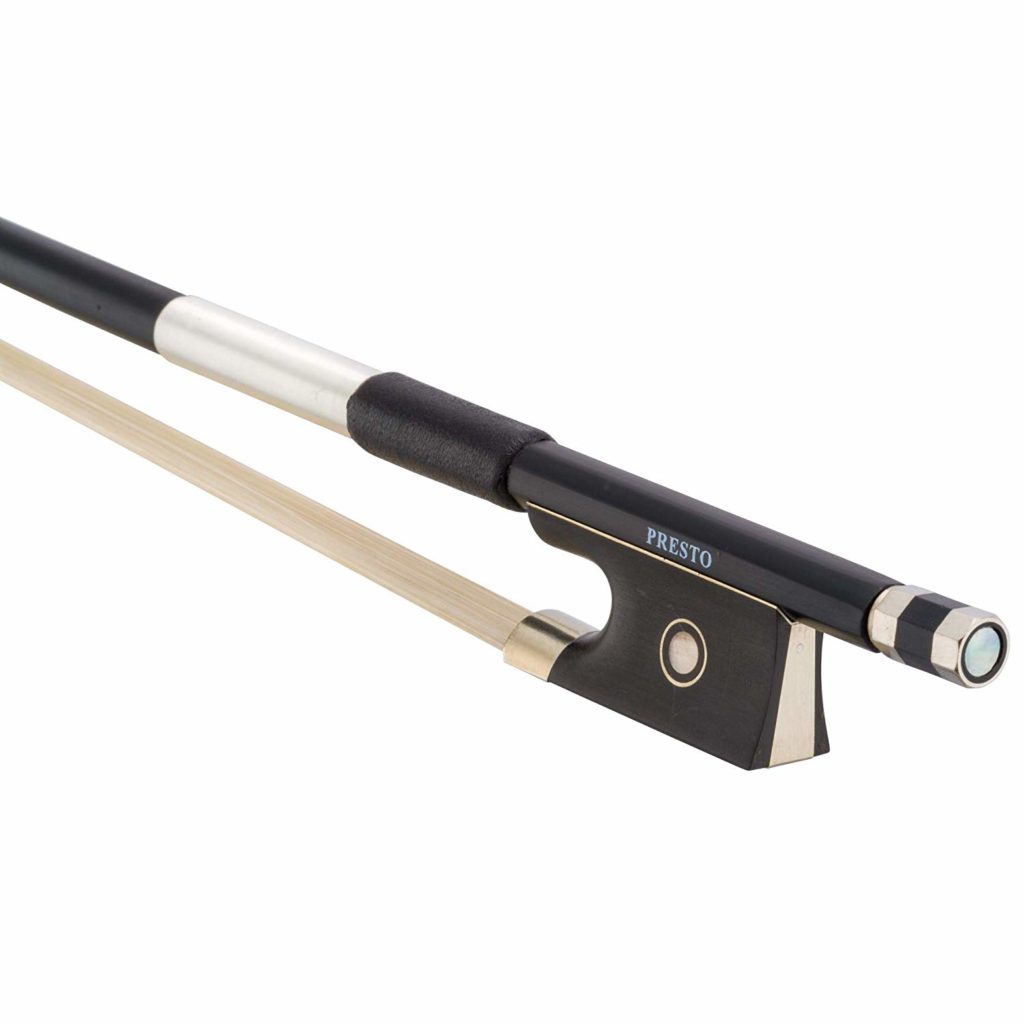 The Presto Carbon Fiber Violin Bow incorporates a laser-tracking design and unbeatable control which makes it the perfect teaching bow for young and upcoming players. The soft and smooth-sailing action is another feature that defines this carbon fiber bow. It is suitable for fine music because it eliminates scratches and rounds off notes in a compelling manner. Ebony frog with Parisian eye adds glamour to this black-color designed bow—a perfect option for advanced violinists.