Conga is a single-headed, narrow and tall Cuban drum from the African origin. It is the instrument most people think of when that genre comes to mind and an essential addition for any musician who wants to study Latin percussion. And they are also just simply fun to play!
It is an old yet significant musical instrument and there has been a recent increase in the number of people who are showing interest in learning this beautiful instrument. It's so popular because of its specific sound that fits into almost every genre of music and any style of rhythm. Buying conga is not that difficult as they're available online. However you can't just buy whatever you see as the quality varies. In this article, we will provide you the eight best congas to buy in 2021, depending on your needs and budget.
Conga Basics
Size:
Conga sizes are measured by the drum head diameter.
Tumba: this is the biggest drum and has the lowest pitch
Segundo: this is the conga and is known for its versatility.
Quinto: this is the smallest and produces the highest pitch
Material:
Conga drums are traditionally made from wood, but nowadays, fiberglass models are also popular among buyers due to their durability – not to mention that they are relatively inexpensive. Tastes vary, but many professional players prefer wooden conga drums and maintain that they produce a richer, warmer sound than fiberglass models.
Drumhead:
Conga heads come in two types of materials:
Rawhide – which produce a warmer deeper sound, but are more weather sensitive
Synthetic – which are not weather sensitive, and produce a brighter, crisper sound.
If you're on a budget and just starting out, get a synthetic drumhead. They're not durable but they're less likely to deteriorate in warm climates. But if you want the best sound, natural drumheads is the best option.
---
Best Congo Drum Review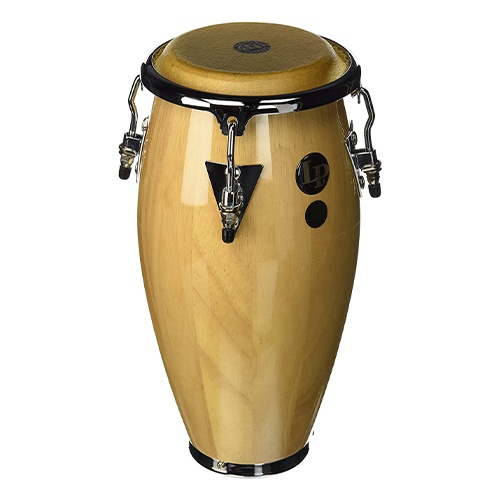 This beautiful instrument is constructed to be a replica of the full-size Latin Percussion Classic Conga, and it offers everything that its full-size counterpart does but in a more compact shape. It is an attractive instrument that can be used as a desk accessory, but it is also musical, which means that it can also be played.
It uses natural, rawhide heads that help the instrument to produce a very clear tone, which is quite impressive considering its size. Speaking of it, the compact design of this model does offer the advantage of portability, which makes it possible to take it with you everywhere you go and play your tunes while you're on the move. Another detail that adds to the beauty of this instrument is the fact that it is made of Siam oak. As it should be expected from a Latin Percussion instrument, the conga is tunable, and it produces quality tones
---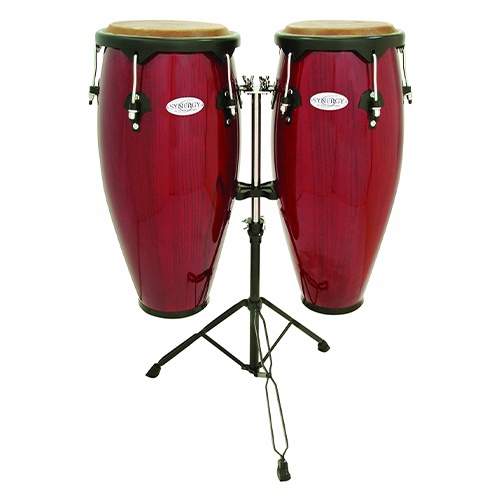 A promising Conga instrument from Thailand, this drum can provide upbeats and beautiful synchronization of sounds. It was constructed using 2 plywood shell, consist of natural rawhide heads, and its hardware was coated with black powder to keep it protected.
Notice its appearance, it has three color options — red, orange and sky blue that gives its glossy and shiny texture. It is elegant and durable due to its stainless steel body. In addition, it includes a stand to uplift the congas and to be reachable by the hands. The stand can be adjusted depending on your reach. The Toca offers their percussion instruments for a moderate price without sacrificing the quality of their drums.
---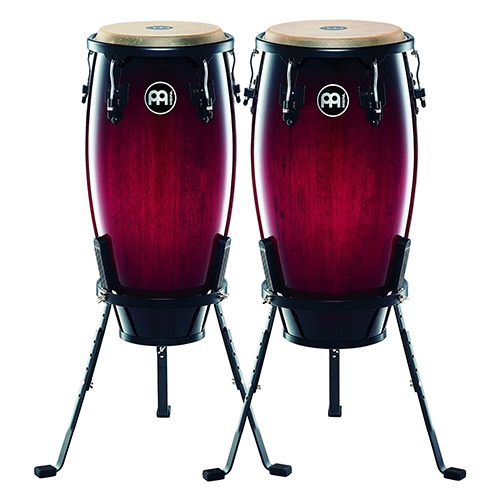 Develop your talents and skills in performing percussion instruments like Congas. With the aid of Meinl Percussions', they can provide the best quality of sounds that can release warm tones and superb projection. This musical accompaniment was built with rubberwood which makes it versatile as to its use. It consists of adjustable basket stands for quick assemble and made with original Meinl tuning brackets.
The heads of this drum were derived from Buffalo's skin and its hardware was coated with black powder for excellent strength and addition to style. As you can see, it has individual stands per drums which entails amazing steadiness and balance. Moreover, the available colors for these drums are natural, maple, wine red burst, pearl white, and vintage sunburst.
---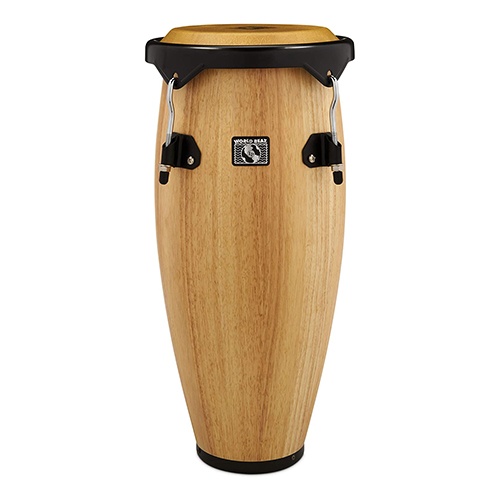 This product is more than a drum – it is a piece of art. It has a smooth body, and when it comes to aesthetics, it won't disappoint. Most buyers describe it as the perfect drum for young players and inexperienced drummers just starting out. However, this doesn't mean it can't be used by experts just as comfortably.
Another standout is the sound quality. The piece produces clean and powerful notes, without having to apply a lot of power. The tonality is warm and joyful, and this quality is constant, not just from time to time. Adding everything up, it is easy to see why musicians appreciate it so much. It is small so that you can strap it over the shoulder for a comfortable playing session, and the body is strong enough that it will survive transportation while on the road. It is 21″ tall and it has a 9″ head, and also note that it is made from dried Siam oak.
---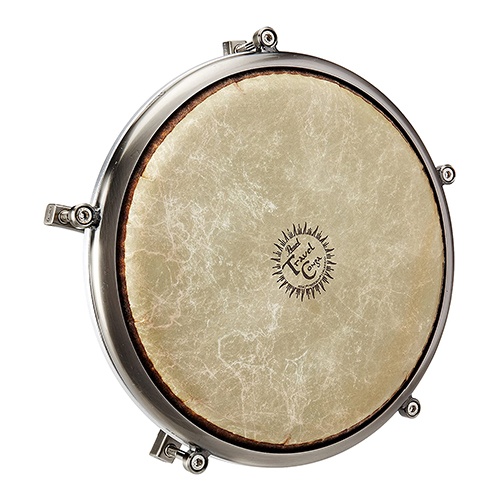 This conga is ideal for traveling musicians. It has a very compact design, and it weighs very little, which means you can even carry it in your backpack. And the even better news is that it doesn't lack when it comes to sound quality. On the contrary, it has a bright tonality, rich sound, and accurate notes.
The unit delivers the real conga sound since it is crafted from wood like most full-size congas are. Furthermore, the piece is cleverly designed to resist fluctuations from temperature or humidity and to offer high performances in any environmental conditions. Other benefits are the fact that it can be played on your lap or mounted on a stand, and that it measures 11.75″. For those who lack a music room, it can be the perfect alternative. It is also useful for those who want to experiment with the instrument, but they don't want to pay for a traditional model, which has a higher price tag.
---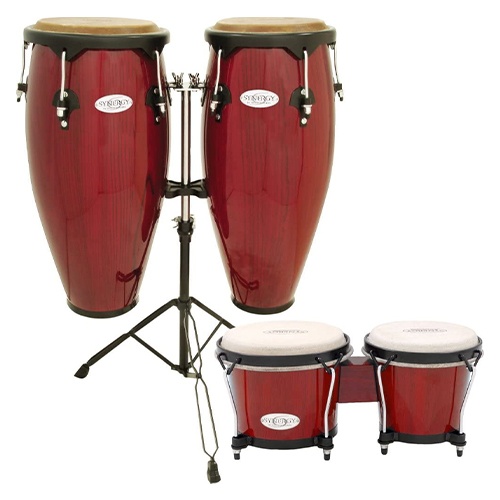 This Synergy percussion package features a conga set with stand and bongo set too. The congas are made from 2-ply Chinese maple shells, black powder-coated hardware, and natural rawhide heads (10″ and 11″). The double stand makes them a comfortable 30″ high. The bongos feature quality 2-ply select wood shells, black powder-coated hardware, and natural rawhide heads. This affordable hand drum set features Toca's Synergy Conga set with stand and a Synergy Bongo set.
Toca Synergy Conga drums are attractive with quality 2-ply Chinese maple shells, black powder-coated hardware, and natural rawhide heads. A sturdy double stand is included for standing play, getting the drums up off the floor to give their resonance and tone more voice. They have 10″ and 11″ heads and stand 28″ high. The Synergy Bongo set features quality 2-ply select wood shells, black powder-coated hardware, and natural rawhide heads. The smooth sounds and suave looks of these bongos will help you get into the Latin percussion groove.
---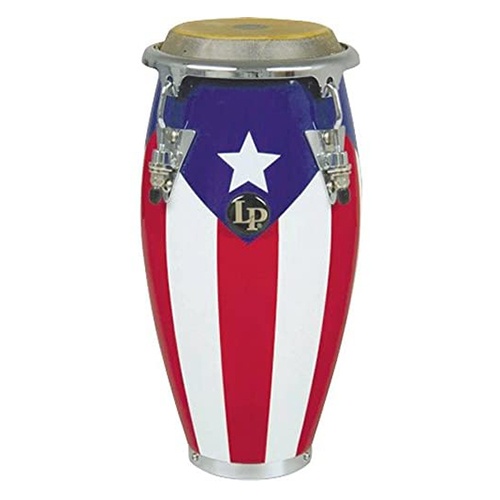 This instrument offers outclass performance and, more importantly, enhanced durability. It weighs just 3.15 pounds, and it is highly portable, a thing that makes it ideal for those who plan on touring the entire world. And it also gives stunning sound quality, which is surprising given its compact footprint.
The crafting material was wisely chosen to enhance the model's durability and to maintain the high standard the brand is known for. Its head is made from natural rawhide and the drum structure is formed by using high-quality siam oak. The Puerto Rico flag is printed with strong pigments that don't wash away easily. The simple looking instrument is created with attention to detail and the amazing results are easily visible. People prefer it because it is convenient, especially if you lack storage space. We should also mention that it is affordable and easily maintainable if these are things that matter to you as a customer.