Pirastro has been the top choice among string musicians around the world. They produce great quality strings and rosin that cater to a wide range of musicians. With over 200 years of experience, you know Pirastro is a name you can trust! The key is to find what is right for you.
Did you know Pirastro rosins go hand-in-hand with Pirastro strings? And not just any Pirastro rosin. For example, did you know that the Pirastro Oliv Evah Rosin was specifically designed for the Pirastro Evah Pirazzi strings? That is because strings are unique and come in a variation of timbres that fits the needs of the performer. There are strings that sound dark, bright, powerful, wide, full, etc. There are strings that are catered to soloists, instead of orchestral musicians, and vice versa.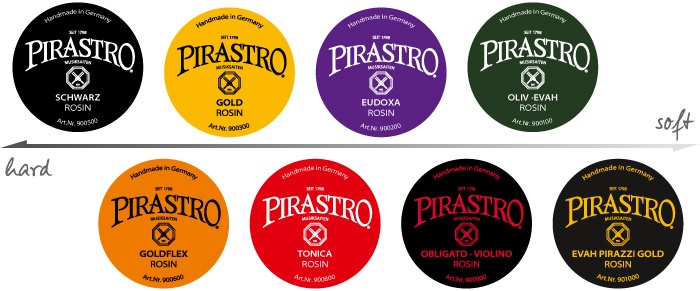 So getting the right rosin is very important. Don't just buy the best of the best. Don't buy the best strings for bright and powerful soloists, then buy the most expensive rosin that is made for dark and mellow tones. This clash may produce an mixed and undesired tone. Luckily, Pirastro has made this process very easy by specifically designing their rosin to fit their specified strings. This guide will show you some of the most popular Pirastro strings, and the recommend rosin to go along with those strings.
The Pirastro Tonica Rosin is suitable for strings with a dark and warm timbre. This rosin goes great with the Pirastro Aricore strings, and the Pirastro Tonica strings.
The Pirastro Eudoxa Rosin is suitable for plain gut strings. This is the typical sound for baroque and traditional instruments. This rosin goes great with the warm and complex timbres of Pirastro Eudoxa Strings, and Pirastro Chorda Strings, which were made for baroque instruments. It also goes great with the Pirastro Hardanger Fiddle Strings, which are made in the style of traditional Norwegian gut strings.
Next we have the Pirastro Schwarz Rosin, which was designed for chrome steel strings that produce warm and brilliant tones. It gives the strings a very big volume. This rosin goes perfect with the Pirastro Chromcor strings and the Pirastro Flexocor strings.
This rosin has a dark olive color. It's relatively soft, and low dust forming. It produces a big sound, and features a good grip with low noise. This rosin is especially well suited for the Pirastro Oliv strings, the Evah Pirazzi strings, and also the Wondertone Solo strings, and the Pirastro Passione series.
Pirastro Evah Pirazzi Gold Rosin
This rosin is truly one of it's kind. Characterized by its seductive and inspiring sound, it brings a full sound spectrum, powerful projection and excellent bow response of the Evah Pirazzi Gold strings. This rosin is ideal for virtuosic playing. It allows powerful contact with the strings, draws out the sound evenly and enables clear articulation. Even right after the rosin has been applied, the bow will sound smooth. The Evah Pirazzi Gold rosin distinguishes itself by a very minor formation of dust with no residues forming on the bow hair. Use sparingly! A little bit of this rosin goes a long way.
The Pirastro Gold Rosin is made for gold gut strings that produce a bright sound. This rosin goes great with Pirastro Gold strings.
Pirastro Violino Obligato Rosin
This rosin features a forest honey color. It is made for mellow, rounded sound. It's very well suited for synthetic strings with low and medium tension, such as the Pirastro Violino strings, and the Pirastro Obligato strings.
Even though the Pirastro rosins are made for Pirastro strings, they are not limited to just Pirastro strings. But it's important to first understand what kind of strings you have. Are they warm and mellow? Are they bright? Are they made of chrome steel? With this guide, you should know what kind of Pirastro rosin to get, for the type of strings you may have.
Reference: https://greatviolincases.com/blogs/education/which-pirastro-rosin-should-i-get