You all heard that Ukulele is cheaper (compare with guitar ) and easy to play(again, compare with guitar), you admire the joyful sound and how cool it looks when other people are playing it, so you set your mind to get yourself a ukulele and master this fine instrument in 30 days! Many people start an instrument with great passion and expectation, but end up hating it after a few times playing? Why? Because they are hard to play! Sadly, many cheap ukus are poorly and difficult to play, causing discomfort by scratching fingers, resulting in frustration and loss in interest.
It does not have to be this way, we have read through hundreds of reviews and tested some of the major ukulele brands in the market so as to offer you this complete ukulele guide for beginners, these ukulele we picked will not discourage you but be the best companion in your music journey.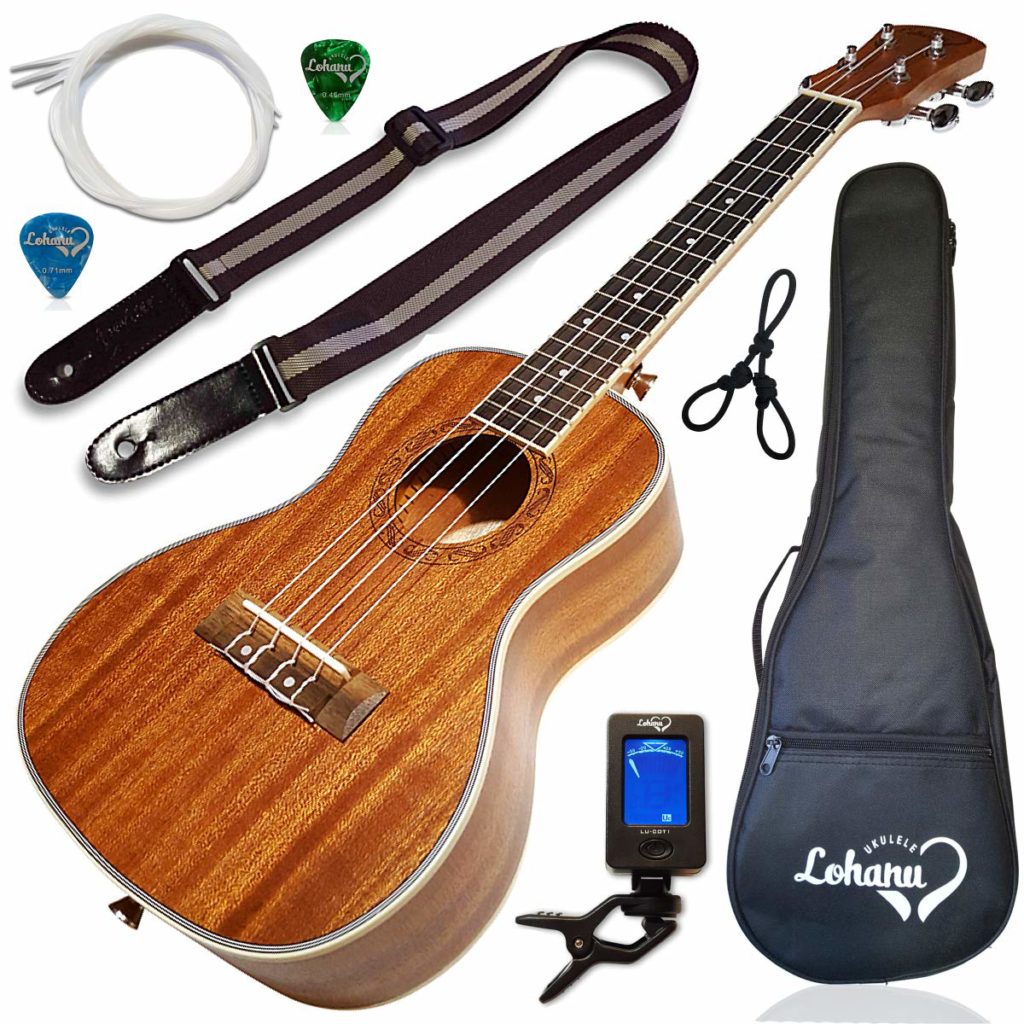 Lohanu brings you one of most affordable but high-quality ukulele on the market. The concert size of this ukulele gives the beginner a comfortable handling. The concert size, which is just 3 inches bigger, is better than a soprano, producing better sound. The frets on this model have more space which are ideal for children ranging 9 and above, and also for adults.
The top, back, and sides are made from choice mahogany and sapele, which gives the uke its beauty and solidity. It also features an arched back for longer sustain and a fuller sound. The fingerboard is made from rosewood and the neck, as well as the body, features a handmade ABS binding.
Two straps button is also installed—meaning you don't have to spend an extra cash for straps. Aquila strings, pick holders are some notable extras that are included in this 24 inches long, mahogany top, neck, back and side ukulele, with rosewood fingerboard design.
---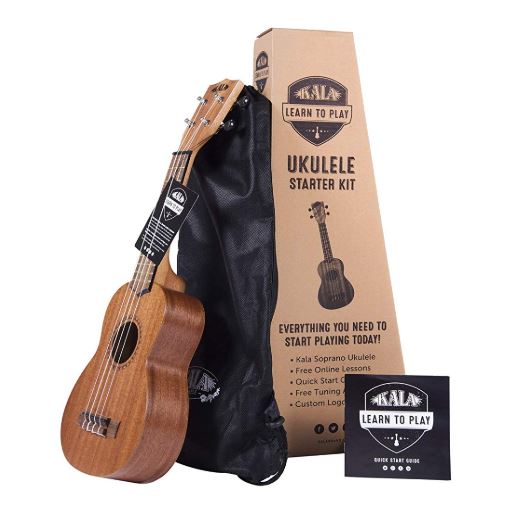 Designed with beginners in mind, the Official Kala Learn to Play Ukulele Starter Kit comes in light mahogany for a pleasing, traditional appearance. Don't let the low price fool you: This ukulele is of good quality, and the kit comes with plenty of extras to give you a good start on your musical adventure.
It's made of mahogany, with a traditional Hawaiian laser-etched rosette around the soundhole, and has a satin finish. It features a Graphtech NuBone nut and saddle. Mahogany is an excellent choice of wood for making ukes. It gives a nice warm, cheery sound and also, looks great.
The strings are the excellent Aquila Super Nyglut. They are soft to the touch, which is essential for beginners. They produce a lovely tone when played, which should be enough to keep most people practicing. This uke comes as a starter kit, so you'll also get free online lessons, a free Kala App with a tuner, a Kala logo tote bag and a How to Play Ukulele Starter Booklet.
---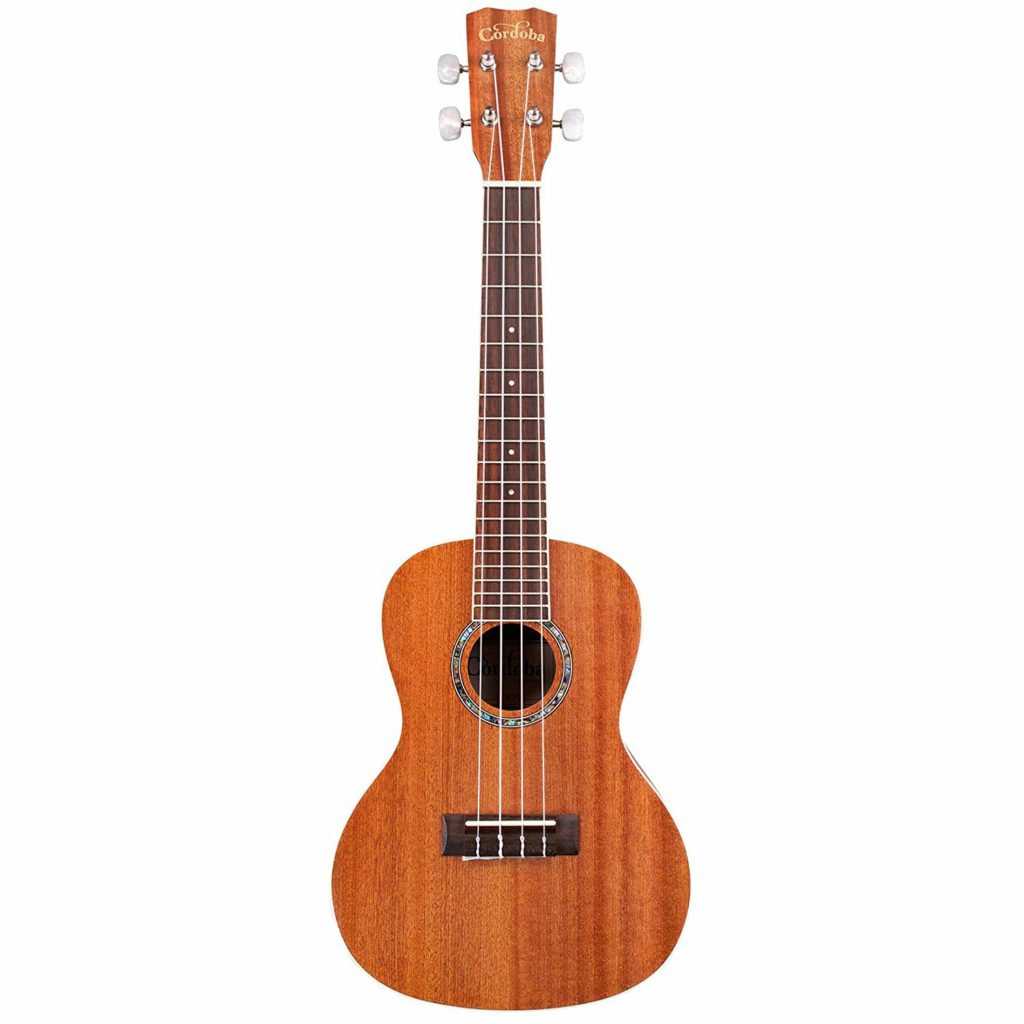 The Cordoba 15CM is a concert-sized ukulele from Cordoba, and it's a great ukulele to start off with. It features a full mahogany body adorned with ivoroid binding and a beautiful abalone rosette. This ukulele is completely handmade, and the quality of the construction definitely shows. The top, back, and sides are all constructed from mahogany, which will provide you with a great tone every time you play. It has a rosewood fingerboard and a satin finish.
The details of the 15CM aren't the only highlights of this ukulele. 15CM also has a beautiful tone. The sound is very punchy and showcases the Hawaiian vibe nicely. The overall quality and sound rivals that of ukuleles many times its price. If you want great sound at a great value, this one of the best beginner ukeleles.
---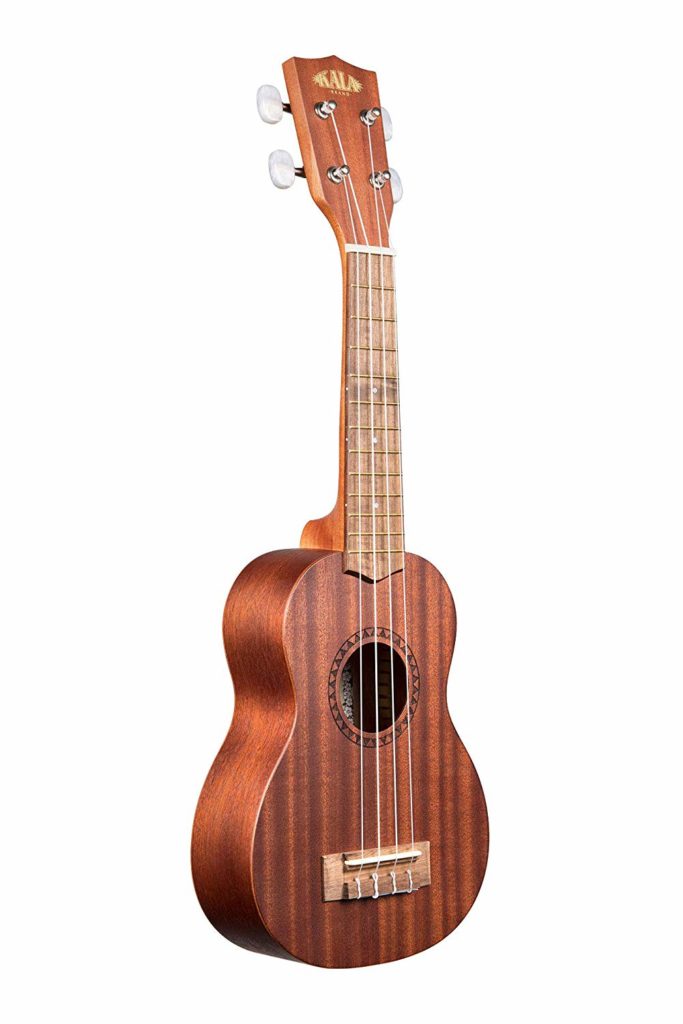 The KA-15S is excellent for practicing, classroom use, and for acoustic performances. In fact, it's one of the most commonly used ukeleles in schools worldwide. The wood delivers a tone that is warm, yet bright, with a full-bodied sound and enough volume to stand out from the crowd.
The strings on this uke are about the best you can find – Aquila Super Nyglut. Which are considered a superb choice for both seasoned players and beginners. They produce a fantastic sound and are not harsh on the fingers, allowing you to play for longer.
As well as the mahogany top, back and sides, this great little uke features a beautiful walnut fingerboard and bridge, a mahogany neck with 12 brass frets, and a GraphTech NuBone Nut.
---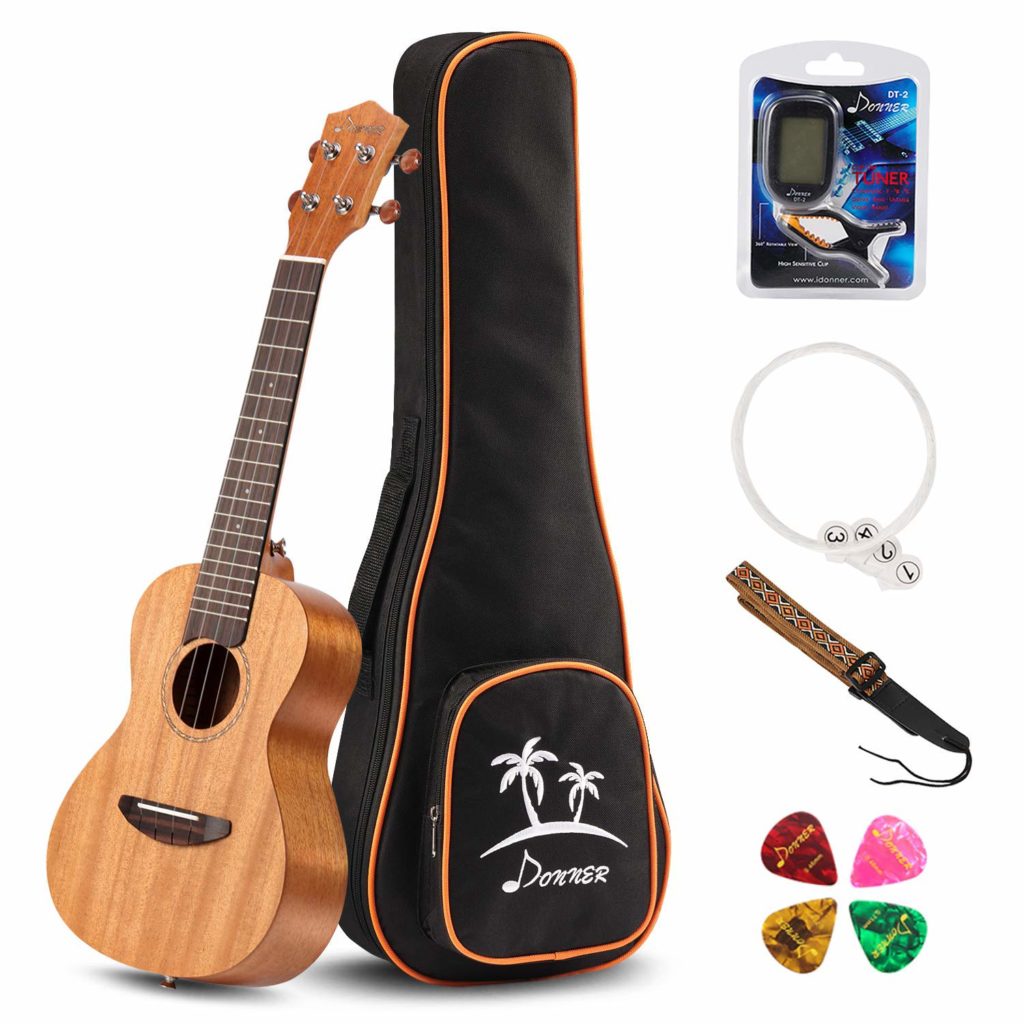 This uke again features a mahogany top, back, side, and neck. So, will again bring you the characteristic rich, warm sound the wood is famous for. The fingerboard is made of rosewood. So it feels great under your fingers while your playing.
Additionally, intonation up the fretboard was surprisingly good. Most budget ukuleles sound out of tune when you play notes high up the fretboard but not this one. Also tuning held nicely. Once the strings stretched and settled, tuning held well with small adjustments every 10 to 15 minutes of playing. In addition, with the ukulele, you get a strap, case, and tuner. It's a really nice set up to get started. You can't go wrong with the Donner concert ukulele.
All this adds up to a good assortment of quality items for such an affordable ukulele set, fair play.
---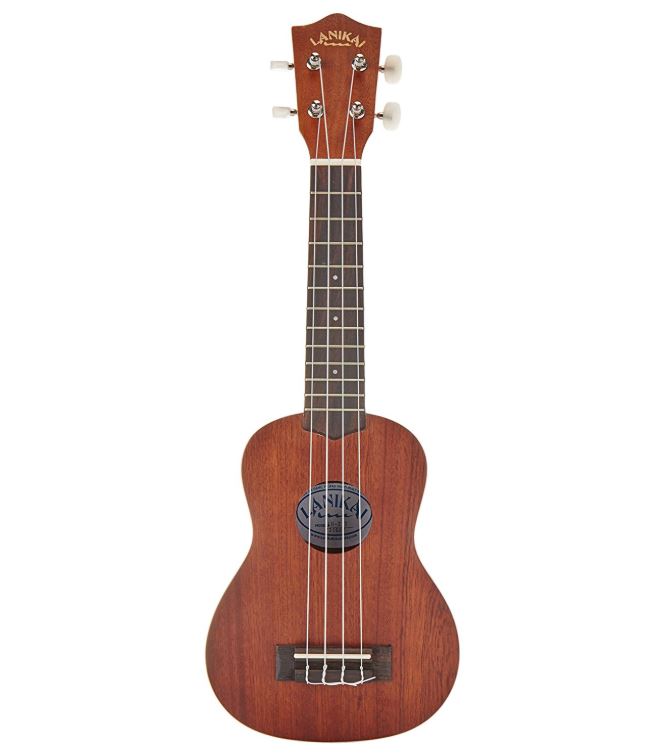 Unlike every other ukulele we've covered so far, which has been made from mahogany, this is made from Nato. It's another commonly used wood for the construction of ukus and also produces a wonderful sweet tone, but does sound slightly different to a mahogany model.
There is no better or worse when we talked about being different, it's a matter of personal taste as to what a particular player prefers. Nato instruments do tend to be cheaper than mahogany ones, simply because it's a cheaper wood. But, the sound that Nato instruments produce can be superb.
Yet again, this uke comes with Aquila Nyglut strings. But, they are excellent, and gentle on the fingers, so we really should stop going on about them being used by every manufacturer.
---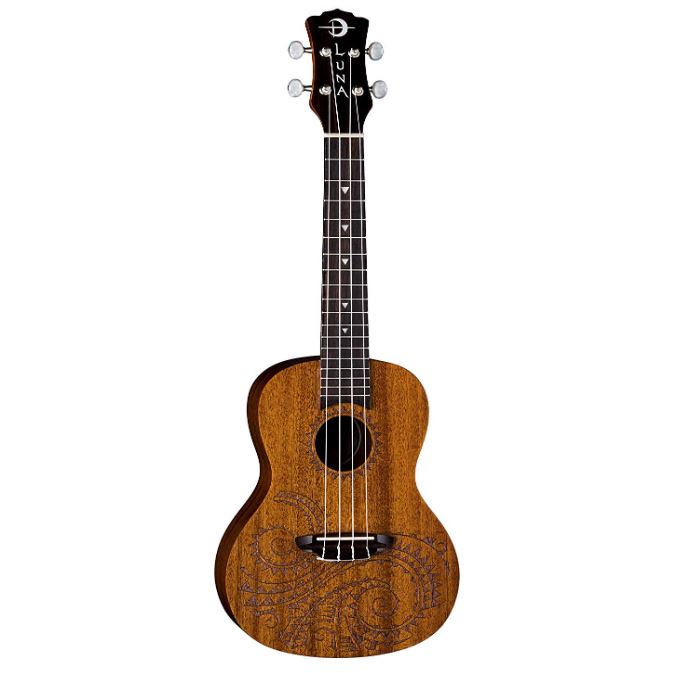 Inspired by the Hawaiian turtle, called the honu, Luna has come up with a uniquely designed uke especially for you. The ornamentation consists of patterns, shapes, and symbols of birds and waves. And makes this ukulele stand out from the crowd.
The uku comes with mahogany top, back, and sides. Mahogany gives the already beautiful to look at uku, a wonderful tone to boot. So, expect a warm, resonating sound from this uku as you play it. It also features a rosewood fingerboard.
It's also really nice that Luna made an effort to give buyers a gig bag. The bag comes padded at the back and at the sides. This way, you can always be sure your uke is well taken care of.