Like you need clothes, your precious guitar need a nice case, not just for a fancy look, but for transporting and protection. Depending on how and where you store your guitar, you may find yourself in need of different kind of case — A hard shell case to stronger protection or a lightweight carry bag for daily commute, lucky for you! We have reviewed almost any kind of cases available in the market today, and sorted out the 9 best cases, no matter what your need is, you will find something suitable from this list.
Mono is without a doubt one of the coolest outfits on the planet. They are a community driven company with excellence in design, and the support of designers at the core of what they are all about. Their team is as diverse as it is talented and consists of a variety of different specialties such as musicians, brand managers, retail gurus, designers from a range of disciplines and much, much more.
The hybrid shell and lightweight nature of the MONO M8 has revolutionized the way people travel with their classical guitars. Over the years, this MONO M8 Classical guitar case has proved that if you have a guitar, you should own a MONO case for it.
One of the standout features of this product is Mono's patented Neck Brace technology that allows you to lock in the neck of your guitar for an unparalleled level of defense. Also, the headstock remains suspended inside the case meaning your prized investment should be safe from potentially neck snapping impacts.
Available in:
Acoustic OM
Classical
Dreadnought
Electric Guitar
Electric Bass
---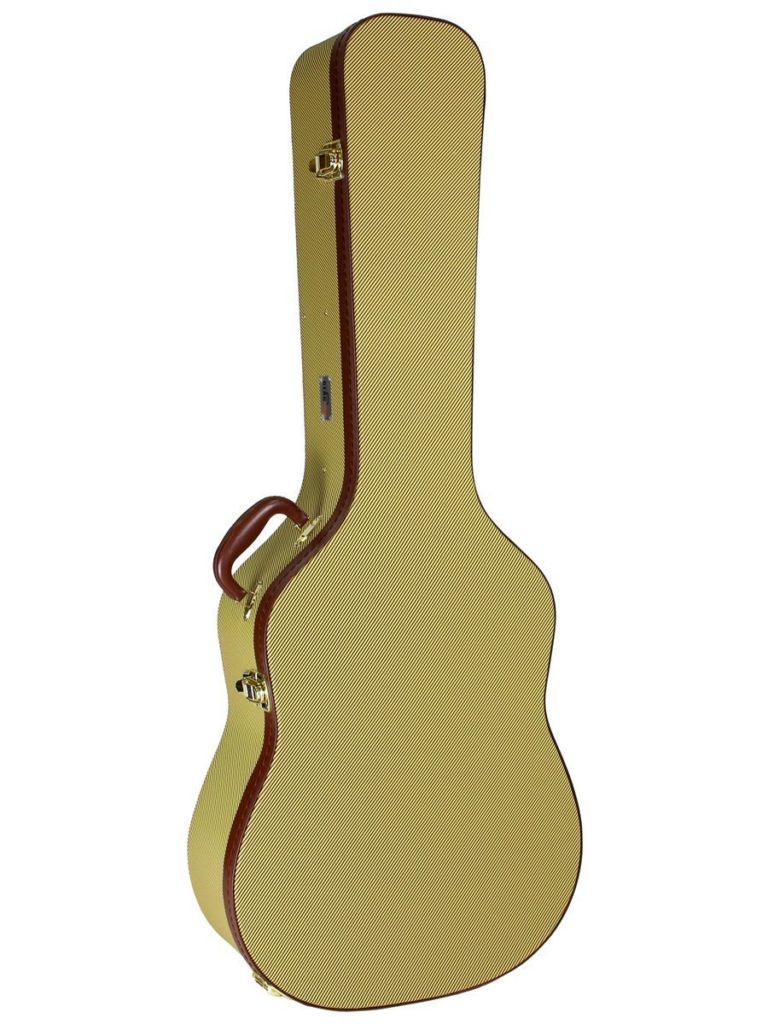 Gearlux is a manufacturer of quality musical gear and accessories. Though not a highly popular brand, it is getting increased recognition as those who have gotten any of their products continue to give them very positive reviews.
Looking at the Gearlux Dreadnought Acoustic Guitar Hard Case, you can easily see why these positive reviews are pouring in. One of the first things you are likely to notice is its low price point. Do not let this deceive you. This case will give your dreadnought acoustic guitar the protection you crave without breaking your bank.
This case offers a very stylish and practical solution. In fact, it's one of the best-looking hardshell cases around, with a retro yellow tweed-style finish complete with brown binding and handle, and gold locking hardware. Inside, the feeling of luxury continues with a plush lining to protect the guitar (it houses acoustics up to 44" long), as well as an internal storage pocket.
Available in:
Classical
Dreadnought
Tweed Dreadnought
---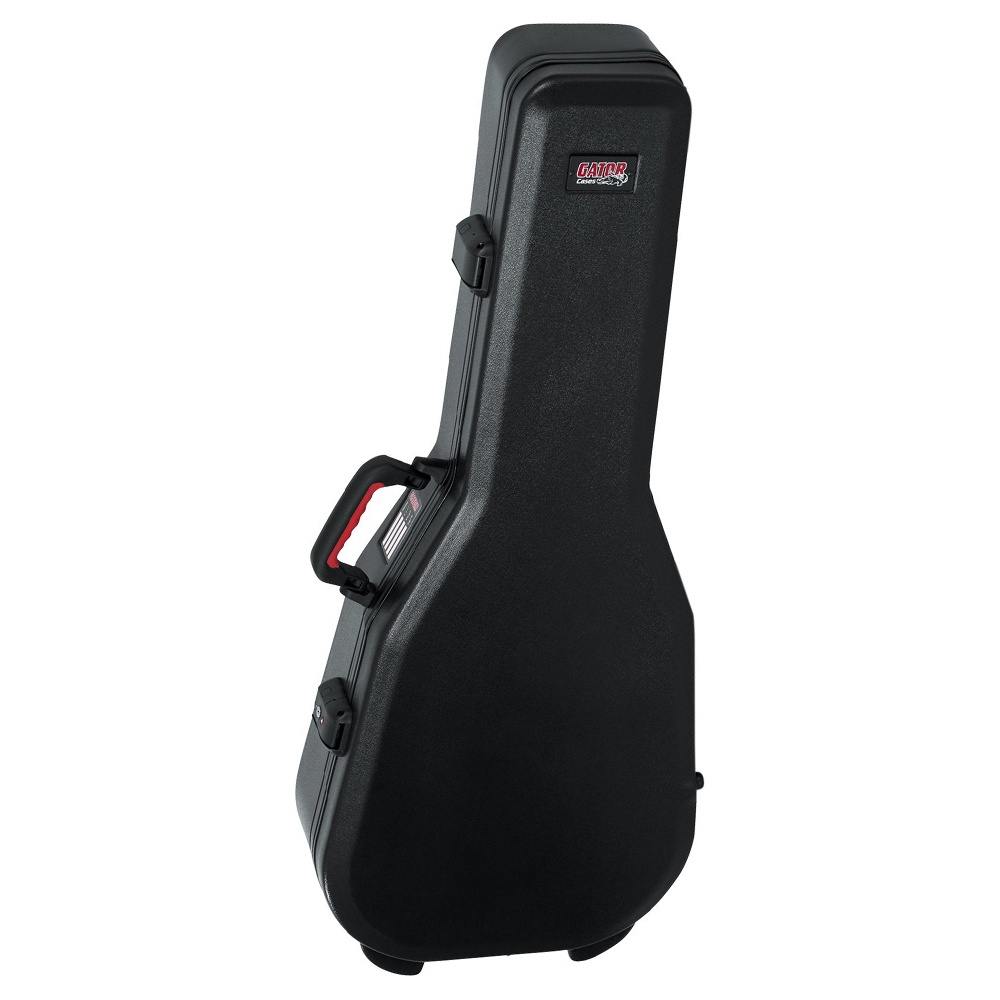 It's unbelievable that Gator Cases started operations less than two decades ago. The level of acceptance it now enjoys among professional musicians is simply a testimony to the quality of their products.
The Gator Deluxe ABS Classical guitar case is a very cheap and yet solid model to choose any day, anytime. The inside of the ABS Gator has good and durable padding, and when it is closed, the seams are tight and well secured. To say the case is real quality would be an understatement.
Apart from the fact that it shuts evenly and tightly, all the latches line up perfectly all the way around, and the inside padding is devoid of all those weird case smell common with some other brands once it is latch shut. Regarding guitar-fit and durability, the Gator ABS Deluxe Classical Guitar is way sturdier and nicer than what many buyers who bought the product have hoped for.
Available in:
Classical
Dreadnought
Semi-Hollow
Electric
Les Paul
Bass
---
Ibanez IAB541 Powerpad Acoustic Guitar Gig Bag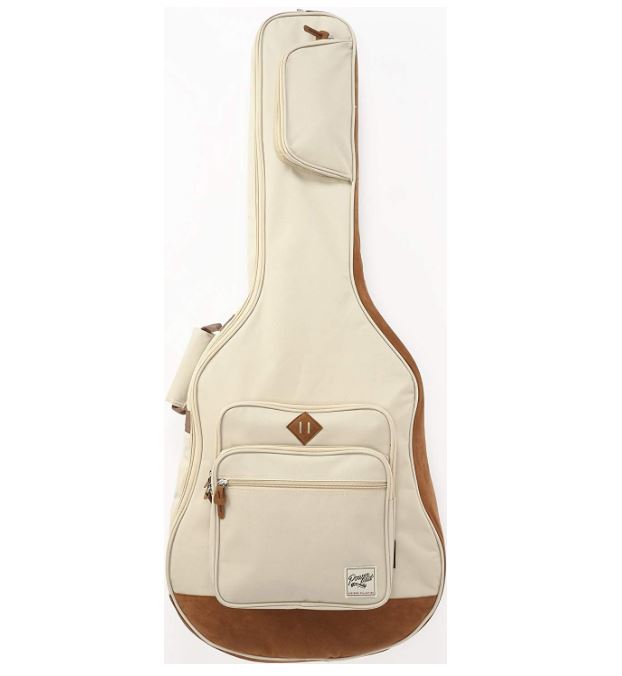 Dollar for dollar, this seriously good-looking gig bag from Ibanez offers acoustic guitarists a relatively affordable case that looks a lot more than it costs. Available in either beige, black or burgundy (all with brown panels and detailing), the 541 PowerPad features a lightweight but durable outer layer with 15mm of padding around the bottom and sides.
Looking at this Powerpad Acoustic Guitar Gig Bag from Ibanez, it is immediately clear that this brand understands that musicians are stylish by nature. This gig bag combines a stylish design that sets you apart with from the crowd while also providing good protection for your guitar. Who says you can't enjoy the best of both worlds?
Available in:
Acoustic
Electric Bass
Electric Guitar
Ukulele-Concert
---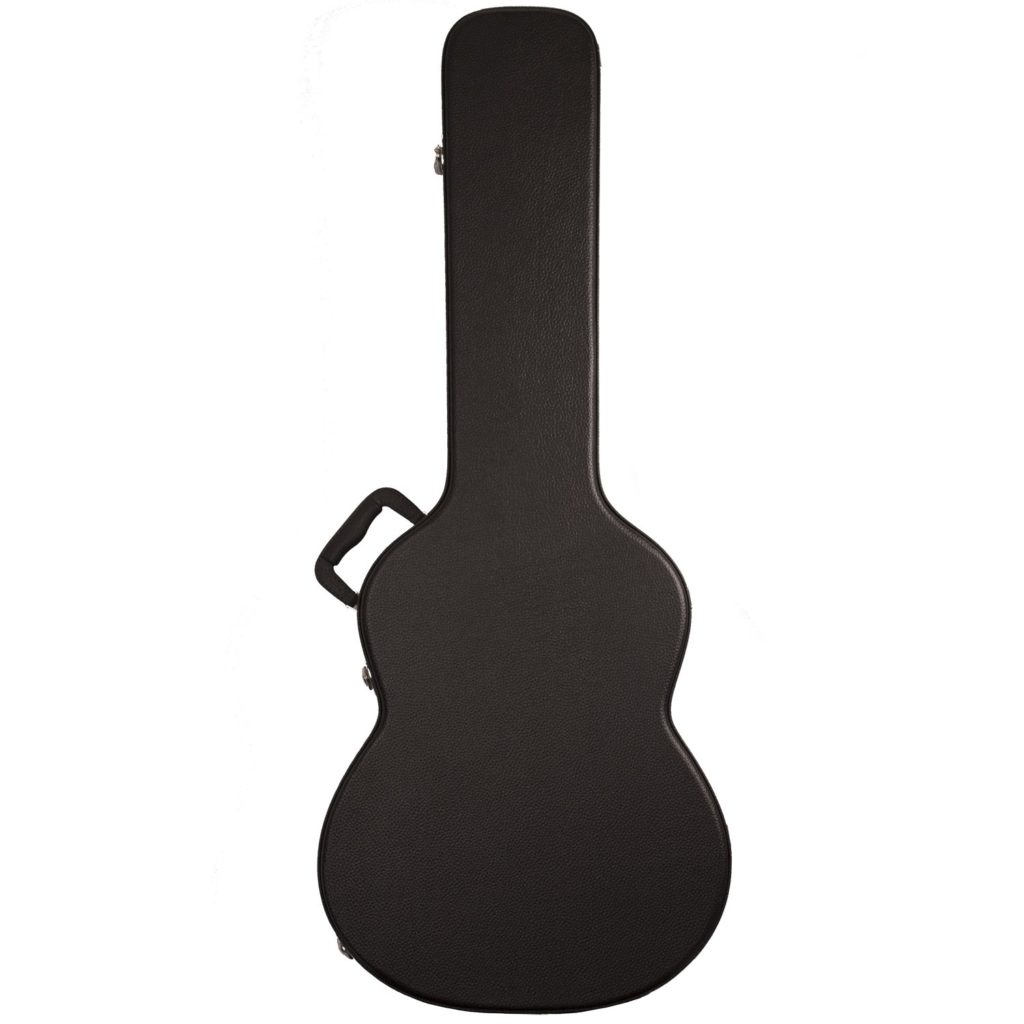 ChromaCast is a brand that has successfully dipped its hands into several musical gear pies. With a line of products that include guitar accessories, drum accessories, audio gear and more, it is surely making some serious impact in the music world.
The ChromaCast classical guitar hard case has solid bumpers and latches at the sides and at the bottom of the case, adding stability and protection the handle that is molded makes it easy to carry and transport in a more comfortable manner. The case design also features a suitable and large storage compartment where accessories like the tuner, extra springs, picks, and more can be stored adequately.
In terms of all-round performance, the ChromaCast can boast of being lightweight, was a locking latch with added keys, fuzzy internal material that is soft and doesn't shed like some models. This hard case will ultimately protect your guitar from bends, bumps, or knocks.
Available in:
Dreadnought
Jumbo
Classical
Electric
Bass
---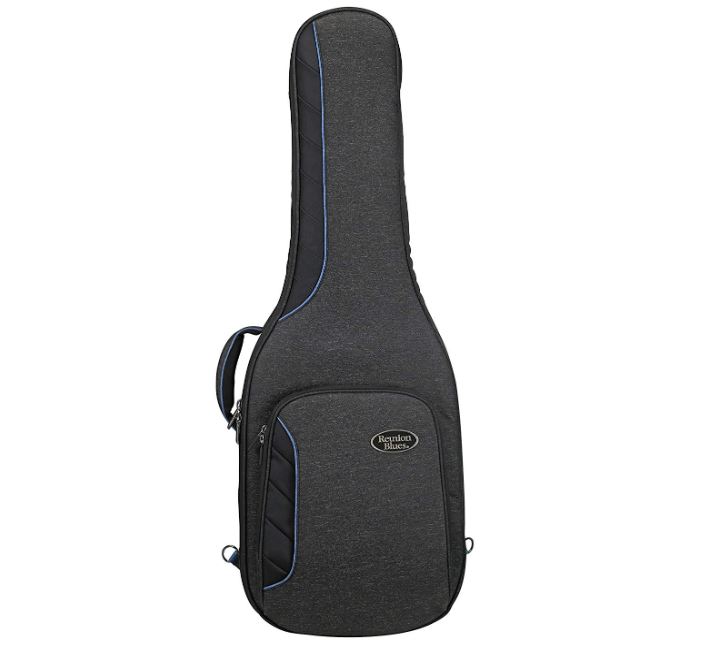 Reunion Blues are a company steeped in history and one of the premier outfits in the musical instrument case and gig bag industry. Way back in 1976 these guys produced the first professionally recognized cases and gig bags you could get. For over 40 years they have been turning out some of the highest quality cases, gig bags and instrument stands on the market.
The Continental Voyager set the bar for electric bass guitar cases back in 2008 when it was first released. It is very easy to see why it did so as well, as this product is bursting at the seams with industry-leading features.
It boasts the patented 1" thick Flexoskeleton shock absorber with reinforced impact panels for an unrivaled level of protection. Another patented feature of the outer is the Zero-G handle, which is palm-contoured and sports a weight distributing foam core. It also features a robust EVA backing, this is all part of the patented ballistic Quadraweave outer complete with waterproof zippers.
Available in:
Dreadnought
Semi-Hollow Electric
Electric Bass
Small Body Acoustic
Electric
---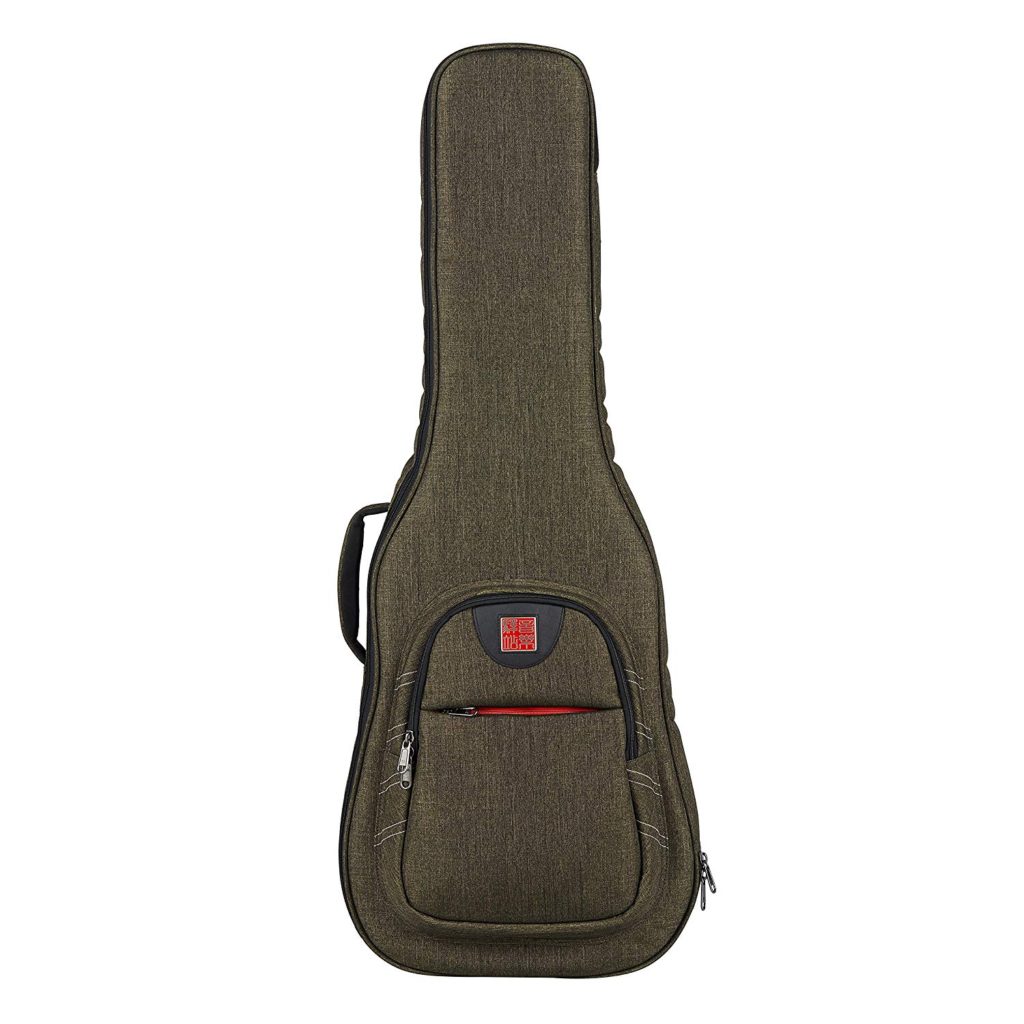 This very attractive case from Music Area is a high-end gig bag worthy of a high-end electric guitar. Although it's not cheap, it offers a lightweight solution which is designed to be waterproof, dustproof and very durable.
This is down to the five-layer construction which starts with a protective polyester outer (in a very attractive dark green finish), while the interior includes a shock-absorbing polyurethane foam with extra neck padding and ultra-soft lining.
From its stable, it brings you this gig bag for the electric guitar. First, the materials used for making this bag meet the ROHS compliance guidelines, making them environmentally safe. It is well padded for full protection against impact, offers ample storage space and has a waterproof exterior that will keep your guitar from getting wet.
Available in:
Acoustic
Classical
Electric Guitar
Electric Bass
---
If your precious axe is a Strat or a Tele, there is no better hardshell case to protect it on the road than this official Strat-Tele deluxe molded case from Fender.This case combines the sturdiness of a military-grade outer shell with a gentle plush polyester interior covering a protective foam cut specifically to fit a Tele or a Strat.
This case is built like a tank such that not even the battle fields of Iraq or Afghanistan will have much impact on it. From its very hard outer shell to its soft and cozy interior, it offers your dear guitar incomparable safety. Other features of this high-end case include a TSA-approved locking center latch, a padded interior storage section, and a comfortable handle. A robust and secure way to travel with your pride and joy.
---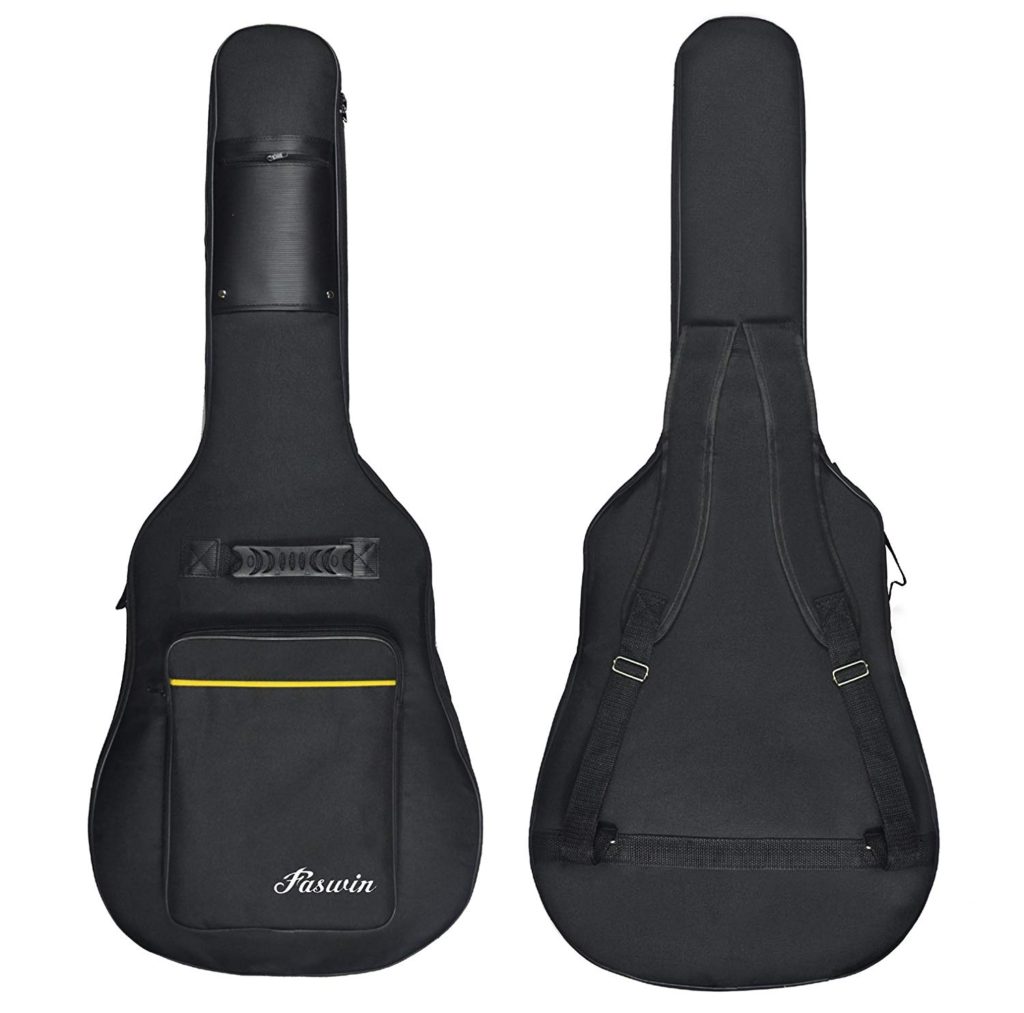 The definition of 'cheap and cheerful'! Designed for full-size acoustic and classical guitars (with a maximum length of 41"), this ultra-affordable soft gig bag from Faswin is a very popular choice for beginners.
The Faswin Dual Adjustable Guitar Gig Bag appears to have been specially design for transportation to and fro various destinations. The Faswin comes with dual adjustable shoulder straps for comfort and ease of transport. The inside padding and outer layer of the bag effectively protect against shock and scratch for your classic guitar.
The triple gusset storage pockets provide much needed space for adequate and ideal for storing score sheets, note book and a pen. Apart from the two zippered pockets on the sides, there is another smaller zipper compartment located just right at the neck of the case, an area where you can possibly store your picks.