Do you want to give your child a head start in learning to play the drums? Learning the fundamentals of rhythm at a young age can have a significant impact on their future drumming abilities. Those skills can eventually be transferred to any other musical instrument.
Junior drum sets for children aged 3 to 10 years are now widely available on the market. Despite their diminutive size, they usually contain all of the key components found in full-size drum sets.
Who are junior drum sets for?
Bear it in mind that it is not about age! After all, a six-year-old child could be any size, and the only thing that matters is his or her size. It's a question of whether your child can reach the bass drum pedal and the cymbal (the drum set's highest and lowest places) while sitting on the drum throne. And this will function if he or she is between the heights of 212 and 5 feet. Shorter will result in stretching (although he or she will be growing into the set at the very least). Taller is a no-no since it leads to unhealthy squatting, which will deteriorate with time.
So, if your child is taller than 5ft or is rapidly approaching that height, a full-size starter drum set would be a better pick.
Here is a list of some of the best kids drum sets you can find on the market: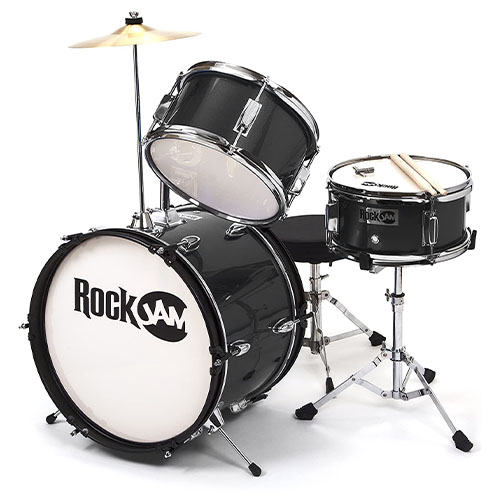 This Mendini 5-piece drum kit is one of the most popular junior drum sets for kids. The affordable price mixed with a decent overall quality makes such a perfect combination. Thanks to a small 8"x 13" bass drum, this kit sits pretty low, so it is perfect for children under 5 feet. The sound and overall quality of this kit are quite good. Of course, you can't expect miracles, but there is really nothing to complain about the snare and toms. On the other hand, the cymbals and hi-hats aren't that good, but that is a common issue with all junior drums.
This Mendini by Cecilio 5-Piece Junior Drum Set with Cymbals is an 'all-in-one' fully functional drum set designed specifically for entry level drummers. This set has everything you need to get set up and playing in no time. It is a perfect gift for the young drummer who wants the most realistic experience but may be too small for a full size drum set.
---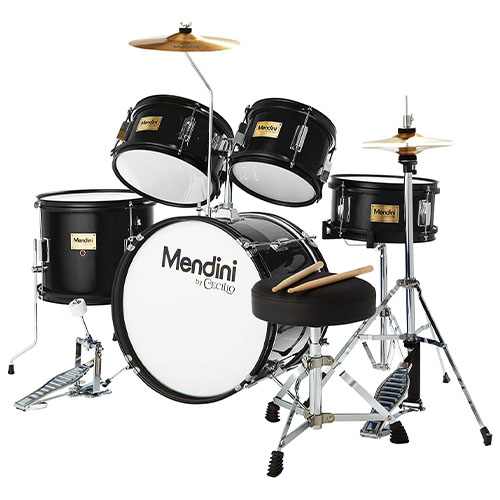 Sometimes it's better to keep things simple, and the RockJam Junior Drum Set is a perfect example. This is an affordable 3-piece kit that has everything an absolute beginner needs. Of course, you can count on common parts of a drum kit – bass drum, snare, and tom-tom. A cymbal is included as well and, despite the mounting not looking promising, it actually works okay. The set also includes a decent-quality kick pedal and an adjustable drum throne, which is quite adjustable and comfortable, as well as drumsticks.
The drum kit comes with instructions so you can assemble the set right after opening. The lightweight drumsticks and the cushioned chair (also known as drum throne) add extra comfort for any young prodigy to rock out for hours-the perfect buy for a child's first percussion instrument!
---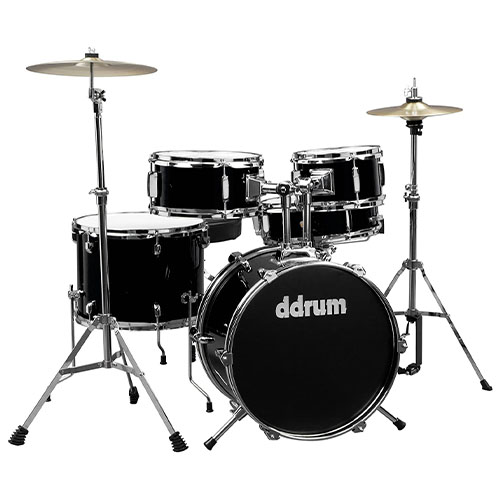 Made for the youngest aspiring drummers, the D1 is nevertheless a complete drum set. Featuring tunable, diminutive drum sizes and including cymbals, hardware, and a tiny throne. Despite its tiny sizes, this kit functions just like a full-sized drum set, and you'll be assured that your young player will be developing all the coordination to take it to a full-sized drum set when the time comes.
The ddrum D1 is a complete drum set, ready to play. Perfect for the aspiring percussionist, Cymbals throne and hardware all included. THe set features a 10 by 16-inch bass drum, a 4 by 12-inch snare, along with 5 by 8-inch, 5 by 10-inch, and 4 by 12-inch tom toms. It comes with bass drum and hi hat pedals, a crash ride cymbal, hi hat cymbals stands, a throne, and sticks.
---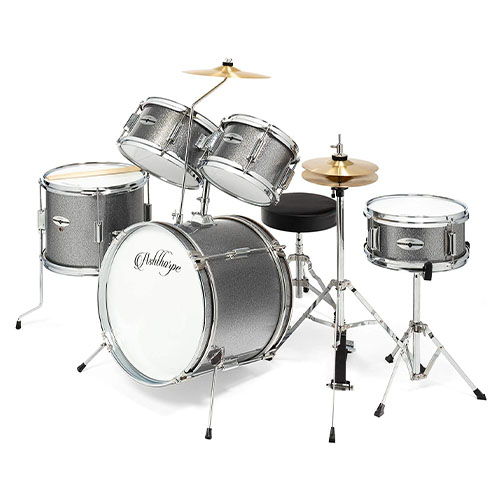 Featuring hardwood (Poplar) shells, triple flanged hoops, upgraded brass cymbals, chrome accents and finished with a glossy, vibrant exterior, these drums provide impressive sound and quality in an aesthetically pleasing design that will delight young aspiring musicians. This Ashthorpe drum set looks like and compares to a full-sized adult set, making it a favorite for grown-up musicians who love engaging in parent-child play time, each on their own respective set!
It features all the essentials, and, considering the price, most pieces of the set sound pretty good. On the other side, the good thing is that the drum throne is quite adjustable. It has a larger 16-inch bass drum, which would still suit your kid for a few more years as they get taller. Drum sticks are included as well.
---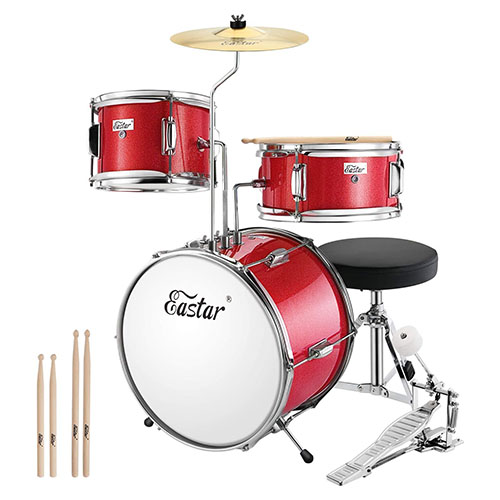 Eastar drum set is perfect for kids as beginners in learning and practicing drum, including a 14″ x 10″ Bass drum, a 8″ x 6″ mounted tom drum, a 10″ x 5″ mounted snare drum with internal adjustable soundbelt, and a 10″ cymbal with cymbal arm, providing everything required for kids to get a great start. This drum kit is crafted utilizing with genuine Poplar hardwood shells with high strength, uniform vibration and bright sound. Adopted with six drum lugs structure, using electroplated technology fully plating drum ring, drum lugs and pedal, providing larger and deeper resonance chamber for the ultimate acoustic experience.
To help kids adapt to learning drum in the early stage, the drums set comes with one plating bass drum pedal, one round padded adjustable drum throne, two kids wooden drumsticks and two 7A adults wooden drumsticks.
---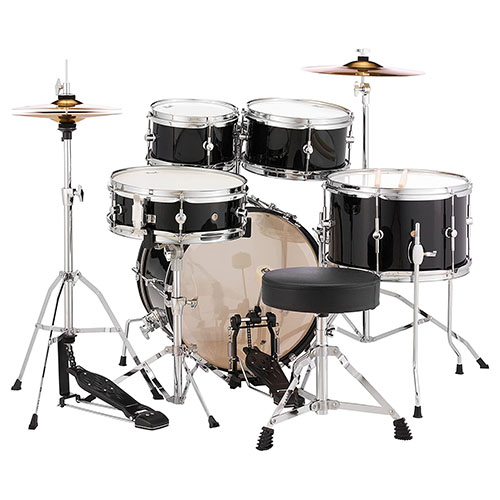 The right gear is essential for setting it free. Following in the footsteps of Pearl's Roadshow series for beginning drummers, the all new Roadshow Jr. is a complete drum set package scaled-down to best fit smaller drummers 10 years old and under. This all-in-one five piece kit features sturdy drum hardware, cymbals, and quality White Poplar shell construction for a totally tuneable, powerful playing experience. Featuring a 16″x10″ bass drum, a 13″x8″ floor tom, 10″x5.5 and 8″x5″ toms, and 12″x4″ snare drum, Pearl's new Roadshow Jr. proves it's never too soon to start the journey of rhythm!
ROADSHOW JR's included hardware package is scaled to the reachable -and portable- needs of the smaller player without sacrificing quality. All stands are height and angle adjustable, and the included bass drum pedal features a smooth chain drive for fast, accurate play.
---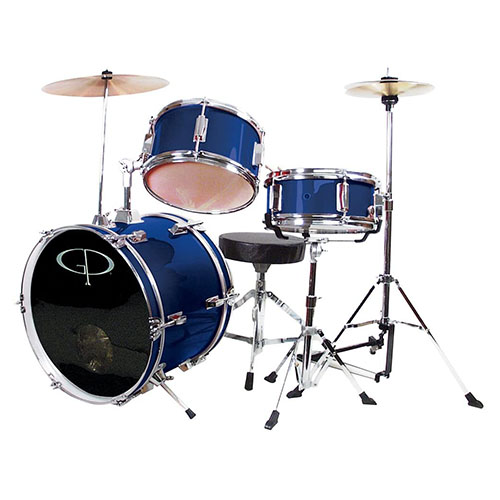 This GP Percussion GP50BL Complete Junior Drum Set will make an ideal present for your son. It is almost the replica of a traditional drum set, but built at a smaller scale, allowing your young talent musician to develop his drumming skills effectively. It is a 3-piece junior drum set that includes the stands, cymbals, and drumsticks. It is an ideal accessory for junior players to practice and get their hands and leg coordination correct for playing the drums.
This drum set is ideal for parents whose child is interested in playing the drums but aren't sure whether it will turn into a long-term passion or is merely a passing fancy. It has everything your child needs to learn the ins and outs of drumming, is a good quality make, but also doesn't cost a lot of money.
---
The Music Alley 3 piece drum set is an ideal kids drum set for the young beginner aged from 3 to 8. This affordable, high-quality kit is a perfectly scaled-down mini drum set that includes all the features of adult drums. As a beginner drum set, this kit contains everything the aspiring rocker needs right out of the box, including three different drums to jam on. The bass is the largest drum of the collection, and its low tone is perfect for playing together with the foot pedal. The hanging tom-tom drums add an extra bang. In addition to the drums, the crash cymbal is great for adding a different type of sound.
The lightweight drumsticks and the cushioned chair (also known as drum throne) add extra comfort making this the ideal drum set for kids.