DJ controllers are pieces of hardware which allow hands-on control of music mixing software. The development of robust DJ software, along with the hardware to control it, has been one of the most significant things to ever happen within the industry. As the market continues to grow, we've found ourselves with many wonderful options. But how do you know which is the ideal choice for you?
In this post, we've listed our top 10 picks for the best DJ controllers covering DJ controllers for beginners, all-rounders, pocket controllers, and premium choices.
The Top Notch — $1,000 and Above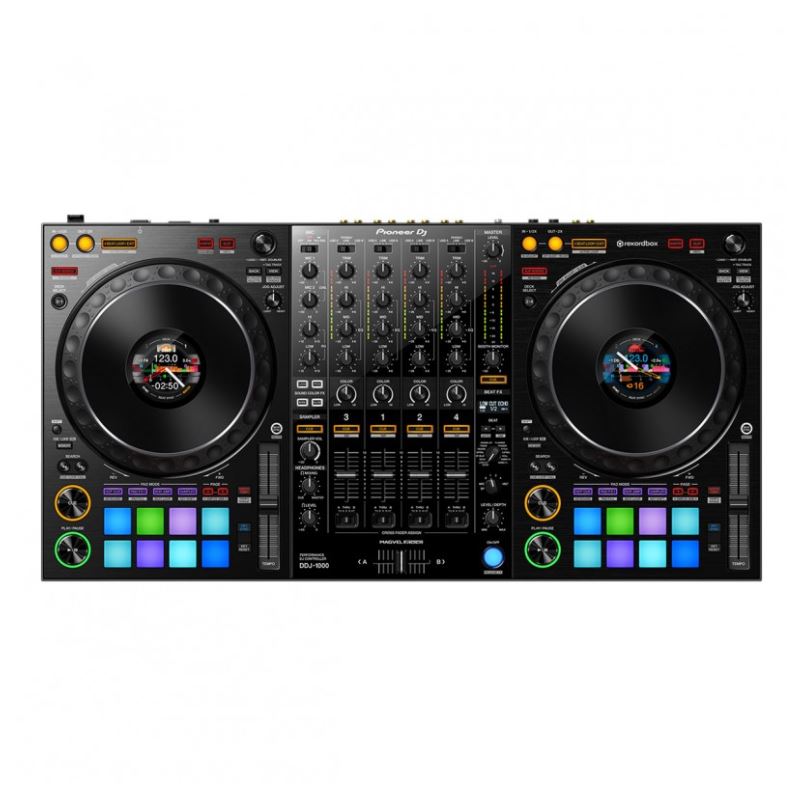 The Pioneer DDJ 1000 is the DJ Controller that doesn't feel like a controller. Mirroring Pioneer DJ's flagship NxS2 club layout, the DDJ 1000 is a 4 channel controller engineered to make the most of the features offered by Rekordbox DJ. While also allowing an effortless transfer onto professional systems. Fluidly select tracks directly from your pioneer DDJ 1000 that you didn't consider compatible, thanks to the Rekordbox powerful related tracks feature. Taking the sweat and worry out of playing gigs.
Additionally, the jog wheels have been taken directly from the NXS2 players. Meaning they're not only full size but also sports tension adjustment. As well as featuring high definition LCD screens on each wheel, allowing you to keep your eyes intuitively on the deck. Enabling you to concentrate solely on your DDJ 1000 rather than your laptop. One of the common reasons DJ's have had a tendency to stay away from controllers in the past.
Based on Pioneer's NXS2 systems for a familiar layout and control scheme
LCD jog display shows you playback time, BPM, waveform, playback position, and Hot Cue and Loop points
14 Beat FX for adding depth and excitement to your mixes
Improved Magvel fader for even more durability and lower latency
Two USB ports for seamless DJ handoffs
16 multicolor performance pads for triggering Hot Cues, Pad FX, Beat Jump, and much more
Lightweight and portable for mobile DJs
---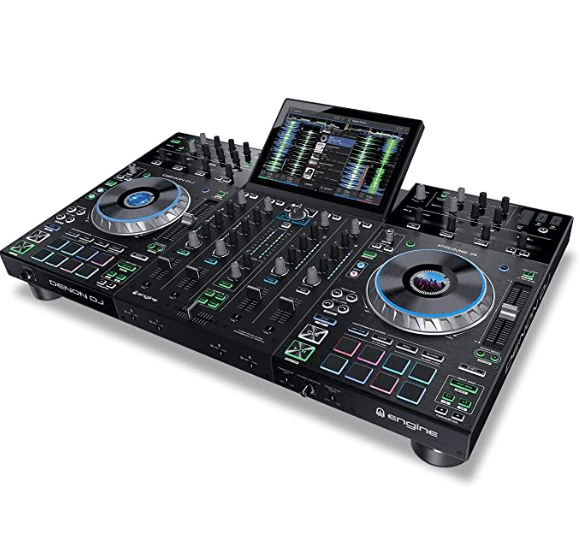 Touch, move and orchestrate your digital music with the DJ world's most advanced, multi-gesture touchscreen. Entertain two separate audiences – Rock the dance floor in one room and Zone output to a different location simultaneously. Access and play your tracks, fully standalone, from literally unlimited sized music collections and media sources.
The PRIME 4 features an adjustable 10" HD display which supports multi-touch gestures, rugged metal construction w/6-inch jog wheels, 4 assignable inputs (for connecting media players or turntables), 2 XLR mic inputs with individual control, 8 trigger pads per side, and a suite of effects from the X1800 Prime. It can play music straight from USB. Or, more specifically, from one of its four USB inputs… two of them around the back of the unit, and two on top. You can also play from an SD card. Amazingly, it includes a 2.5" SATA drive bay… allowing you to carry your music on an internal hard drive. Uncompressed music is supported (such as FLAC, ALAC, or WAV files)… and you can use any one of these sources to record your DJ sets. With a free upgrade, it turns into one of the ultimate Serato controllers, too.
Dual-Function Sweep FX and Filter. …
Adjustable Angle, 10" Touchscreen. …
8 Performance Trigger Pads. …
Independent Zone Output. …
USB, SD and SATA. …
Mic Control, Check 2. …
4-Channel Standalone DJ Power. …
Expressive Multi-FX with Dedicated Displays.
---
Perfect for Beginners — Under $400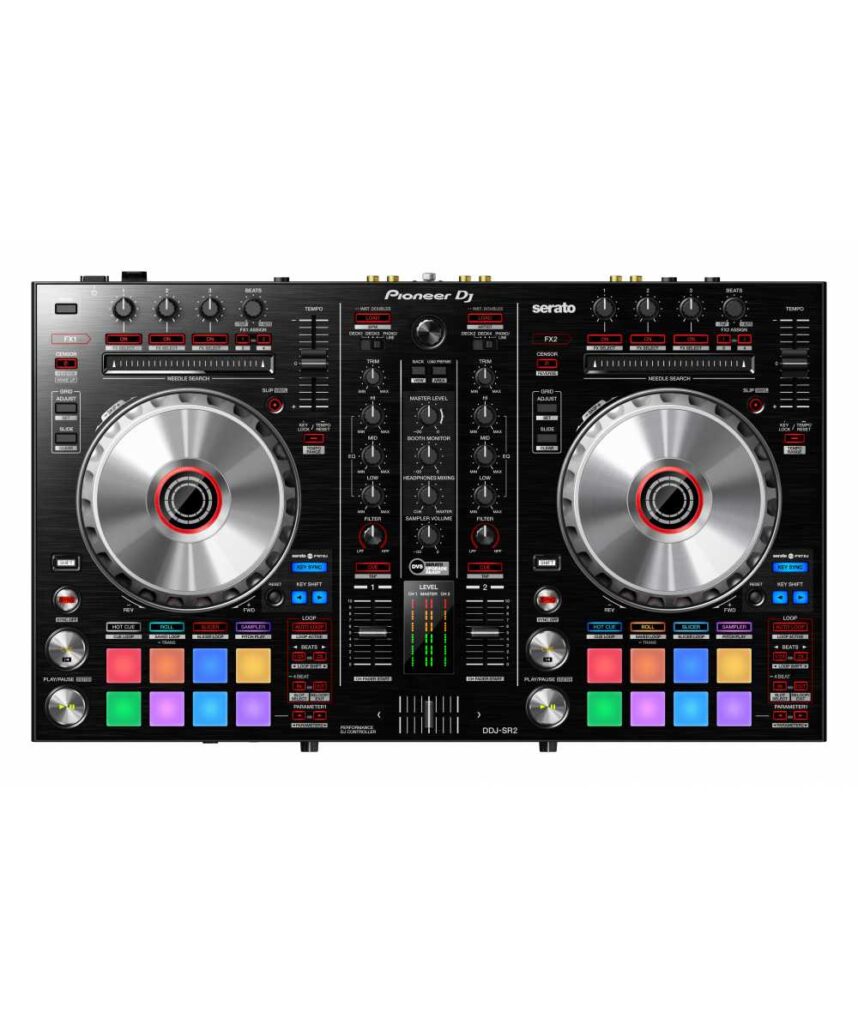 Pioneer hit a home run out of the park with the Pioneer DJ DDJ-SR2. The DDJ-SR2 has dedicated key controls for Serato DJ Pro, allowing you to control the software features with the push of a button. This 2-channel controller takes after our professional DJ gear with multicolored Performance Pads and a spacious layout. Being compact and 18% lighter than the DDJ-SR, the DDJ-SR2 is easy to transport to any gig.
One of the most important qualities any technological devise needs is durability and longevity. Your expensive DJ controller must last you as long as you have it without breaking. If your equipment breaks, that's the equivalent throwing your hard-earned money away. That's what I love about the Pioneer DJ DDJ-SR2. Made out of solid metal on every end, it's exceptionally durable for its price range. This controller is built to the last regardless of how many gigs you play. The jog wheels are even made of metal as well.
DJ Software : Serato Pitch 'n Time DJ. Compatible DJ Software (not included) : Unlocks Serato DJ Pro.
Comes with the full Serato DJ software
Very durable and able to last (made of metal)
USB port and Microphone input
CPU: Intel processor Core i7 and i5 1.07 GHz or higher.
Memory: 4 GB or more of RAM.
4 decks total (2 outside decks and 2 digital decks on jog wheel)
---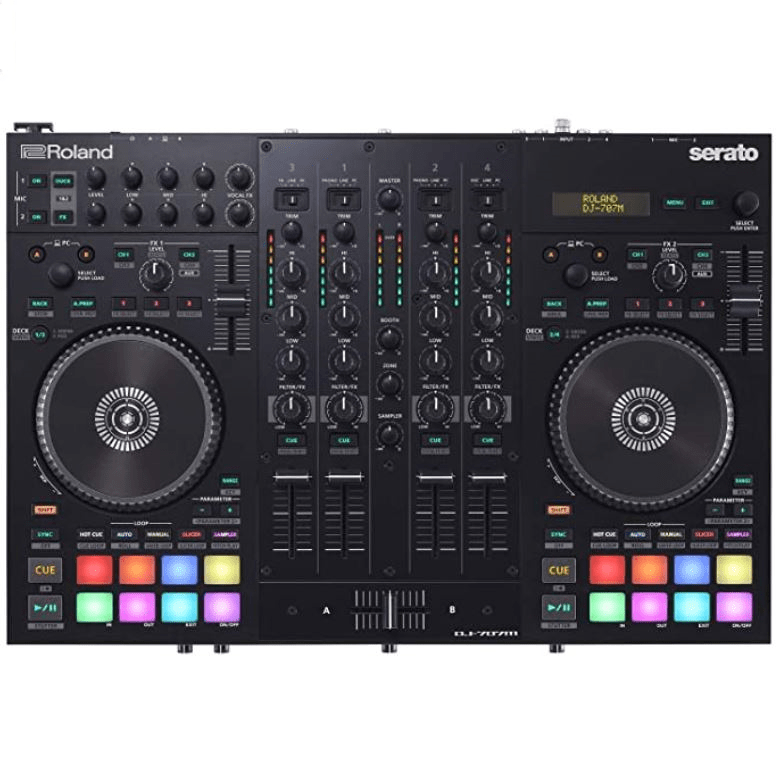 Mobile DJs don't just play music—they're also the MC, sound tech, lighting designer, and sometimes the event organizer, too. This hefty workload means they need equipment that supports much more than simply mixing songs together. Say hello to the Roland DJ-707M, an integrated live sound console, loudspeaker management system, and performance DJ controller equipped to handle the demanding audio needs of working mobile DJs.
With its portable design, pro-grade build, and advanced feature set, the DJ-707M is ideal for mobile applications, club DJing, live performance, and corporate events. The built-in 24-bit/48 kHz audio interface and high-end conversion for Master, Booth, and Zone outputs—plus separate output EQ and multiband compressor on each—ensure faithful reproduction of audio sources and clear, powerful sound.
Built for the mobile DJ
Easy to set up, lightweight, rugged and reliable
Full Serato DJ Pro included
Integrated live sound console
Loudspeaker management system
Performance DJ controller
Four-channel controller with seven dedicated inputs and three assignable output sections
---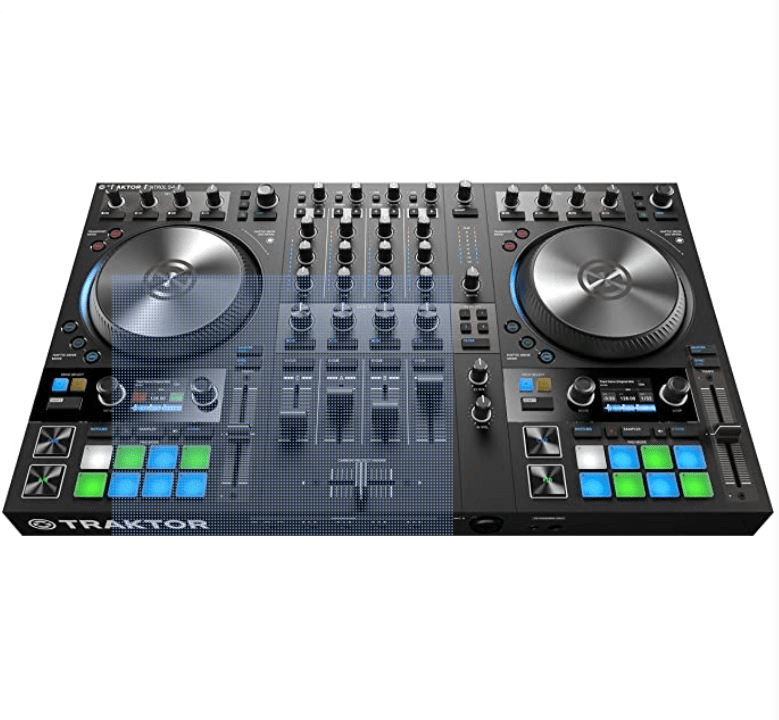 The S4 Mk3 is one of the most feature-rich controllers to be released in recent years and is designed to work seamlessly with the new Traktor Pro 3 software and all of its functionality. This even supports DVS integration so you can add 2 turntables to your setup if you wish. The addition of brand new Haptic Drive technology means that this controller responds even more accurately to hot cues.
Traktor Kontrol S4 lets you connect with your tracks in entirely new ways: Not only do its motorized jog wheels spin and react to nudging, scratching, pitch-fading, and backspins, they transmit cue points, loop markers, and more direct to your fingertips. And with RGB LED rings and high-res color displays keeping all the info you need front and center in the booth, everything you need is right where you need it – so you're free to focus on your mix.
Mix your own way with versatile motorized jog wheels that transmit cue points and more direct to your fingertips
Intuitive visual feedback from RGB LED rings and high-res color displays
8 FX and 3 filter types in addition to TRAKTOR deck effects
Integrated pro-grade audio interface with external inputs on each channel, headphone outs, mic inputs, and DVS support
Seamless integration with included Traktor Pro 3 software
High-Resolution Color Displays
---
The MC6000MK2 is Denon DJ's next generation, flagship professional DJ controller and digital mixer. Created to be the definitive tool for the most discerning of contemporary club and mobile DJ's, the slimline, table-top steel chassis unit blends a 4 channel/8 source real-time matrix operational digital mixer with an uncompromising 24-bit, class leading digital and analog audio interface. A real-world, truly professional digital controller/mixer and a long-term performance partner for visionary DJ's – Welcome to the Denon DJ MC6000MK2.
The MC6000Mk2 enables 4-deck functionality, opening up the creative possibilities of 4 deck mixing to all, with the unit's top panel placing the all important transport, pitch, EQ, loop, hot-cue/sample, navigation and FX controls ergonomically positioned to ensure optimal, error free live performance. The MC6000Mk2 also supports Serato's DVS Expansion Pack to connect Turntables or CD decks and control Serato DJ, using Noisemap™ Control Tone records or CDs.
4-Channel, 4-Deck, 8-Source Premium Digital Mixer
Independent 3-Band Channel EQ w/Kills (High-Mid-Low)
XLR Balanced & RCA Unbalanced Master Output
Also compatible with: Virtual DJ Pro, Traktor Pro 2, OtsAV
Slim Tabletop design for Mobile DJ portability.
Intuitive 4 deck control, with independant deck buttons.
Serato NoiseMap ready – Built-in DVS support for using the MC6000mk2 as an interface for timecode vinyl (requires Serato DJ v1.7 or later; DVS pack sold separately).
Included USB Audio Interface (Soundcard) 2in/2out (stereo).
---
Perfect for Beginners — Under $400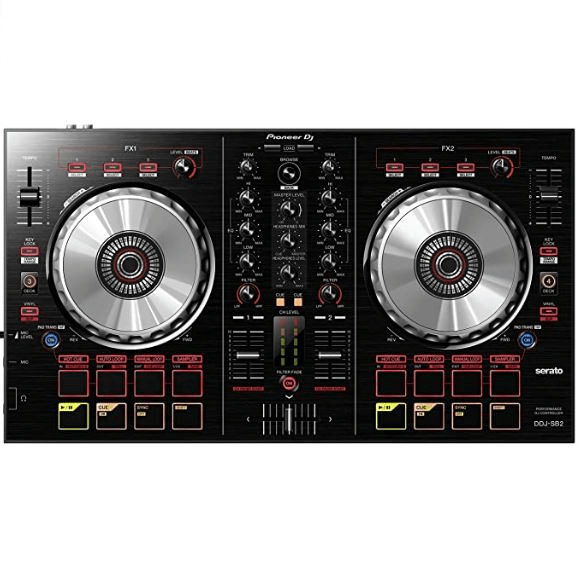 The popular and Highly-rated Pioneer DJ DDJ-SB2 is a fantastic and affordable DJ controller. It is compatible with Serato, Rekordbox, Virtual DJ 8, and DJ Pro software. For the competitive price, you will be surprised by how well it functions and the tough build quality. This controller also comes with a quarter-inch if you want to hook up a microphone. It has 4-decks total with multiple different functions. To access decks 3 and 4, you must press the button located on the left and right-hand side of the console.
The mixer section is the center of the SB2 controller has a filter and 3 separate EQ knobs for each channel. Overall, this controller is a top-tier product for entry-level DJ's who want to start performing parties and club at a reasonable price.
Crossfader
2-deck
2 filter knobs
Pioneer recommends you to download the latest firmware from their website for all of their DJ controllers
Serato recommends downloading the latest Serato DJ software version from their website
RCA output jack
USB Jack
Compatible with Serato, Virtual DJ 8, DJ pro, and DJ Pro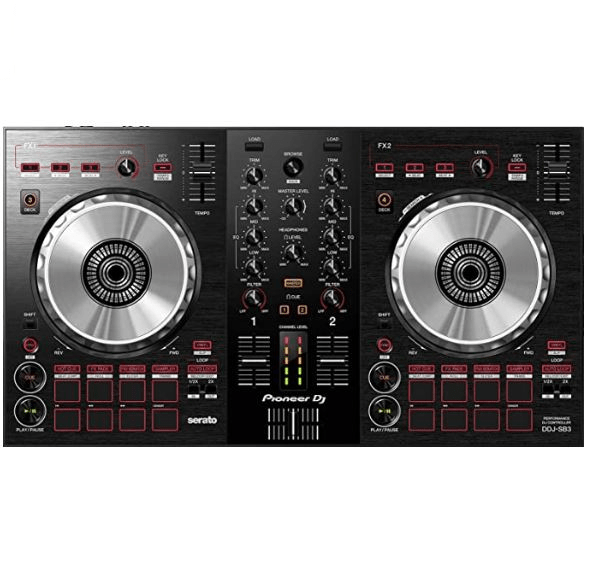 The DDJ-SB3 is at the lower end of their price brackets but it's still built to an awesome standard. It's an excellent entry to mid level controller at a superb price. This is a 2-channel controller with excellent innovative features like pad scratch, designed in collaboration with DJ Jazzy Jeff. Pad scratch enables you to recreate scratching sounds at the touch of a button!
The controller is intuitively laid out, it's small and portable but not too cramped which is excellent. It has 8 pads for each deck, some of which control features like beat jump, looping and FX and some of which control the sampler. Dedicated play/cue buttons round this controller off, marking a step up from the DDJ-SB2 which lacked these vital features.
Pioneer recommends you to download the latest firmware from their website for all of their DJ controllers
Serato recommends downloading the latest Serato DJ software version from their website
16 performance pads
Great for Scratching
Unnoticeable latency with jog wheels
2 volume faders
2 tempo faders
High pass filter and low pass filter
---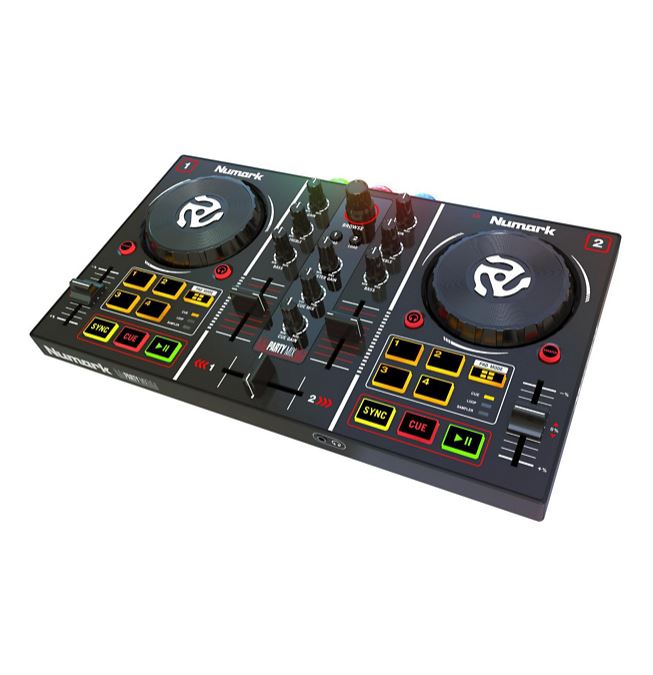 The Numark PartyMix is the best value controller for beginners looking to get started with DJing! Connect directly to your laptop, then play and mix all of your favorite songs and videos with the included Virtual DJ LE software. Mix, blend and create just the right mood with this 2-channel DJ controller, empowering you to rock the house. Preview your mix in your headphones before crossfading the music to your speakers like a pro! With Party Mix, you can manually sync the beat (or auto sync) and blend your songs with your playlist.
Finally, the Party Mix's built-in light-show will shower your room with beat synchronized and colorful light patterns. Creating the perfect party atmosphere!
Party DJ Control System
Built-in light show creates party atmosphere
Simple plug and play
Audio outputs for your speakers and headphone preview
Virtual DJ LE software included
Cool effects and multiple pad modes with looping and sampling
Sync buttons for easy mixing control
1/8-inch headphone jack to preview for cueing
---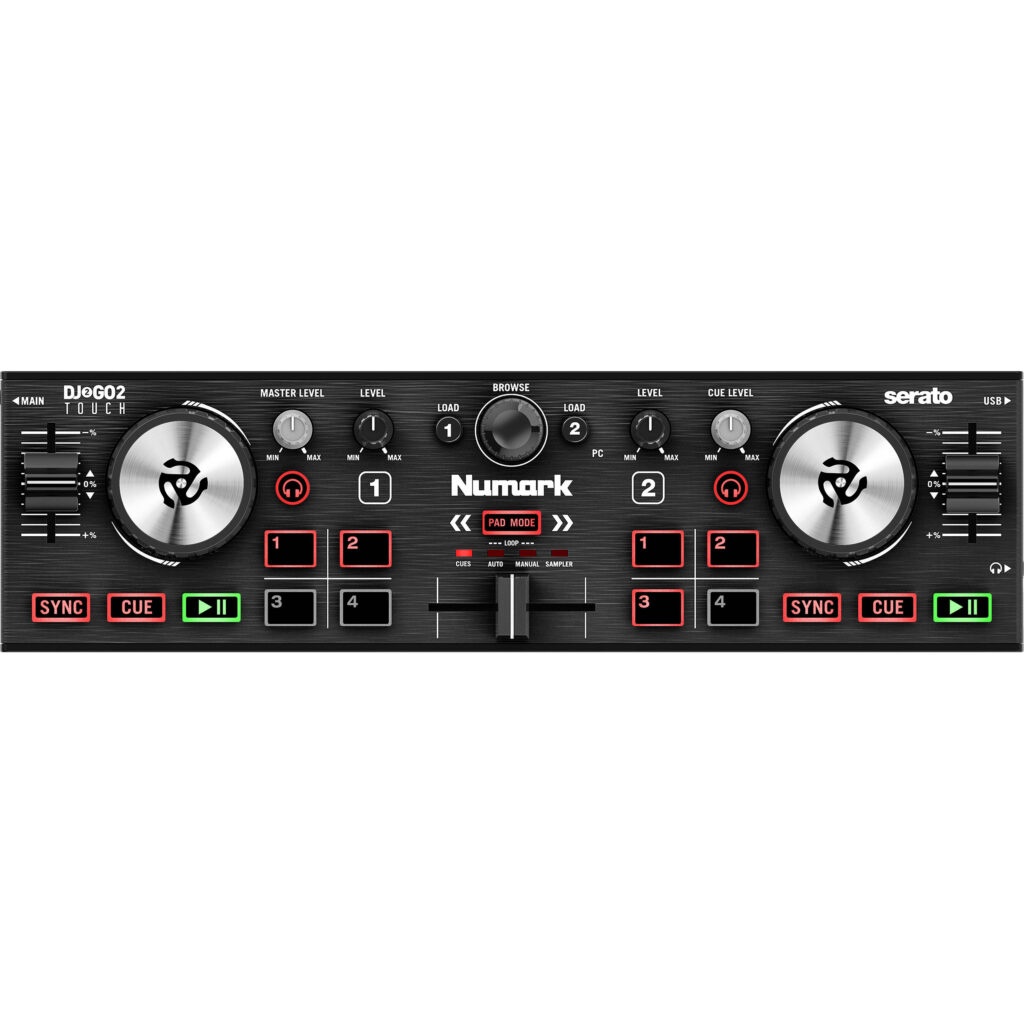 The Numark DJ2GO2 brings you a portable, and pocket-sized DJ controller that you can take anywhere. Equipped with a built-in sound card and Serato DJ intro, making it the smallest DJ controller around. Fitting on top of your laptop so you're ready for action in no time, without taking up any unnecessary space. Perfect for using for small gigs, prepping your gigs, and a great backup for those "just in case" moments. There are endless possibilities, but the biggest feature, you can go anywhere with DJ2GO2.
Portable two-channel DJ controller for Serato DJ Intro (included)
Control the music with play, jog wheels and fader
Built-in audio card with headphone cueing to create the perfect mix
Song navigation and channel and master gain control
Perfect for performing or prepping your DJ set playlist and cue points
Standard midi mapping for use with other popular DJ software
Fits perfectly on top of your laptop
1/8 inch Headphone output
1/8 inch main output