Mandolin is a fascinating string instrument, which is capable of producing beautiful, unique and exotic sounds. But like all other string instruments, The magical sound that Mandolin provides lies in its strings. Part of the same musical instruments family as the lute, the traditional mandolin presents 8 strings, more precisely 4 sets of double metal strings.
The strings are an crucial part of a mandolin. It can brighten up the tonal quality, mellow down a tune, and can even give a tactile feel play with enjoyment. Like a dirty windshield that you've grown accustomed to, putting on a new set of strings (or washing that windshield) will restore the clarity that you hardly had noticed was missing. That is why it's worth doing some research before choosing a set of mandolin strings, to be sure that they will have the desired resistance and features, and will provide the best performance that you deserve.
String Gauges
String gauges refer to the thickness of a string's diameter as measured in thousandths of an inch. Mandolin strings are sold in sets that designate their gauges using terms usually ranging from light to heavy. Paired courses of mandolin strings are almost always the same gauge since they're tuned to the same note and played together. Manufacturers may specify gauges on their packaging either by listing the gauges for all eight strings or just list the gauges of the four paired courses. Though there are slight differences among manufacturers, here are typical gauges based on gauge weight designations:
Light: .010 – .014 – .024 – .038
Medium: .011 – .015 – .026 – .040
Heavy: .0115 – .016 – .026 – .041
If you player guitar, you should well understand the differences of those gauges. Lighter gauges are easier to fret and are a good place to start for beginning mandolin players. Many beginner-level instruments come with light-gauge strings. Lighter strings have a brighter sound but produce less volume and sustain, and may not bring out all the resonance and tonal richness that your mandolin can produce.
Heavier gauge strings are somewhat more difficult to fret due to their greater tension. They produce richer, deeper tone with more sustain and volume. But the heavier it gets, the more pressure is exerted on the mandolin, thereby hurting the fingers.
That is why mandolin players mostly use the medium gauged strings that create a balance between the quality of the tone projection and ease of access. Over time as you develop clear preferences for specific gauges, you may find these subtly different gauge ranges a better fit for for your instrument and playing style.
String Materials
Here are the most common mandolin string compositions and their sound characteristics:
Phosphor Bronze: By far the most popular alloy composition, phosphor bronze strings offer a balance between tonal richness and brilliance. 80/20 phosphor bronze alloys are especially popular with many players who find they tend to last longer without losing their brilliance.
Nickel Plated Steel: They typically have a brighter tone than bronze strings, and are popular among electric mandolin players.
Stainless Steel: Popular with some players due to their oxidation resistance, they tend to have a bright timbre. If you have acidic perspiration, they can be a good choice for longevity.
Chrome Steel: They typically have a tin-plated silver steel core with a chrome steel wire wrap that produces great clarity without a metallic twang.
Types of Windings
Round wound strings are the most popular and are offered by almost all manufacturers. They deliver a textured feel most players are familiar and comfortable with. They are also the cheaper ones.
Flat tops are constructed from finished round wound strings. They are further processed to carefully flatten the tops of the windings through a polishing technique.
Flat Tops are known to deliver a smoother feel and reduced finger noise with the flexibility and tension of a round wound string.
Silk-Steel are made of silver-plated copper wrap wire interwoven with silk-like fibers for soft, easy fingering and a mellow tone. They are preferred by many folk and finger style players.
Coated or Uncoated?
As with everything in life, coated strings have their benefits and their drawbacks. The main benefit of them is they last longer than their uncoated counterparts. This is because they are no longer able to build up the same amount of dirt and grime as quickly and they are resistant to corroding. Since they're are no longer the little valleys created by the wrap wire, finger noise is reduced to a minimum. This is a big plus for acoustic players that are using very close miking techniques.
So while all this sounds great, the big drawback of coated strings is in the tone department. Coated strings have lower output and reduced sustain—and while this is a bit subjective, many players find their tone to have a plasticky character to it.
Signs That it's Time for a String Change
Getting in tune and staying there is more challenging than usual.
You're seeing rust or discoloration on the strings.
String wraps are unwinding exposing the core.
Your tone sounds "flat" or "dead."
You can't remember the last time you changed strings.
Which Strings are Right for Me?
There is no single answer to this perennial question. The same set of strings can sound vastly different on two different mandolins. Experimentation is the key. Since mandolin strings are quite inexpensive, the process of narrowing down your choices is not a costly one.
TOP 9 Best Mandolin Strings: Reviews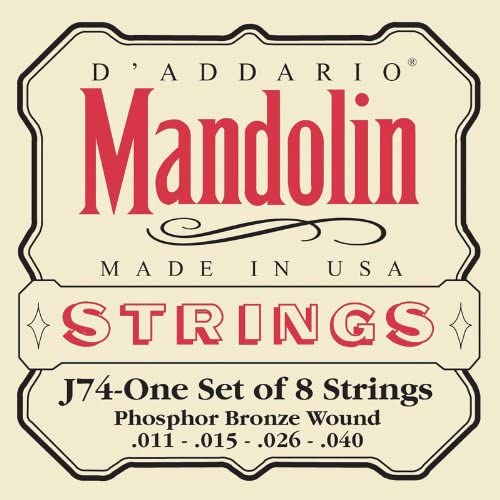 J74, D'Addario's best selling mandolin set, is the standard established by David Grisman and Ricky Skaggs. Warm and bright phosphor bronze tone with the optimal blend of tight playing tension and strong projection. Loopend construction for universal fit.
D'Addario mandolin strings are trusted by legends like David Grisman, Ricky Skaggs, Ronnie McCoury, Doyle Lawson, Rhonda Vincent, Mike Marshall, Adam Steffey, and more, for their natural acoustic tone and reliable performance. They are made from the highest quality plain steel, stainless steel, nickel plated steel and phosphor bronze and are available in a wide variety of gauges.
---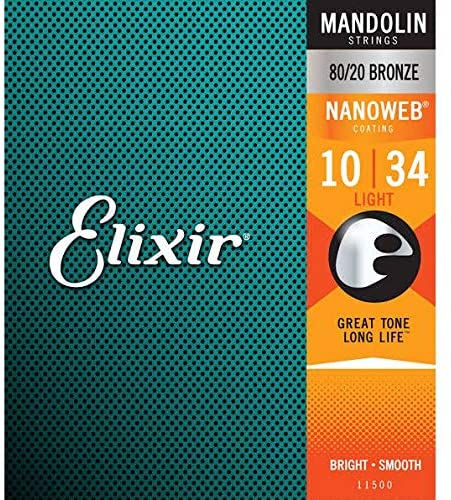 Prolong your tone with the same premium mandolin strings that experienced players worldwide trust to keep their incredible tone longer than any other string available. Unlike other string brands, Elixir Strings coats the whole string. This protects not only the outer string surface but also the gaps between the windings where common tone-deadening gunk typically builds up in other brands' coated and uncoated mandolin strings.
Who wouldn't love more quality playing time between the hassle and cost of string changes? Crafted to last, these mandolin strings constructed with 80/20 (80% copper, 20% zinc) bronze wrap wire boast a bright, bell-like tone while the NANOWEB Coating allows a traditionally textured, "uncoated" feel. Elixir Strings: Great tone. Long life.
---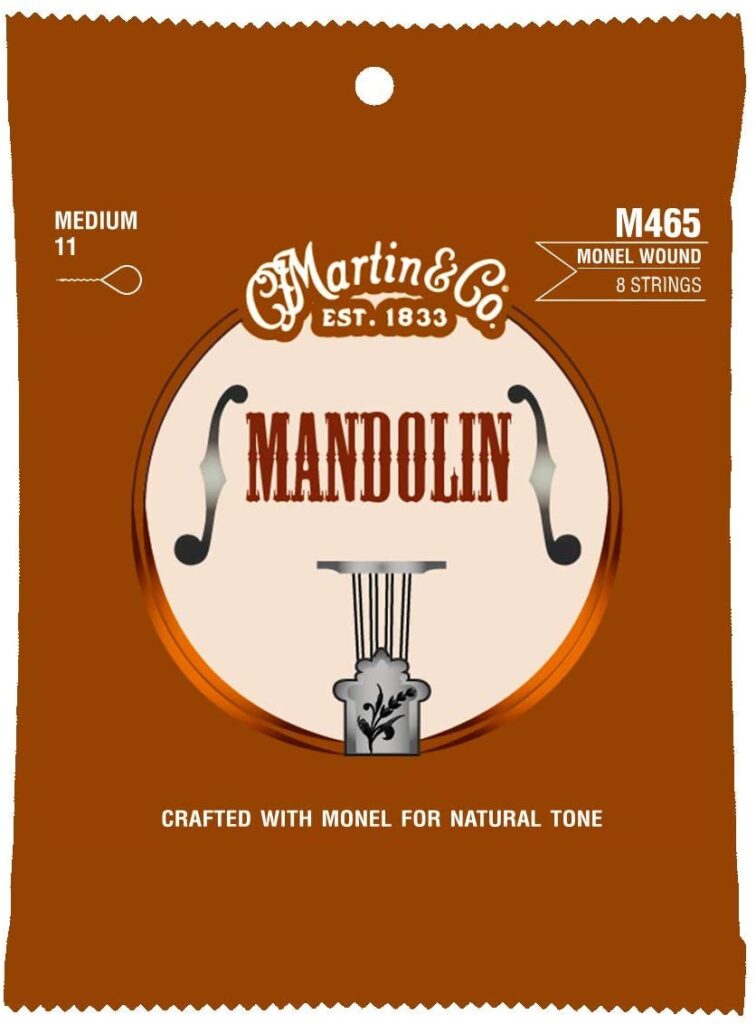 Martin's Acoustic Mandolin Strings provide a dynamic response, high-quality construction, and an excellent projected tone. Made from professional-grade 80/20 bronze, these strings provide smooth consistency and superior tonal qualities. Designed to produce rich, warm bass notes and clear, bright treble tones, these medium-gauge strings provide excellent tuning stability and playability, so your mandolin can stand up to rigorous practice and performance schedules.
This pack of professional-grade strings will last through long sing-alongs, late-night jam sessions, and plenty of picking. It's an ultra-reliable set of strings that you can take on tour or keep in the studio. Whether you're a beginner or professional musician, this set of mandolin strings will help you play to your potential.
---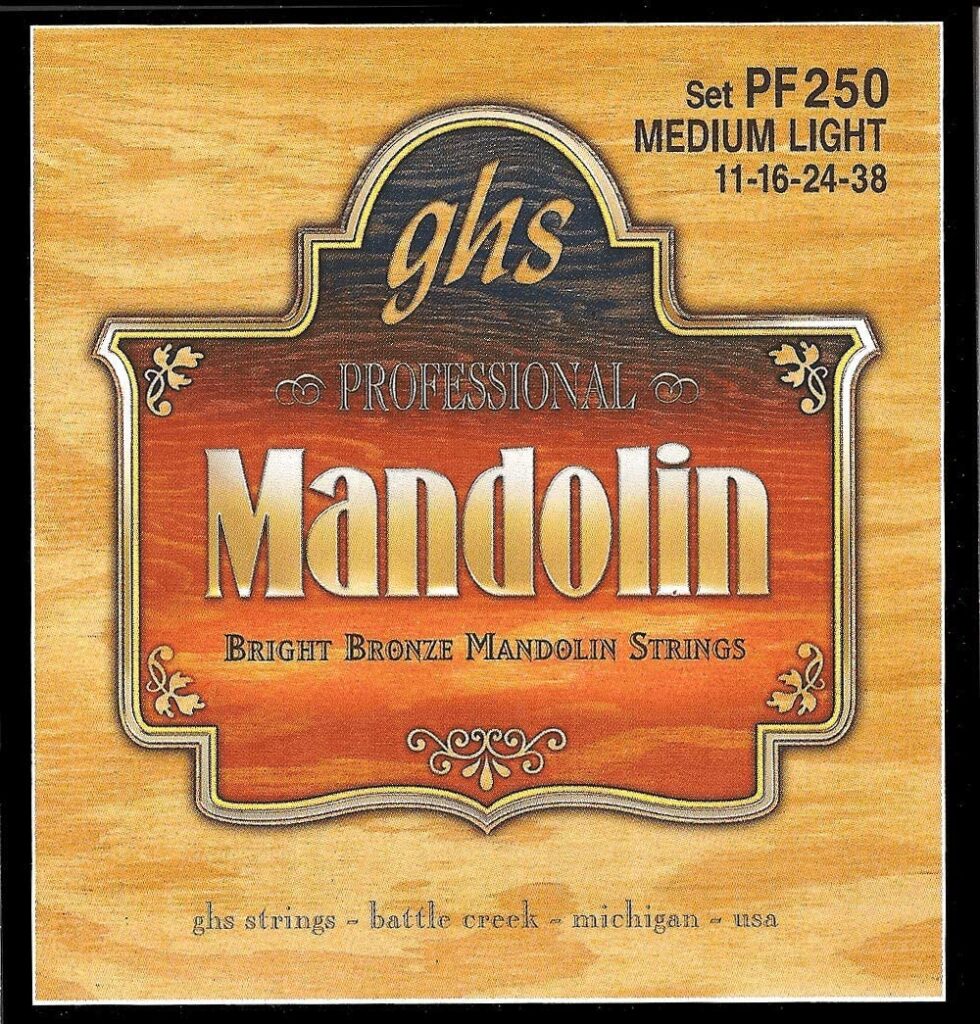 GHS has been manufacturing high-quality strings since 1964. Professional musicians and amateur hobbyists who want great sound from their instruments turn to GHS for a wide variety of tones. The goal at GHS is to provide players around the world with strings that consistently exceed expectations.
Each set of these incredible strings is backed by decades of experience and GHS' unwavering commitment to quality. These 80/20 Bronze strings are made from a premium blend of copper and zinc. For a bright, crisp and brilliant tone, GHS' 80/20 Bronze strings are an excellent choice!Each single string is sealed in a nitrogen environment, eliminating all oxygen, in a tear-resistant package. Whether you use one string or the whole set, the NitroPack guarantees straight from the factory freshness!
---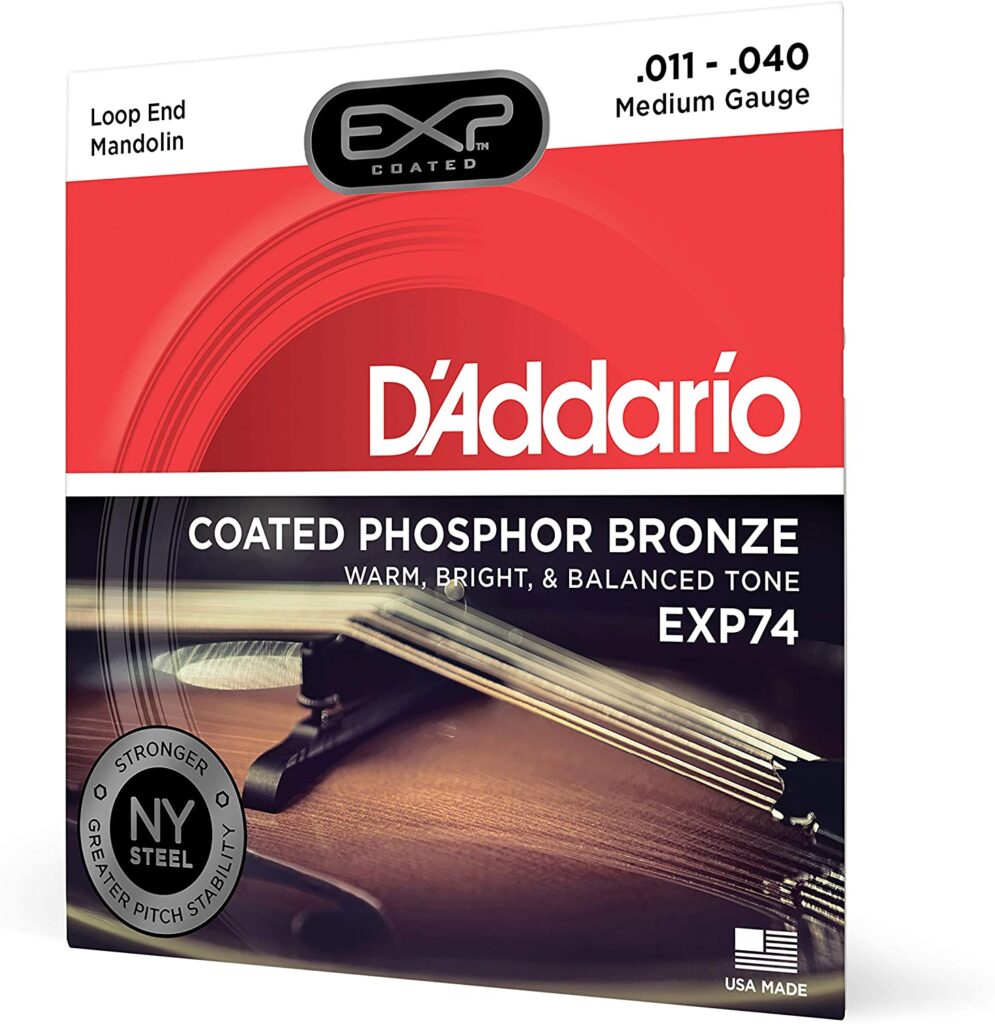 EXP74, D'Addario's best selling coated mandolin set, is the EXP coated version of the standard J74 set played by the likes of David Grisman and Ricky Skaggs. Warm and bright phosphor bronze tone with the optimal blend of tight playing tension and strong projection. Loopend construction for universal fit.
D'Addario EXPs are the most natural-sounding, longest-lasting coated strings available. EXP Coated Technology starts with the highest quality wrap wire materials, precision drawn and micro-coated on our advanced proprietary machinery. Strings are then wound normally, delivering tone and feel identical to D'Addario's world renowned mandolin strings, with a minimum of 4 times more life. You won't believe they are coated!
---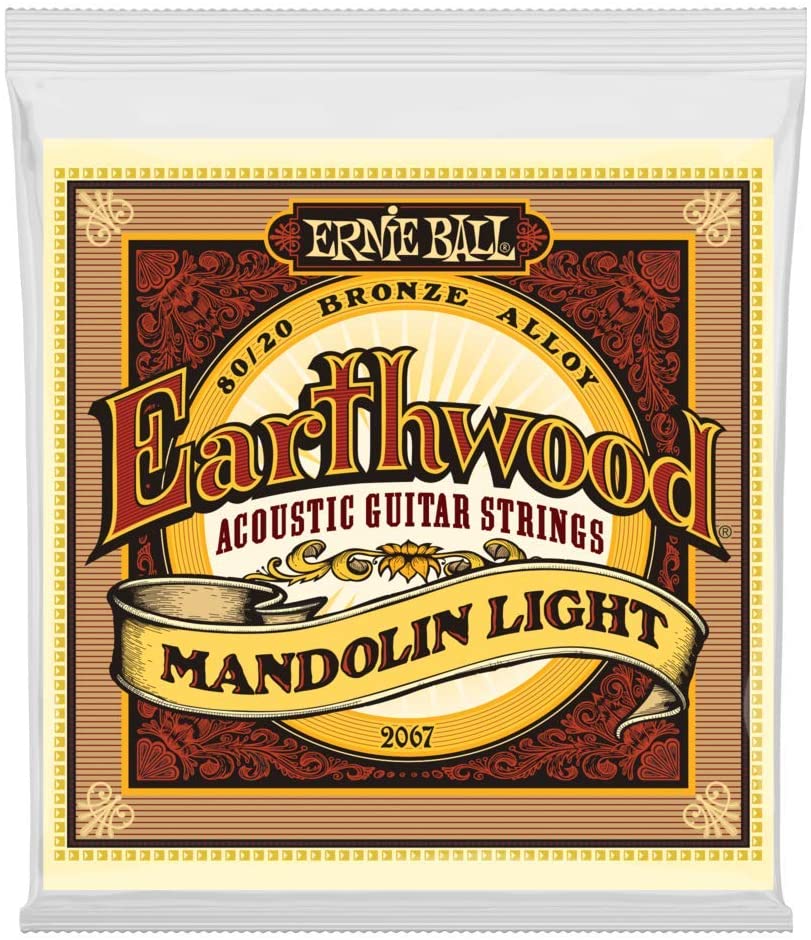 These strings provide a crisp, ringing sound with pleasing overtones. The wound strings are made from 80% copper, 20% zinc wire wrapped around hex shaped tin plated steel core wire and plain strings are a tin plated high carbon steel. All are loop-end. Gauges .009 .013 .022w .034 (2 each). Part number 2067.
Featuring a loop end, these strings are made to suit a bigger number of mandolins, so they may very well be more than suitable for yours. The sounds they produce are crisp and the alloy from which they are made is a reliable one, which will last very well in time. The strings have a high carbon core and are tin-plated, which explains the low price and great resistance. In other words, they are great for beginners.
---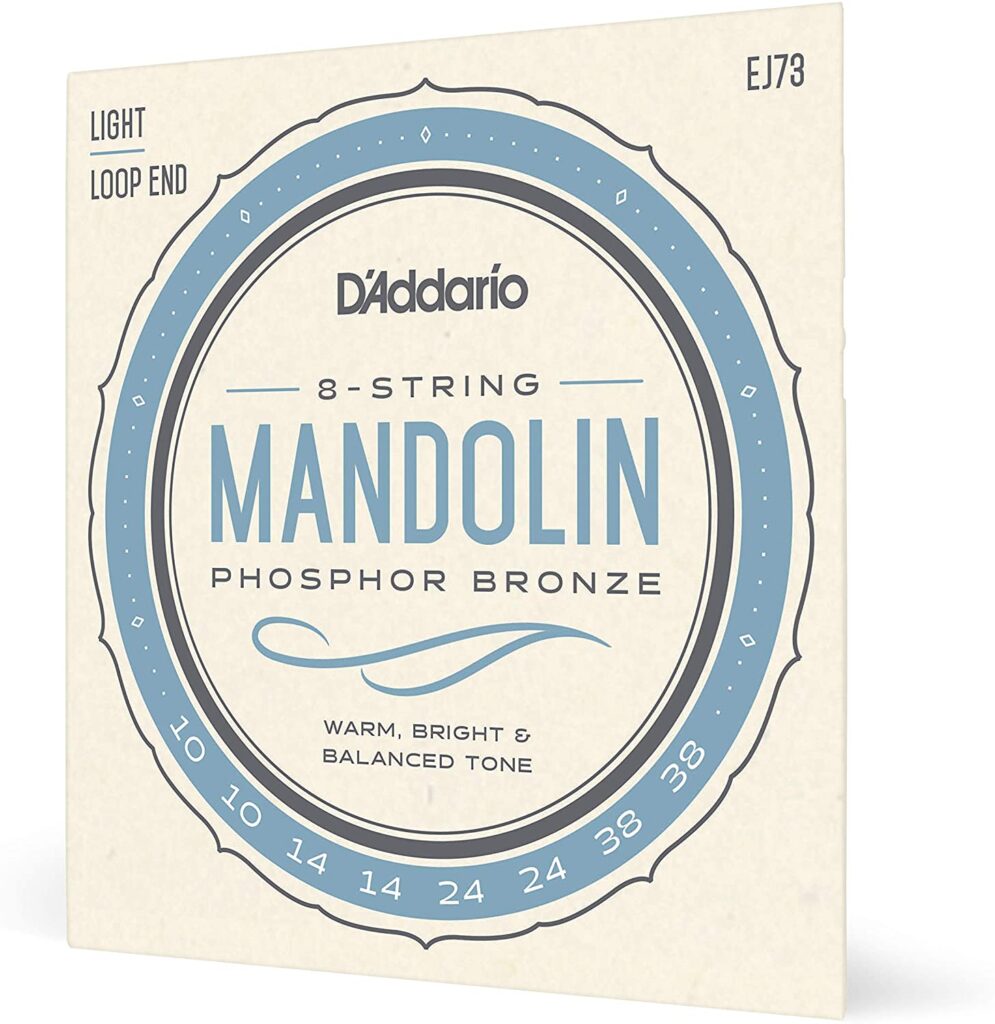 EJ73, D'Addario' s most popular light gauge mandolin set, delivers warm and bright phosphor bronze tone with just the right amount of tension for easy playability and projection. Loop end construction for universal fit.
D'Addario mandolin strings are trusted by legends like David Gris man, Ricky Skaggs, Ronnie McCoury, Doyle Lawson, Rhonda Vincent, Mike Marshall, Adam Steffey, and more, for their natural acoustic tone and reliable performance. They are made from the highest quality plain steel, stainless steel, nickel plated steel and phosphor bronze and are available in a wide variety of gauges.
---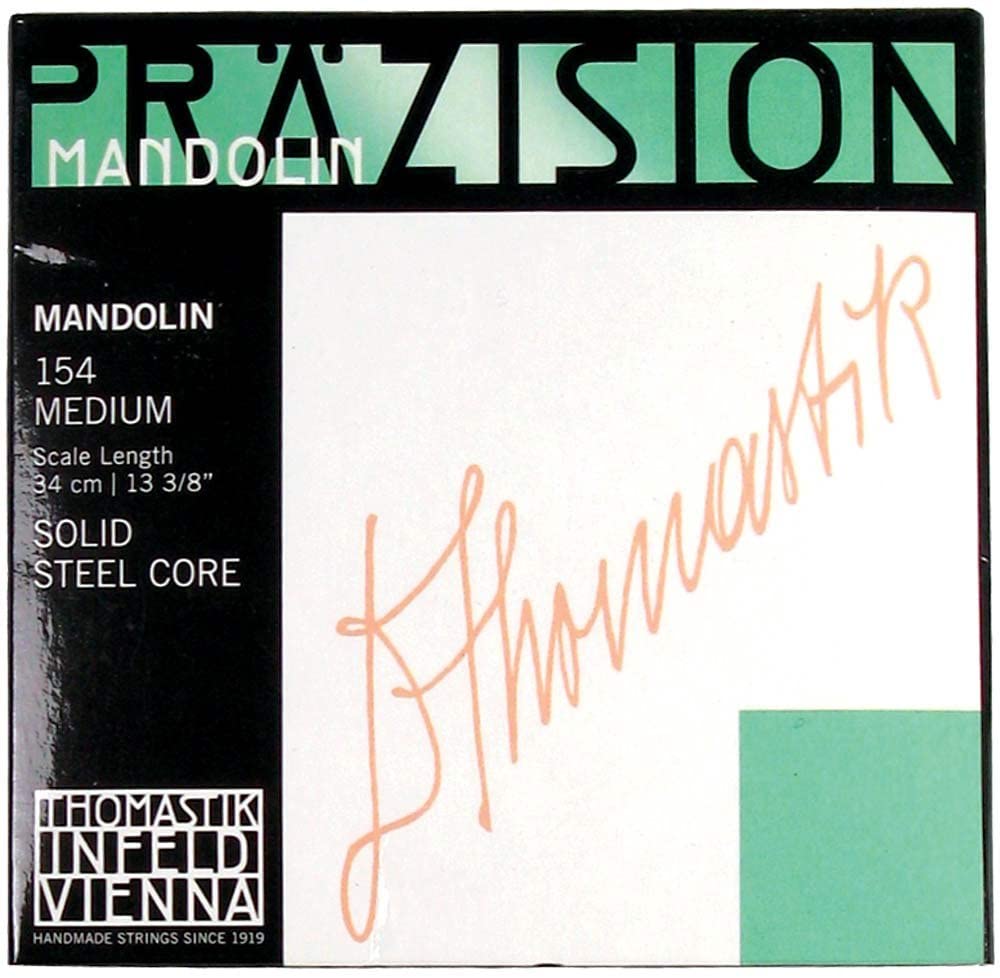 Apart from the plain mandolin E string, these strings are made of tin-plated silver steel, flat wound with chrome steel wire and finely polished. Their elastic, steel alloy core has a high inertia to musical vibration. On the instrument, the mandolin strings sound clear and brilliant, with no metallic twang. The string's structure has been optimized for tremolo play.
This string set responds well to fast changes of fingering. Tuning is stable and the strings are durable. The mandolin strings made by this brand are manufactured in Wien, Austria, so their quality is indeed exceptional. They will surprise you from the first moment you will touch them, due to their elastic alloy and soft touch. Thomastik-Infeld mandolin strings are supplied in pairs, and we recommend changing strings two at a time.
---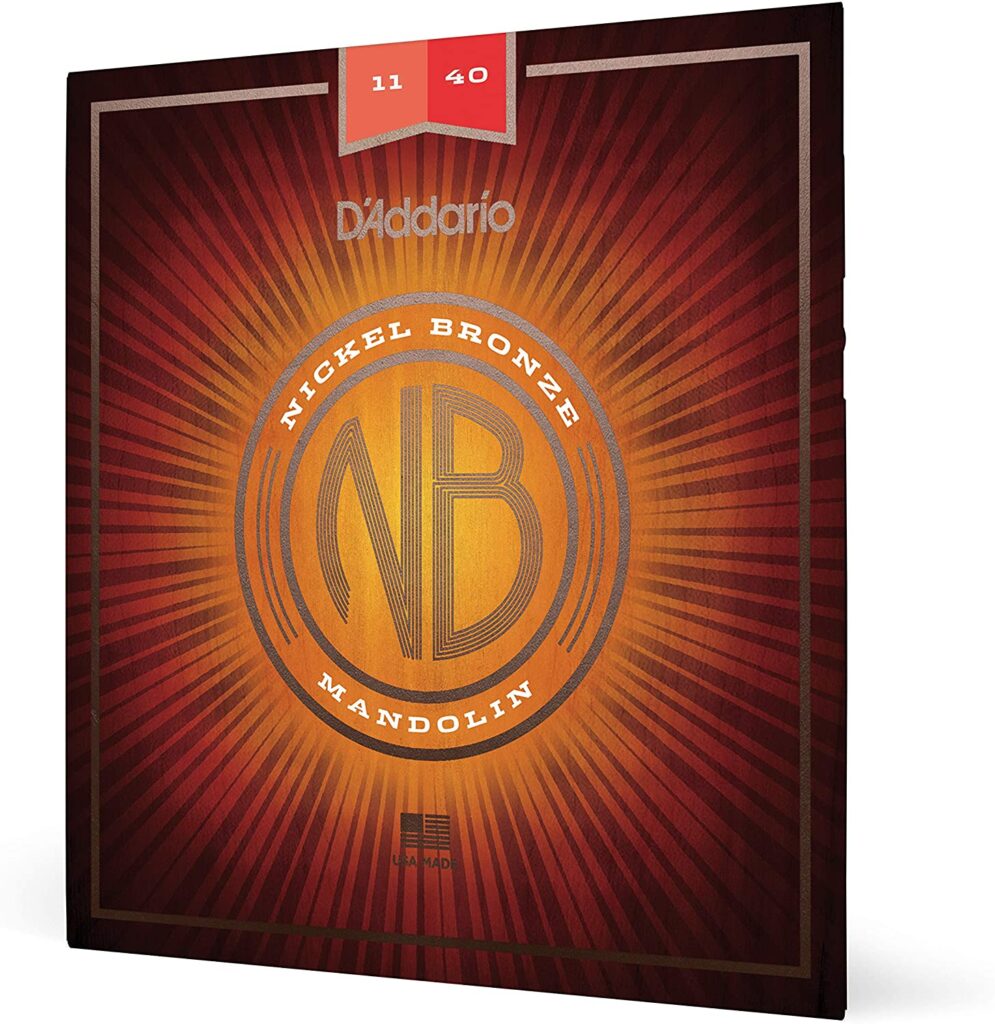 D'Addario premium uncoated mandolin string set that provides a crisp and clear sound to accentuate the unique tone of your mandolin. NBM1140 delivers the ideal balance of volume, projection and comfortable playability. Loop end construction for universal fit. Nickel bronze strings are the premium uncoated mandolin strings by D'Addario.
Featuring an innovative combination of nickel-plated phosphor bronze wrapped onto a high carbon NY steel core, thesestrings bring out the unique tonal characteristics of any mandolin, allowing its natural voice to truly shine. Nickel bronze delivers unrivaled clarity, resonance and projection, as well as outstanding balance and harmonically rich overtones. Players will also enjoy improved tuning stability and higher break resistance, thanks to D'Addario NY steel cores and plain steel strings.