Weighted keys give a natural and realistic feel to digital pianos and keyboards, and many even have graded hammer action. That means that the lower keys feel heavier than the higher keys, just like how they would feel on an acoustic piano. Keys which aren't weighted feel very different to acoustic piano keys, the keys are either 'on' or 'off', as are the sounds.
In this article, we're looking into the best digital pianos and keyboards with weighted keys, with reviews of many of the top rated products for beginners and pros alike.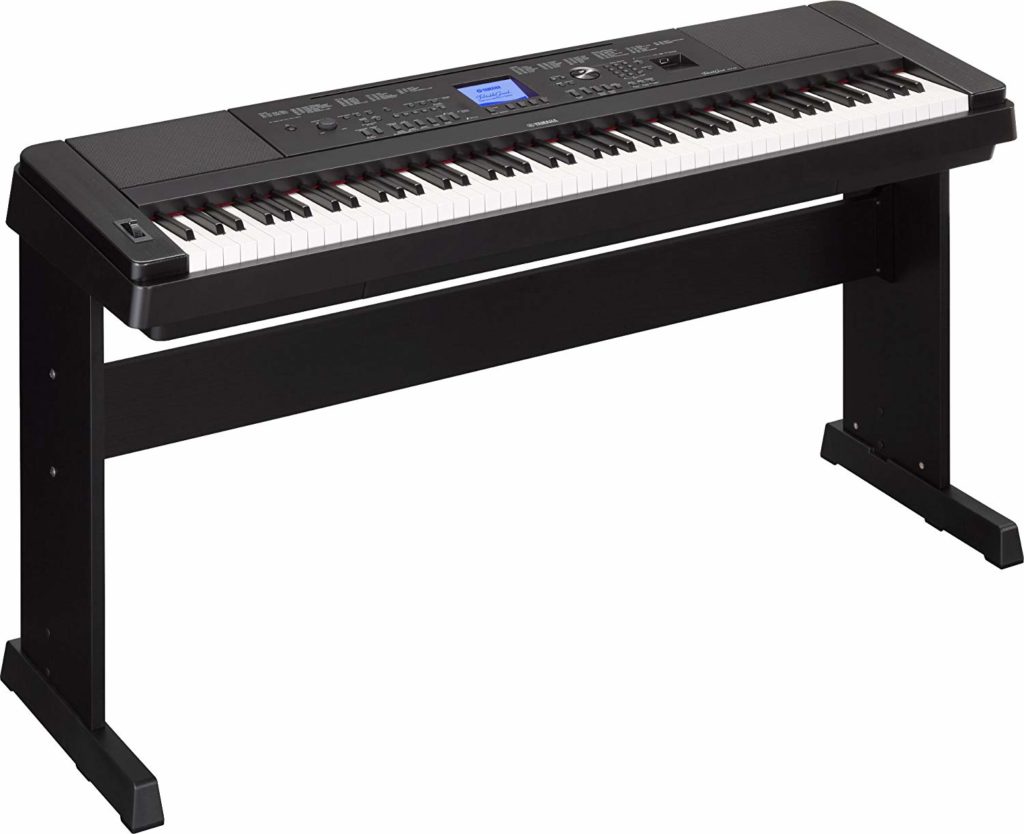 The Yamaha DGX-660 replaces the awesome DGX-650, and it has many selling features that make it a contender for the best weighted keyboard available. When it comes to key action, the DGX-660 has what Yamaha refers to as its Scaled Graded Hammer action, allowing you to play soft, medium and hard in a pretty close simulation of the acoustic piano experience.
The DGX-660 has some impressive functions such as allowing you to upload MIDI songs onto the screen and turning it into notation so you can follow and learn songs more easily. It also has a six-track recorder so you can layer multiple sounds and experiment with your own compositions. In terms of sound, this has something the brand calls a 'Piano Room' where you can choose different piano samples and acoustics based on your preference.
---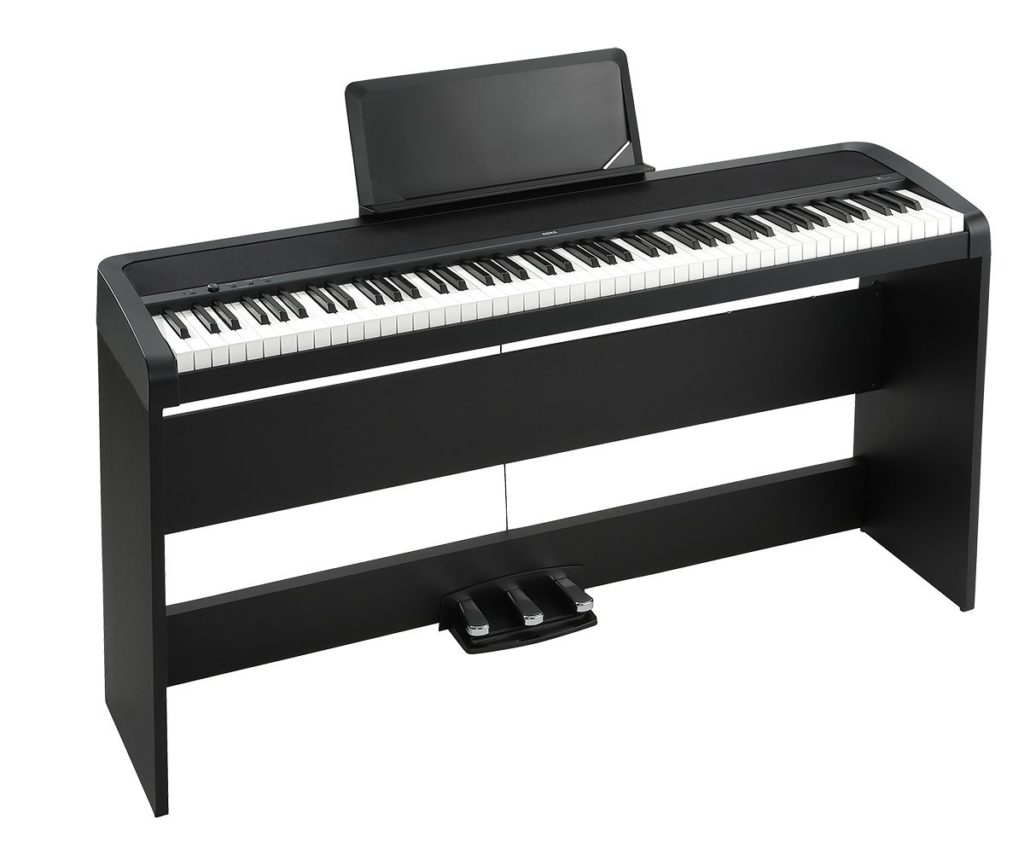 The Korg B1SP is an 88-key digital piano that delivers outstanding sound and feel quality without costing an arm and leg. This piano is perfectly suited for beginners as well as sophisticated pianists (although it is obviously not the best piano for kids). You can appreciate the feeling of a traditional piano with the weighted keys. Each key shows a specific resistance depending on the register that you're playing.
This modern violin, besides being able to simulate the grand piano sound, also features the sounds of other musical instruments, such as two types of organs, as well as a harpsichord. This instrument is capable of 120-polyphony, which combined with the damper, soft, and sostenuto pedals, enable you to play rich music or create new tunes with unique sounds. This model also features an integrated stereo sound system that benefits from the servo technology of the MFB.
---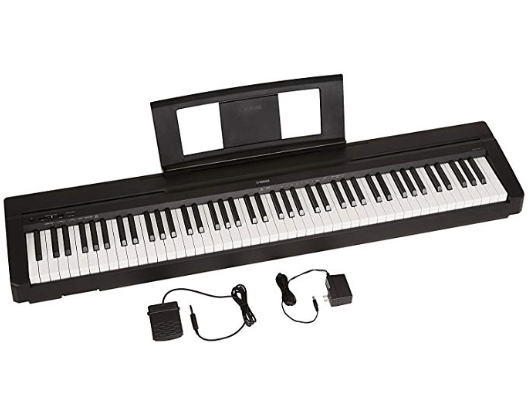 The P71 is obviously not on the same level as the DG-660, however, it is a great keyboard for the price and great for beginners with a tight budget. It comes with 88 weighted keys but does not have the hammer action of the DG-660. Although it doesn't have the same feel as the DG-660, it still feels pretty good to the fingers.
In regard to sound, there are ten voices to choose from, including samples straight from Yamaha's most prestigious grand pianos. You can also blend voices together. The Yamaha P71's lack of features and one-touch system means that it actually has quite a cool minimalist design to it, which is likely to appeal to a lot of people, the slim design makes for a nice alternative to the thicker, feature-heavy variants.
---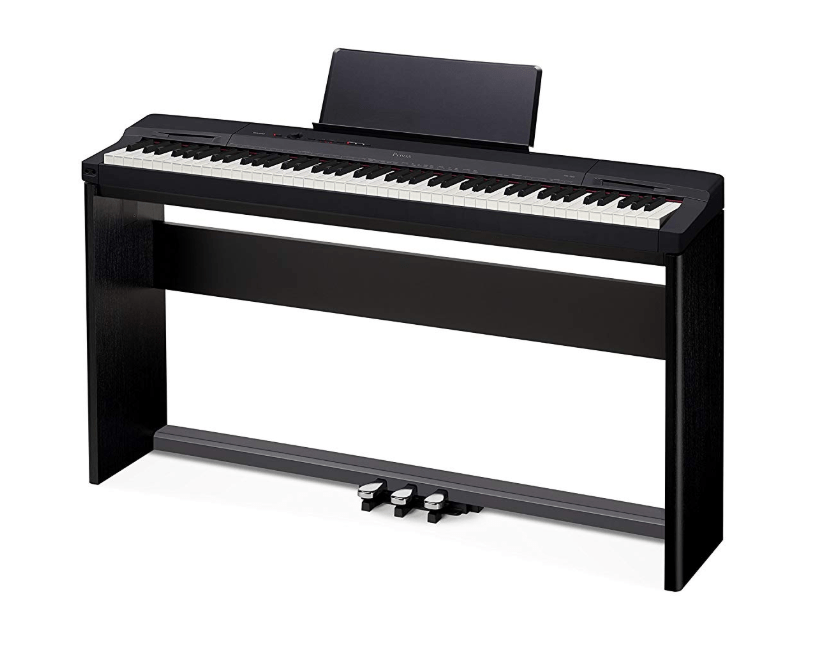 Casio does not only make good watches, they make great pianos too! Their Privia range has been very successful and the PK-160 is one of the best 88-key weighted digital piano options. With all the connectivity and technology that you could wish for. You'll love listening to yourself playing this keyboard, whether on the installed speakers, or with your headphones.
You get to choose from the sampled sounds, from stringed instruments to electric keyboard weighted keys. The AiR or Acoustic and Intelligent Resonator ensures that the PX160 has the sound of a 9-foot concert piano that's carefully sampled at four dynamic levels. You get to play powerful tunes and benefit from realism that you rarely find in a piano of this class. This is a pretty straightforward keyboard as well – just plug n play. There aren't too many functions or controls that could leave the user confused.
---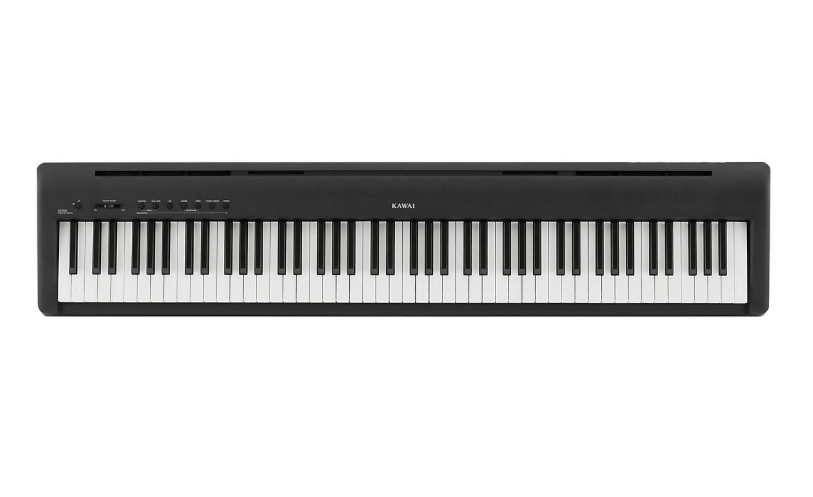 The Kawai ES100 is a digital piano that offers the high-quality IV-F graded hammer key action keyboard as well as amazing sounds that have been sampled from a grand piano with great care. This 88-key piano is capable of 192-note polyphony, and it comes with the Harmonic Imaging Sound Technology to deliver an impressive tonal range and crystal-clear notes.
The sound quality is good, and while it doesn't quite rival all of the 80 or 90 lb models of piano, it does have plenty of clear piano tones for using on stage, 19 sounds in total, of which eight of them are modeled on pianos. Their sampling technique uses imaging sound technology for a detailed tonal response. If you want something that will be permanently in the same room of your home then there may be better options than the Kawai, but for portability, this is tough to beat.
---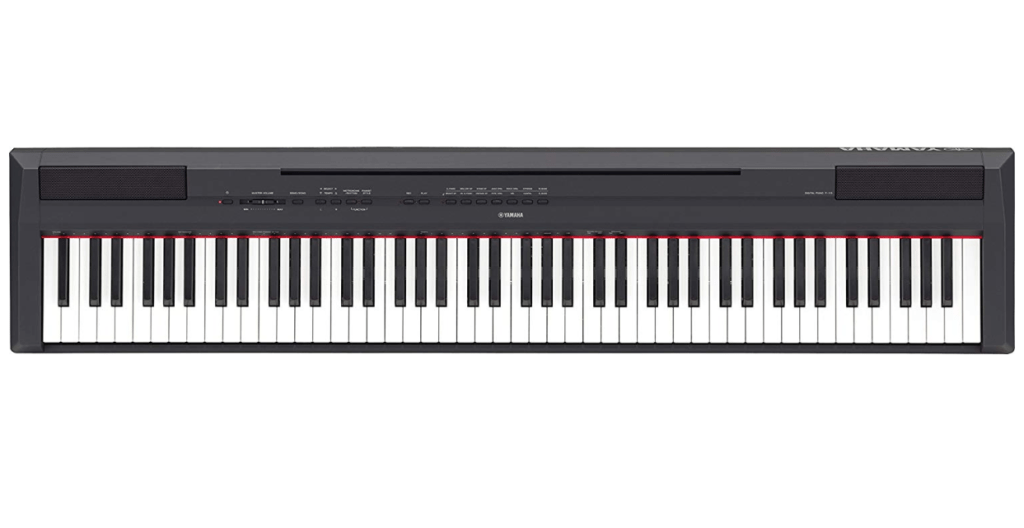 The Yamaha P115 is a fully-weighted piano that benefits from the latest GHS or graded hammer standard technology available. This 88-key digital piano will simulate the feel of a grand piano, as each key action will feel different, just like an acoustic instrument. The impressive 192-note polyphony means there's plenty of range to the sound it produces. It also comes with backing tracks built in. I also like the Intelligent Acoustic Control, which adapts the tone based on your volume settings.
Special mention also goes to the black keys. These have a matte finish, which ensures better grip. You're unlikely to find your fingers slipping off the keys with this keyboard. The keyboard also comes with a free iOS app, which you can use to adjust its settings and trigger backing tracks.
---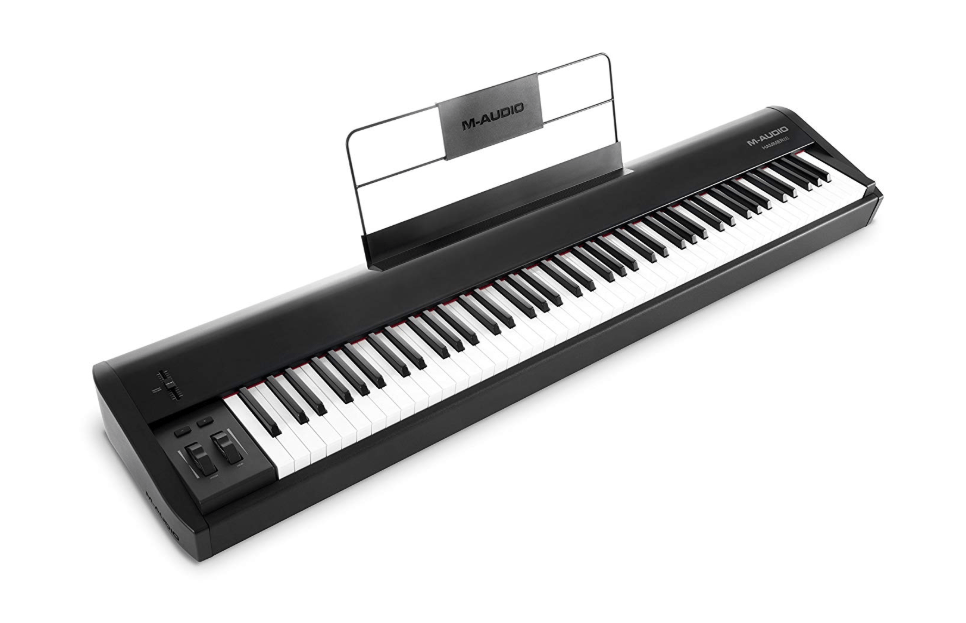 M-Audio is a relatively brand name in the electronic music industry, making everything from monitors to software, but they concentrate heavily on creativity for MIDI. The Hammer 88keyed home digital keyboard is the one we've included here, and for those who place a high priority on how their controller feels to play it, it's a really strong mid-range choice.It comes with plenty of software to make you go too.
There is virtual software already uploaded on the keyboard – Ableton Live Lite 9. Plus, there's also the USB-MIDI connection with which you can easily play virtual instruments and control your recording software. We told you it's the ultimate experience. The MIDI controls of this keyboard are superb. You've got controls for modulation, pitch bend, volume, and octave too. Pianos hardly get more expressive than this.
---
Targetting at the beginner's market, this may not be the best 88 key keyboard for performing. This piano has semi-weighted keys which offer a softer response than traditional weighted keys. These are great for beginners since it will be much easier to play without having to strike the low-end keys as forceful. You can also adjust the touch response to suit your preferred playing style. Again, this can get new players used to the idea of weighted keys without confusing them.
You can also customize the voices and use any combination of 2 to obtain different sounds and richer tones. This model also comes with built-in 2-Watt speakers which can save you quite a bit of money since you get all you need to get started. You also get lesson modes to help you improve your skills faster.
---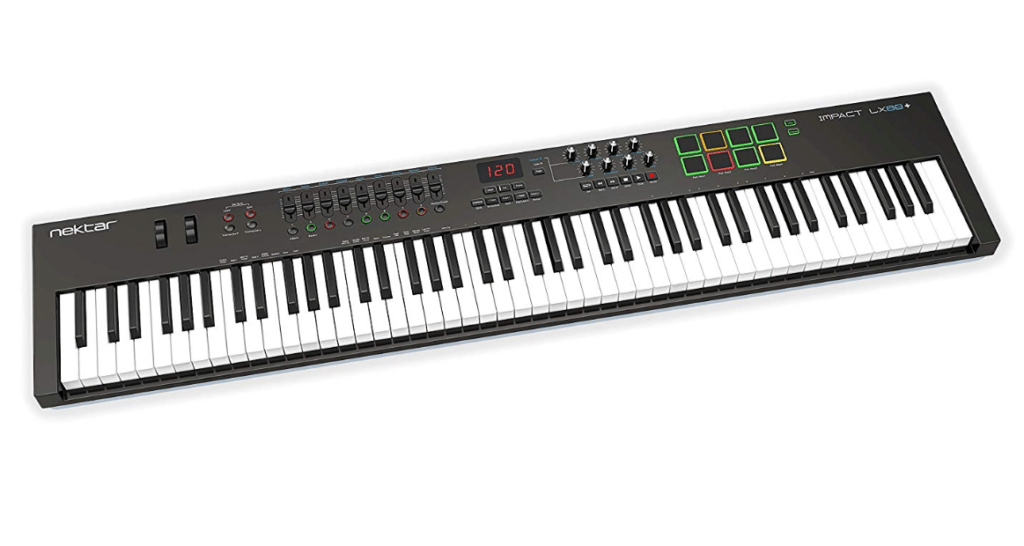 Nektar is another of those lesser-known piano brands, but this specific digital keyboard needs to be listened to because it's a very interesting option. This is a feature-packed 88key MIDI keyboard, which does just about everything you might want to do with a MIDI keyboard, despite the very small cost.
Beyond that, almost all common DAWs are also supported by this keyboard. And a driver doesn't even have to be downloaded. It automatically connects! No matter what DAW you favor — From Pro X Logic to Cubase, Reason, Nuendo, Garage Band, and the remainder. They are compatible with your keyboard instantly. For a MIDI keyboard of full size with 88 semiweighted keys, this is a great price, and is one of the cheapest available, but do be aware of course that unlike the normal keyboards on this list, it has not built in speakers or anything like that, so you will need to invest in other areas. There are some pros and cons we'd like to inform you of!