Technology has advanced to the point that you can easily source music from all over the internet, and play it via Bluetooth wireless or AUX. However, for audiophiles, there is nothing more satisfying than the classic sound that you can get from a vinyl record.
The search for turntable speakers, especially for a beginner, can be a daunting task. With hundreds of brands and even more types of models available online, even knowing where to begin is enough to overwhelm anyone. To make your life easier and narrow down your search, we've handpicked and reviewed top-rated speakers for vinyl. So, even if you are new to turntables and speakers, after reading this review, you'll be able to make an informed choice. Scroll down!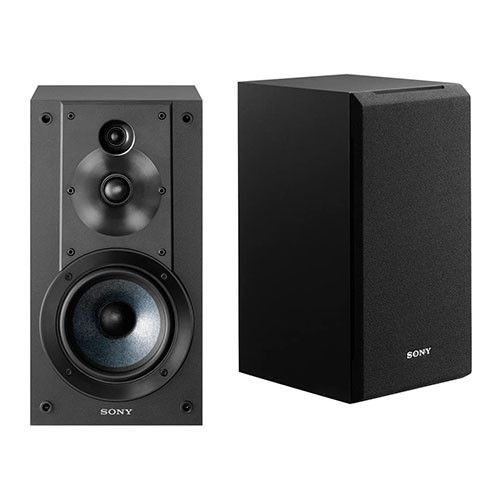 It's hard to go wrong with a pair of these Sony speakers. The SSCS5's wide frequency range accurately spans the spectrum of sound, giving off thick bass and pristine mids and highs (such as vocals and spoken dialogue, thanks to the sound-absorbing felt inside), where even small details shine. It's not just the frequency range that's wide either, Sony's super tweeters create a noticeably large soundstage in any room to help recreate the feeling of being in the front row at a show.
Each speaker has three drivers and two crossover points, allowing for clarity in instrument separation, particularly when playing records. These also set up fast, with a standard connection through copper speaker cable.
---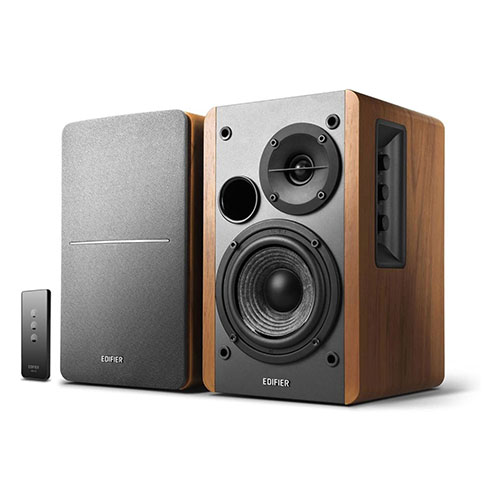 The four-inch bass driver on these Edifiers won't rattle your eardrums, but it's powerful enough to round out the clear and balanced mids that come through beautifully via the 13mm silk dome tweeter.
A bonus additional feature of these is a remote to control the volume, as well as an on/off switch, RCA and speaker wire connectivity simultaneously, and knobs on the speaker sides to adjust bass, treble and volume manually. As far as its design goes, its wood finish looks both retro and modern, with a sound that spans eras, whether your records are new or classics.
---
DALI is a Danish company often mentioned in the same breath as ELAC and Bowers & Wilkins (more on B&W below), but the Oberon 1 offers a surprising amount of value and it looks great as a medium-sized bookshelf speaker. The frequency response is somewhere between neutral and consumer-friendly, and that's pleasing.
Keep in mind the Oberon 1 is passive, so it requires an amplifier, and because it is rear-ported it ought to sit 12 inches away from the wall. DALI also specifies that due to the design of the Oberon 1, it is not meant to be positioned "toed in," rather, point the speakers straight ahead. Try the Oberon 1 and congratulate yourself on a good deal. You won't be kicking yourself about buying this high-value speaker set.
---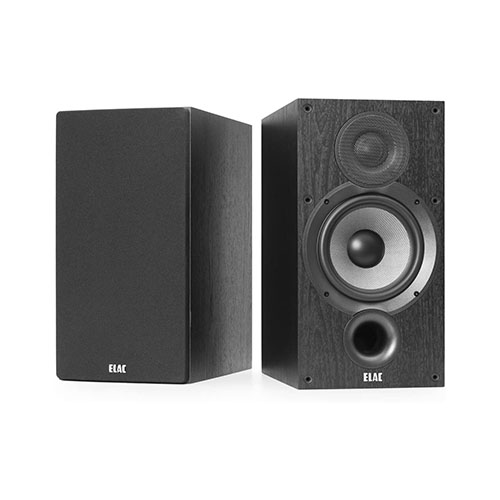 The Elac Debut 2.0 B6.2 has a low-profile speaker design that will fit nicely into most listening rooms without attracting much attention which is okay as you can fully focus on listening to your music. When you take off the speaker grille, you will immediately notice the 1″ (25mm) cloth dome tweeter with its own grille protecting the HF driver.
Right below the tweeter, you will spot a 6.5″ (165mm) aramid fiber woofer and followed by front-firing bass port. With the bass port positioned at the front of the speaker cabinet, this does allow us to place the Debut 2.0 B6.2 closer to the rear walls which is neat especially if you are having space constraints. For a bookshelf speaker at this price point, the frequency response is really impressive, it is 44Hz-35kHz, quite a deep bass extension for a stand-mounter.
---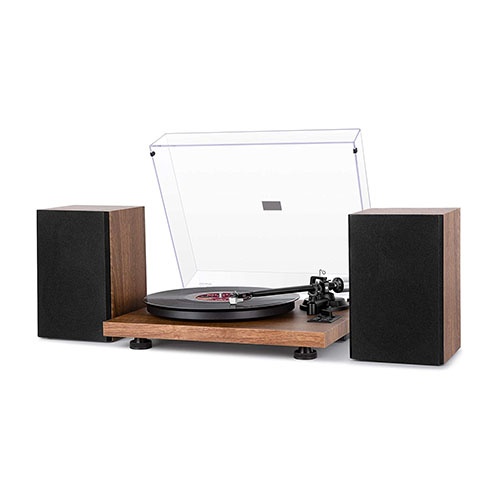 For a beginner-level turntable with included speakers, you can't go wrong with this premium option by 1byone. It's optimized for the ultimate sound for your favorite vinyl tracks, including a tonearm counterweight that ensures smooth playback, avoids skating, and guarantees smooth stylus movement without distortion or damage to the vinyl.
The turntable also features a solid iron platter for uniformity and stability of playback, and the option of two playback speeds. This allows you to enjoy your favorite vinyl tracks in the way they were made to be heard. The speakers also include alnico magnets that stabilize the acoustics, for the most natural sound at a room-filling volume.
---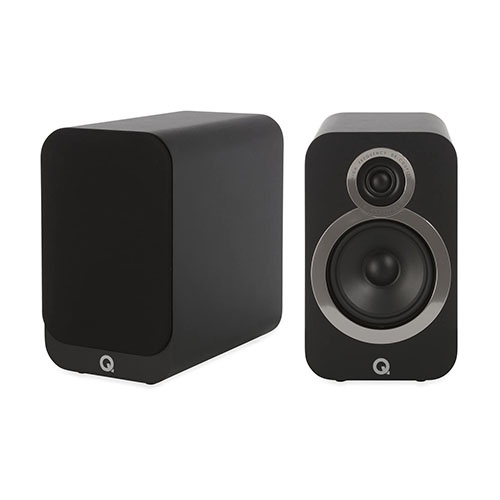 The Q Acoustics 3020i Speakers stand out as the best overall for many reasons, but I particularly like them because they have many of the latest technological enhancements that create an impressive sound. One unexpected yet very helpful innovation was creating the cabinet size 25% bigger. This produces a much deeper sound than previous models of this particular style of speaker, so the cavernous bass booms profoundly and the audio permeates through the room at further distances.
Another unexpected innovation was removing a conventional terminal panel cutouts. I know I'm getting a bit technical, but this particular design choice really helped create a much stronger and more structurally sound cabinet design. This means the speakers were built with durability in mind and designed to last. Even if you accidentally knock one of them off your bookshelf, the new structural integrity should prevent any serious damage that could potentially destroy the outer cabinet or inner electronic components.
---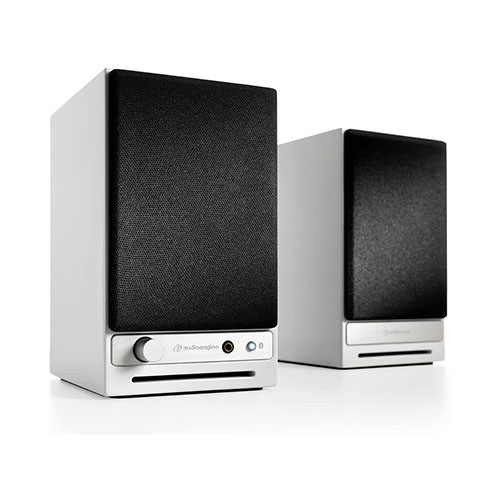 The Audioengine HD3 Wireless Speakers deliver a high-quality speaker sound and they are great when listening to vinyl. They were made using a well-built design, they connect to many different types of electronic devices, and in regards to connectivity, this Bluetooth ready device is capable of connecting to so many other Bluetooth enabled electronics too. You can connect it to your smart phone, laptop computer, desktop computer, notebook, DVD player, CD player, television, tablet, and just about anything else with Bluetooth connectivity. It even has a 1/8 mini jack and RCA outputs for analog connections as well.
The HD3 Wireless Speakers are constructed with custom Audioengine components: aramid fiber woofers, silk tweeters, Premium Bluetooth aptX-HD, and built-in power amps wrapped in precision-tuned, hand-crafted cabinets. Clear, full and powerful audio that fills almost any room.
---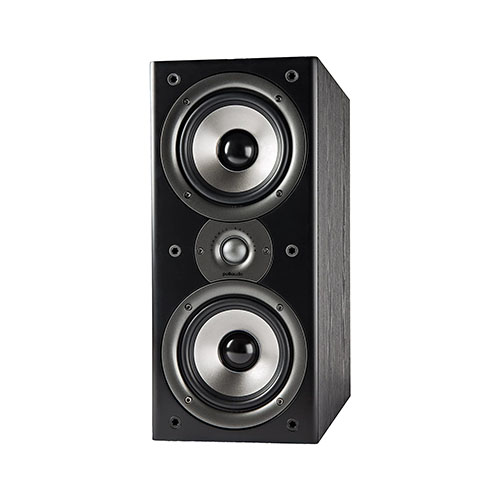 The name Monitor is special to Polk. The original Polk Monitor Series, produced in the mid-1970s, ushered in the modern loudspeaker era by setting the standard for performance and value. The original Monitor Series is the line that made Polk famous with its simple, sturdy construction, clear, accurate sound, powerful bass and superior imaging all at a price that made great sound available to everyone. The reborn Monitor Series is classic Polk: a quality-built, affordable line of high performance loudspeakers for music and home theater.
They are highly efficient, so they can be driven easily by unpretentious receivers, and they are voice matched for lifelike surround sound environments. The Monitor Series boasts a stylish look that complements today's flat screen technology, with wood grain finishes and modern Titanium faces. Built for speed, sound and value, the Monitor Series is a great introduction to high performance sound.
---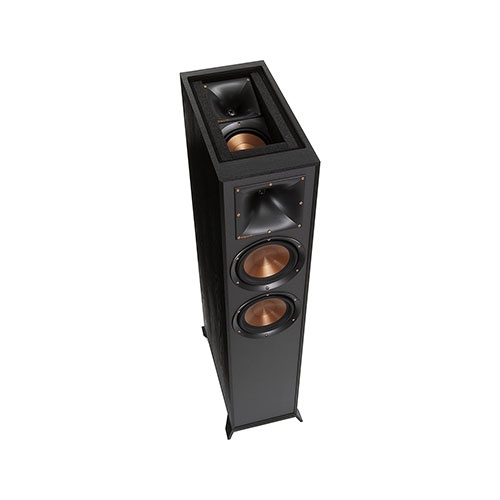 Not just your typical full-range tower speaker, The R-625FA features a high performance up-firing Dolby Atoms speaker integrated in the top for an enveloping soundstage. It's a perfectly matched set up that virtually disappears. The integrated speaker terminals are placed low on the cabinet for convenience and an unobtrusive connection.
The exclusive linear travel suspension minimizes distortion for enhanced, detailed performances. Kapton is an extremely light and rigid material used in the tweeter suspension to provide high efficiency and improve resolution and detail. Exposed fasteners, angled feet and low profile magnetic grilles give the speakers a polished, modern appearance. Stylish aesthetic with absolute durability that results in a seamless integration into any decor. Reinforced MDF construction reduces cabinet vibration for less audible coloration and improved sonic accuracy.