When it comes to violin, no decision is made easy, what wood of bow, what brand of string, what softness of rosin, and one more thing, what kind of case should you purchase? Well it is good to have a heavy and sturdy case to ensure maximum protection, but who says you only need one case? If you want something fancier, lighter, backpackable and suitable for everyday commute ? This article is for you!
After researching and comparing the most popular violin cases in the market, we have summarized the top 9 lightweight violin cases and bags, most under 5 lbs and good for backpack. for student or beginner player like you, who need something handy to carry your violin around with decent protection, you won't go wrong with any of these.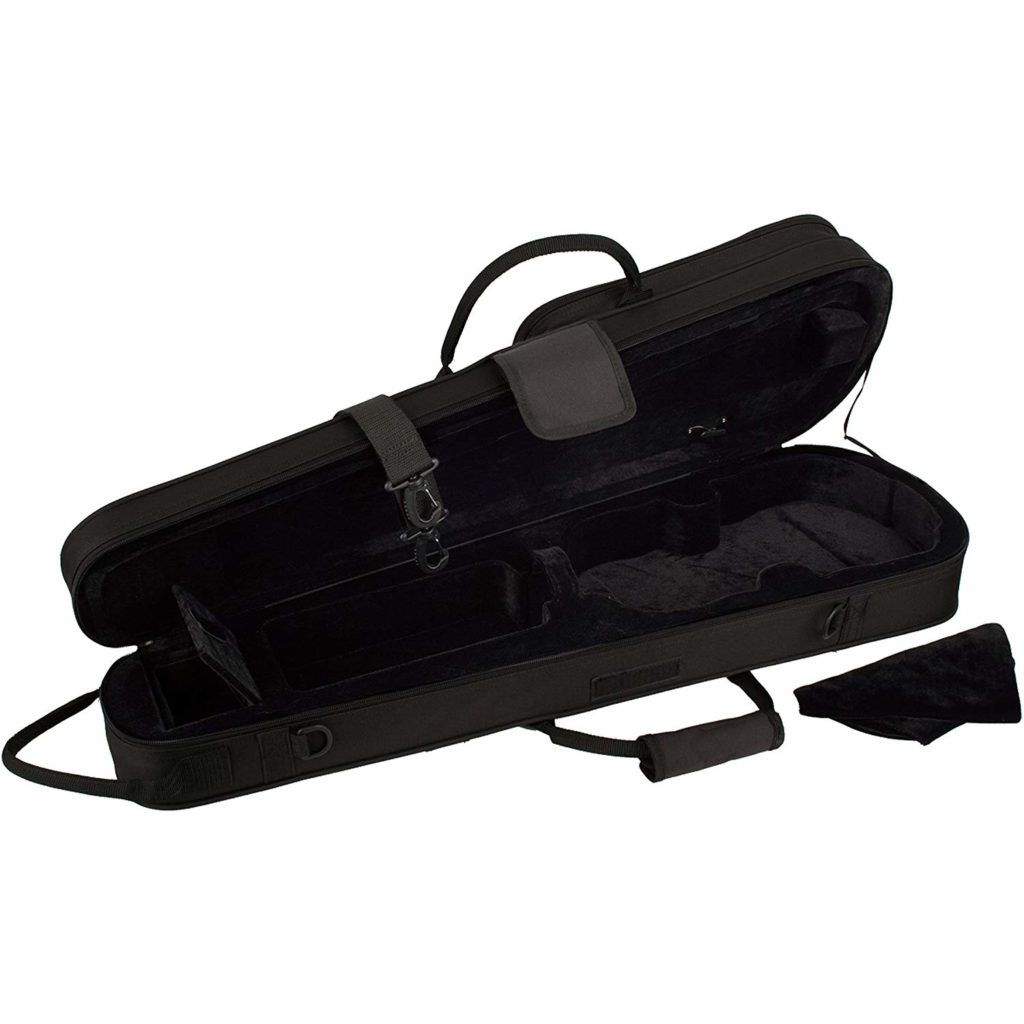 Individuals who are looking for a soft and a lightweight violin case can purchase Protec MX044. It comes along with an interior accessory compartment, suspension padding and a soft interior lining. Even though Protec MX044 is a lightweight case, it can provide improved protection to the violin case with the frame made out of shock absorbing foam.
A durable nylon exterior has also been provided to make it a better option available for violin owners. The handle of this violin case is dual-corded and the shoulder strap can easily be adjusted to match with user requirements.
---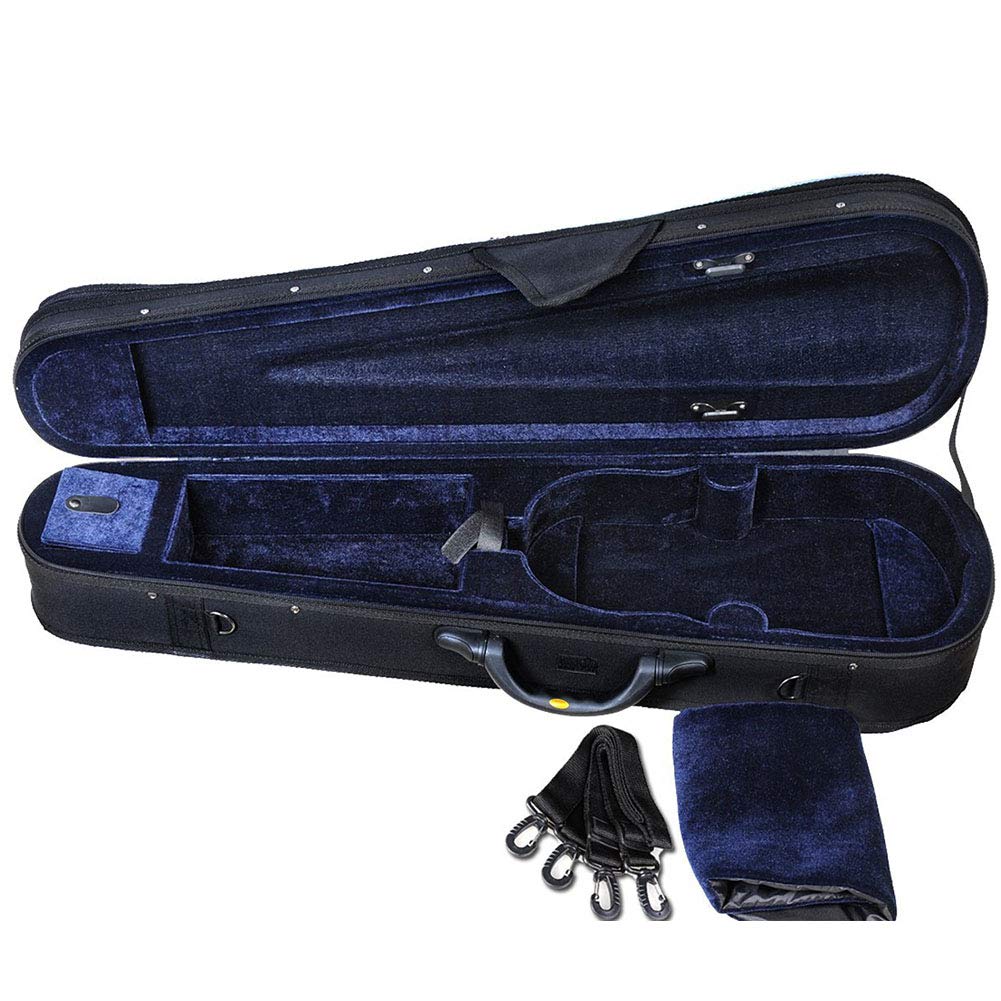 The entire case is made of foam laid in different densities, making it very easy to lug from location to location, it weighs just 2.6lbs. The exterior is covered in Oxford raincoat nylon making it waterproof. The interior has a blue velour cushioning and features an ample-sized accessories box and holders for 2 bows. It comes with an instrument blanket for extra security.
The handle is sturdy and it also features adjustable straps so can be worn in a variety of ways to further facilitate easy portability.
---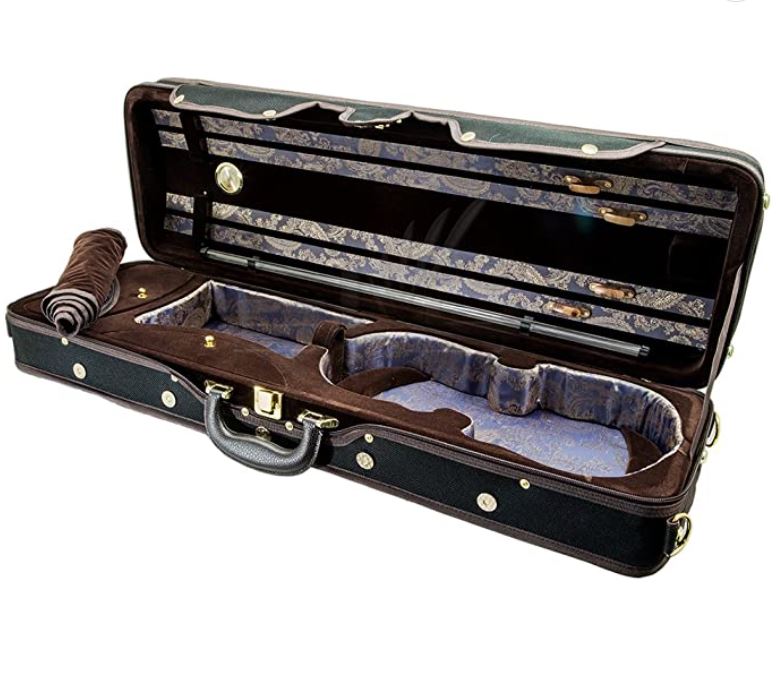 Brand New luxurious oblong violin case, desirable features yet it is lightweight and durable. Rain proof canvas cloth outside with sturdy light plywood construction, beautiful luxurious velvet lining inside. And the neck restraint and tailpiece protector with suspension. Four (4) bow holders and one clear tube to hold violin strings.
Features hygrometer, full length music sheet pocket on top this case with strong zippers. Large size storage compartments for rosin, shoulder rest, shoulder straps and more. Hand carry handles (side or top) and shoulder straps are provided, extra D-ring for backpack option, deluxe latch and strong handle. Quality material used throughout the case with elegant black/brown velvet interior.
---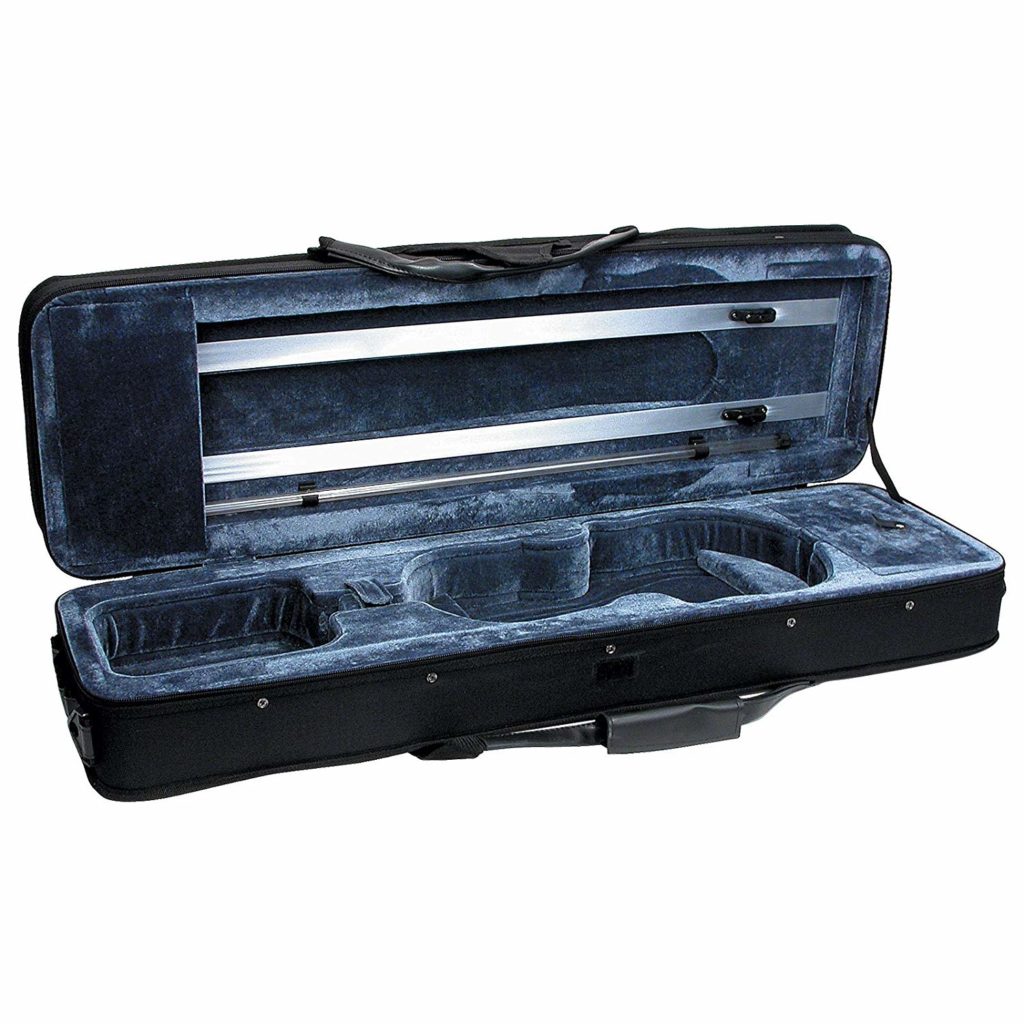 While not quite as light as a feather, at 3.31 pounds, the Featherweight C-3960 Deluxe Violin Case seems to be true to its name. However light, this ultra-lightweight offers your violin the ultimate protection.
The wooden frame of this violin case is rigid and reinforced to maximize its ability to withstand impact. This frame features an extra rugged black Cordura nylon which is a material sure to stand up to the elements and look great for many years to come. It has one interior and one exterior accessory compartment and well as two bow holders and adjustable shoulder straps.
---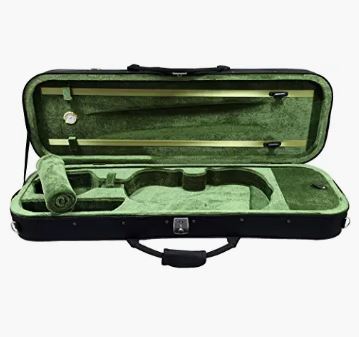 Half-moon shape has made SKY a popular option for individuals who are looking for violin cases to buy. It has a lightweight design as well. However, the overall construction of the case is sturdy and people can expect it to deliver a high level of protection to the musical instrument.
One of the key features of SKY oblong shaped violin case is its spacious interior. Separate accessory compartments are also available for you to stay organized. The ultra-lightweight makes it a perfect product available for carrying. In fact, the overall weight of the case is less than 4lbs.
---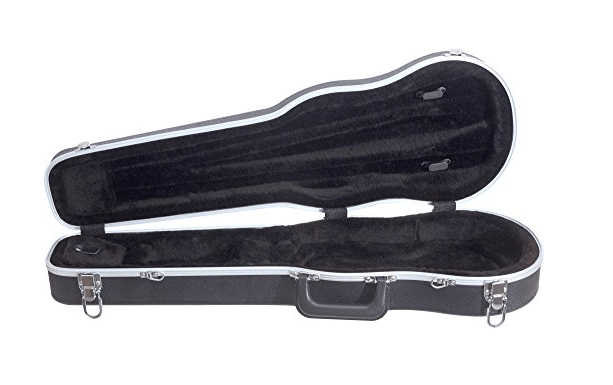 This is a hard case, but with a surprisingly lightweight, a little under 5 lbs! It comprises a hardy exterior formed from a thermoplastic, which is a durable option that doesn't break the bank. It is somewhat susceptible to scratching and might not look as fancy or fun a some of the others but it serves up great basic protection and is hardy enough for long haul travel.
It features an aluminum valance and traditional draw-tight latches to keep your instrument case sealed. Beneath their shell is a plush suspension style interior which cradles your violin and cushions it from impacts. It has space for 2 bows and features dual compartments within, to store all your concert necessities, though they come in a range of sizes and the smaller cases for shorter scale models have just one.
---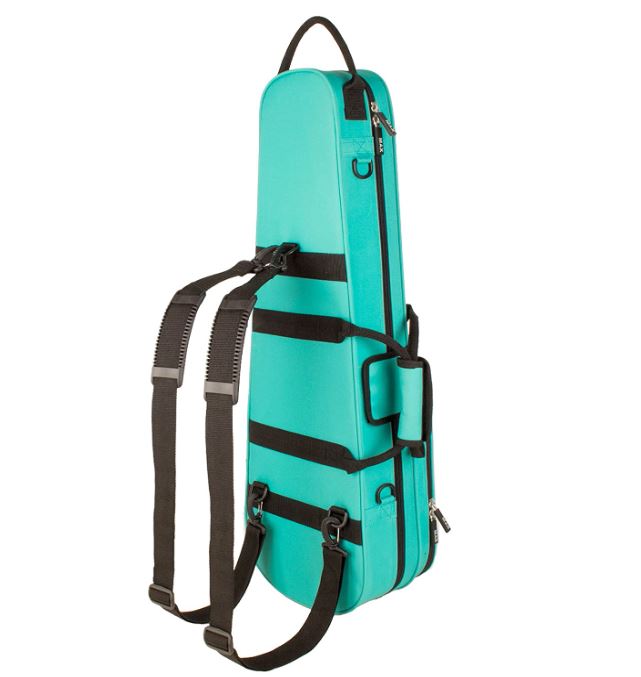 Made of rugged 600D nylon. Lightweight and rigid EPS foam frame. Quick lock hook and loop closure allows you to securely shut an empty case without zippering. Features a large adjustable shoulder pad and strong lightweight clips. Two are included that can be made into backpack straps. Padded handle wrap is super-comfortable and features a long-lasting hook and loop closure. Durable rope handles add support.
Interior is padded and lined with durable and non-abrasive, breathable velour. Hook and loop strap provides stability for neck. Double-layered blanket protects top of violin from scratches and dust. Features two bow clips inside lid of case. Small compartment that can easily hold rosin or other small accessories. Large gusseted zippered front pocket on outside of case, perfect for storing other supplies.
---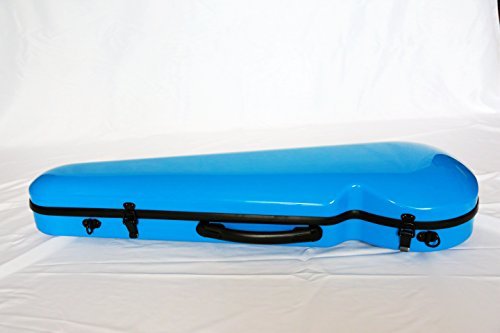 Vio Music blue colored violin case is equipped with a hard case. However, it is made out of a carbon fiber-like material. As a result, the lightweight nature of the case has been ensured. This violin case has been designed for the use of people who own 4/4 violins.
Vio has introduced a new design to this violin case and it looks way different when compared to predecessors. Inside the violin case, you will be able to find two different holders for the bows. To ensure your comfort, this violin case offers a shoulder strap and a handle that can easily be gripped.
---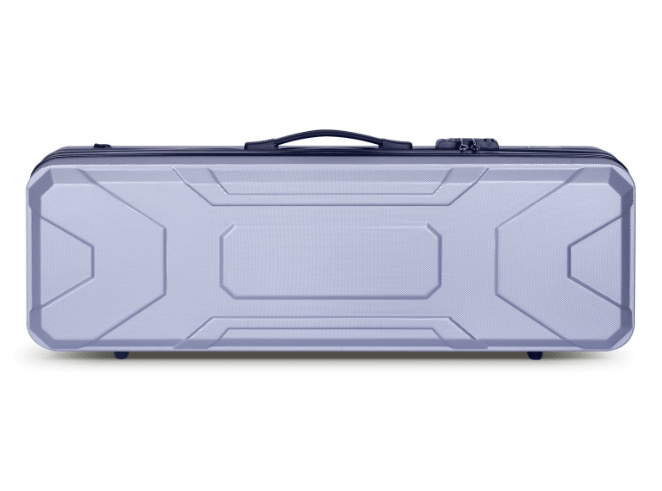 Crossrock CRA400VFSL is another full sized 4/4 violin case available for violin owners to purchase. This is a zippered violin case that comes with a robot case. The overall design of the violin case is stylish and it looks good. Due to the availability of a hard foam core, people who purchase this case don't need to worry too much about the protection of the musical instrument.
The half suspension design has also contributed towards the protection given for violin. The combination lock closing mechanism present in Crossrock CRA400VFSL would also provide improved protection.