If you own a guitar, you want to take the best care of it you can and part of this is buying a good quality stand for your instrument. We've taken a look at the wide-ranging world of guitar stands and selected our favorite models that span different styles and price ranges. For both safety and convenience, here are nine options for the best guitar stand to protect your beloved axe.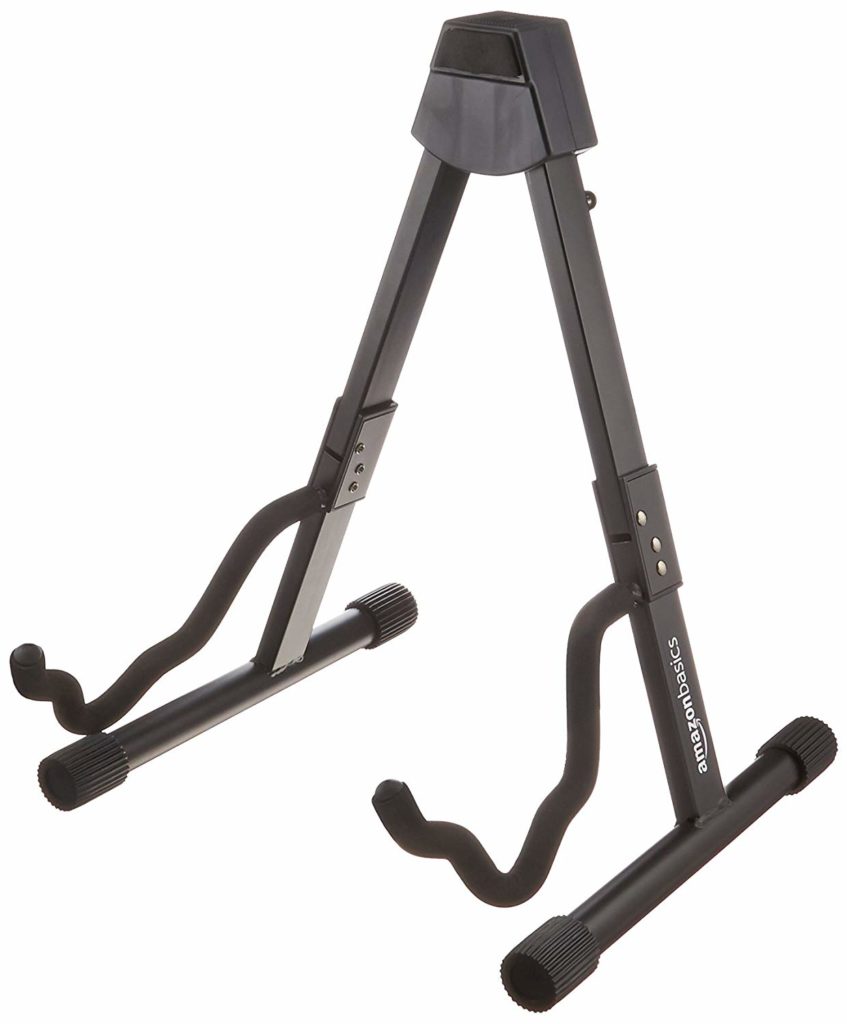 This is a universal guitar stand perfect for both electric and acoustic guitars. It has an adjustable width with three settings to easily accommodate any size of the guitar. From a small kid's guitar to a banjo, this thing is capable of securely holding it all. The non-slip rubber feet help it stand firm on the ground so it won't move even if your guitar is quite heavy.
When fully collapsed, they're often small enough to be packed away in your guitar bag. They're far more stable than they look, and they're a great way to store your guitar, especially in areas with limited space.
---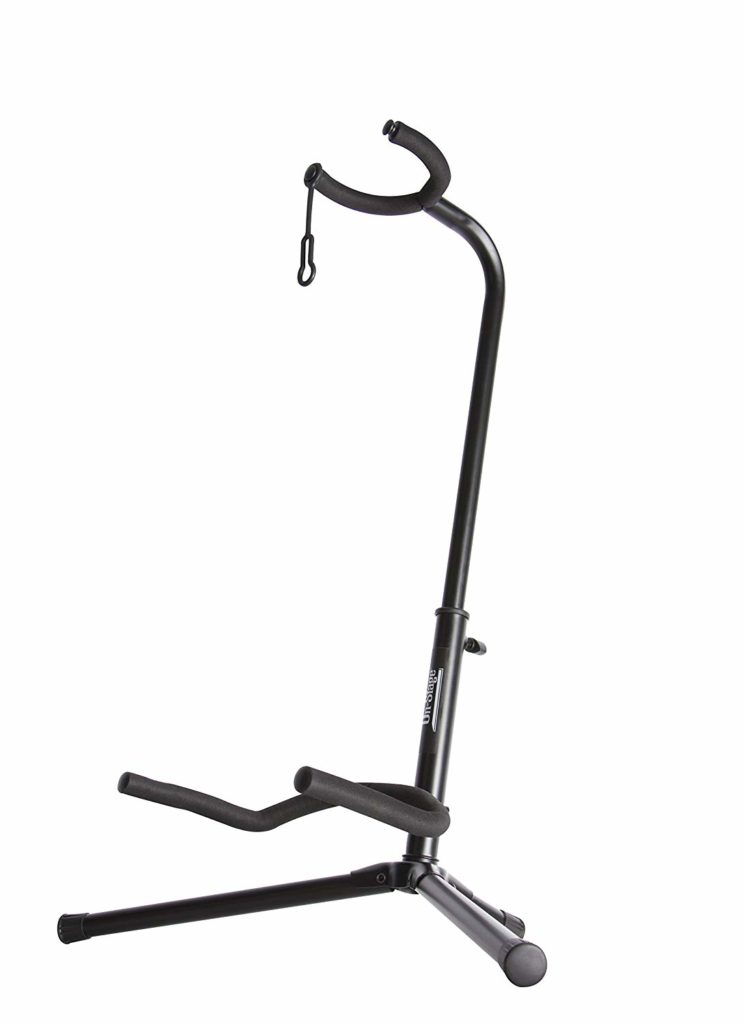 Probably the most common guitar stand is this one from OnStage. They certainly do the job and tend not to be prone to failure. Several of these kick around my practice space and usually hold the nicer guitars around the edges of the room. If you're looking for something you don't want to have to put a lot of thought into, this is the way to go.
It has self-centering lower yoke rotates freely to accommodate offset body styles while its locking keyway keeps the yoke securely attached, the rubber end caps protect your guitar from sliding or tipping over.
---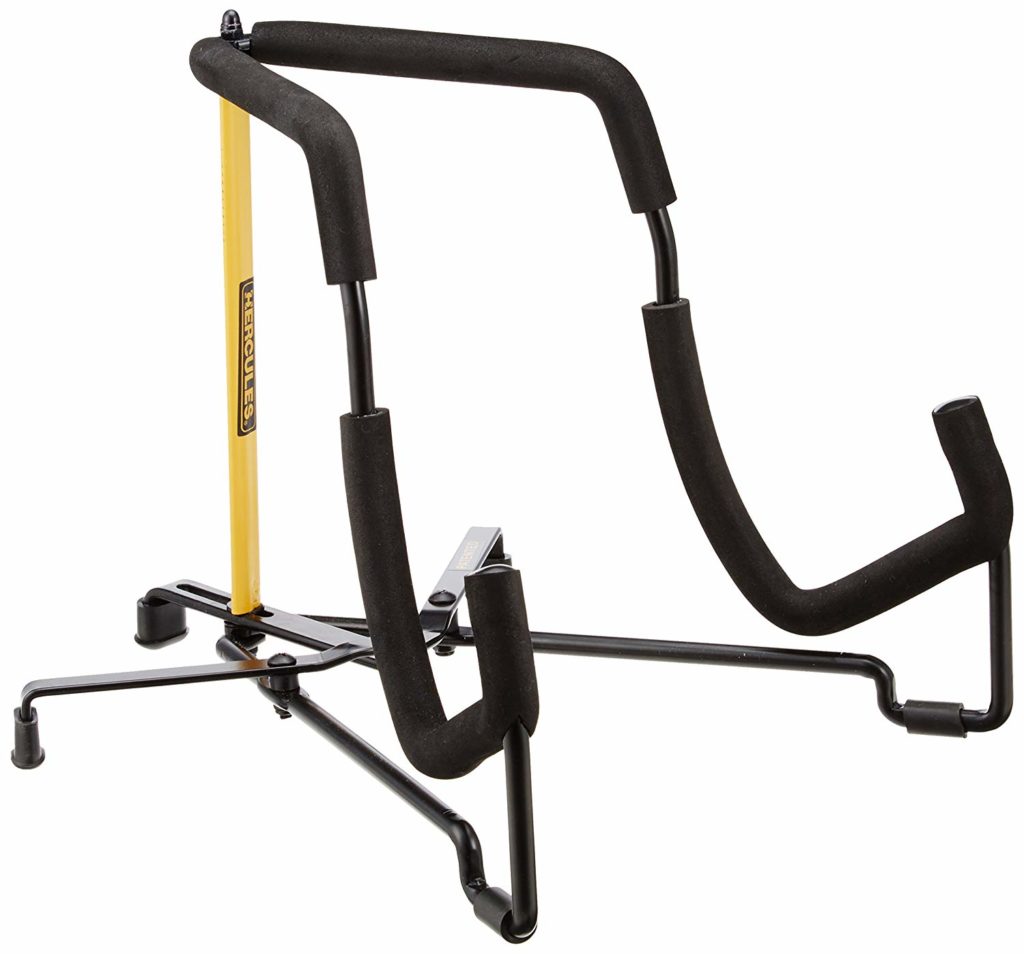 Hercules Stands produce high-quality instrument stands that have a bold construction and sleek design. It has the latest auto grab system yoke which can easily be folded and packed up.
A lot of people refrain from stands thinking it will damage the guitar by putting scratches on the body. This stand, however, is designed keeping with that in mind. All the touch points have been fixed with Specially Formulated Foam (SFF) to provide a soft and non-scratching touch. The height is adjustable with the soft grip height adjuster having a height range between 33.6" to 42.3".
---
If you've spent a good chunk of cash on a beautiful guitar, chances are you want something equally beautiful on which to display it. This stunningly simple stand from Zither is well worth checking out if that's the case. Each stand is hand-crafted from premium solid wood (choices include mahogany, walnut and maple) in Brenham, Texas, featuring a hand-rubbed oil finish.
The padded yoke is pretty standard but functions well, while the base also features a padded strip. It's not the cheapest stand out there, but boy is it good looking!
---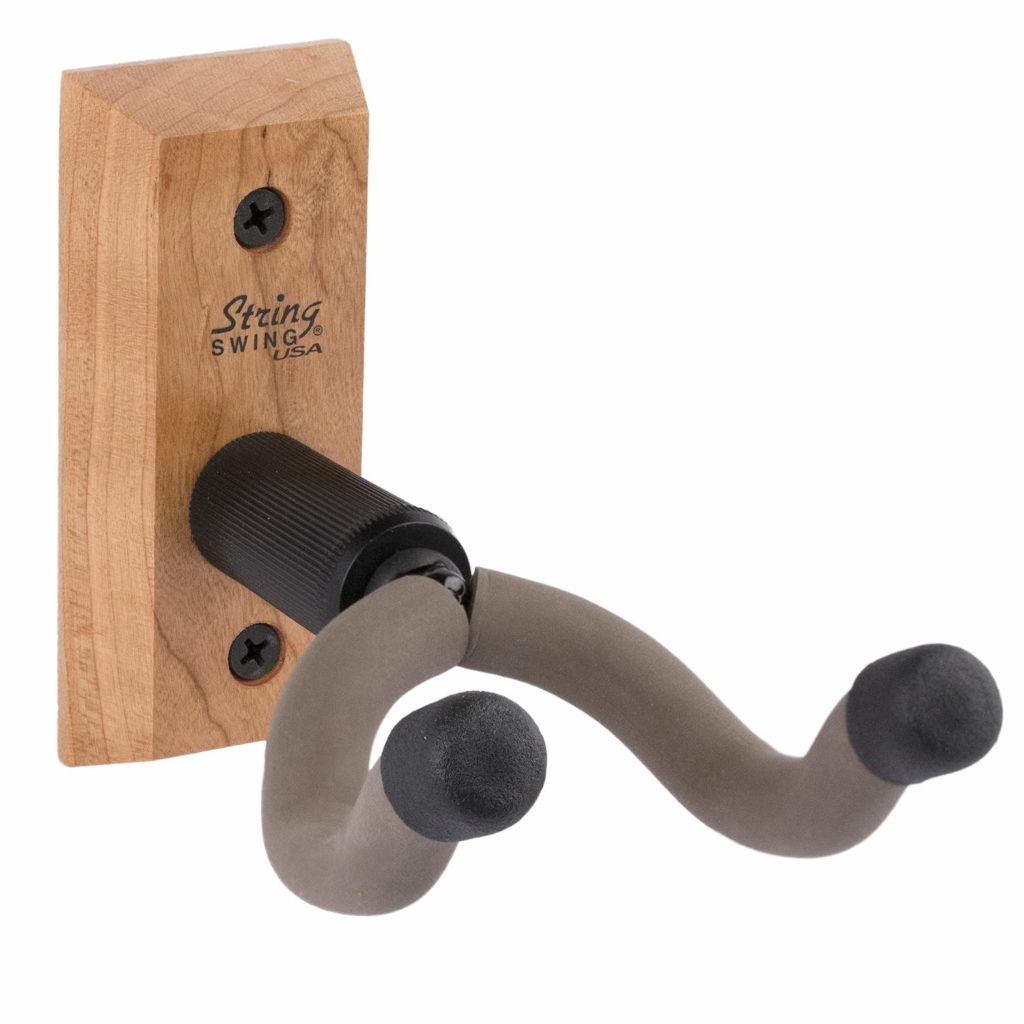 This wall mounted guitar keeper is a great alternative to a stand if you portability isn't an issue for you. The wood used for this guitar keeper is premium quality, pure American wood with unique wood grain.
The arms are also padded to protect the neck and headstock. The yoke pivot is suitable for most headstocks. Suitable for all styles of electric and acoustic guitar, this stand fixes securely to the wall (with included screws and anchors) and features an adjustable yoke allowing you to find the angle that works best for your guitar.
---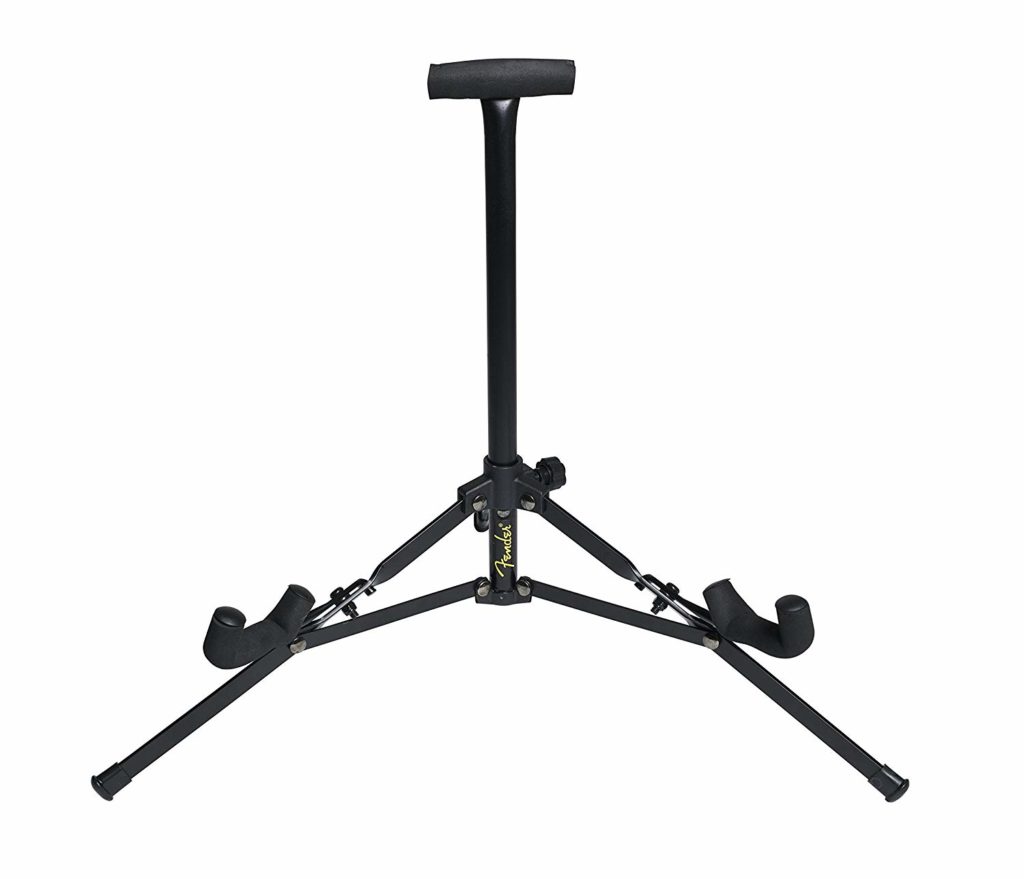 This is a great compact stand for holding your guitar. It will easily fit most standard sized guitars and you can also put it in most gig bags. Wherever you take it you can unfold it in seconds and securely keep your instrument on it. Whether you have a hollow body or solid body basses or electrics, it can easily hold it.
Despite the small size this stand can hold heavier instruments which is perfect if you have a long neck bass. It is compact and can fit in gig bags. Sturdy enough to hold a hollow body guitar or solid body bass.
---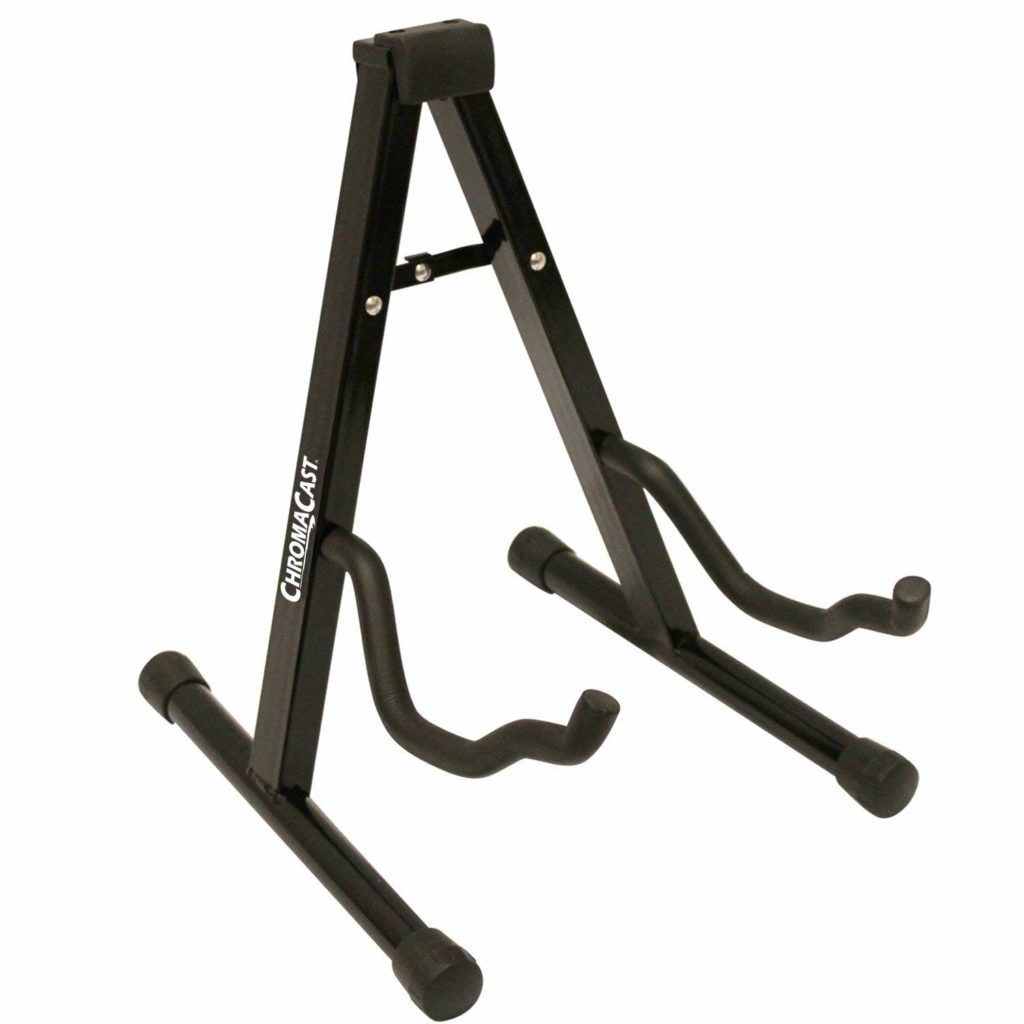 The most basic stand in our chart, but still well-worthy of its inclusion. At around ten bucks the CC-MINIGS stand is a very affordable solution for many guitarists, especially those with multiple instruments who need to purchase more than one.
With an A-frame and stepped yoke, it would suit both electric and acoustic guitars, as well as bass guitars, offering soft foam arms to protect the instrument. This lightweight stand also has the advantage of being very portable and easy to store when not in use. A very solid choice for such little cash.
---
This stand holds the guitar by the headstock and there is no assembly required for it. You have a guitar pick slot storage on top. If you have a long bass, then this is an excellent choice for you because it has a generous adjustable height that can go up to 45.5 inches. You can easily fold it down to a size of 22 by 3.5 inches so it can easily fit in a case.
This stand comes in one piece so there's no fear of any parts coming loose. The guitar's body lies on cushioned padding so there's no chance of affecting the finish of the guitar. Even though it's secure enough, there is an additional strap to make things even more secure. There's a patented leg–locking system that also aids to the stand's stability.
---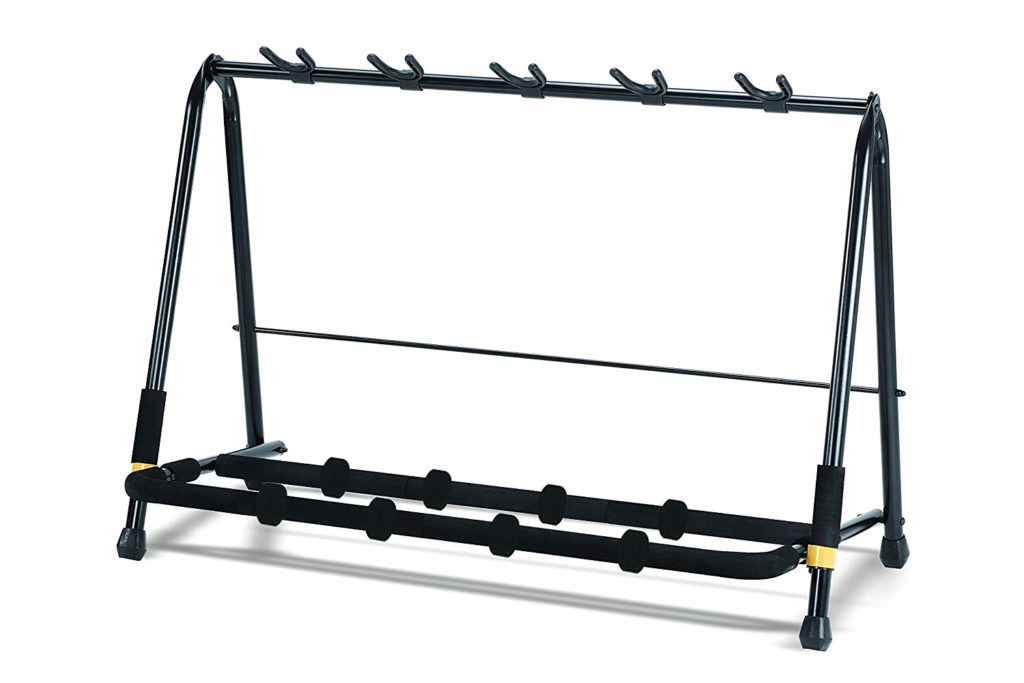 For studios, a simple guitar stand isn't an ideal solution because you'll need a lot of them. A rack, however, is a great for housing many guitars in one location. The Hercules Rack allows you to hang up to five guitars in your home or studio. Like other Hercules stands, it has specially formulated foam that covers all touch points so your guitars stay scratch-free.
It's a great option for the stage when you need to use multiple guitars. The yolk can be adjusted to hold different types of guitar. This is an all one piece design so you do have to assemble or break it down when transporting.