If you are a musician, most possibly, you expect your kid to inherit the good music sense from you and grow up to be an exceptional musician as well. And you know that the earlier to learn music, the better, so what you can do to your chubby, cute little baby who smile at you with her or his pair of sparkling eyes, you know they are trying to say"Come some music", and why not give them?
Well, they are probably too little for regular instrument, but you can not go wrong with those amazing musical toys, which for sure will bring so much joy to your toddler!
Baby Einstein Take Along Tunes Musical Toy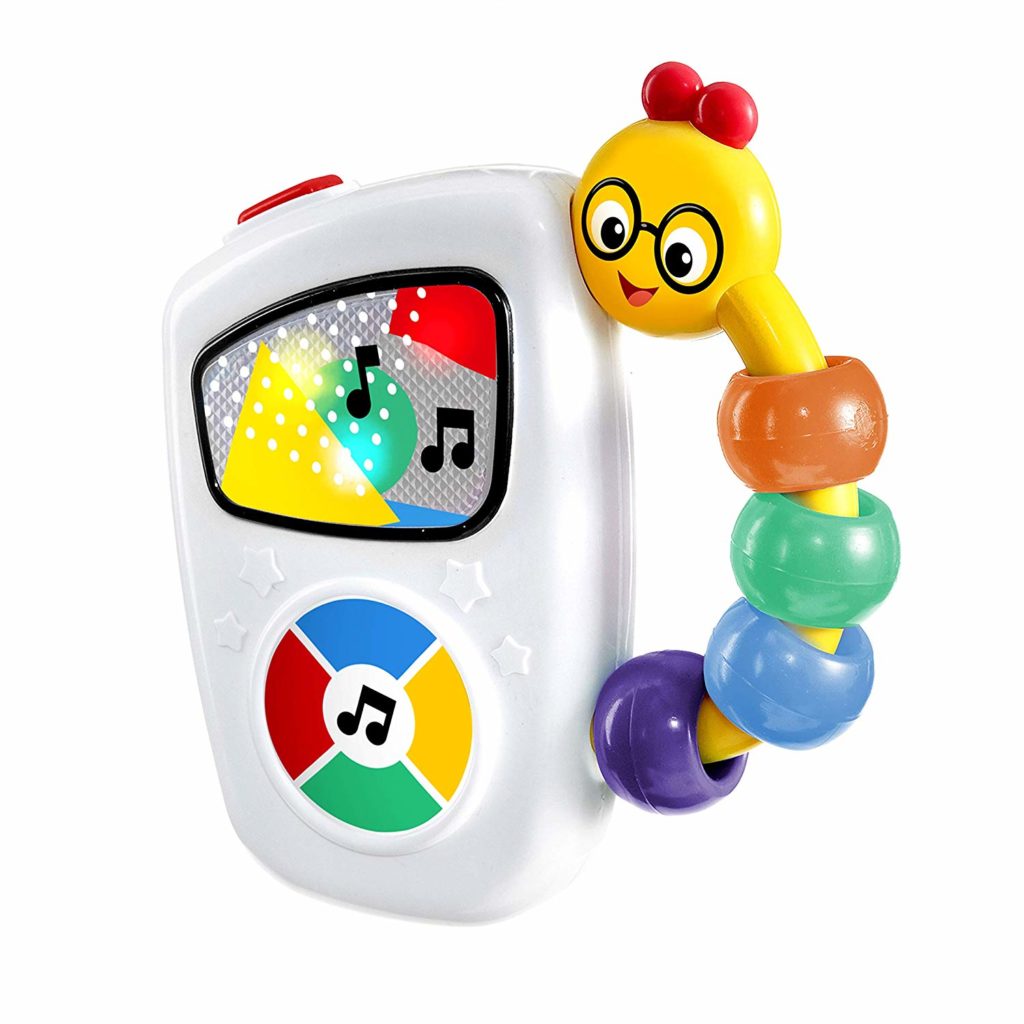 This take-along musical tunes toy from Baby Einstein is perfect for both babies and small toddlers. It's small in size, making it excellent for little hands to get a good hold of. Take music with you wherever you go with this great little toy that's popular with lots of moms.
It looks like a toy phone, but with a large handle fitted with some rattles. When your little one is playing, they can choose between seven melodies. There's also a small "screen," fitted with lights that flash as the melodies play.
---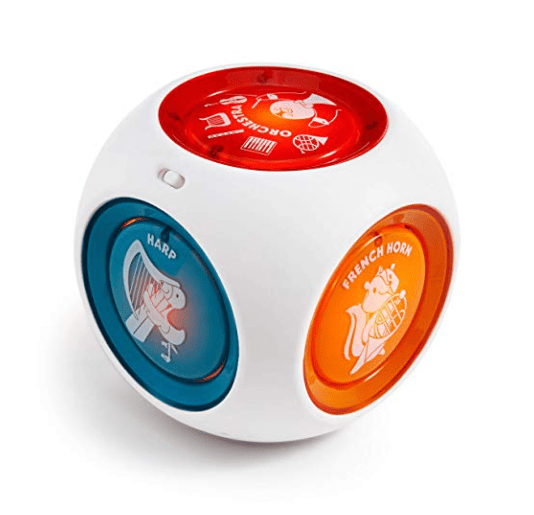 This musical cube from Munchkin has hit the nail on the head. It's durable and fun for small babies to play with, and it's even useful when they enter their toddler years. It is a great educational toy teaches how sounds combine to create 8 Mozart masterpiece
The cube features four large buttons that will teach your little one how sounds combine. The tunes will ultimately create Mozart masterpieces.It can play different sounds from various instruments, such as a French horn, piano, flute, and harp.
---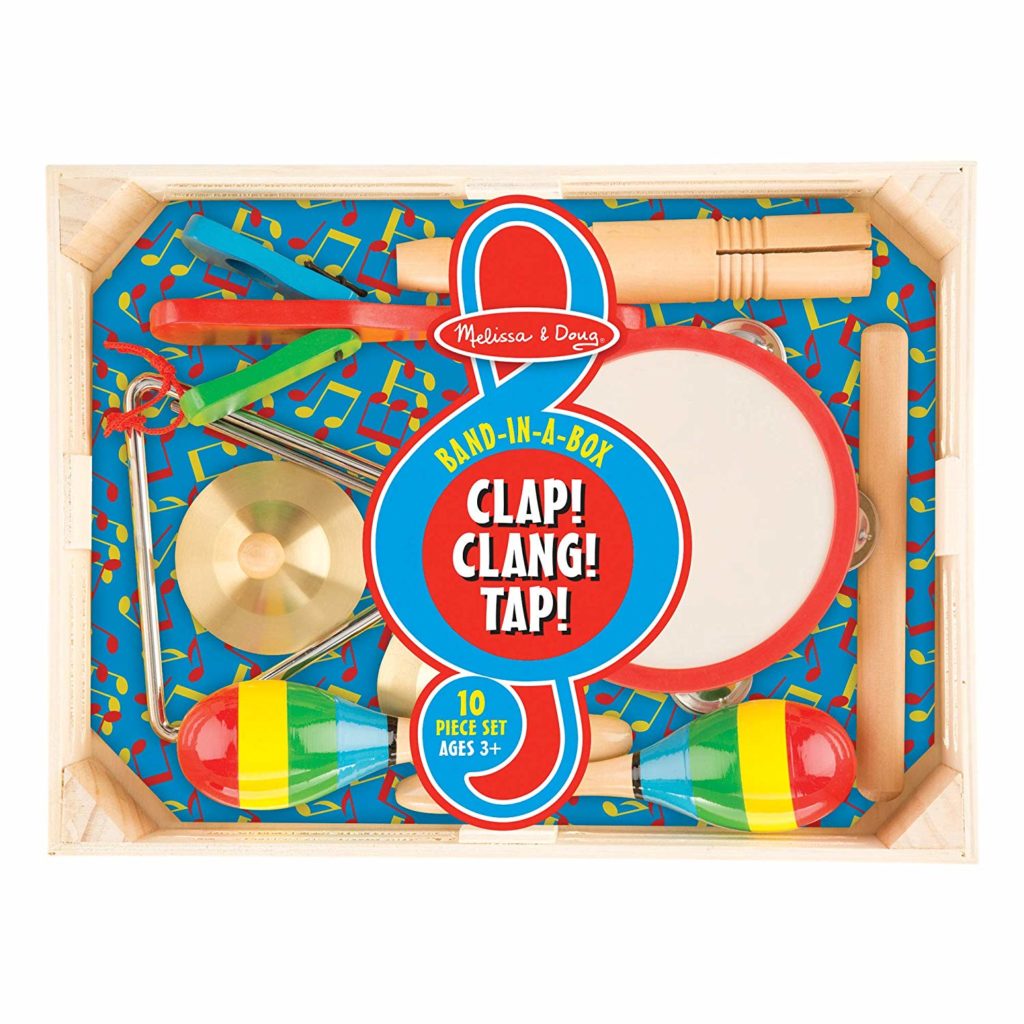 This Melissa & Doug wooden toy is a great introduction to musical instruments for your toddler. The box includes 10 pieces, so it's great for sharing with friends and siblings to start your very own band! The toys are made from high quality materials with durable paint, which can stand up to your toddler's enthusiasm.
There are other options including fewer pieces if you are looking for something a bit smaller, and there is also the option to have a name printed on to the maracas for a really personal gift.
---
Skip Hop Musical Egg Shaker Trio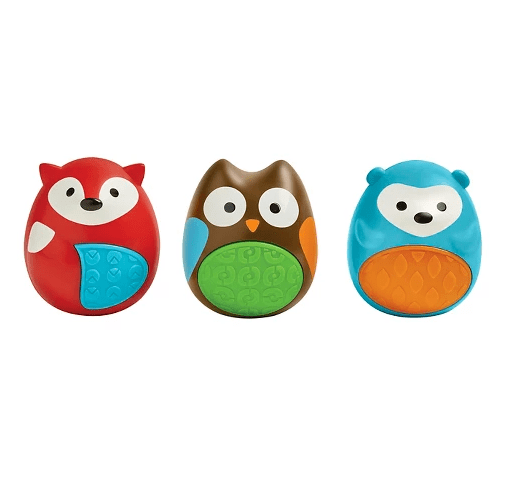 These (adorable) animal shakers are the perfect way to introduce music to your growing baby. The bright colors will immediately capture baby's attention, and the fun noises (each animal makes its own unique sound) will keep them coming back for more. The larger size and grippy rubber patches make them easy for little hands to hold, and they stand up on their own, so they'll be great for pretend play as your little one gets older.
Each perfectly-sized egg shaker makes its own unique sound for a rocking good time! Little ones will love to shake up playtime with these three cheerful characters.
---
Melissa & Doug Caterpillar Xylophone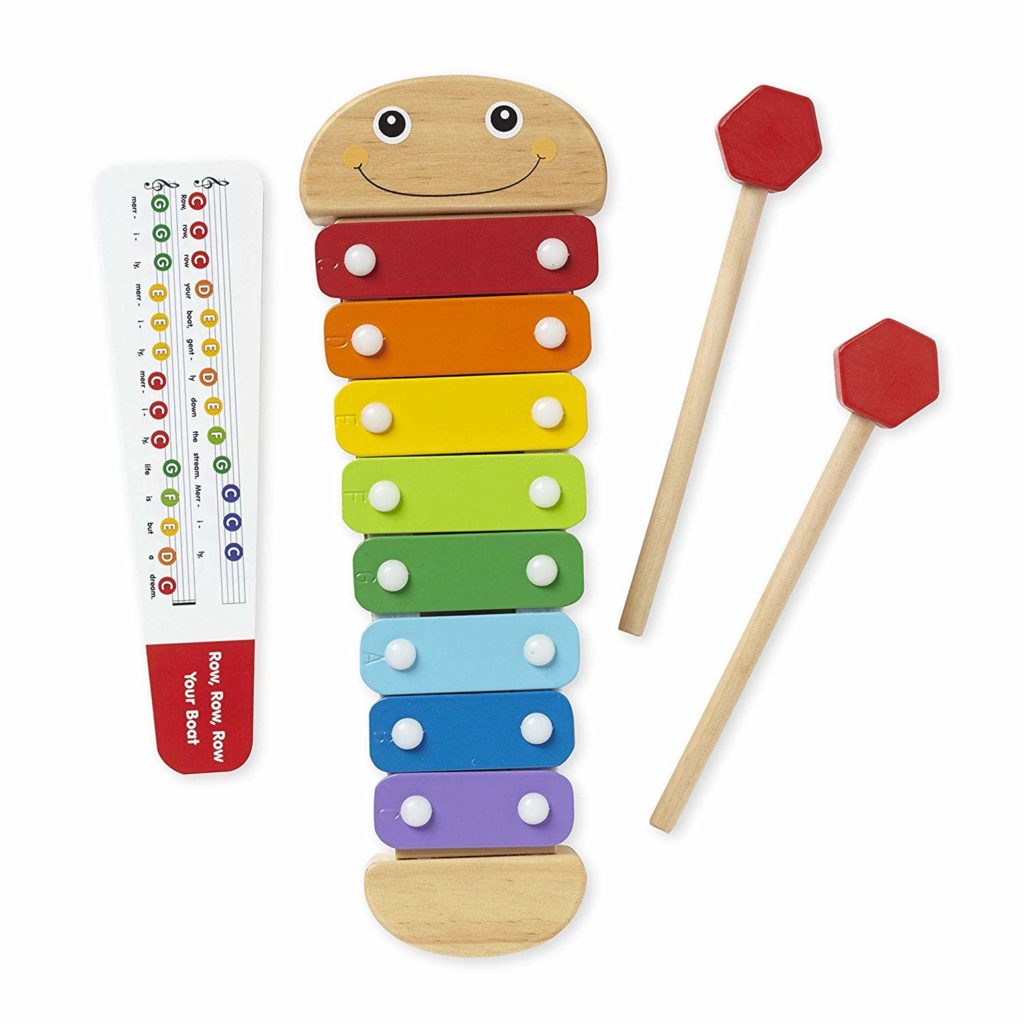 Infants and toddlers love hearing music and banging things to make noise. Xylophones are one of the classic music toys for 1-year-olds. The Melissa & Doug Caterpillar Xylophone make a great first music toy. This wooden xylophone has five colorful keys that each make a different tone when struck by a mallet.
This fun activity promotes the understanding of cause-and-effect while proving motor skills practice. Keep little hands busy with the beautifully colorful instrument.
---
LeapFrog Learn and Groove Musical Table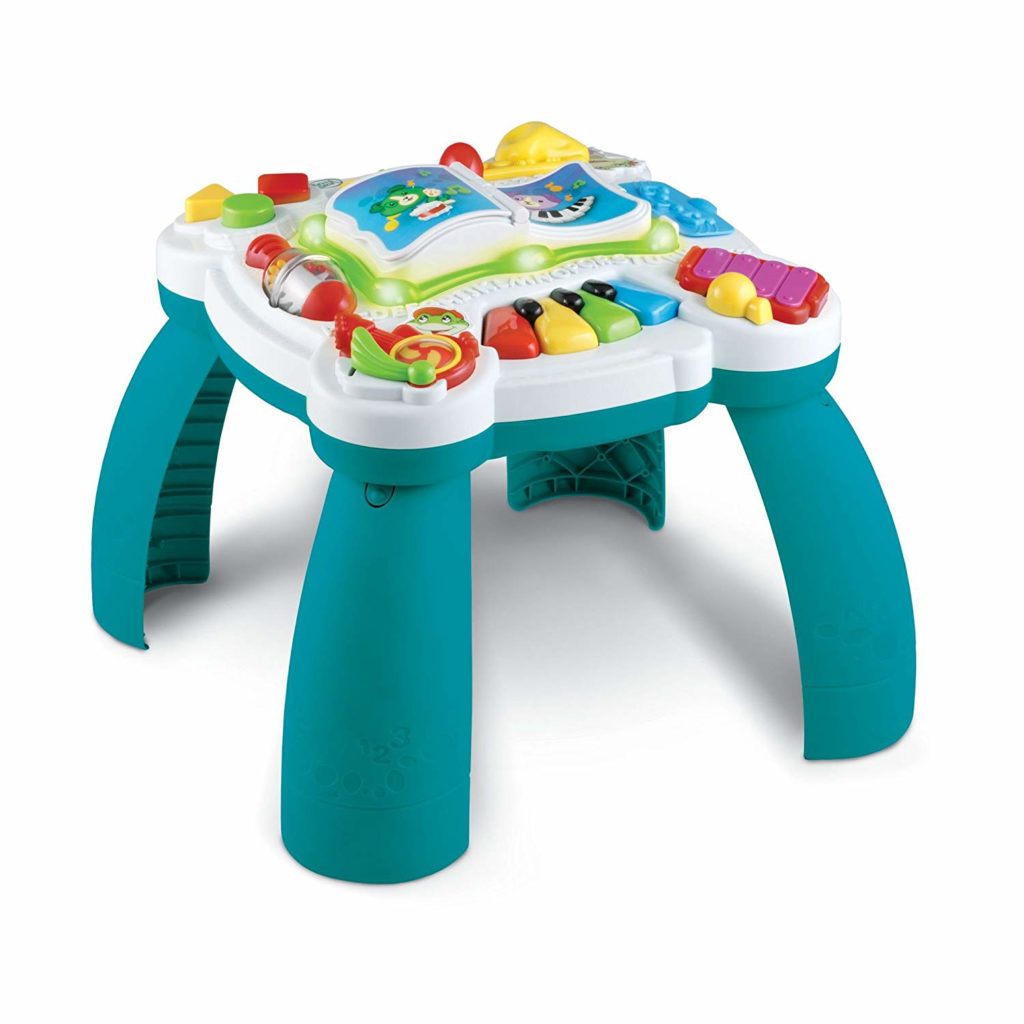 Activity tables are a fun, engaging way for your little one to start exploring basic concepts like letters, numbers and colors through sounds and songs. This one has two modes—music mode and learning mode—and is packed with features like a learning station with 70 songs and learning responses, a mini keyboard, shape buttons and much, much more. (It's even bilingual, with Spanish and English modes!)
The legs can be popped off for floor play, then replaced when your little one is ready to stand. The educator approved learning toy is designed by Leapfrog learning experts for ages 6-36 months.
---
Fisher-Price Bright Beats Dance & Move BeatBo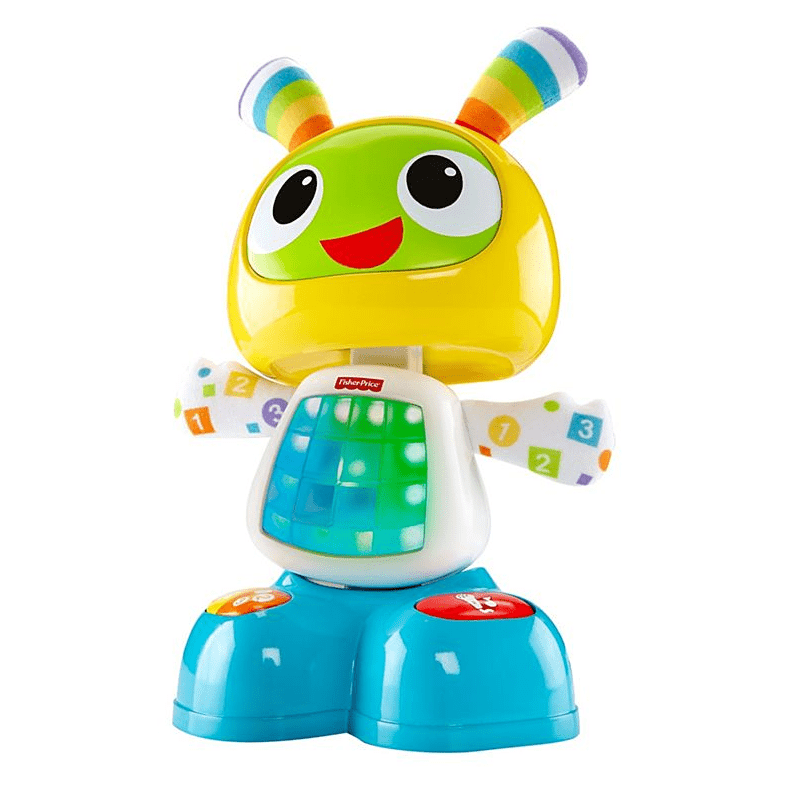 Who likes to move? BeatBo does! Get the dance party started by pressing BeatBo's tummy or any of the buttons on his feet to activate fun songs, learning content and dance moves. This futuristic friend even allows mommy or baby to record a phrase, and he'll remix it into his favorite song. Three modes — Dance 'n Move, Learning & Games, and Customized Sing-Along — "grow" with baby to make him a forever friend for years to come.
And through all the play, BeatBo's introducing baby to letters, colors, counting, music, cause & effect and much more.You can also record your own, although you probably don't need a toy's help to ask, "Who's the cutest?" like a broken record.
---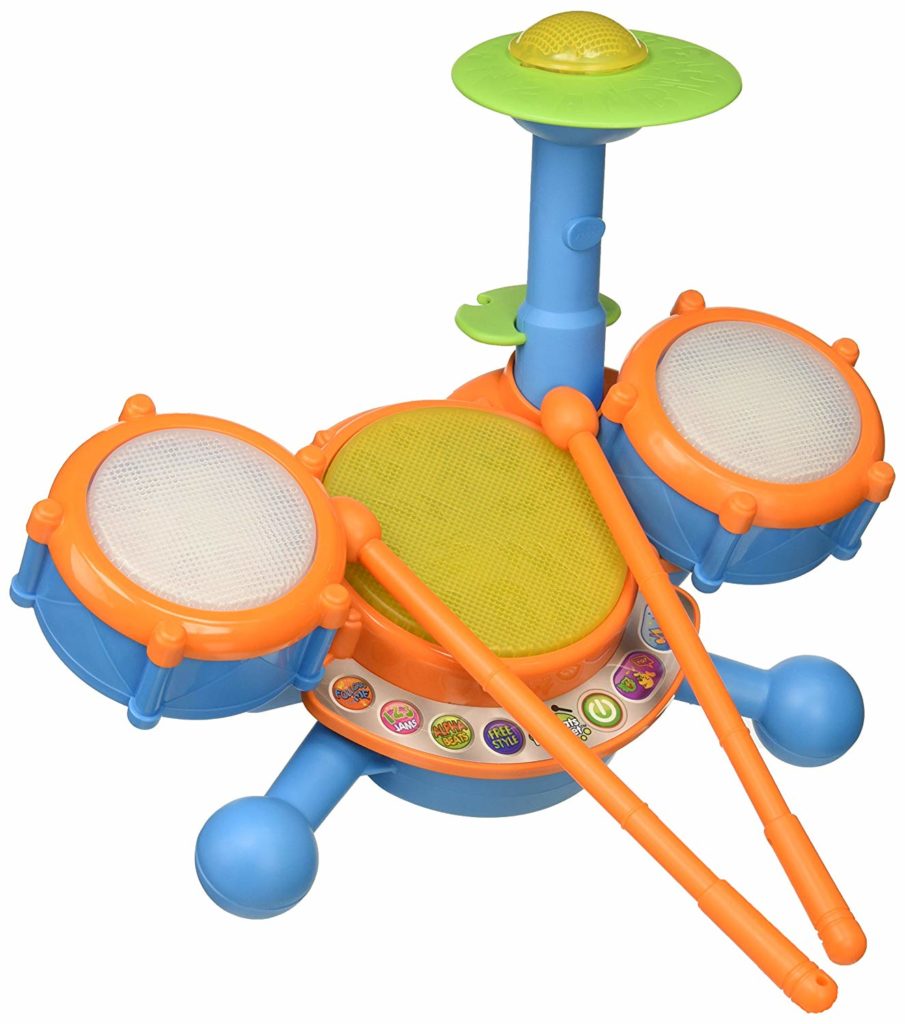 Your child can rock out and learn with the VTech KidiBeats Drum Set! This drum set for kids comes with a pair of drumsticks that can be used to tap the four different electronic learning drums. Your child can drum freestyle or play along to nine pre-set melodies in a variety of musical styles. Or for more structured play, they can follow the lights on the drums as they learn about letters and numbers.
Kids drum set has 4 modes of play: free play, letters, numbers, and follow-along; each drum features a unique LED light. With four ways to play and a variety of fun sounds, your child will love learning to the music with this educational toy!
---
Hape Pound & Tap Bench with Slide Out Xylophone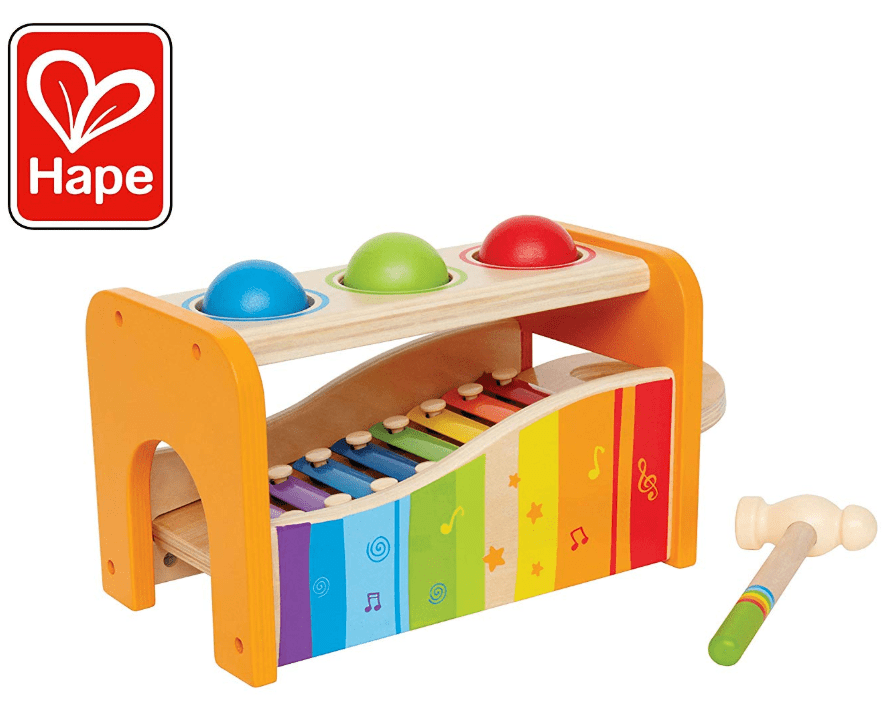 Pound & Tap Bench with Slide Out Xylophone by Hape makes for a fun music toy for 1-year-olds that promotes motor and cognitive development. Little ones pound the three vibrant spheres through the three rubber-lined holes. What happens next? The spheres fall and roll down a ramp made up of bright, musical chimes, pleasantly tuned to a C Major scale. You can also pull the keyboard ramp out from under the bench, grab the included wooden mallet, and let the melody-making excitement commence.
Little maestros get a head start on musical learning when they start pounding, tapping, and playing the day away with the My Little Mozart Musical Bench.