Looking to purchase a beginner digital piano or keyboard? You can be overwhelmed with so many piano options available in the market, We've boiled down everything you need to know about digital pianos to help you pick up the best one for your needs. There are quite a few factors to bear in mind: length, size, number of keys, the number of different sounds, brand, portable or fixed and weight, all play a large part when choosing the right model for you.
Each of these beautifully crafted digital keyboards have been selected due to their budget-friendly price tag, high-quality construction and range of built-in sounds. Hopefully, this will kickstart your musical journey and lead to a lifetime of enjoyment.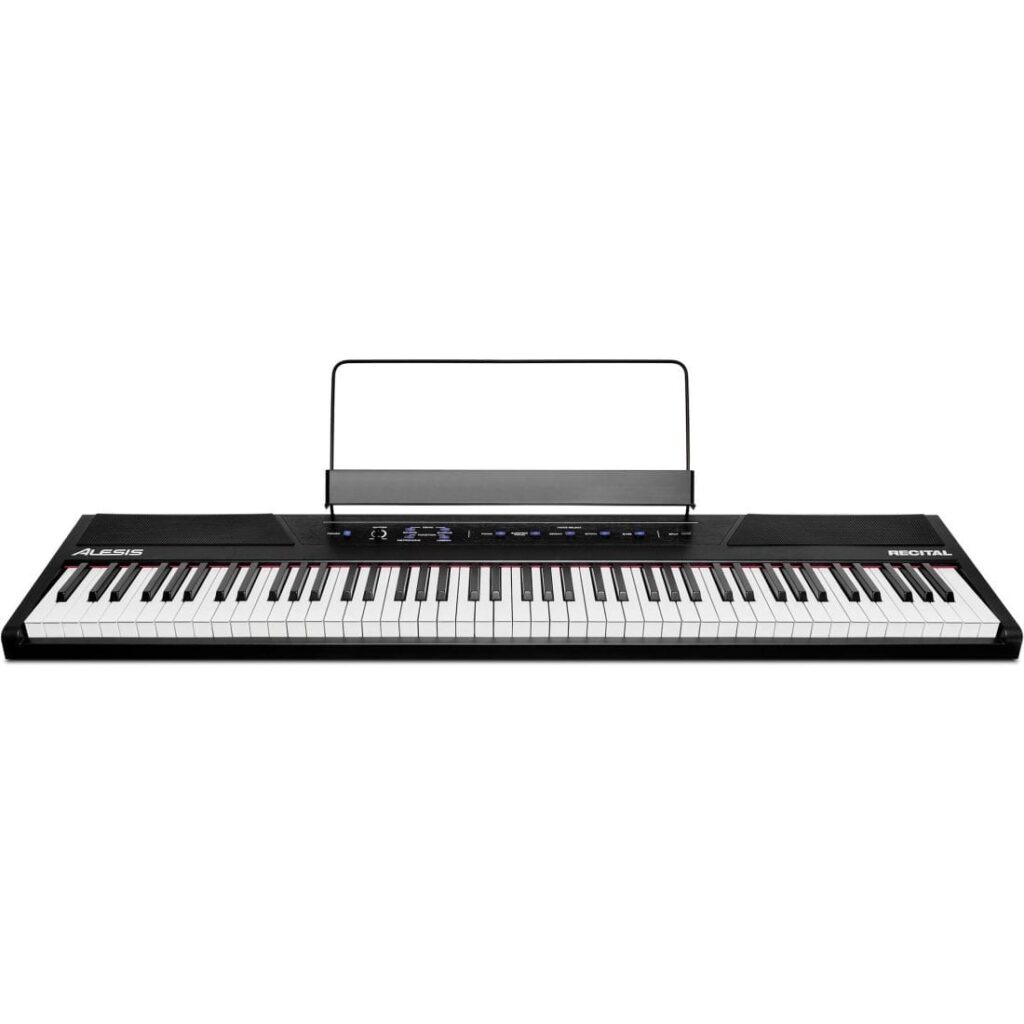 A great digital piano for beginners, this portable keyboard features 88 full-sized keys, built-in 20W speakers and outputs for your headphones or to connect to external speakers. Plug in the headphones when you're practicing and don't want to disturb the room, or use the bright speakers to project your track across the room.
Choose from five different instrument styles (Acoustic Piano, Electric Piano, Organ, Synth, and Bass) and play them individually or layer two at once using "layer mode." Alesis' "split mode," meantime, lets you assign different voices to your left and right hands. The keys are semi-weighted, so they won't be as heavy as a regular piano.
---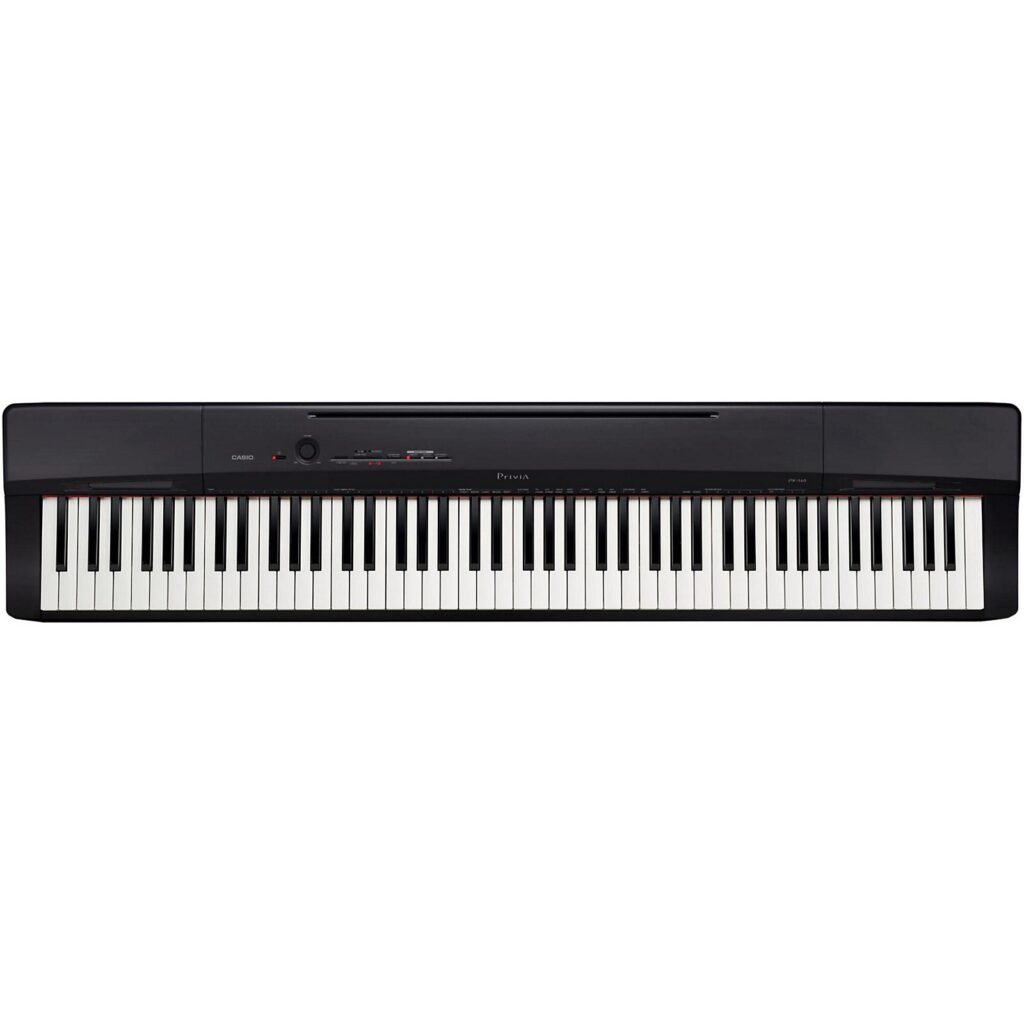 The successor to the popular PX-150, the Privia PX-160 utilizes Casio's famous AiR Sound Source and its remarkable Tri-Sensor Scaled Hammer Action II keyboard. The PX-160 utilizes Casio's famous Tri-Sensor Scaled Hammer Action II keyboard. This action features new simulated Ebony and Ivory textured keys for an incredible feel and its three sensors capture the dynamics of a performance with unparalleled speed and accuracy.
The chassis has been redesigned not only to provide a more elegant look but also to accommodate a new 8w x 8w speaker system, which delivers the PX-160's remarkable sounds with the richness that they deserve. This speaker system is open to the front but also ported to the back, which provides remarkable sound when the PX-160 is placed against a wall.
---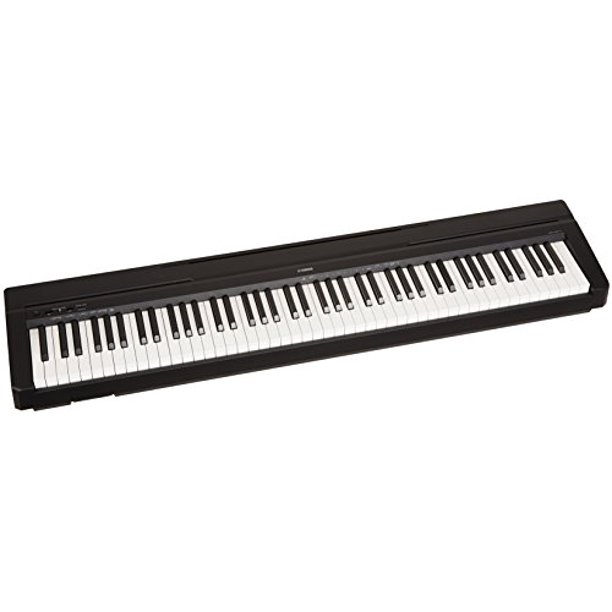 The P71 is obviously not on the same level as the DG-660, however, it is a great keyboard for the price and great for beginners with a tight budget. It comes with 88 weighted keys but does not have the hammer action of the DG-660. Although it doesn't have the same feel as the DG-660, it still feels pretty good to the fingers.
In regard to sound, there are ten voices to choose from, including samples straight from Yamaha's most prestigious grand pianos. You can also blend voices together. The Yamaha P71's lack of features and one-touch system means that it actually has quite a cool minimalist design to it, which is likely to appeal to a lot of people, the slim design makes for a nice alternative to the thicker, feature-heavy variants.
---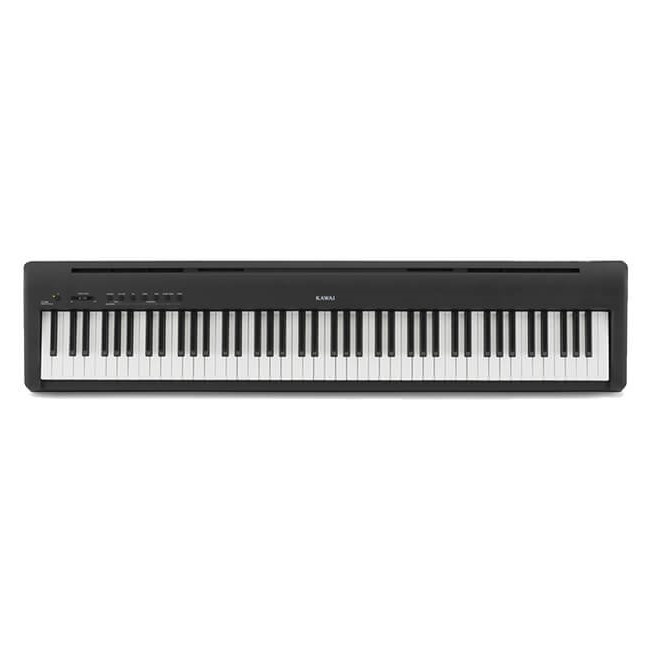 The Kawai ES100 is a digital piano that offers the high-quality IV-F graded hammer key action keyboard as well as amazing sounds that have been sampled from a grand piano with great care. This 88-key piano is capable of 192-note polyphony, and it comes with the Harmonic Imaging Sound Technology to deliver an impressive tonal range and crystal-clear notes.
The sound quality is good, and while it doesn't quite rival all of the 80 or 90 lb models of piano, it does have plenty of clear piano tones for using on stage, 19 sounds in total, of which eight of them are modeled on pianos. Their sampling technique uses imaging sound technology for a detailed tonal response. If you want something that will be permanently in the same room of your home then there may be better options than the Kawai, but for portability, this is tough to beat.
---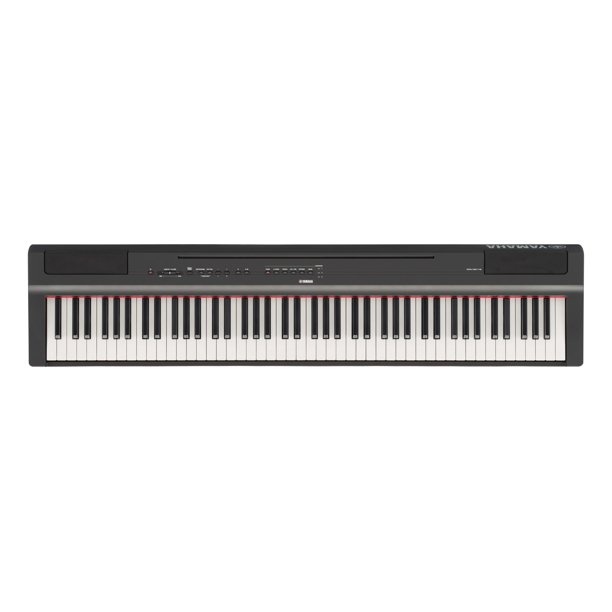 The Yamaha P125 is a compact, 88-key weighted digital piano that combines incredible piano performance with an user-friendly, minimalist design. P125 is loaded with features to give you an acoustic piano playing experience in a portable package. It produces the dynamic, high-quality sound and natural piano touch response you've come to expect from Yamaha digital pianos while maintaining a sleek and slim footprint.
The P-125 is loaded with features to give you an acoustic piano playing experience in a portable package. It produces the dynamic, high-quality sound and natural piano touch response you've come to expect from Yamaha digital pianos while maintaining a sleek and slim footprint. It is a introduced as a step-up and replacement of the popular P-115 (which is disconnected) and became the new midrange keyboard in the P series.
---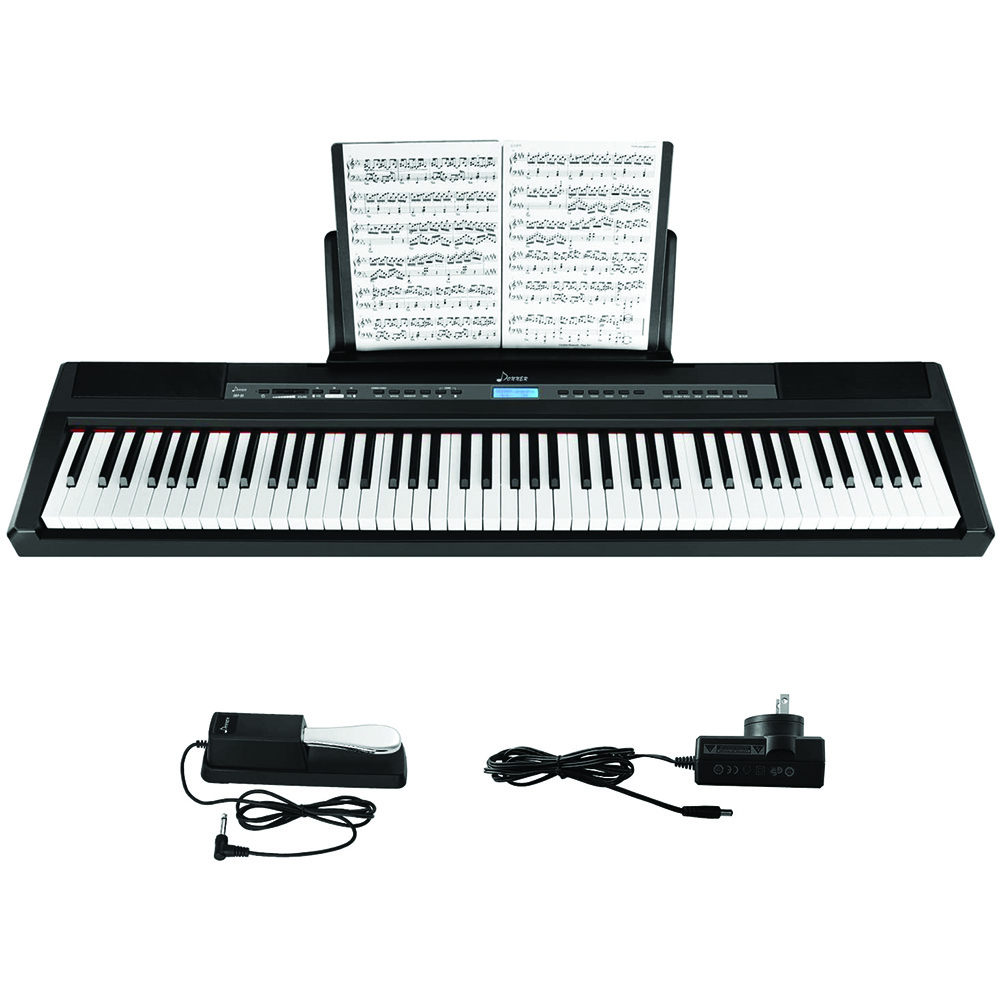 Donner 88 full-size weighted hammer portable electric piano electric piano, 128 polyphonic number. Donner DEP-20 weighted action has heavier touch in the low end and lighter in the high end, like the hammers inside, giving the amazing touch for your enjoyable musical experience.
equipped with two 25W speakers, adjustable touch response keyboard, you can enjoy the wonderful sound of the piano. With 8 common sounds, AWM sampling makes the timbres better to meet your different needs When practicing or preforming. The fashionable exterior design can be well integrated with interior design During stage performance and practice at home. Play your favorite song after connecting the pedal. Donner multipurpose digital piano is suitable for rehearsing, learning & creating. Design for both beginners & intermediate players.
---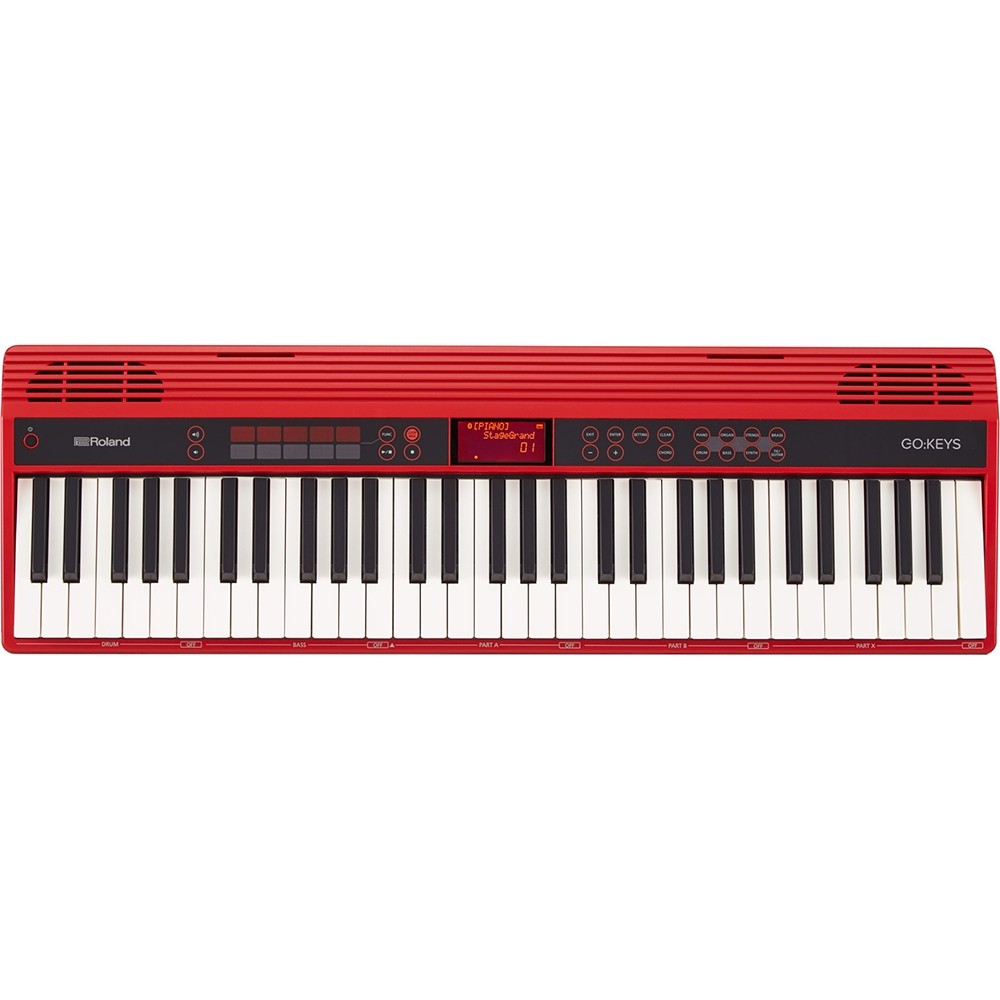 This compact, 61-key digital keyboard from Roland features Bluetooth connectivity so it can communicate wirelessly with online piano tuition apps and stream audio through its built-in speakers so you can play along. It can also be battery-powered if you're on the move, contains a huge variety of over 500 piano, electric piano and organ sounds and comes with a music stand for supporting a tablet on the top.
Throw in a digital metronome, an onboard Loop Mix function and a recording facility to capture your practice sessions and you've got almost the perfect partner for your online lesson plan. With its innovative Loop Mix function, anyone can build fully produced songs right away, even with no previous music experience. Compact and battery powered, GO:KEYS lets you enjoy the magic of musical creativity everywhere you go.
---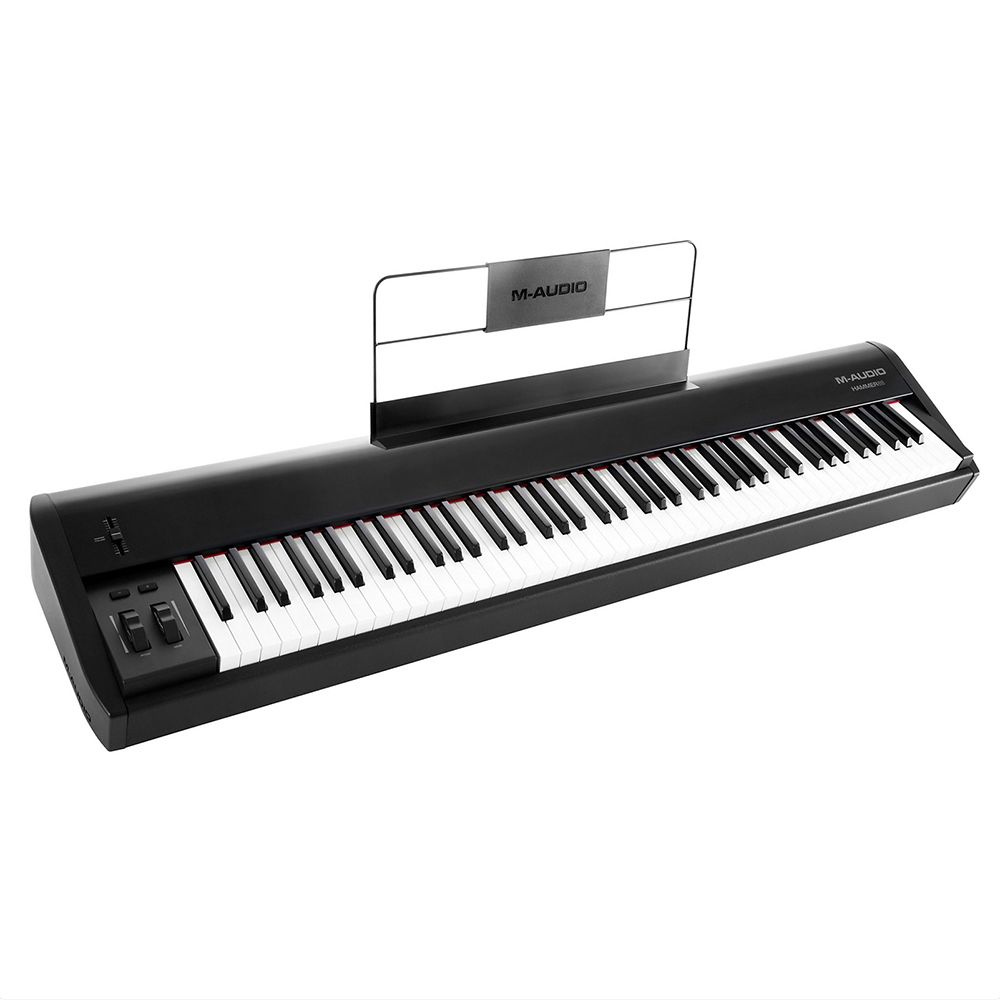 M Audio's new Hammer 88 is an affordable, fully weighted, hammer action keyboard for professional and semi pro players or students looking for a realistic grand piano feel to use with virtual instruments or sound modules. It features fully assignable MIDI buttons, pitch bend and modulation wheels, sustain pedal, secondary pedal and expression pedal inputs—while providing a clean aesthetic for players more concerned with compositional accuracy than editing and tweaking.
Hammer 88 is USB powered, class compliant, and supports USB MIDI connectivity. Plus, Hammer 88 supports iOS connectivity with the Apple iPad Camera Connection Kit (sold separately), enabling you to perform and compose with audio apps on your iPad and other iOS devices. At the heart of Hammer 88 are 88 velocity-sensitive, fully-weighted hammer-action keys that are assured to faithfully capture every subtle nuance of your performance, while providing the unmatched response of a traditional grand piano-classic feel fused with the unrivalled sonic capabilities of virtual instruments.
---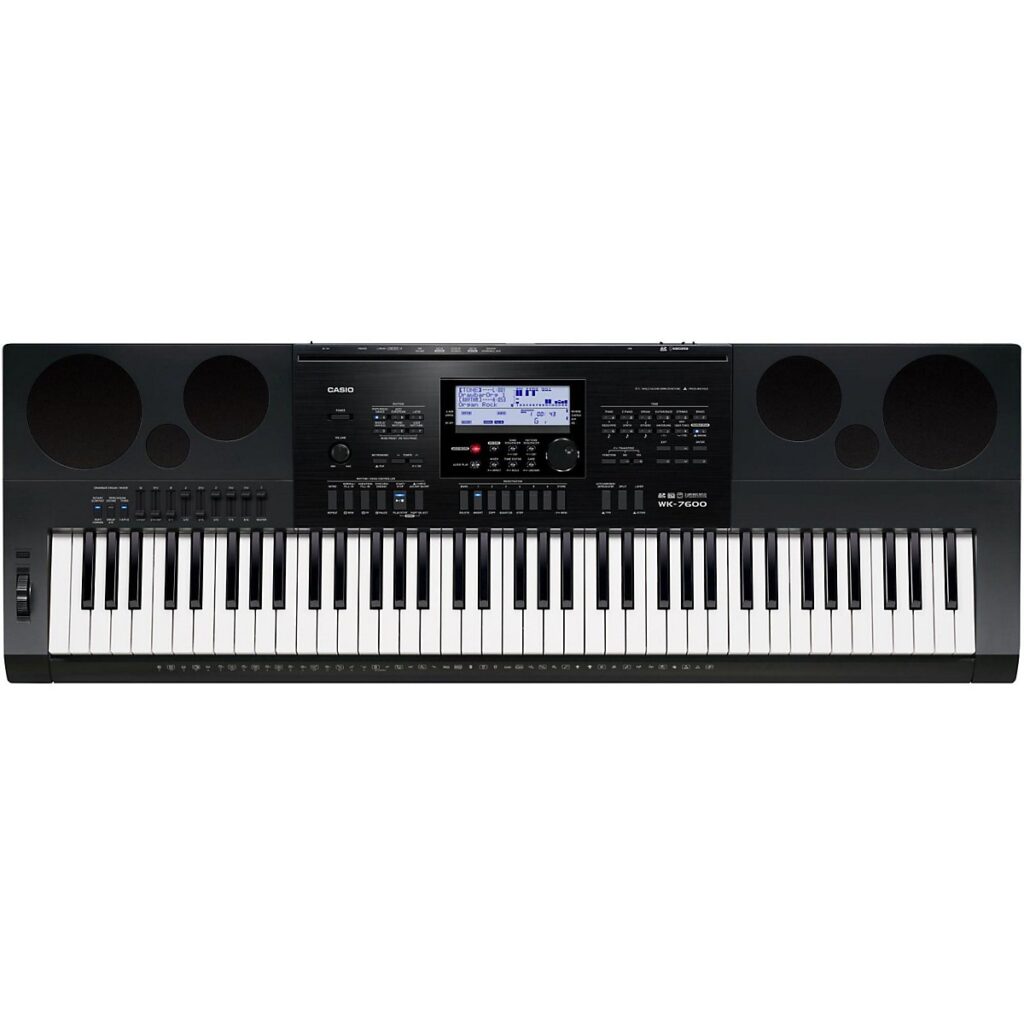 The Casio WK-7600 keyboard comes with 50 specially selected built-in drawbar organ tones. Nine sliders can be used to change harmonic overtone level settings and add percussion and click sounds for real-time sound creation as you play. A rotary speaker simulated using a built-in DSP provides the distinctive acoustic effect of drawbar organ speakers. Parameters can be edited to create original "user drawbar organ tones," 50 of which can be stored in memory for later recall. This pack comes with everything you need to get started right away.
The Samson HP30 closed back studio headphones feature a comfortable, heavily padded headband and ear cups with 40mm drivers and a frequency range of 20 to 20,000hz. These are loud earphones with an impedance rating of 32 Ohms and a 105 dB / mw sensitivity rating.