Guitar tuners have been the guitarists' best friend ever since they were invented. A tuner is a device that compares the sound of a string with a reference pitch already stored in the tuner. These devices help musicians set the pitch and improve their tunes, in a timely manner.
Nowadays, there are many different types of tuners provided by various company, it gives you more option but can also, make the purchase process more complicated. That is why we put out this list of the best 10 Guitar tuners, for you to make easier decision.
Understanding Types of Tuner
Tuners come in various shapes and sizes, but they can be classified under three groups based on their form factor and how they listen to your guitar's tuning. The three main groups include clip-on tuners, acoustic tuners and pedal tuners. Note that some might fall under multiple classifications, especially those intended for use with various types of instruments.
Clip-On Tuners
The most common guitar tuners are the compact, 'box' type that have a built in microphone for tuning acoustic guitars, and a jack input to plug in and tune electric guitars. A clip-on tuner works in a slightly different way. It has a contact microphone built-in. This detects very low-level vibrations. The clip-on tuner is clipped on to a guitar headstock (electric or acoustic), and it detects string pitch from the vibrations through the guitar.
Pedal Tuners
Pedal Tuners with their tank tough metal exterior are the most reliable and durable of the three, making them ideal for gigging musicians. While they maybe bulkier and heavier, the extra protection, better accuracy and bigger display area that they offer, can often spell the difference between a great gig and a gig gone wrong. It's also worth mentioning that its harder to misplace pedals, so you won't end up having to tune on stage by ear!
Handheld & Desktop Acoustic Guitar Tuners
Because they utilize built-in microphones, Acoustic Tuners rely on actually hearing the sound of your instrument, it's as if a professional musician is helping you tune by ear. The obvious challenge for this type of tuner is that outside noise will easily bleed into its microphone making it hard to use when tuning with other musicians or at noisy gig venues. While this particular technology may seem outdated, they remain the most flexible because you can use them to tune almost any instrument.
Polyphonic
Finally there are polyphonic tuners. These are the least common as they are still quite new. Though a number of companies are now making them. Polyphonic tuners are able to detect all of the strings at once and locate which ones are out of tune. This speeds up the process of tuning the guitar. They most commonly come as pedal tuners but also come as standard tuners.
---
Best Clip-on Tuners:
The Snark ST-2 is a clip-on chromatic tuner that's designed for acoustic instruments, primary of which is the acoustic guitar. It features a compact profile that has endeared the Snark brand to many players, while housing a faster chip that improves the speed and accuracy of its tuning.
In addition to its vibration sensor, it also comes with a built-in microphone, which allows it to tune other instruments that it can't clip on to. Snark advises against using the ST-2 on instruments with sensitive finishes, like nitrocellulose lacquer, oil finish, polyurethane and French polish.
---
It uses the Piezo vibration sensor which produces the most accurate sound results for giving you the highest possible tuning. It is also simple to understand as the display with vibrant colors allows you to see how you are doing from different angles. There are three points of adjustments which should give you ample choices for adjusting the screen.
This one is especially high quality considering it works well even in a noisy venue. It detects the vibration from your instrument solely and discards other noises. This makes it a lot more reliable especially for professional musicians doing gigs all the time. The sound calibration range is 430-450 Hz which is ample enough for most instruments.
---
Snark SN 8 is yet another product suitable for any instrument including acoustic guitars and bass. It has an extra tight tuning is that is something that you want. The bright display is simple to read and comprehend. The display also rotates a full 360 degrees making it even easier to use. This one has tap tempo metronome like other SN series from Snark.
It clips on tightly to the headstock of your guitar or other string instruments. The grip is quite strong so you can move freely if you have to without worrying about dropping it. It is definitely a great thing to have if you compare it with expensive pedal tuners. This costs not a lot and you can buy few of them if you happen to have many guitars or instruments.
---
If you are looking for something strong and durable, look no further as this product has you covered. It is great for both newbies and expert guitarists who play all the time. This one too rotates to a full 360 degrees which make it very easy to use. You can use it with the capo too.
It has a clean design with the LCD having three bright colors that make it very legible. It comes with a manual too that makes things further easy. If you are a beginner then this is the good thing for you as you will get precise tuning and you will find it relatively easy to use.
---
Best Polyphonic Tuner:
TC Electronic's innovative polyphonic tuning allows you to strum the guitar and concurrently tune each string instead of the usual one-string-at-a-time method. Thanks to this technology, tuning time is dramatically cut down without sacrificing accuracy or functionality. This technology is also available in clip-on format, carrying over the same tuning precision and innovative multi-string tuning but in a more accessible and affordable format.
This impressive tuner lets you tune your guitar in three ways, polyphonic for quick one strum tuning, traditional chromatic if you prefer to tune by string, and an ultra precise +/-0.02 cents "strobe" tuner mode which is ideal when you are setting up your instrument's intonation.
---
Best Pedal Tuners:
Korg's Pitchblack design has been refined many times over its eight-year lifespan – its mini and polyphonic editions being the most notable – but with the Pitchblack Advance, the company reckons it's crafted "the ultimate pedal tuner". Key among its new features is a 60-hour battery life from alkaline nine-volts, as well as the ability to limit power supply interference via "software control".
The pedal's slanted design offers improved visibility, aided by high-brightness colour LEDs, which nearly double the size of the note name display and are easily viewable in all light conditions. Accuracy in strobe mode is +/- 0.1 cents, while other meter display modes include regular, half-strobe and mirror mode.
---
Boss created an industry standard with the TU-2 pedal tuner in 1998, and its successor offers a number of improvements on the classic format. The TU-3 is quoted at +/-1 cent over a 23-segment LED display, which means it tunes more accurately. Other functions include drop tuning up to six semitones and bass tuning up to three flats.
A new high brightness mode means that maximum current draw is up from 55mA (TU-2) to 85mA. Using the recommended Boss supply and a PCS-20A daisy chain, the TU-3 will also pass power to a total of 200mA to up to seven other pedals. Boss is resisting true bypass switching, which may be an issue for the tone-obsessed, but the usual Boss buffered output helps when using long leads and numerous pedals.
---
Best Pedal Tuners:
The Korg CA-40 has a handy battery saving feature where it turns itself off when left on unused for 20 minutes. It's not specifically designed for guitar but has found a place with guitarists who also play other instruments from ukulele to brass and woodwind, or who share it with others at home who play those instruments.
Although it does have a bypass output jack which Korg say is good for live use, like all handheld tuners it's not particularly practical for guitarists to use during a live performance setting but is fine for tuning in between sets, home use and practice sessions.
---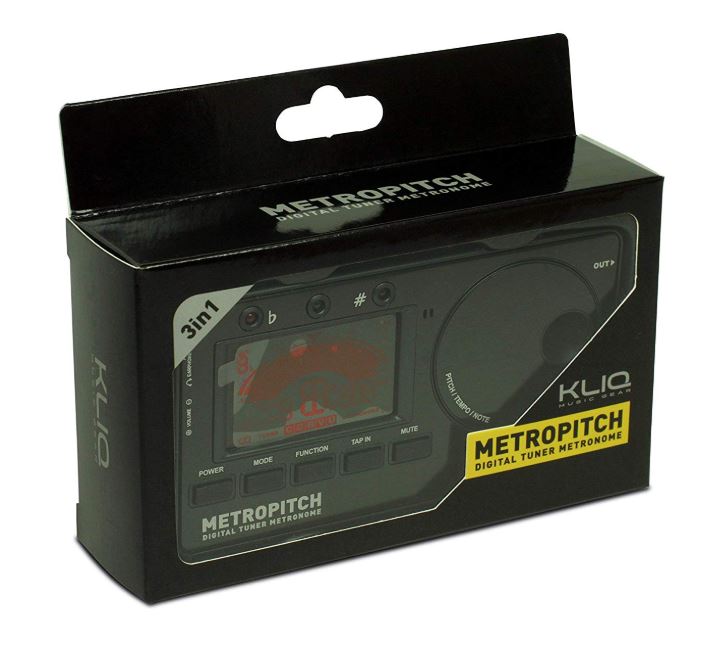 The Kliq Metropitch is a pocket-sized tuner that includes not only an accurate tuner but a metronome and tone generator. It's perfect for the musician on the go who doesn't have a ton of room to store a larger tuner, as it can fit into even the smallest of gig-bag pockets.
With a wide range that stretches from A0-C8, you can tune to your heart's desire. There are also a wide array of tuning modes and transposition settings, making it easy to tune your other instruments when you're done.