If you're just now dipping into the synthesizer market for the first time, you've likely already realized that it's just as vast as it is exciting. Though no one is complaining about being spoiled for choice, it can be difficult to pin down exactly what your list of choices should even be.
The best synth for beginners will be small and compact, easy to use, compatible with the desired setup an deliver high quality sound. There is so little information on synths, which may make it tough for producers to find an option to suit their needs. If you are looking to revitalize your sound and believe that synths could help you out, you've come to the right place. This guide will help you understand all your options and help you find the best synths available for producers who are just starting out.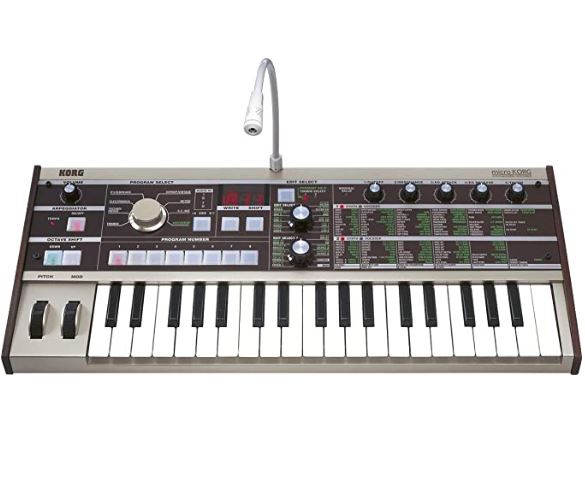 The MICROKORG boasts the same dual-oscillator DSP synthesis engine found in korg's critically acclaimed MS2000 and offers a wider selection of waveforms than any other modeled synth. Oscillator 1 features a total of 71 waveforms. These include traditional analog waves like Saw, Pulse, sine and noise, Plus more unique choices like Vox wave and cross wave. Together they provide a cool selection that can be modulated to produce an extensive range of timbres.
In addition, 64 exclusive dwgs waveforms from korg's classic dw-8000 enable the MICROKORG to reproduce a broad collection of imitative sounds. Sounds like bells, electric pianos, guitars, basses and more that would be difficult reproduce on an analog synthesizer. You can also apply ring and sync modulation from oscillator 2 to create the kind of complex timbres that are the true sign of an advanced synthesizer.
---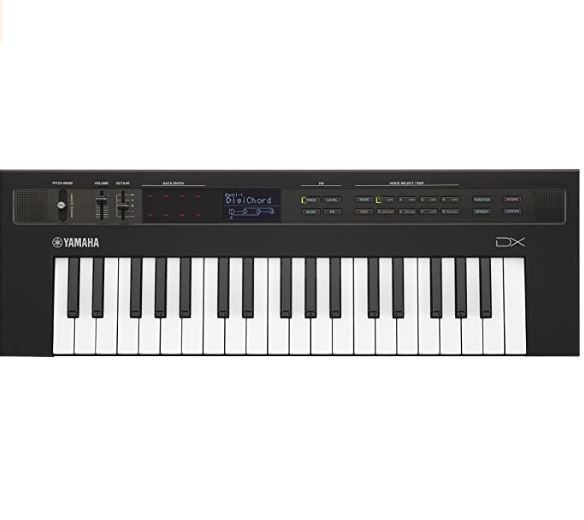 The keyboard is based on the FS action found on the flagship Motif XF, HQ (High Quality) Mini Keys provide premium feel and response for fast, accurate and natural playing. 4-operator FM Sound Engine offers dynamic and expressive additive synthesis. Two programmable effects blocks with seven effect types per block. Multi-touch control Surface for direct access to parameters.
2W 3-centimeter stereo speaker system lets you play any place, any time. Specially designed bass reflex port technology enhances bass response for full, rich sound. Dual 1/4-inch unbalanced line outputs provide connection to mixers, audio interfaces, DI boxes; A 3.5-millimeter aux line input lets you connect and hear mobile devices, tablets and more through the instrument.
---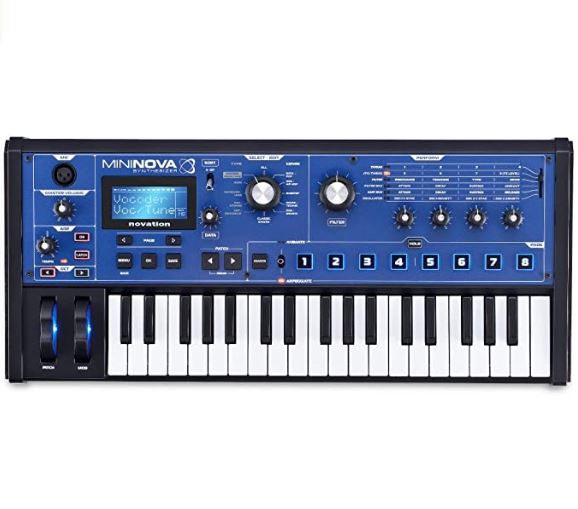 Focusrite MiniNova is a powerful mini-keys synth with incredible performance controls, which enable you to tweak and warp the onboard sounds and your own voice. It has the same synth-engine as UltraNova, and comes with 256 sounds. It also has a fully editable Nova-class synth engine. MiniNova' s compact size, massive sound, and performance/editing controls make it perfect for producers, gigging musicians, and anyone creating music with computers.
MiniNova has 256 onboard sounds and space to save another 128 sounds. It comes with a free software Patch Librarian so you can store as many sounds as you want on your computer. MiniNova has knobs that allow you to tweak and edit sounds, but it can also 'animate' sound with 8 back-lit buttons. These trigger 'mods' in the synth engine can warp sound in incredible ways.
---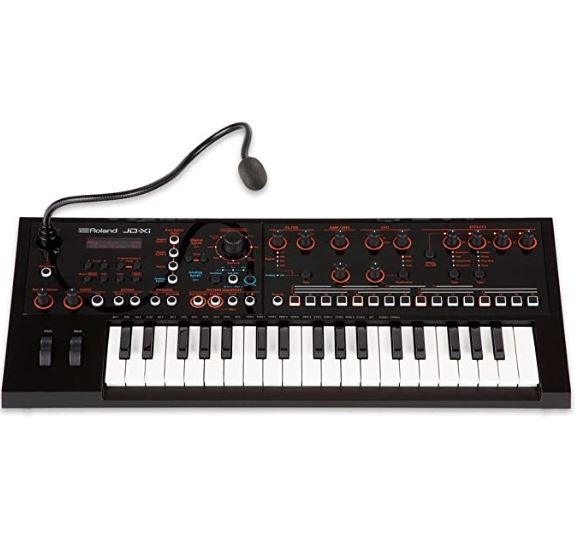 Tiny, mighty, and affordable, the Roland JD-Xi puts a true analog synth engine, Roland's famous SuperNATURAL synth sounds, and many other creative tools under one hood. Equipped with 37 mini keys, this compact instrument delivers fat, warm analog bass and lead tones with ample controls for hands-on tweaking, plus polyphonic PCM essentials like pads, strings, brass, and more. Create impressive loops in a flash with the pattern sequencer and built-in drum kits, and explore expressive vocal textures with the gooseneck mic, Vocoder, and AutoPitch.
Equipped with 37 mini keys, this compact instrument delivers fat, warm analog bass and lead tones with ample controls for hands-on tweaking, plus polyphonic PCM essentials like pads, strings, brass, and more. Create impressive loops in a flash with the pattern sequencer and built-in drum kits, and explore expressive vocal textures with the gooseneck mic, vocoder, and auto pitch.
---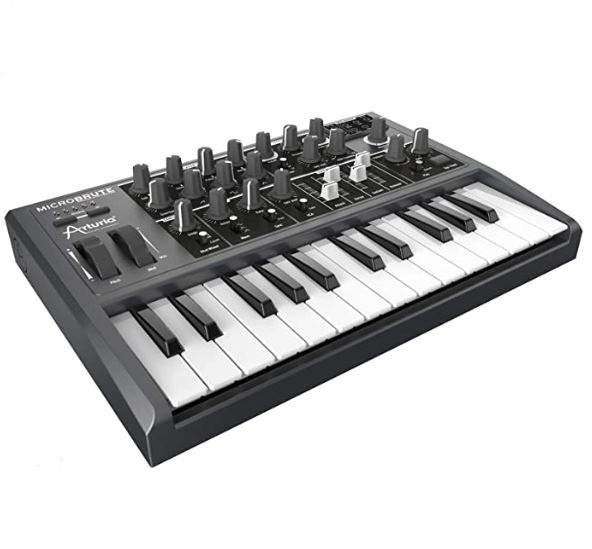 The MicroBrute is smaller in size but retains the pure analog sound, the famed Steiner-Parker filter as well as Arturia's multiple wave oscillator with wave-shapers. No shortcuts were taken in making sure that the MicroBrute sound stands up to any analog synth on the market. New Features Step sequencer: Arturia has added a new step sequencer for generating patterns. This easy-to-us step sequencer is reminiscent of sequencers found on the Sequential Circuits Pro One as well as the rare and classic Oberheim DS-2a.
Updated Sub-oscillator: The new sub-oscillator allows for adding an octave down as well as the ability to mix in a 5th up harmonic. This allows this single oscillator synth to sound like a monster with multiple oscillators. The MicroBrute is the smallest and most powerful analog synth on the market and it promises to set a new standard for analog synth sound and price.
---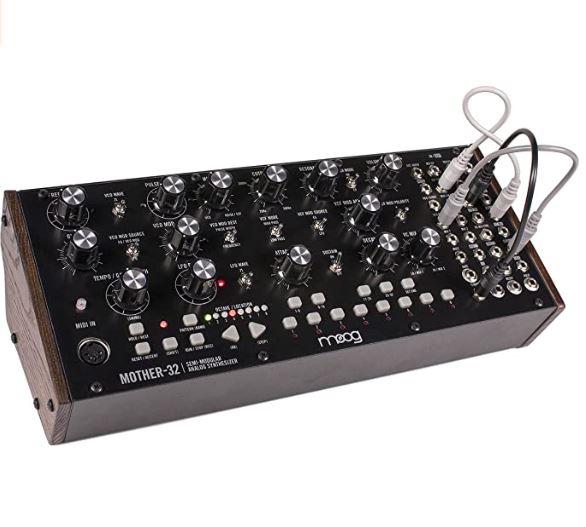 It is a distinctive analog instrument that adds raw analog sound, sequencing and extensive interconnectivity to any electronic or modular ecosystem. This expansive new live performance and production instrument is handcrafted in Asheville, NC and has been meticulously designed to provide musicians with a diverse array of creative tools to inspire new music, unique sound and endless sonic exploration.
Mother-32 comes secured in a rugged extruded aluminum enclosure with wood sides and features a voltage controlled 32-step sequencer with 64 sequence locations, definitive Moog low pass and high pass Ladder Filter, 2 voltage controlled mixers, a classic Moog oscillator with dual outputs, wide-range LFO with audio-rate modulation capability, MIDI input and MIDI to CV conversion, a modular patchbay with 32 patch-points for extended synthesis complexity and an assignable CV jack with 16 assignable sources.
---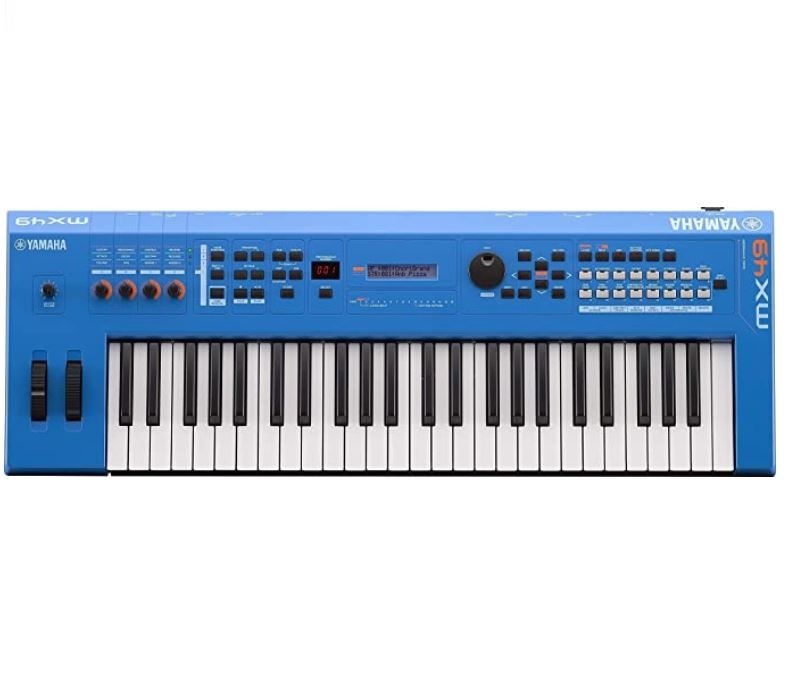 The MX BK/BU is a compact, lightweight Music Synthesizer with over 1000 Voices from the legendary MOTIF series plus deep computer and iOS integration. The MX BK/BU features a Class Compliant USB audio and MIDI interface for plug-and-play operation with your Mac, PC or iOS device.That powerful sonic palette is packed into sleek packages (available in 49- and 61-note versions) that fit today's on-the-go life style. But the MX BK/BU Series aren't just synthesizers; they are designed to bridge the gap between hardware and software.
By adding extensive audio and MIDI USB connectivity, advanced DAW and VST controller features and a suite of powerful music production software, the MX BK/BU integrate hardware reliability with controller flexibility to give you the best of both worlds at a ground breaking level of affordability.
---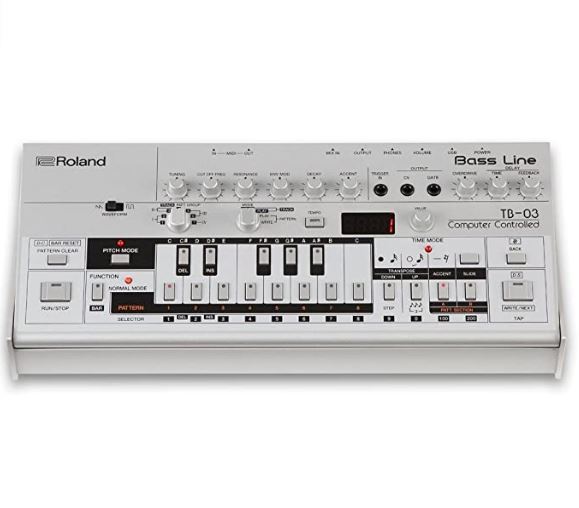 The battery-powered TB-03 is a direct descendant of the famous TB-303 bass line synth. The layout and controls are unchanged, so it works Just like the original. It sounds like it too, thanks to Roland advanced ACB technology that recreates the hypnotic liquid grooves of the magic silver box. But the new TB-03 goes even further, with several enhancements not found on the original model.
The four-digit LED display makes programming easier and more accurate, while overdrive and delay effects let you unleash a twisted, tribal wall of sound to send the crowd into a frenzy. Back in the studio, The TB-03 can send control information via MIDI or its USB port, The latter of which also functions as a audio interface.