Teaching music to kids and learning to play an instrument can have so many benefits for your children. Encourage the kids to learn music, sing or listen to music as children's brains also develop faster when they're exposed to music.
Let the child play music and listen to music as part of their daily routine. By making it a habit, you can ensure music becomes a regular part of the child's life. A rewarding experience that can help your child improve their ability to listen and focus, promote good self-esteem, self-expression and problem-solving skills, and, best of all, help your child grow as a person.
Mussila Music School

Musilla Musical School is one of the best music apps for children 6 to 11 years of age in which they learn the basics of music. Mussila is an award-winning music learning app for kids with hours of musical lessons, challenges and games carefully crafted by musical experts and educators, designed to provide a playful experience.
This beautifully presented app explores the adventures of the Mussila band on a musical journey. Help them find instruments, costumes and create your own music. The app is based on a music curriculum and the player progresses through skill building levels such as recognising instruments, instrumental sounds, rhythm and melodies. This extensive game has over 60 levels of engaging game play and creativity.
---
Loopimal

Loopimal is a seriously fun music app that allows kids (and adults alike) to explore sequences, loops, and music as they try to animate a bunch of cute animals. Children have endless opportunities to create rich compositions and explore loops and computer sequencing within an easy-to-use pre-programming framework.
Kids can learn about components of music such as beat, rhythm, melody, tempo, and so on. As they create patterns of up to eight musical blocks that repeat endlessly, kids experience visual and auditory loops and sequences. The animals' movements also help give a good sense of tempo and movement as it relates to music.
---
Sago Mini Music Box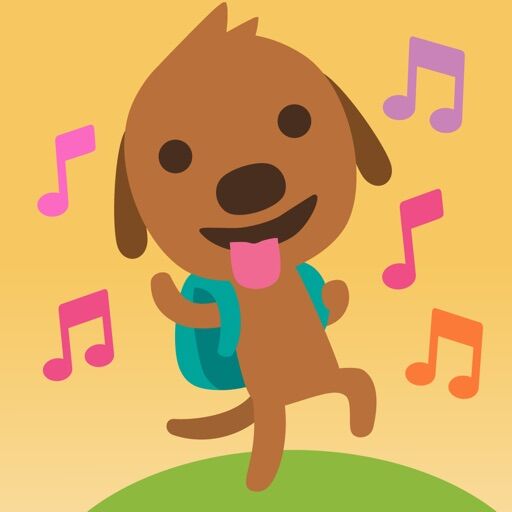 Sago Mini Music Box is a fun musical app. The app gives the child the opportunity to play a song. As the child taps the screen, a song plays and objects appear on the screen. The child can also learn new vocabulary and basic concepts and follow verbal directions.
Educational PreSchool Songs is another preschool music app for kids to learn through music, singing and fun. Learn with Hip Hop Kangaroo, Poppy Platypus and Kula Koala as they explore the world around them through fun songs and music videos filmed in Australia. Entertainment, education, songs, and puppets – Hip Hop Kangaroo and Friends brings a modern spin to a classic children's learning experience and offers great fun.
---
Baby Mozart – Children Music

Baby Mozart Children's Music is a unique application that is guaranteed to help improve your babies' sleep and help develop their brains by listening to music. The application is full of content and includes high quality popular classical music tracks, lullaby's, audio flashcards, nursery rhymes and much more.
The app is free from in-app adverts although there are in-app purchases that relate to other musical packages that you can purchase such as Popular Kids songs, Children's Classic songs, Christmas Classics and more.
---
Mazaam – The Musical Genius

Mazaam is an engaging kids music app to develop their understanding of music through a range of games and levels. It is ideal for parents to work alongside their children, play games with them, and check their understanding.
The games are full of fun and colour, and students wouldn't be able to recognize that they are learning, as they will be having a lot of fun. It is a complete and beneficial musical experience that introduces children to classical music. The app allows you to discover five worlds for Pitch, Tempo, Intensity, Timbre, and Harmony.
---
Piano Maestro by JoyTunes

Piano Maestro by JoyTunes is an engaging music practice app and effective bridge among the teacher, parent and kid. It is a free music app for kids to learn music.
Kids can learn and hone beginning piano skills as they practice simple songs and hone their sight-reading skills. They can practice techniques as they play with each hand and then both hands together, and they can ramp up to more intermediate skills such as chords and arpeggios. Kids can also learn consistent practice habits as they earn stars and level up based on their performance.
---
BabyFirst: Bedtime Lullabies

BabyFirst Sleepy Time app for kids is one of the best baby music app that brings all of your favorite naptime or bedtime music for you and your kids to get ready for sleep. From soothing music for babies to classic lullabies, nap time and bedtime won't be the same as before. The app has carefully crafted music and songs to appeal to babies and toddlers. With beautiful animations and videos to accompany the audio in each story, your little ones will love falling asleep to our lullabies.
---
Musical Me! HD – by Duck Duck Moose

Musical Me! takes children on a magical, musical journey. Explore elements of music with familiar Duck Duck Moose Characters and superbly arranged children's songs. Enjoy little surprises throughout this app as your child learns about rhythm, instruments, pitch, and musical notes. Sit down as a family to dance, laugh and create music with Musical Me!
Kids can learn some of the basics of music, including rhythm, notes, and instruments as they play along to familiar tunes like "Mary Had a Little Lamb," "Twinkle Twinkle Little Star," and "Pop Goes the Weasel." Music engages many parts of the brain, and through playing with rhythm, memory, and notes, kids can develop critical thinking skills and sharpen memorization skills. Musical Me by Duck Duck Moose is an engaging app that offers kids a variety of ways to make and experience music while boosting their critical-thinking skills.