To achieve the best quality of recording, every detail matters, It is true that technology has completely changed how we record, making it easier and cheaper for everyone like you and me to make great music, there are a few things are exactly the same now as they have always been, You still need a microphone, and you still need a mic sand to hold it to wherever you want to free your hands.
The ideal stand plays a much more significant role in recording than you may think. Overall quality of recording depends on the sound emitted from the mic, which is supported on the stand. If the stand cannot be properly adjusted, the grip slips, or it cannot effectively support the microphone in a desired angle for optimal sound quality, the performance suffers. In this article, we are going to review 8 of the best Mic stands, no matter for stage or for studio, they will provide great support.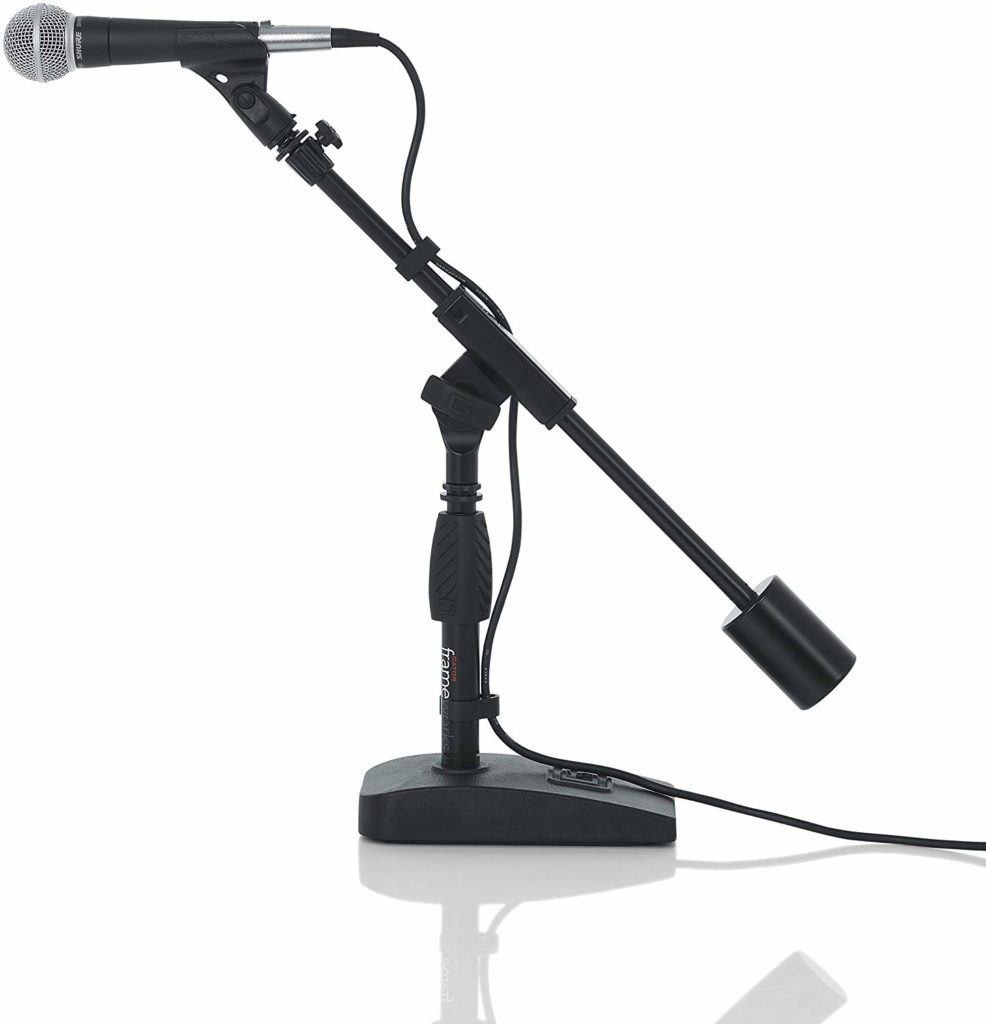 At full extension, the GFW-MIC-0822 can hold up to 1.5lbs. It also comes equipped with a 2.5lbs counterweight to offset heavier mic loads. The stand's low-profile range and weighted base provide the ideal solution for desktop recording scenarios, such as podcasts, broadcasts and quick vocals, as well as floor applications for miking kick/bass drums, guitar/bass amplifier cabinets, tops and bottoms of snare drums, keyboard amplifier speaker enclosures, and many more.
The compact base helps to reduce the stand footprint in tight-space situations, both in the studio and on stage. It includes a 27" telescoping boom arm, twist clutch height and angle adjustment, a clip for cable management, and a no-slip, vibration-reducing gasket underneath the base.
---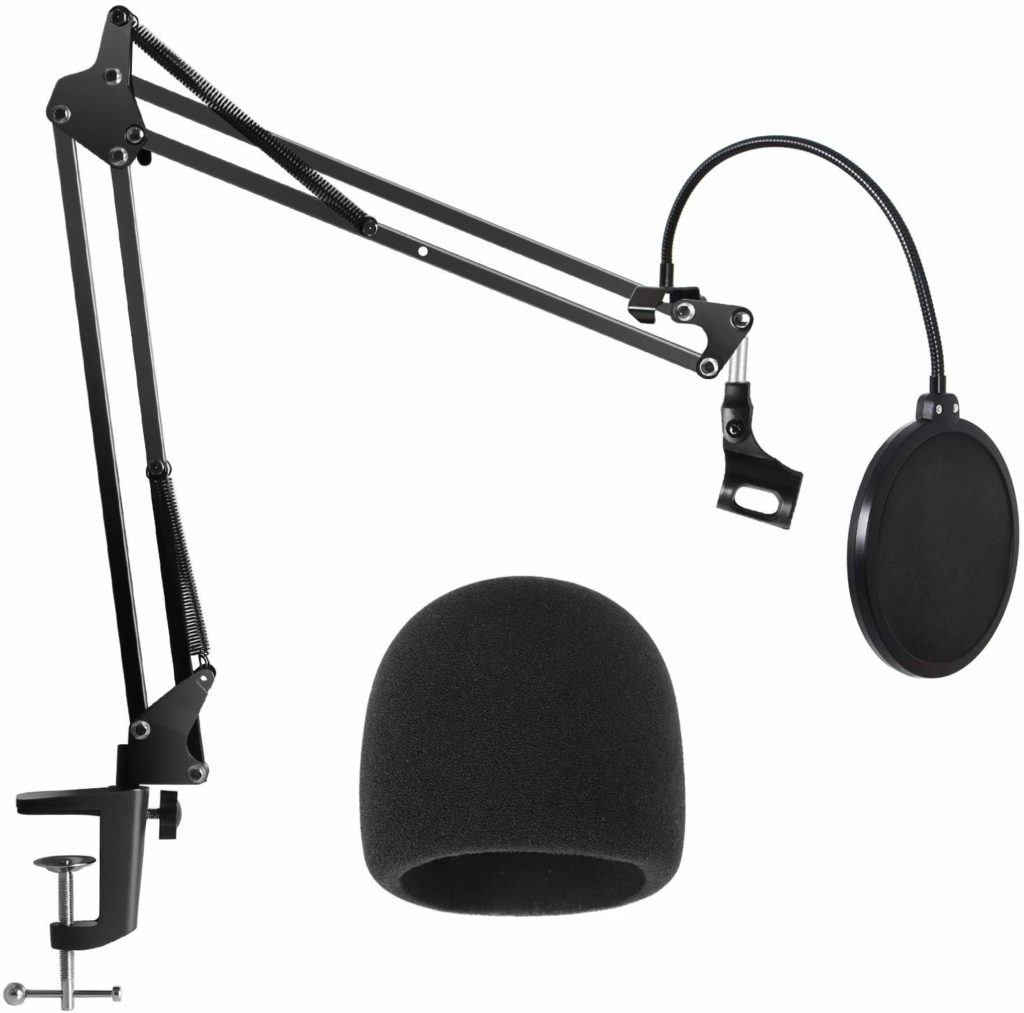 The extra strong spring prevents the microphone from accidental dropping, noise generation and shaking. It has a table mounting clamp and protective layers of sponge. An adjustable positioning screw can easily clip to any desktop with a thickness of 2″. It comes with a detailed instructions manual and pricey acoustic foam material, allowing you to filter out additional background noises.
It works well with Snowball, Blue Yeti and Blue Yeti Pro as well as various other microphones. Package includes all the items you need for studio recording and live sound, a microphone stand, pop filter and one pack microphone windscreen.
---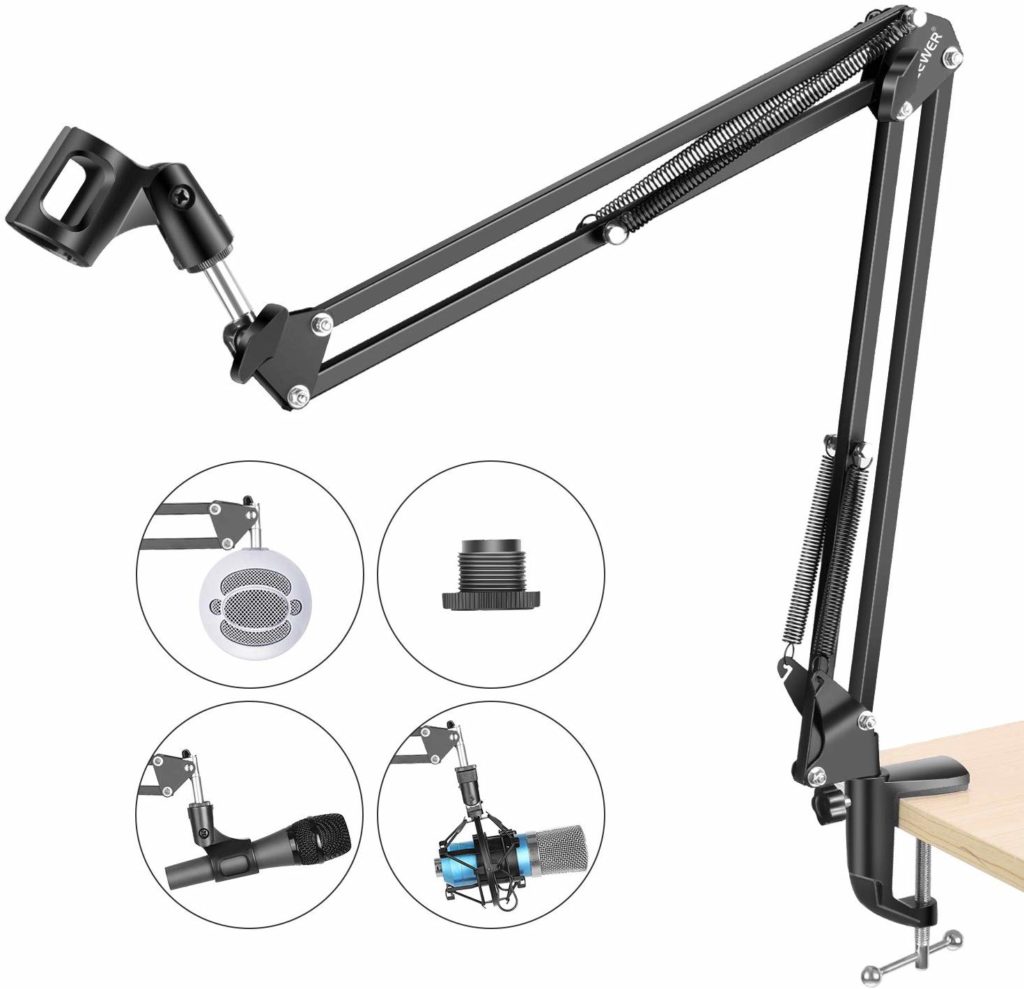 Neewer produces accessories and equipment for photo, video, music. Its production also offers a large number of stands and brackets for all occasions. Of all the microphone stands by this brand, the Neewer NB-39 opens our top 10 due to its low cost and length of 110cm. The material of the case is made quite qualitatively and there are the elements on the case fixing the position of the stand.
It is foldable and adjustable, convenient to carry. The adjustable arms allow you to carry it with you easily and adjust the suitable angle and height to show your perfect voice. Can be mounted on the announcers' table with the Table Mounting Clamp.
---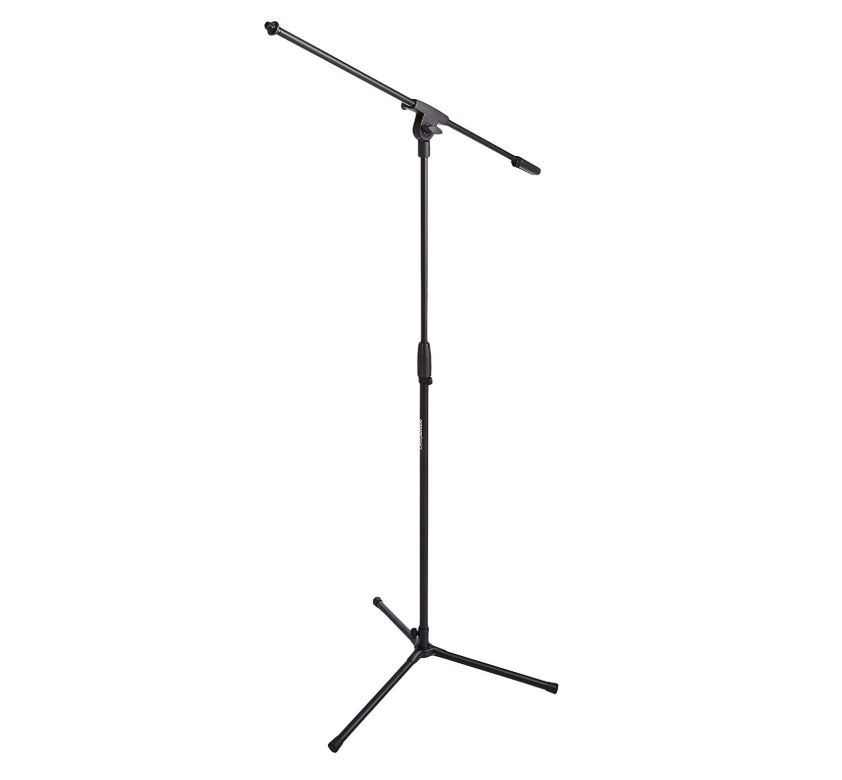 Made of durable steel, the AmazonBasics tripod boom microphone stand offers long-lasting strength and stability. It's also exceptionally lightweight, making it easy to shift its position on stage or move it from one location to another. From setup to take down to frequent loading and unloading, the durable mic stand performs beautifully and can be transported or stored with ease.
Even more, the mic stand's rubber feet reduce floor vibration, promote added stability, and protect bare-floor surfaces from scuffs and scratches. The mic stand provides two clip-on cable holders for running and attaching a microphone power cord along the stand.
---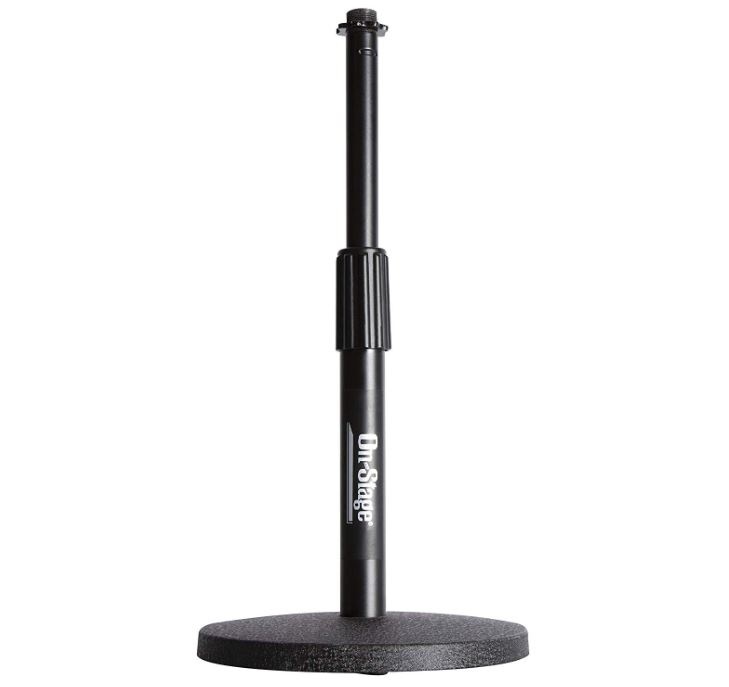 On Stage DS7200B is a very simple and high-quality table stand. We have included On Stage DS7200B in our list due to the round base of this stand, you can lock your microphone in any position and this stand will not tip in the case of most desktop stands with tripod type of base. The height of On Stage DS7200B is adjustable from 9" (22cm) – 13″ (33cm), a diameter of a round base is 6" (15cm). The whole stand has metal housing.
The solid sand-cast base with five rubber feet adds stability. The removable shaft is available with a black powder coat finish (DS7200B) or chrome finish (DS7200C). In addition, you can use this stand to record or voice a kick drum, guitar amplifiers, piano, etc.
---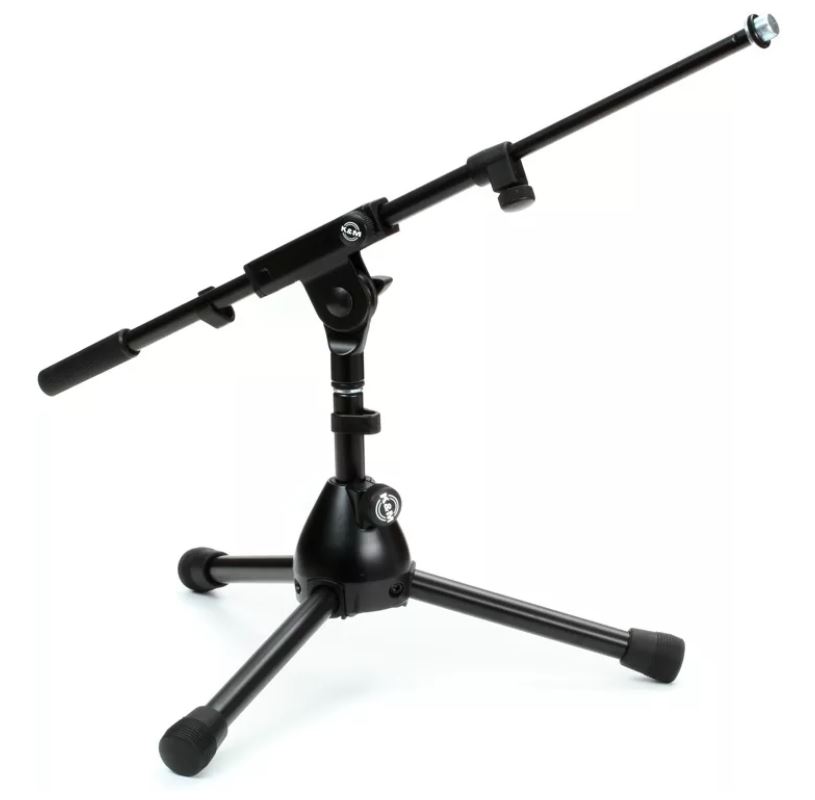 Whether you are a beginner or a professional – König & Meyer offers optimal music accessories for any area of application. First-rate materials and optimized product processing result in tangible manufacturing quality right down to the smallest details. Metal and plastic parts are manufactured in-house and we have been developing and building tools and equipment ourselves for many years now.
This tripod extra low-level floor stand is particularly suitable for bass drums or bass amplifiers. Very short and heavy legs mean this stand needs very little standing space. A telescopic boom arm completes the features of this compact unit. Made in Germany.
---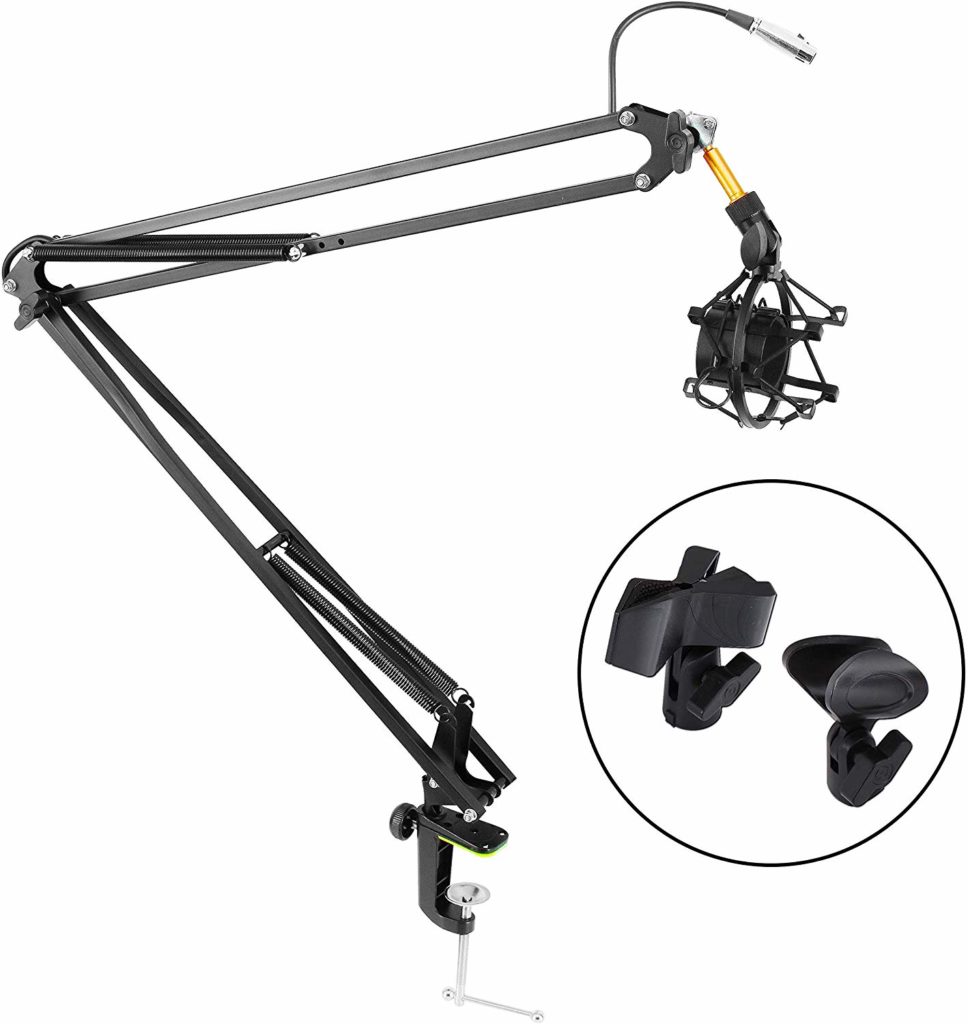 The Pyle boom microphone stand is perfect for travel and quick setup. The boom stand allows you to position your mic exactly where you need it, with extending, angle and tilting adjustment. Mic arm extension distance is 3.9 ft. The microphone boom stand is made of top quality steel metal alloy and is triple braced for exceptional support and stability. Universal mounting clamp attaches to tables, desks, shelves, counters and etc.
Pyle used USA standard 5/8 inch microphone threading and adapter for the universal mic holder mount. While connector cable is at 9.8′ ft with internal cable management. The Pyle PMKSH04 is a class at its own feature.
---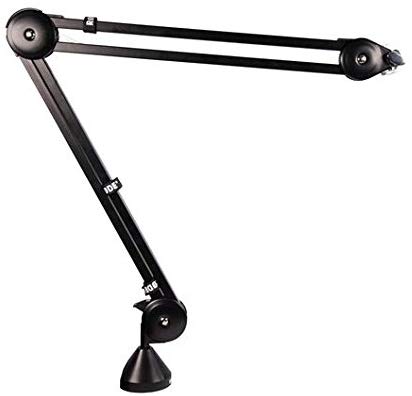 The PSA1 is a studio boom arm for radio, broadcast, studio and home use. The PSA1 offers a horizontal reach of 820mm, a vertical reach of 840mm and full 360 degree rotation. It is supplied with velcro cable wraps and both desk-clamp and desk-insert style attachments for versatile mounting in desks up to 55mm thick (clamp) or 70mm (insert). Designed for the RØDE Procaster and Podcaster, the PSA1 supports most microphones weighing between 700g (1.5lb) and 1.1kg (2.4lb) when combined with shock mount.
RØDE employs the latest technology and precision machinery to continue to keep its products at world-class standards and at a great price.