A kalimba is a remarkably simple instrument both in terms of its functionality and construction, it is a delightful instrument that is enjoyed and beloved by many players worldwide, also known as thumb piano. Kalimba produces layers of rhythmic tones and soothing, relaxing sounds. It can be played on its own or used to add flavor to compositions, yet it is still a relatively less-known instruments and making the right choice of a Kalimba, especially if you're new to it, can be overwhelming.
So in this article, we have gathered together the Top 8 Best Kalimba on the market to help you decide which one is the perfect Kalimba for you.
GECKO Kalimba 17 Keys Thumb Piano builts-in EVA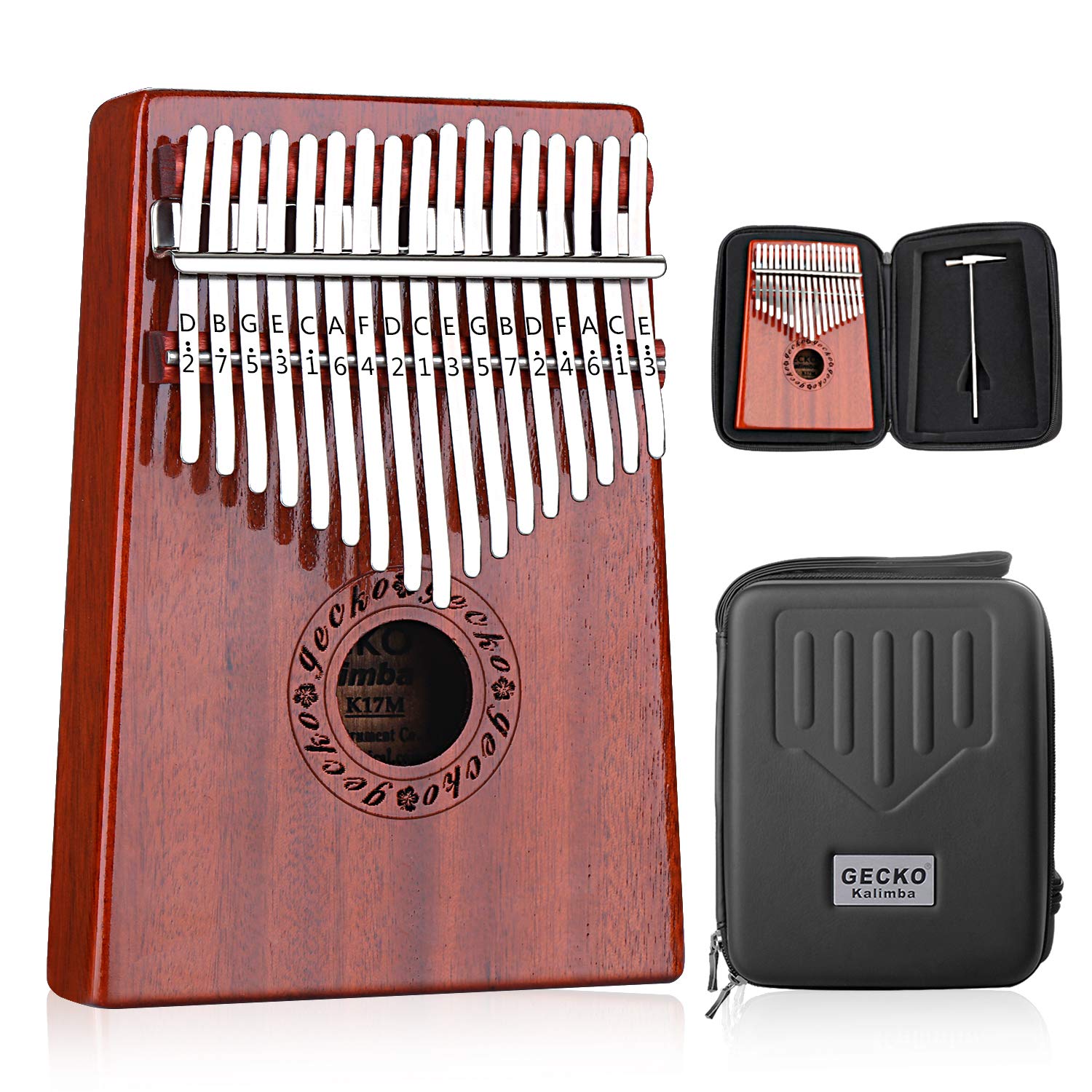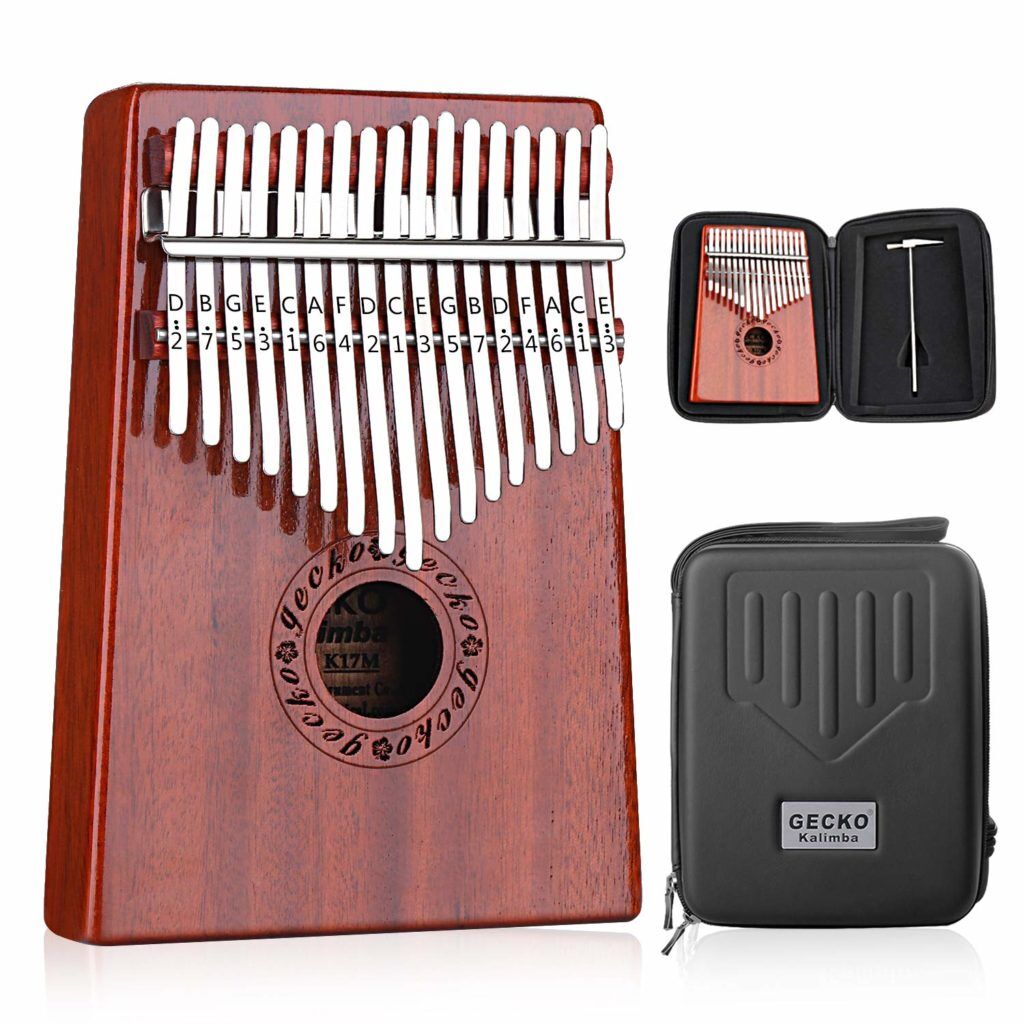 Gecko Music is a well-known company which specializes in producing Kalimba,Cajon drum. This signature product by Gecko is handmade with high-quality mahogany and ore steel bars, giving you a better sense of hearing, vision and touch. Double-screw keys are used to increase the stability of the GECKO Kalimba, and the solid mahogany gives the instrument an almost indestructible feel.
Delivering a rich and bright tone, the GECKO Kalimba also features well-placed expression holes, so adding special effects to your music is easy. If you are new to Kalimba, do not to worry, the GECKO Kalimba arrives pre-tuned and with learning book(they offer video tutorial as well), so you can start learning and playing right away!
---
UNOKKI Kalimba 17 Keys Thumb Piano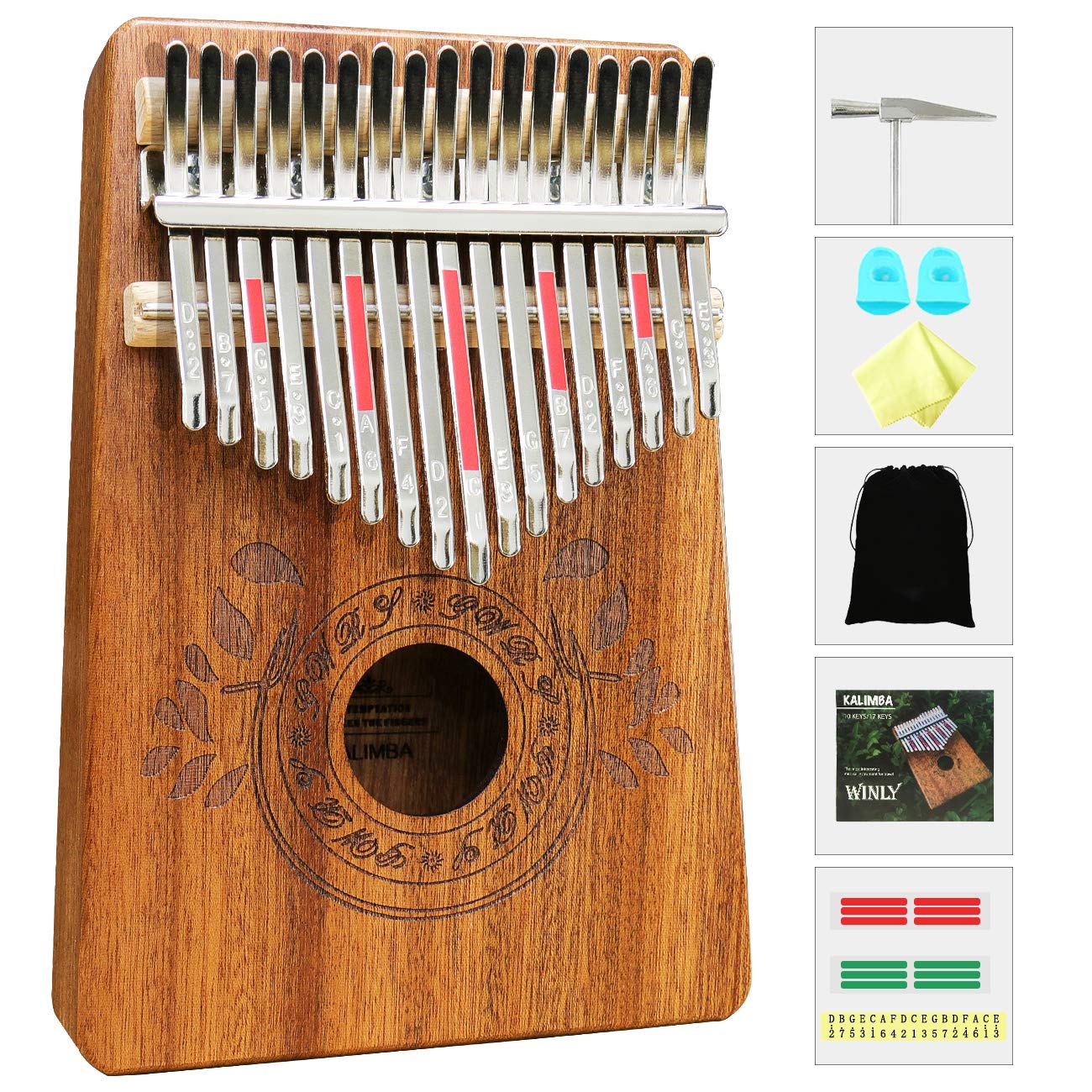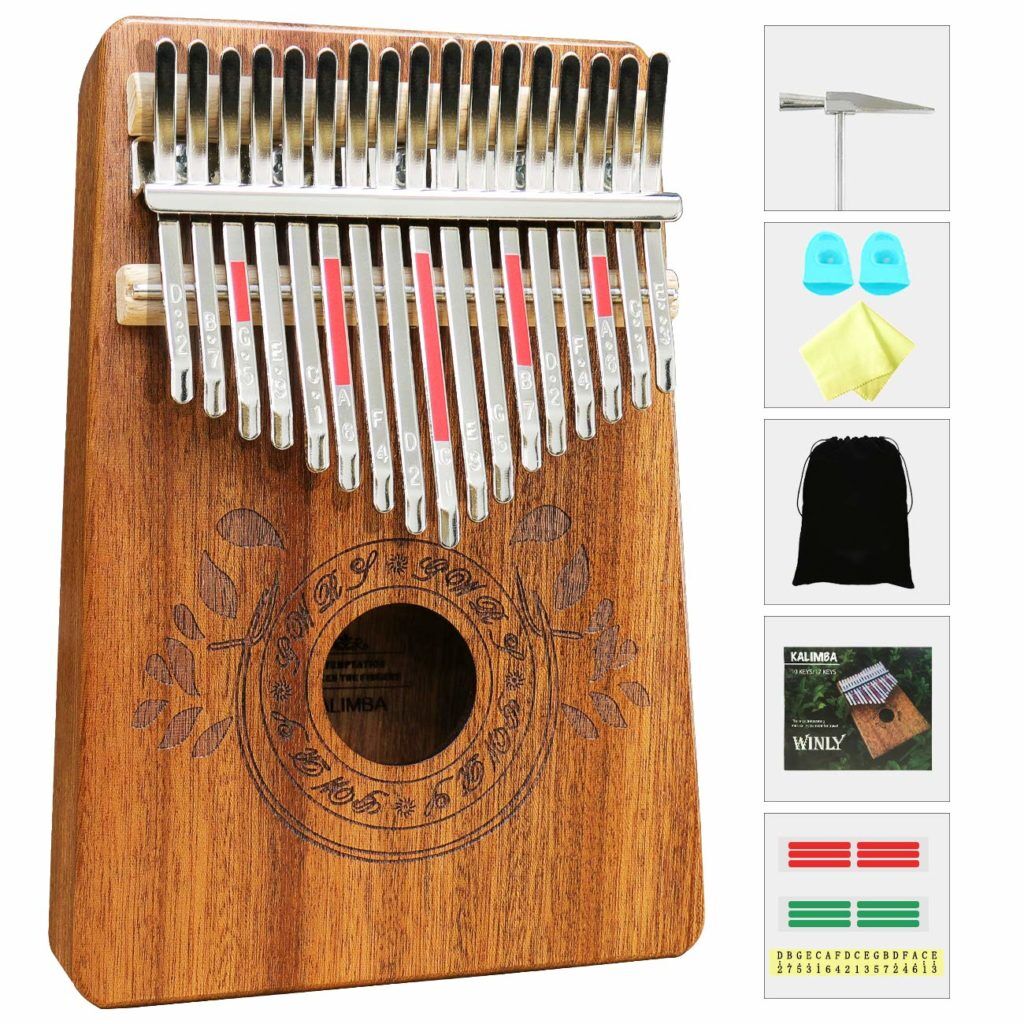 Built with solid Okoume, the UNOKKI Kalimba can vary from a rich chocolate brown to a lighter reddish color, depending on the variations in the wood. With each instrument having a slight difference in texture and color, the best kalimbas offer individuality and distinctiveness. Many players are impressed with the workmanship and the tone of the instrument.
It features manganese steel keys, there are 17 western tuned notes from C to E they are embossed with the notes and numbers to help the user learn to play with or without musical knowledge. The keys are engraved with letters and notes, more convenient than other stickers notes thumb piano. Just as GECKO, the company have also included a guide booklet to help get beginners on their way.
---
Moozica 17-Key EQ Kalimba, Electric Finger Thumb Piano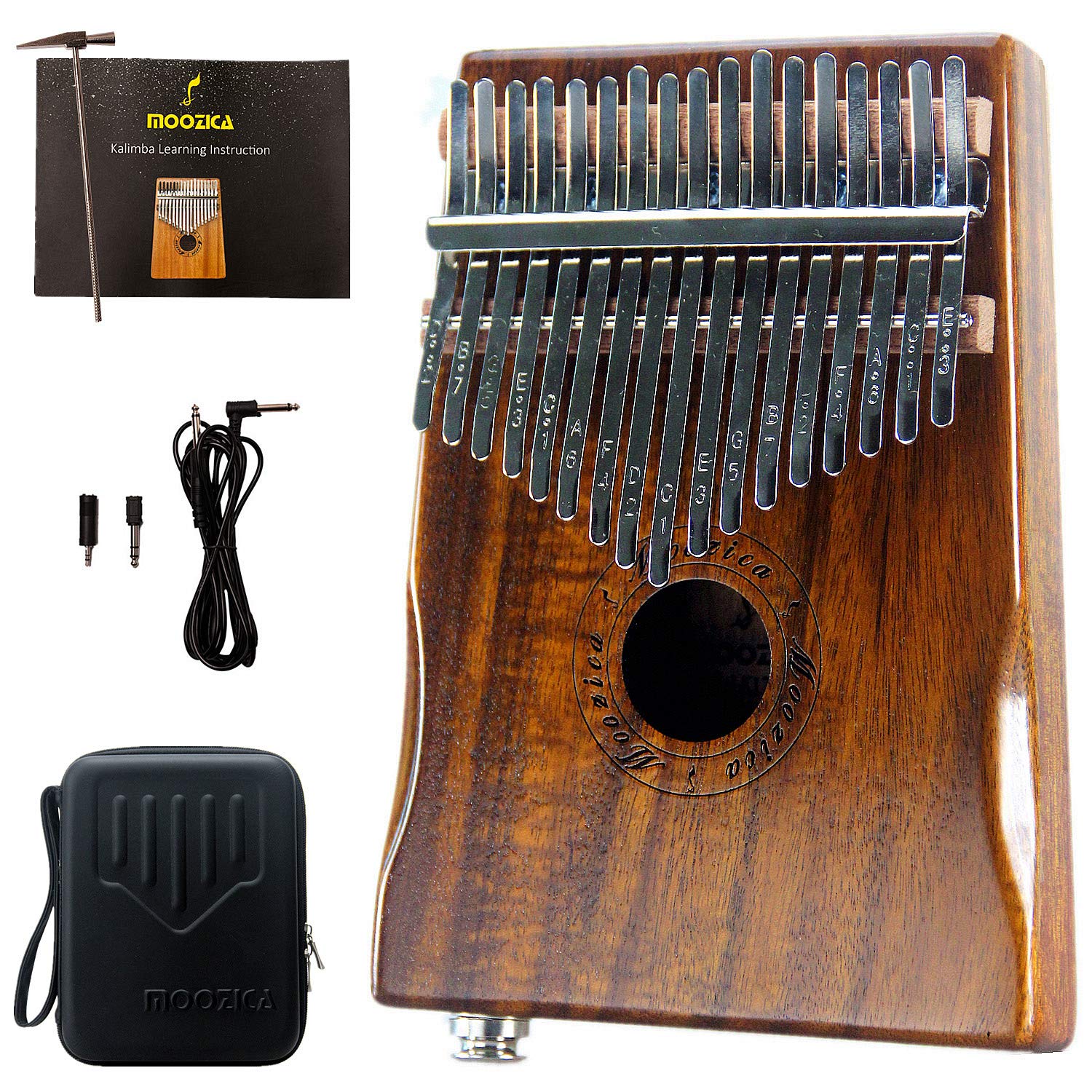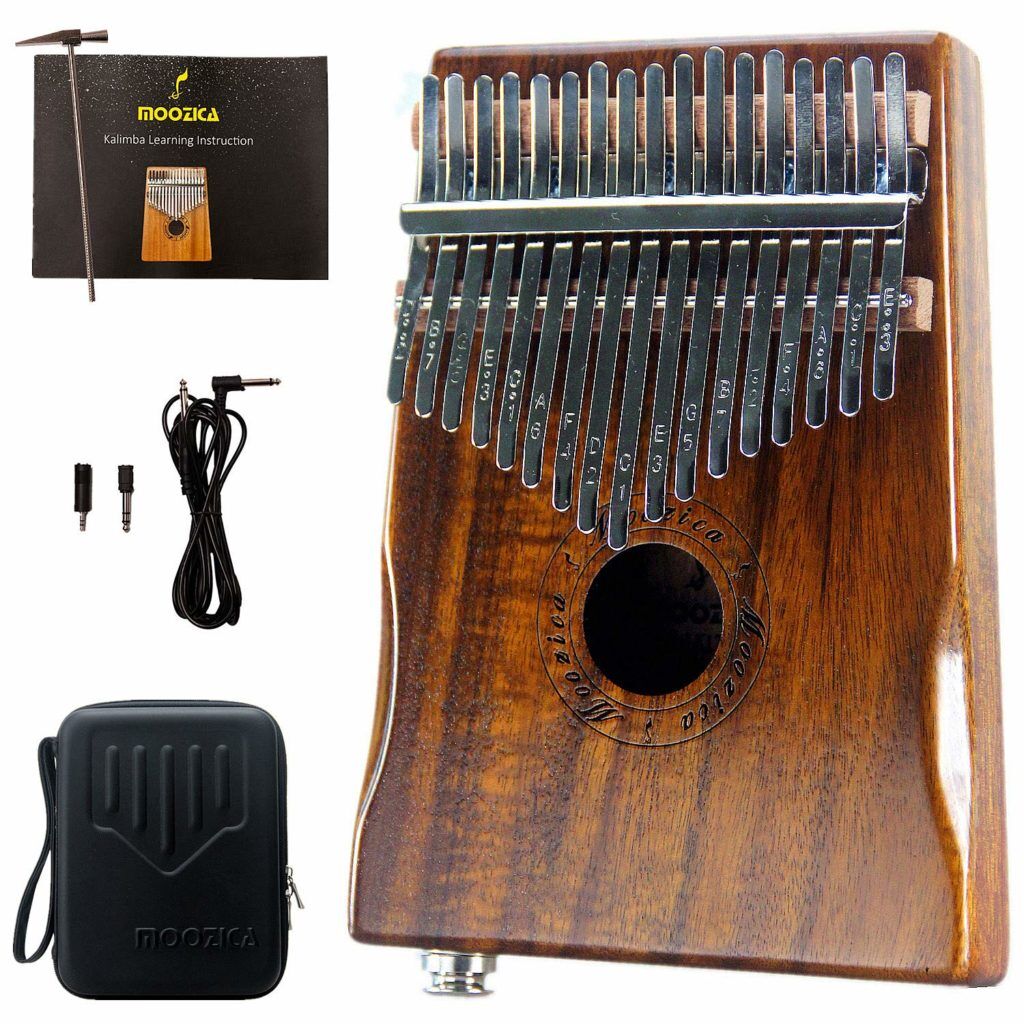 Made from solid Acacia Koa wood and Carbon Steel, the Moozica Kalimba is as much a piece of art as it is an instrument. Intricate finishing and pattern-work ensure the Moozica Kalimba looks fantastic, as well as delivering exceptional sound quality. This musical instrument is Dedicated in Sound Quality – Bright, Perfect Echo and Delay, which gives off a sweet, soothing and melodic sound.
This 17-key kalimba is in the key of C Major, featuring built-in pickup anda 6.35mm connection interface for connecting amplifier, perfect for stage performance and in the studio. It can be connected to an amplifier/effect pedal or unplugged to be acoustic. Just grab this kalimba and show your music style anytime, anywhere.
---
JDR kalimba 17 Keys Thumb Piano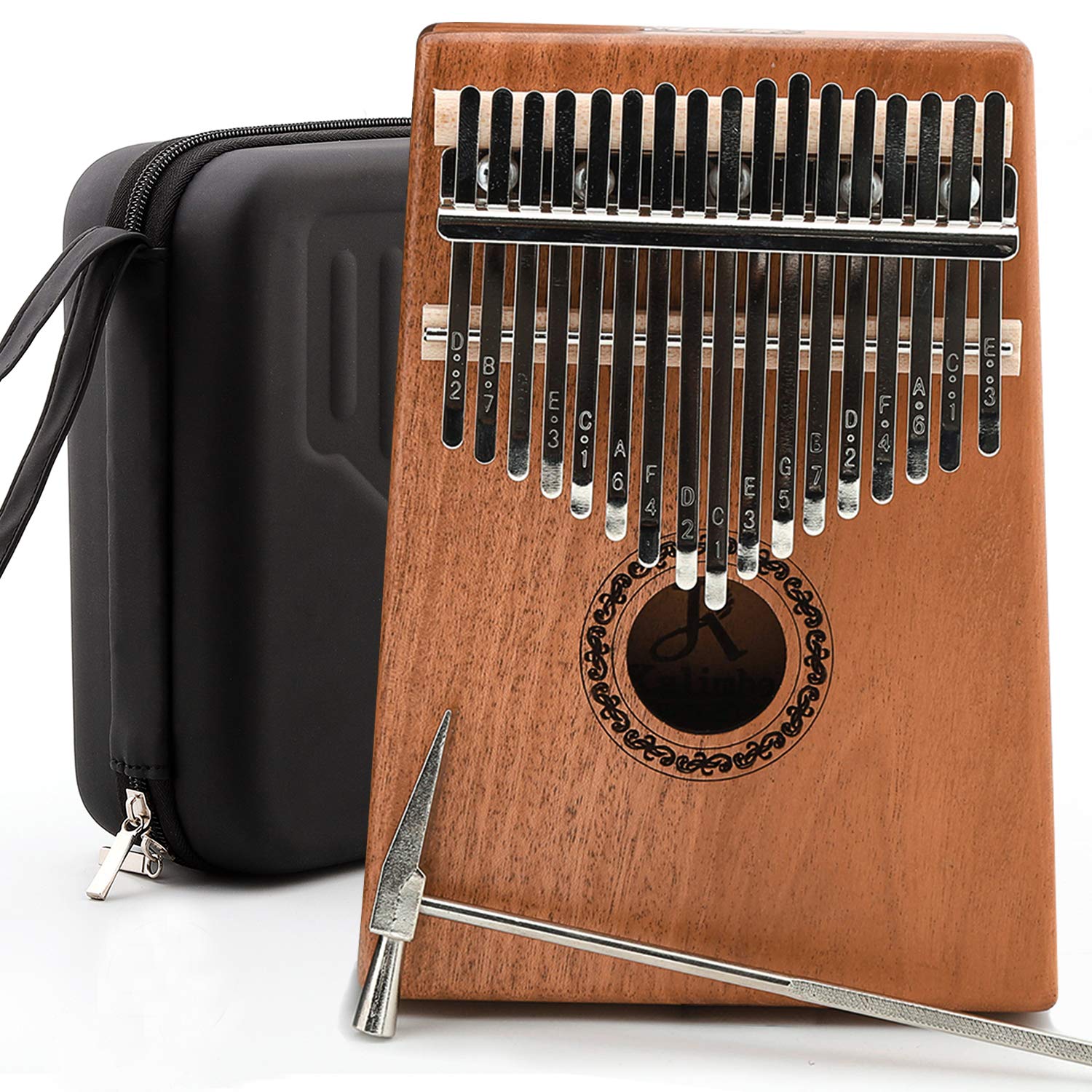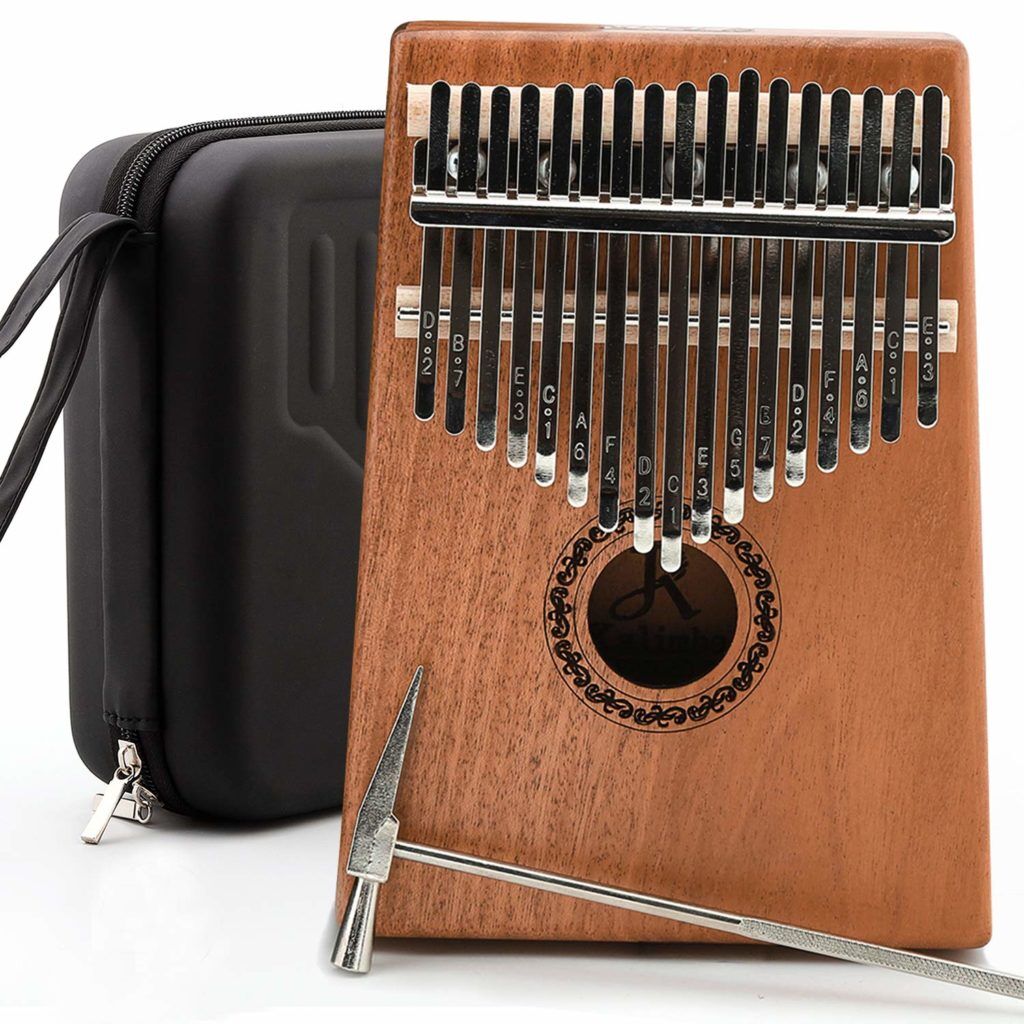 The JDR kalimb sound box is handcrafted made of 100% solid mahogany, made the sound more clean and warm. It has Manganese Steel Keys offer better toughness and flexibility than the regular 17 kalimba keys, for crisp sound and better finger touch. The sound box is handmade from solid mahogany, with variable tree growth giving each instrument a unique grain and shading.
The JDR Kalimba has embossed notes and letters, so you won't find that they wear off over time. Yet, it comes with green and red sticker decals to help make the learning process a little easier and much more visual. One extra perk is the EVA Waterproof Protective case that can prevent the Kalimba from being damaged, humidified, oxidation, scratched and so on.
---
Ammoon Kalimba 17 key Thumb Piano Solid Wood Finger Piano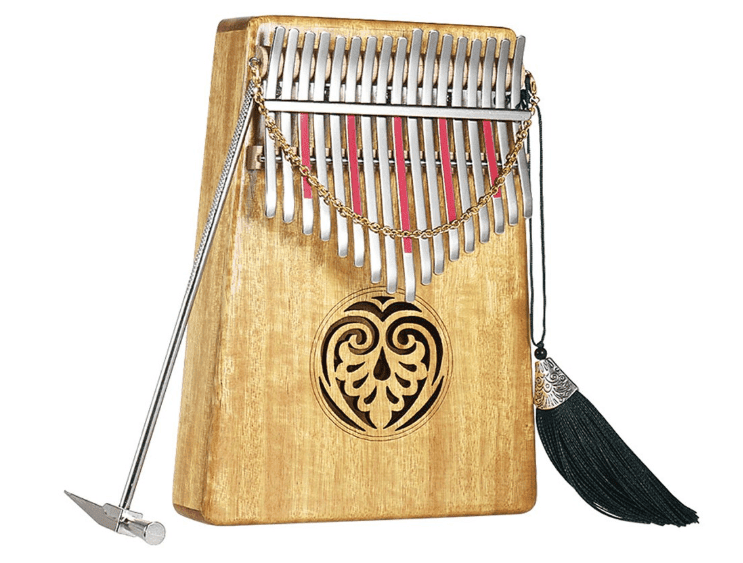 Made by high-quality solid African Piano wood, to keep the kalimba's sound is rising, fresh and natural. 17keys adjustable carbon steel tines providing longer sustain and comfortable touch feelings. This kalimba was made with exquisite workmanship, triple sound holes leading clean and clear sound. You could made creative sound effect with the two sound holes at back.
Portable palm size, convenient to carry around, you can make wonderful music anywhere; suitable for travel entertainment, religious ceremonies, relax,decompression, weddings and other social gatherings. All in all, if you want something that's truly portable, like palm-size portable, then the Ammoon 17 Key Kalimba is for you.
---
Donner 17 Key Kalimba Thumb Piano Finger Piano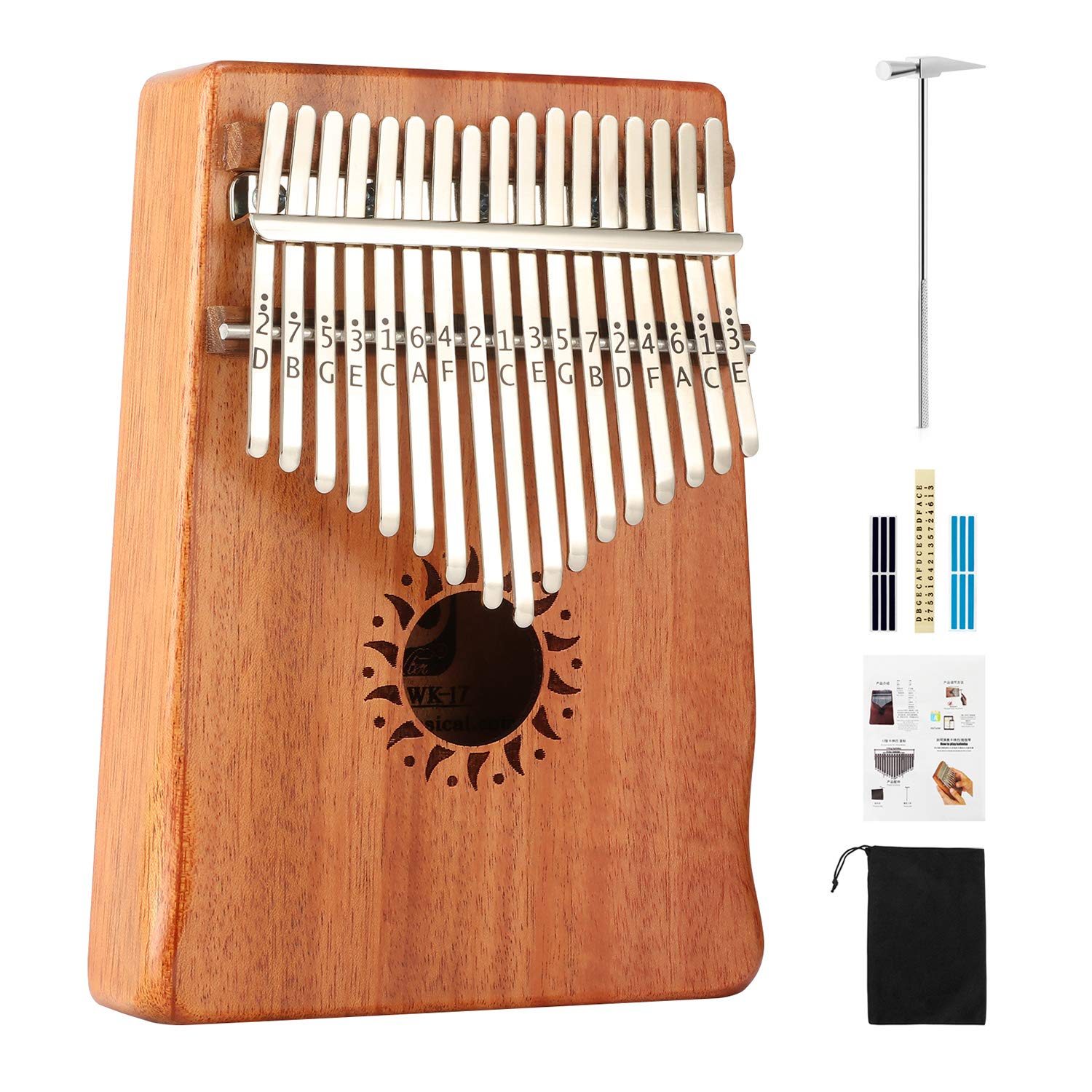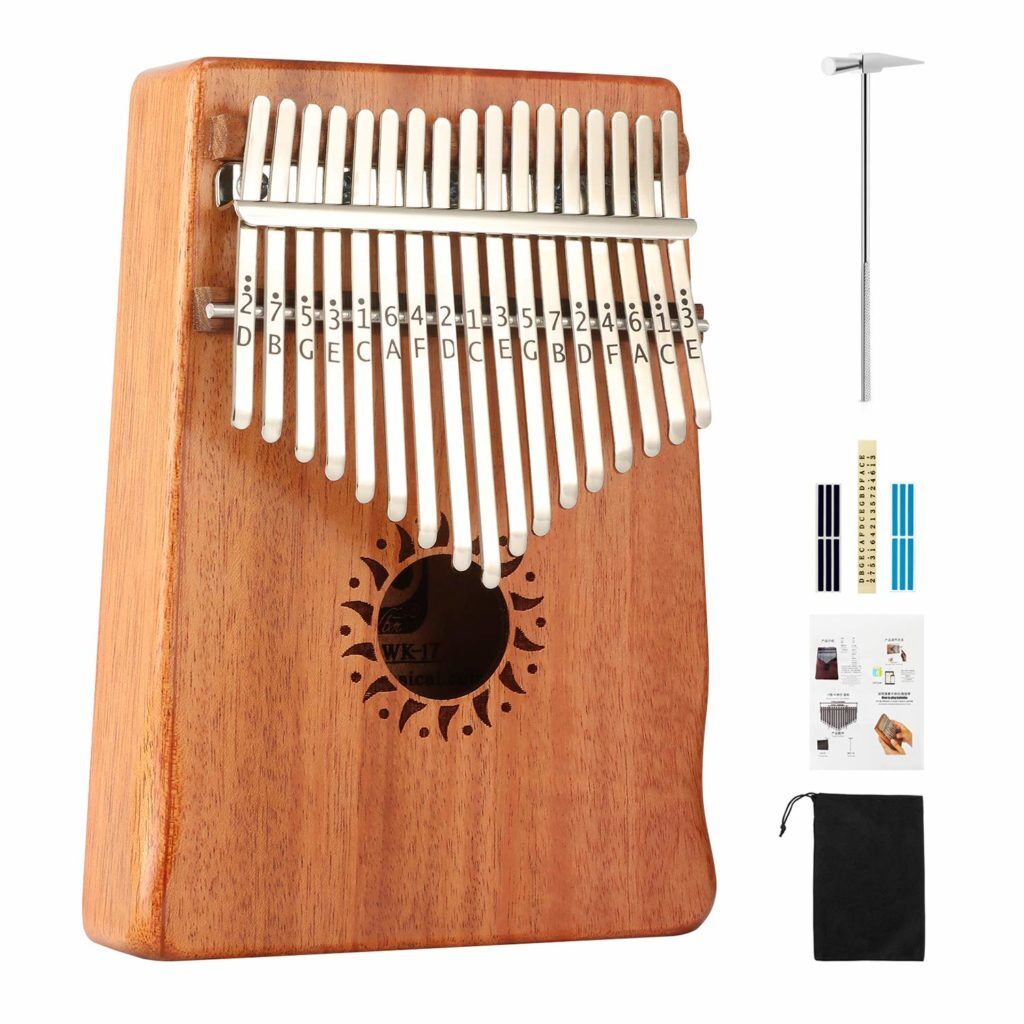 The Donner Kalimba is small and can be carried about with no stress. This portable thumb piano produces the international standard C tune when played. Solid wood body and ore metal tines providing longer sustain and comfortable touch feeling. The tune produced by the Donner when played is almost same as that produced by the piano. Kalimba Mineral Steel keys are mounted on a solid wood box that acts as the resonating chamber.
It has triple sound holes leading clean and clear sound. You could made creative sound effect with the two sound holes at back. With Built-in Pickup w/ 6.35mm End-pin Jack, can be connected with an amplifier during a public performance. This instrument is perfectly tuned and can be played upon purchase.
---
X8 Drums X8-CT-KLB Coconut Kalimba Thumb Piano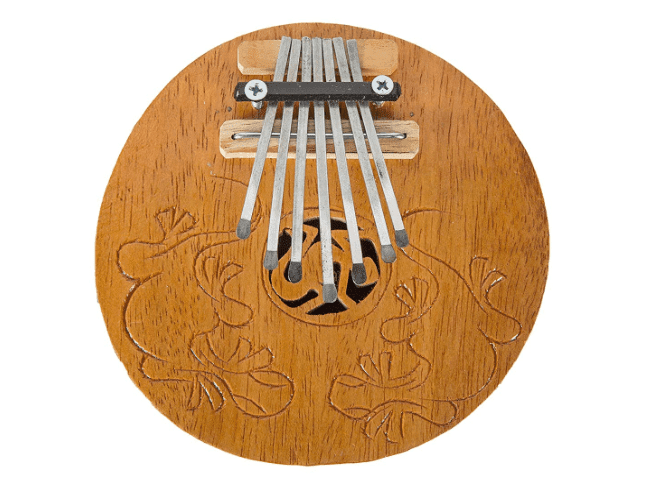 This Kalimba thumb piano is made of a coconut shell with a wooden faceplate. Features 7 metal keys and a hand carved wooden gecko design on the faceplate. This thumb piano may be tuned to change the sound by adjusting the tension of the screws. Simply loosen the screws, then move the keys in or out to adjust their length, and therefore their pitch. To adjust the sound, just tighten or loosen the two screws on the top of the piano.
This instrument made from actual coconut shell has an outstanding resonance and vibration effect. Its 7 keys are made using ore metal. It is cool to have and fun to play. Hence, the X8 Drums & Percussion is a full package of fun for its children and adult players.
---
Moozica Mahogany Tone Wood Kalimba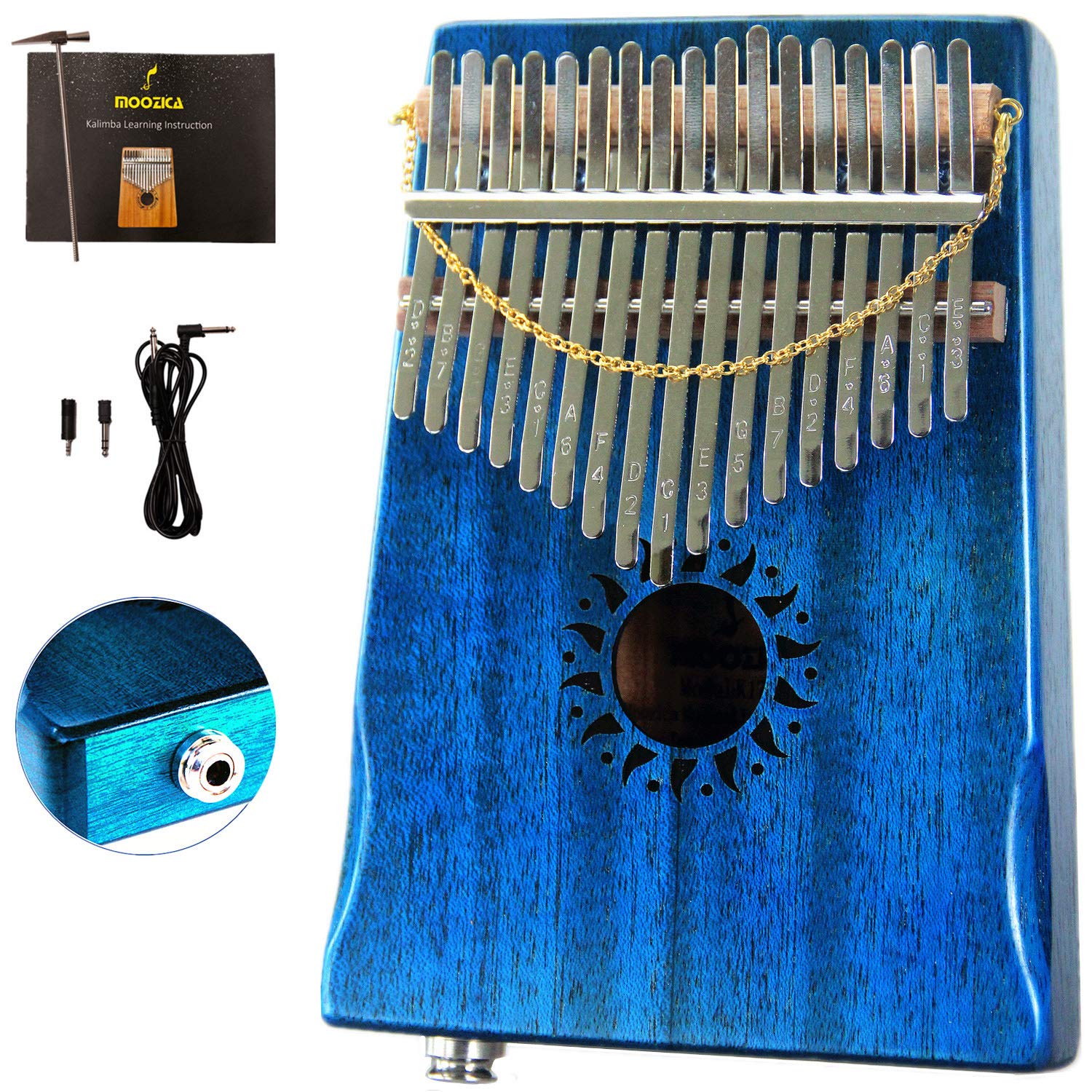 Made from solid mahogany wood, it's available in a range of colors and designs, with exquisite etchings and details, this Moozica model combines the rich sounds offered by the solid mahogany construction with charming colors and designs. Delivering a rich, full sound, it will delight the most experienced musicians and impress complete beginners alike.
With carbon steel keys, you can be sure the Moozica Kalimba will stand the test of time. Engraved with letters, it's perfect for beginners, who might need a little extra guidance when they're starting out. With build inside pickup, it perfectly maintains the original sound of kalimba, keep the sweet and melodic sound after connecting the amplifier.