Let's admit it, drummers are so underrated that it's not even fair. When many people think of the instrument they'd most like to learn, drums are near the top of the list. Unlike stringed instruments like the guitar and ukulele, learning to play the drums is much more physical and emotional. It's less about learning finger placements, notes, and chords, and more about jumping into the action right away.
So, if you find your passion among the sea of musical instruments, don't let the love wait, find out the drum set that suit you best and start playing!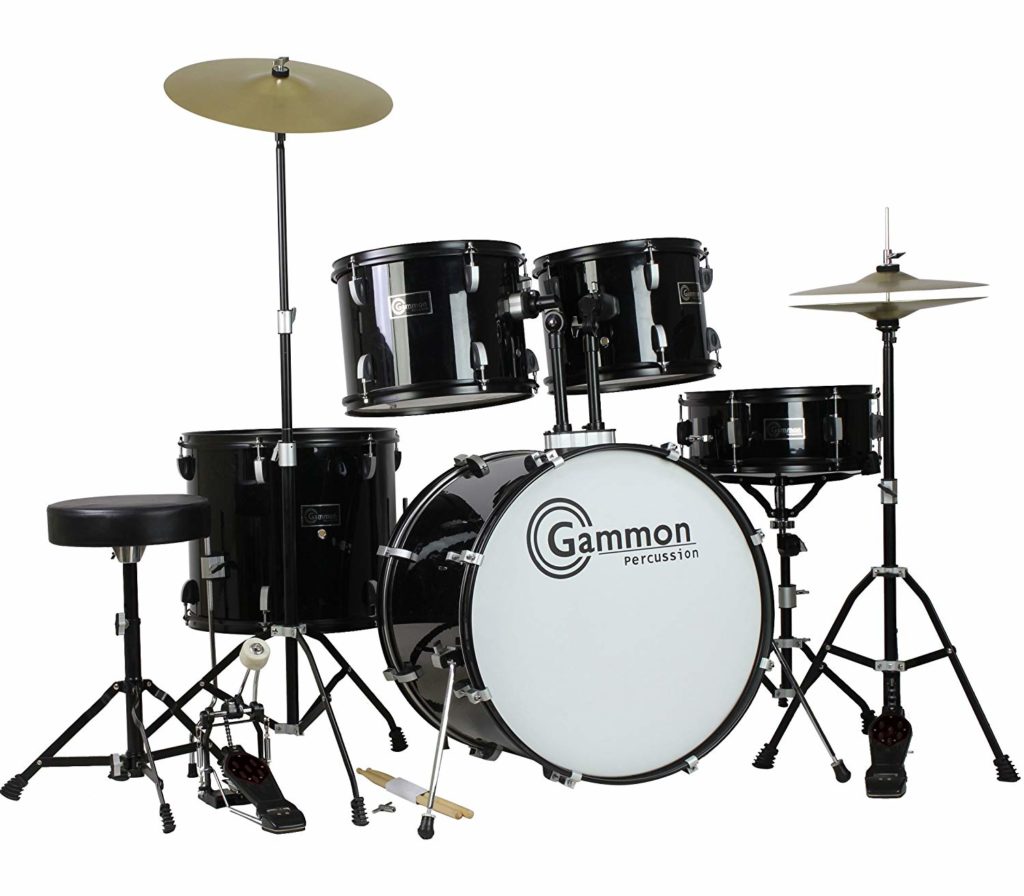 Although it's designed for adults, this is a good beginner drum set for the taller young ones as well. Gammon specializes in creating affordable yet quality percussion products.
This is a full size drum set that comes with every single thing you need. Including drumsticks and a throne aka drum stool. So if you got a few hundred bucks on you, check out this fun quality drum set. Excellent choice for beginners of all ages. If you ever feel like recording what you play, just connect it with some microphones and a multitrack recorder.
---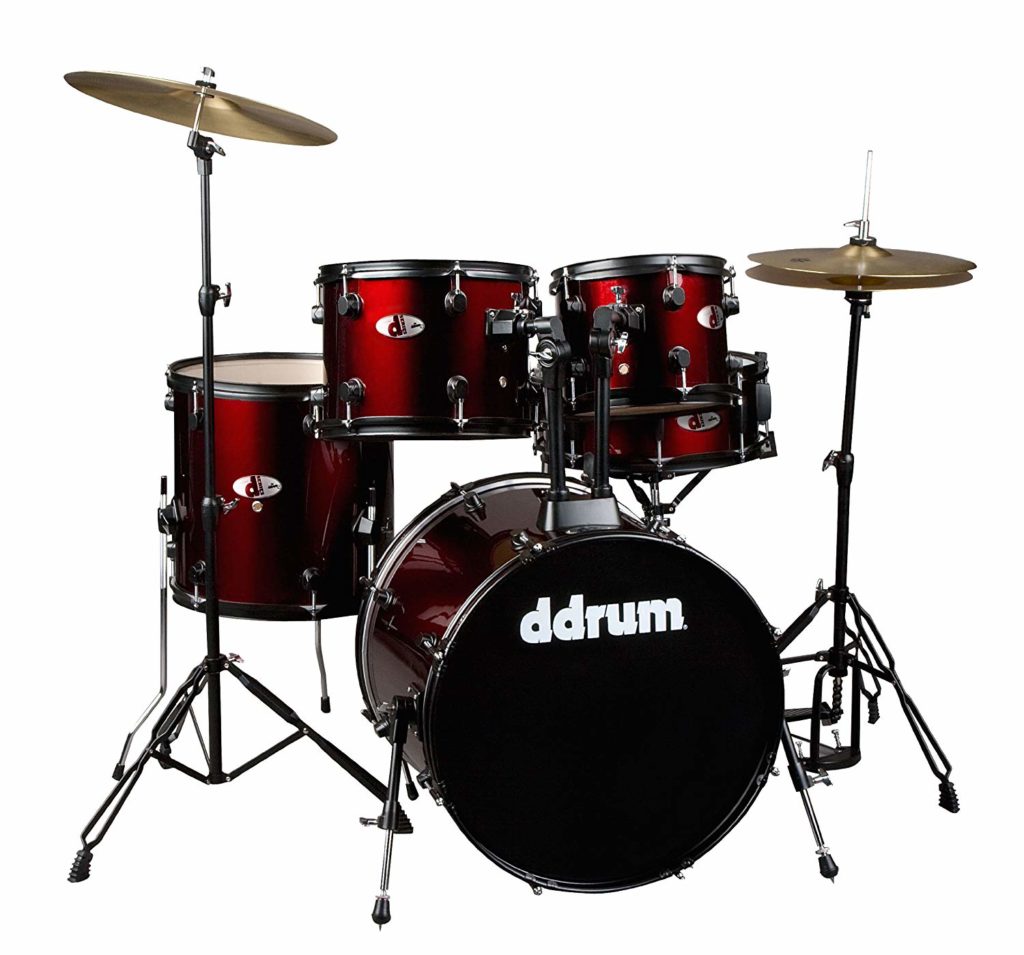 ddrum is famous for offering good quality at a lower price. It has produced some great musical instruments over the years, making it a popular choice in the eyes of many consumers. The ddrum D120B MB D Series Drum Set 5 Piece is another fantastic instrument courtesy of a well-respected company, specially designed for kids. It has all the necessary parts for a beginner drum kit along with great sounding tone and good quality.
As far as beginner drum sets are concerned, this drum kit is an excellent choice which will offer your child a fun and easy drumming experience from day one.
---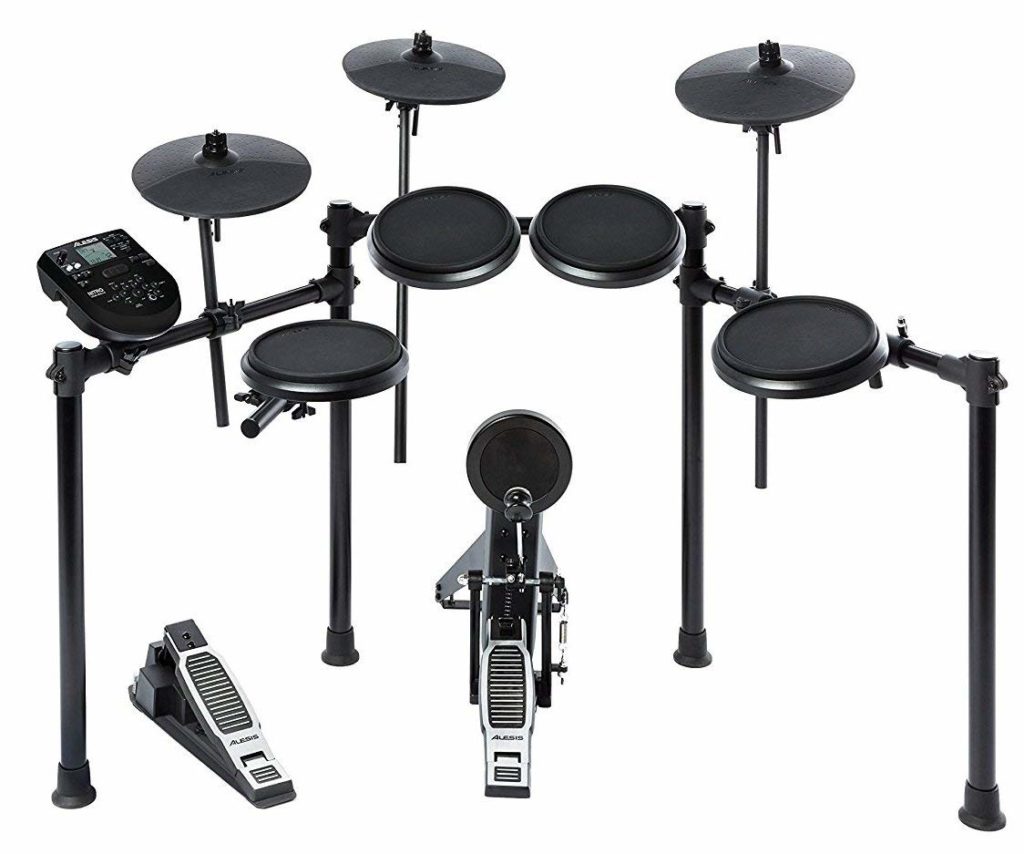 Entry level drummers, this one is for you. The Compact Kit 4 is a solid entry-level model that offers 4 striking zones (4 Pads). These pads have good sensitivity and great response time. The CompactKit 4 model allows you to train with the 50 available rhythms and its 20 training songs. The Alesis CompactKit is light in size which makes it quite portable too. So you can always practice while on the road. Meant for the amateur and beginner musicians, but also those who want to practice their drumming whenever they can. The Alesis CompactKit 4 can also be connected to a jack, an amp and played in group settings as well.
---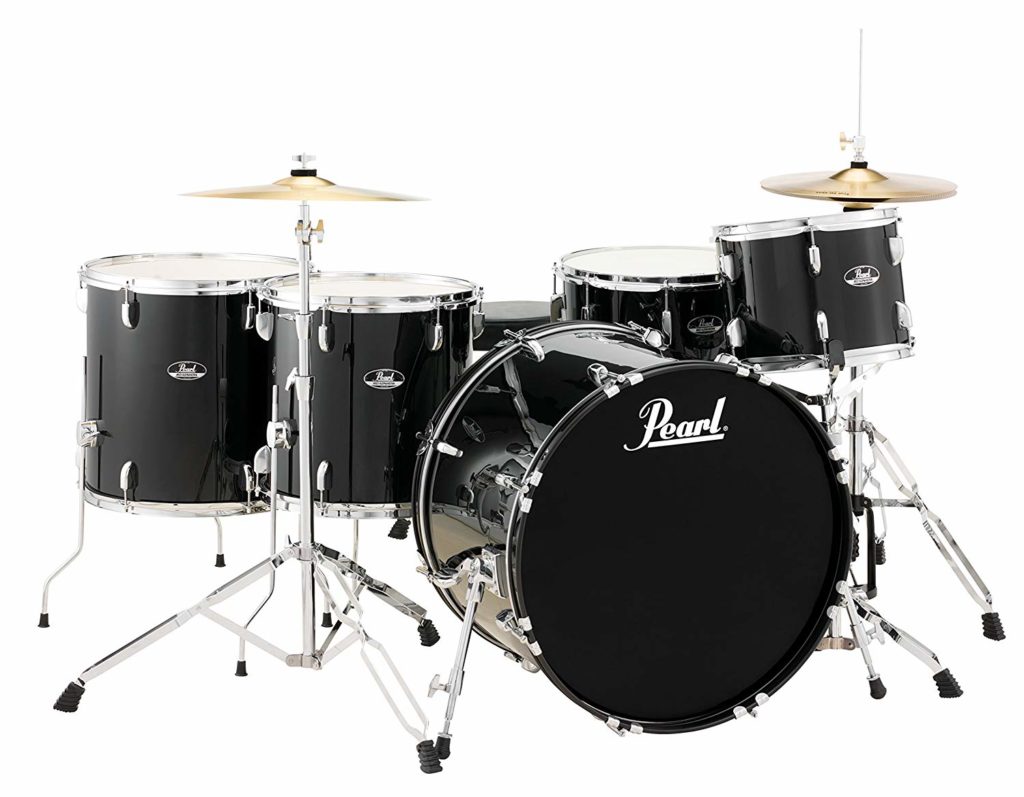 This is a 5-piece starter drum kit of impressive sound quality and durability. As expected of a manufacturer like Pearl, you get only the best in hardware with dual-reinforced and double-braced legs.
The cymbal, hi-hat, and snare drum all feature double-braced legs to keep them standing strong and steady during ever the hardest of sets. The snare drum is one of the most important components of the drum kit, and this one performance is excellent regardless of loud or soft notes being played.
---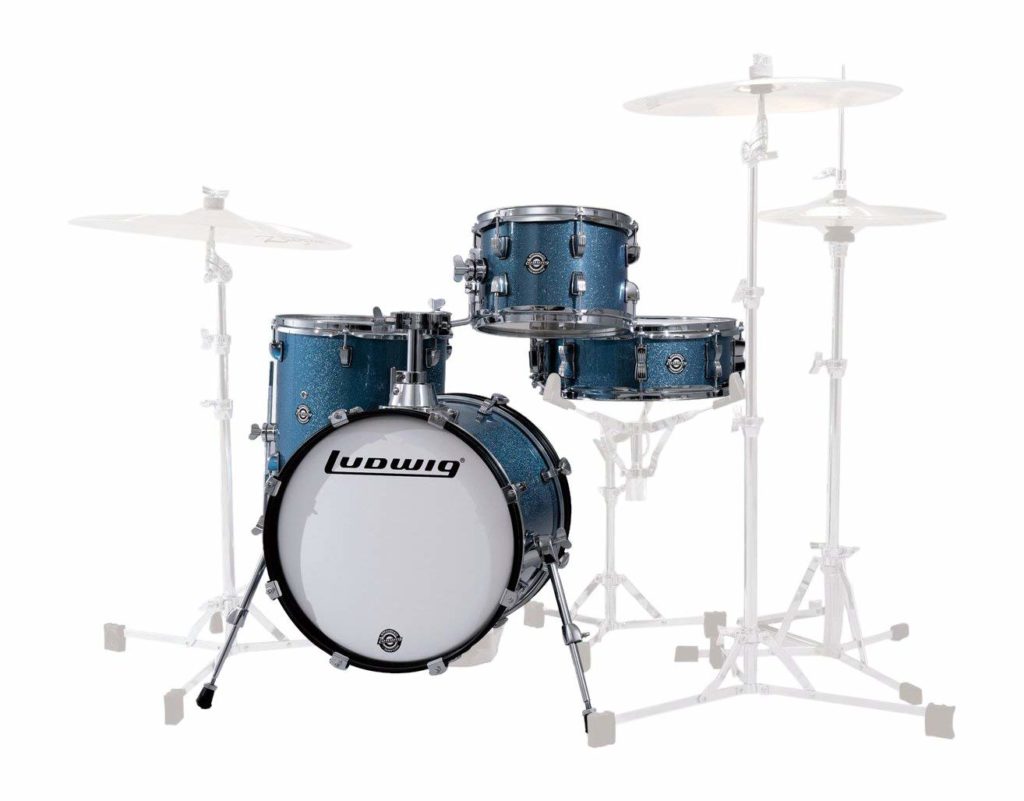 For the money, the Breakbeats Kit by Ludwig is one of the best beginner models available. Designed for smaller dwelling or gig sites, Backbeats allows Junior to play at home or take his budding talent on the road.
The Backbeats Kit features a 16″ x 14″ bass drum, a 10" x 7" tom, a 13″ x 13″ floor tom, and a nifty 14″ x 5″ snare. Crafted of 7-ply poplar, the kit is relatively light but its drums still produce a dry and tight sound. Featuring triple-flanged hoops, the snare and toms can take a beating when the young percussionist is showing off his toughest rim shot.
---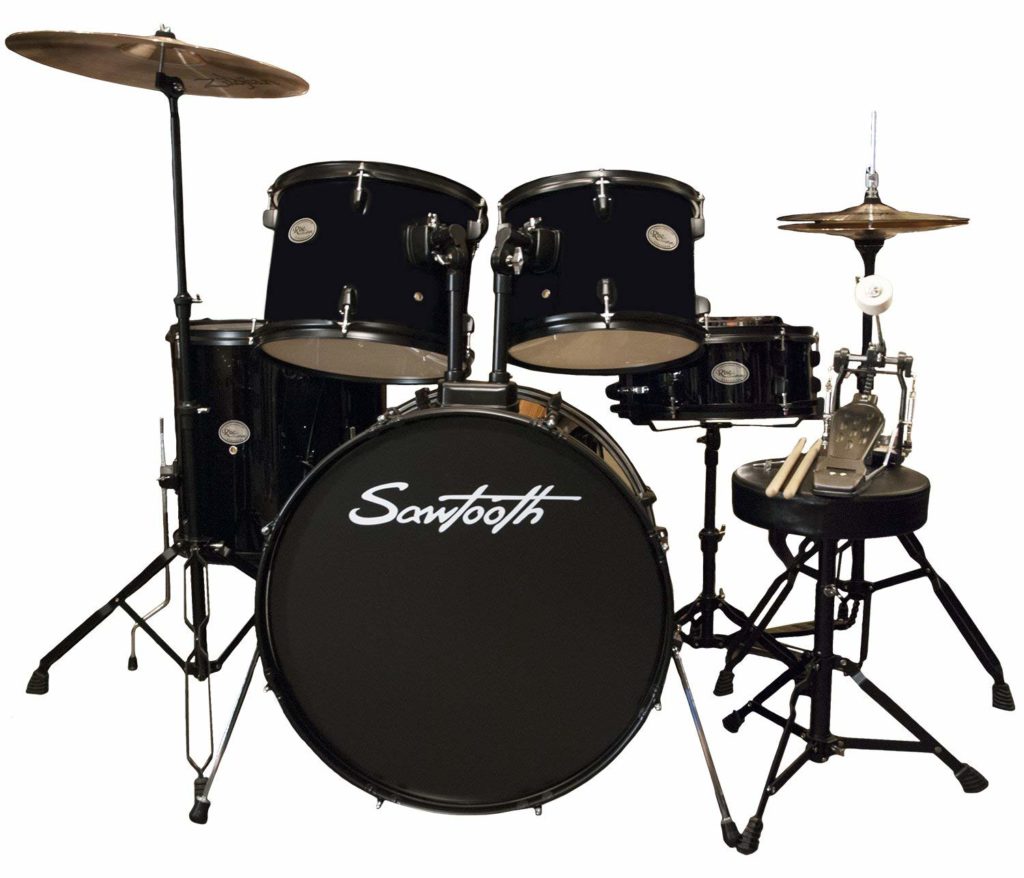 This is made to withstand a pounding on a daily basis without cracking the cymbals every week from intense activity or poor-aimed hits. The set lets you play a variety of genres as it is a 5-piece set with three toms, a hi-hat, and a crash ride. They're all on stands except the two front toms which are on a mounted system for better stability.
All the tools needed for assembly and adjustments are included. You'll also have everything you need to learn how to tend to your drum kit, not just how to play on it.
---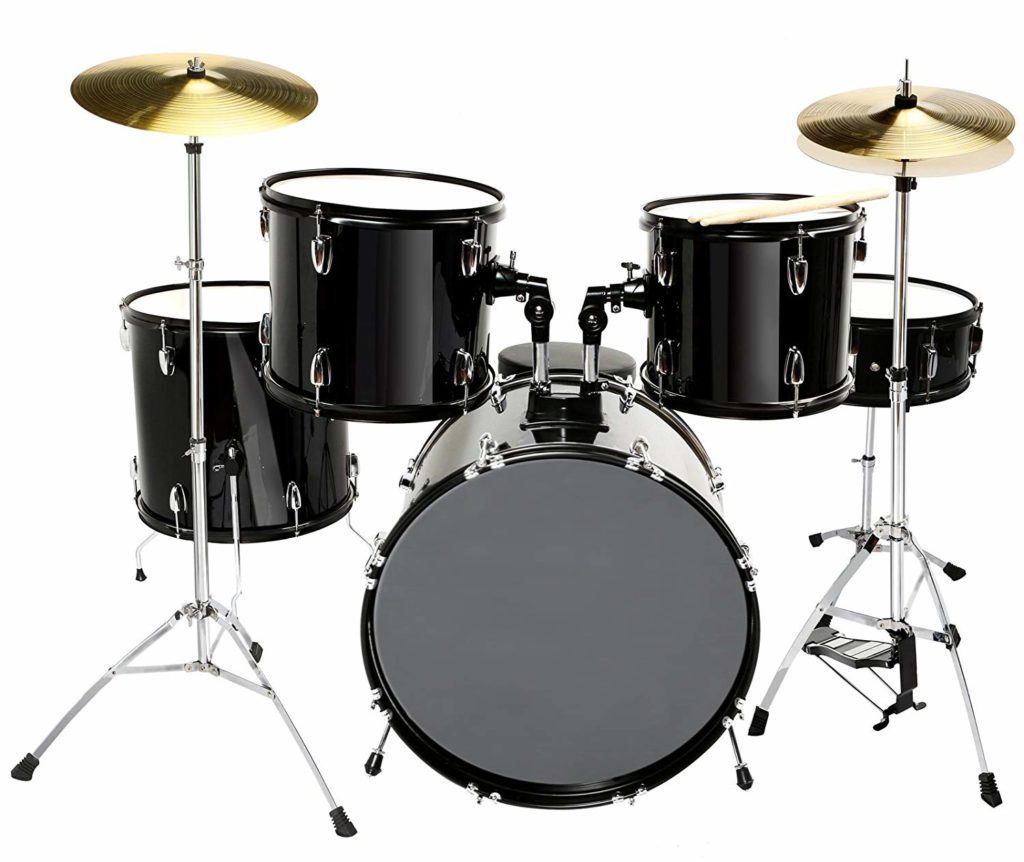 The 5-piece drum kit comes complete with a hi-hat, pedal, crash, throne, and sticks which are surprisingly light and easy to learn with. A high-gloss finish is applied to all the drum shells and gives the drum set a stage-ready look.
Due to the extra elasticity from the double-layer oil skins, these drums can play loud, make no mistake about that. The 22.5" bass drum has a rich sound and surprisingly little punch even without any adjustments. You don't see that every day in a starter kit. This drum set is also reasonably priced considering its durability, sound, and finish, which is why it's a personal favorite of mine for beginner drummers that have a late start.
---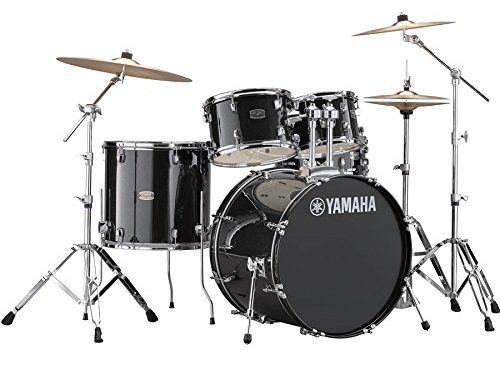 If you are serious about drumming and want a good quality drum kit without having to spend hours or even days researching about each part of a drum kit, then this complete kit will save you all that time and energy.
And it is also perfect if you want to save yourself from mediocre sounding drum kit too. No plastic sounding drums or thin sounding cymbals that sound like they haven't got any guts.