Ukulele comes in different shapes and types, and the most well-known ukus are Soprano, Concert, Tenor and Baritone, each ukulele has different features and can play in different occasion, among all four, Baritone ukuleles are pretty special in that they have a different tuning from the soprano, concert and tenor ukuleles. They're tuned to DGBE, which is lower than the other three sizes' GCEA tuning. Baritones are also the biggest of all the ukulele sizes so they not only sound boomier but also louder.
In this article, we will take a look at the 8 of the best selling Baritone Ukuleles on the market, and of course, they are quite affordable to total beginners and musician with low budget!
Makala Baritone Mahogany Ukulele by Kala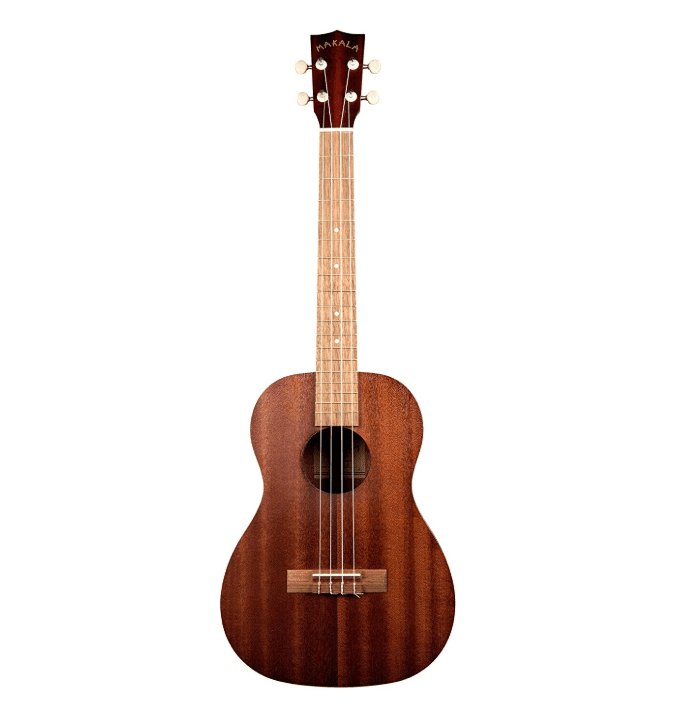 The Makala Classic line by Kala is simply the best entry-level ukulele on the market. Kala focuses on the essentials – quality at an affordable price – making any Makala the perfect ukulele to begin with. Modeled after mahogany ukuleles made over 100 years ago, the Makala line is a truly traditional, vintage ukulele that emits a soft, warm, full-bodied, balanced tone and ages beautifully.
The Makala Series is built using the same construction standards as all our Kala Ukuleles. Comes complete with a beautiful Walnut fingerboard and bridge, Mahogany neck, brass frets, and Aquila Super Nylgut strings from Italy
---
Kala KA-SA-B Solid Acacia Series Baritone Ukulele – Satin Natural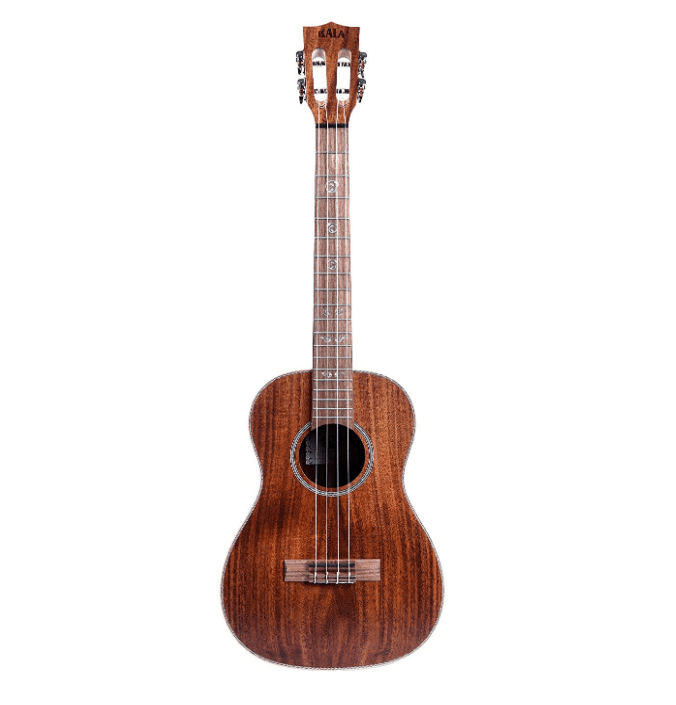 The KA-SA-B Solid Acacia Series Baritone Ukulele is a beautifully crafted baritone ukulele made from solid acacia that delivers classic baritone uke tone. The KA-SA-B's all-acacia body is similar in appearance to koa wood, with beautiful curling and varied grain pattern that improves tonally as it ages. A gorgeous mahogany neck and walnut fingerboard offer great response as well, whether you're chording or playing lead.
Rosewood binding and a GraphTech NuBone nut and saddle also provide tonal support to the already tone-rich acacia body. This baritone uke is ideal for living room jams or warm nights on the beach around a fire with friends. Uke enthusiasts here at Sweetwater love the KA-SA-B Solid Acacia Series Baritone Uke for its playability and tone.
---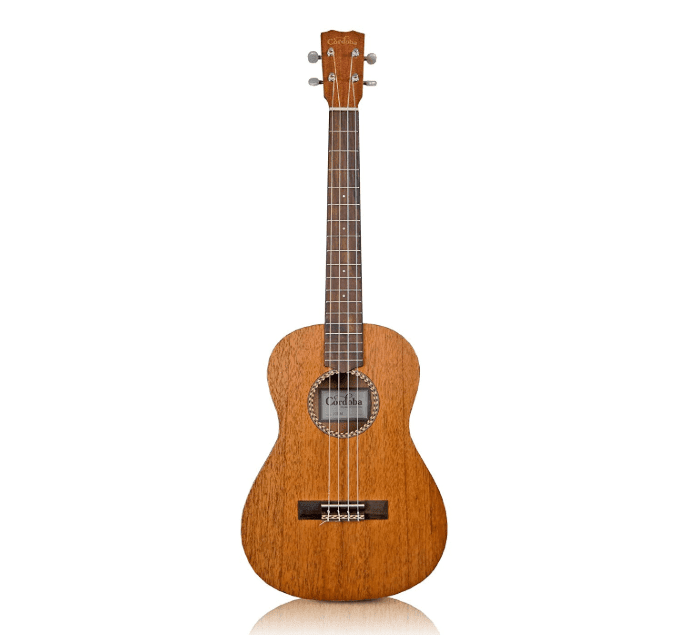 The 20BM is Cordoba's first baritone sized ukulele. It features a solid mahogany top and mahogany back and sides. The natural wood pattern rosette and satin finish make this a truly beautiful instrument for the both beginners and ukulele enthusiasts alike. Topping off the classy, elegant look is a natural satin polyurethane finish that's smooth to the touch and makes playing more enjoyable.
Baritone ukuleles are played in a variety of tunings. Cordoba baritone ukes come set up in one of the more popular tunings, which matches the top 4 strings on a guitar (DGBE). The strings used are Aquila Nylgut baritone uke strings, which include a wound 4th-D and 3rd-G strings, and nylgut 2nd-B and 1st-E strings.
---
Kmise 30 Inch Baritone Classical Ukulele Kit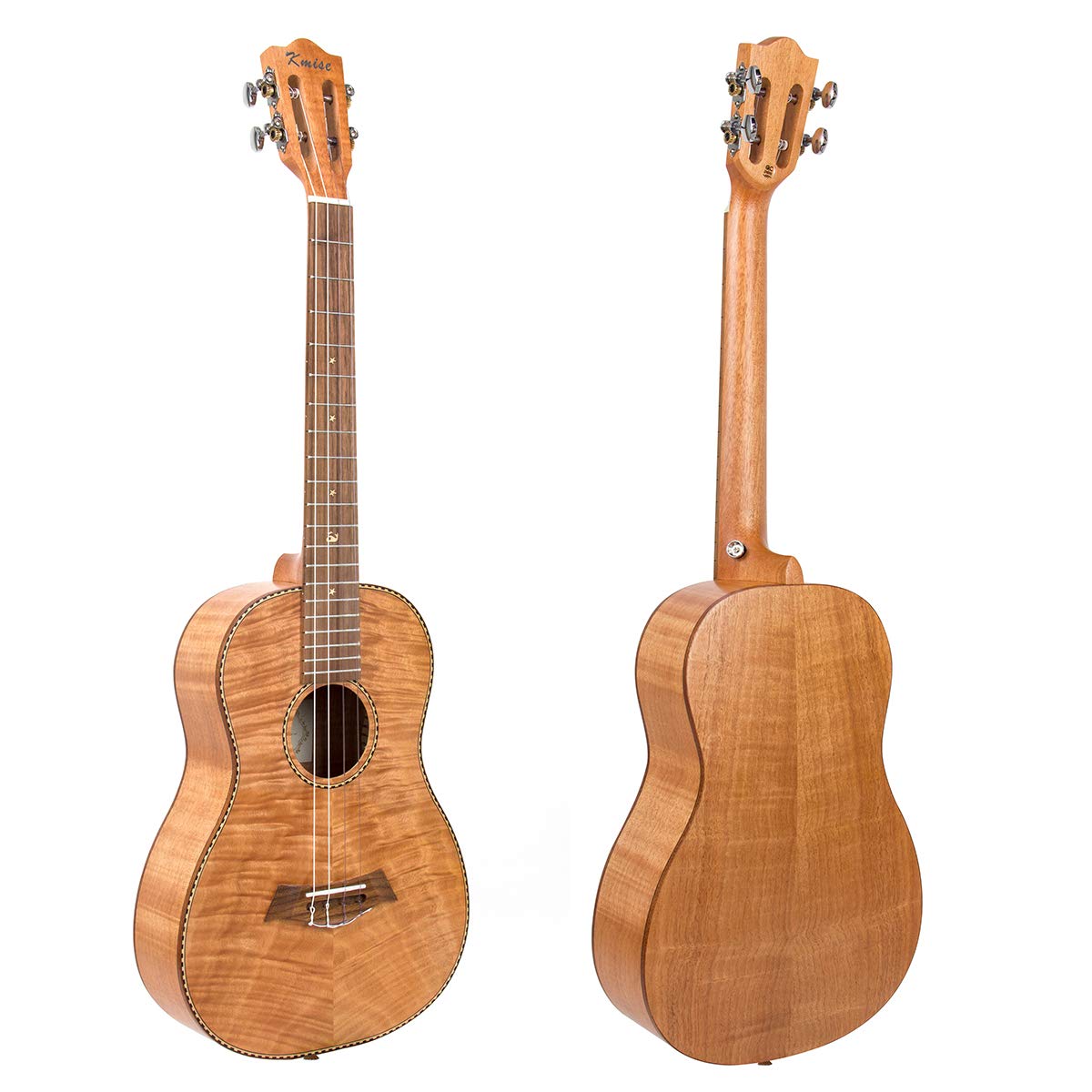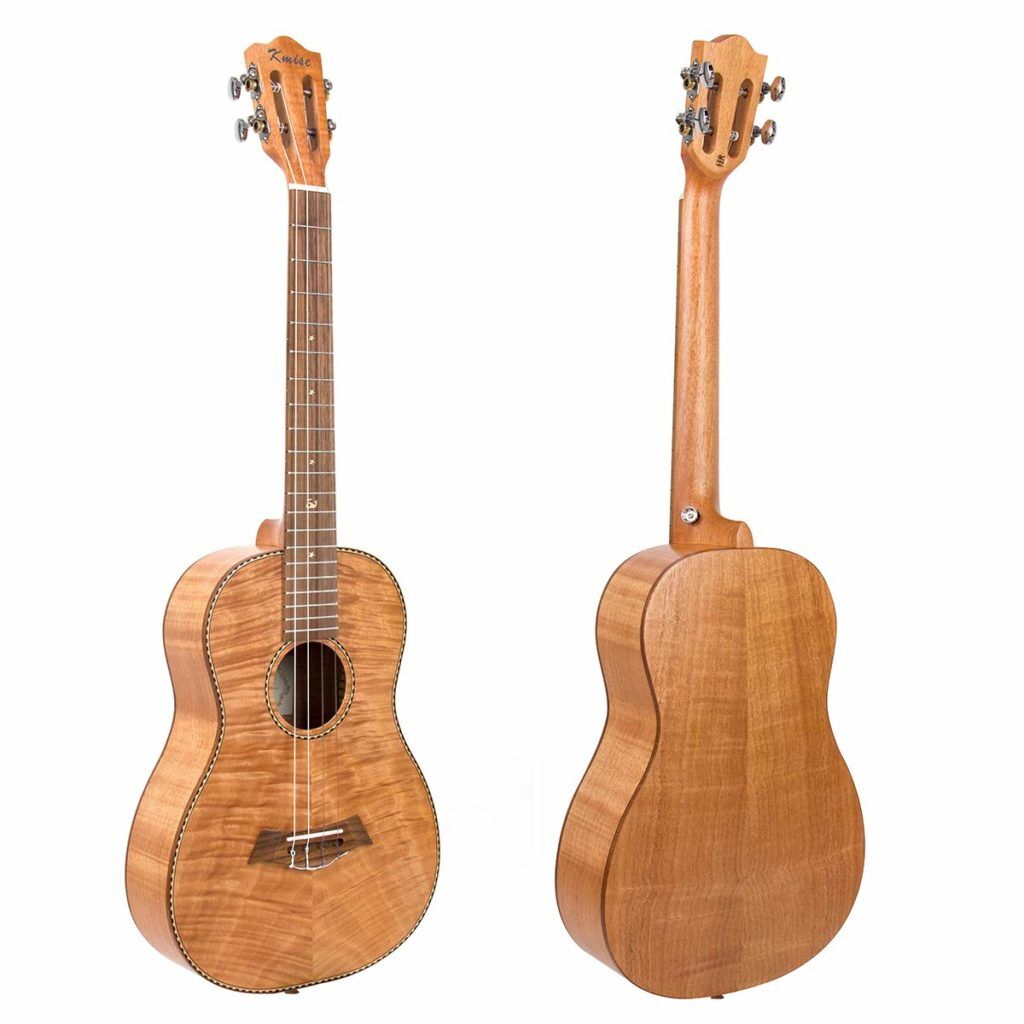 Kmise baritone ukulele is part of Kmise's Okoume series, providing you with stunning looks. One look at its special tiger flame Okoume top, back and sides, it really a special ukulele. Kmise baritone ukulele installed adjustable truss rod, the player can adjust the action according to their need. Rare ukuleles have such feature so this baritone uke really worthwhile to own.
This baritone ukulele also come with a set of 18:1 high-quality tuner, so you know this uke is working well to stay in tune. Pick up this amazing uke and enjoy a quality playing experience! The high-quality strings of this baritone ukulele produce is further proof of Kmise's quality workmanship. It strung with premium metallic & nylon strings, offer you lush and warm sound.
---
Oscar Schmidt OU53S Baritone Ukulele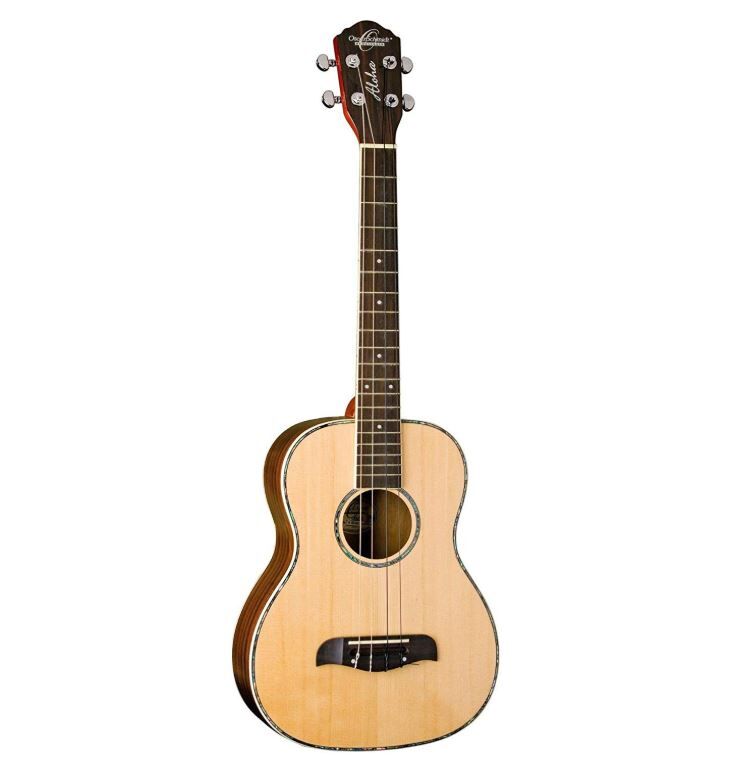 Constructed of Hawaiian Koa, Rosewood, Spruce and Mahogany with classic designs and superior resonance, our popular and affordable Oscar Schmidt Ukeleles are hand crafted for years of playing enjoyment. The Oscar Schmidt OU53S uke features a baritone body size with a select spruce top for sparkling tone. The back and sides of the OU53S are rosewood for full body. Sides for great tone, easy playing and a quality known from a company with over 125 years history of producing musical instruments.
The OU53S also features an inlaid rosette on the perimeter of the uke and around the sound hole. Other features include alalone rosette and abalone perimeter inlay, natural gloss finish and die caset chrome tuners,
---
Luna Guitars Luna Uke Vintage Mahogany Baritone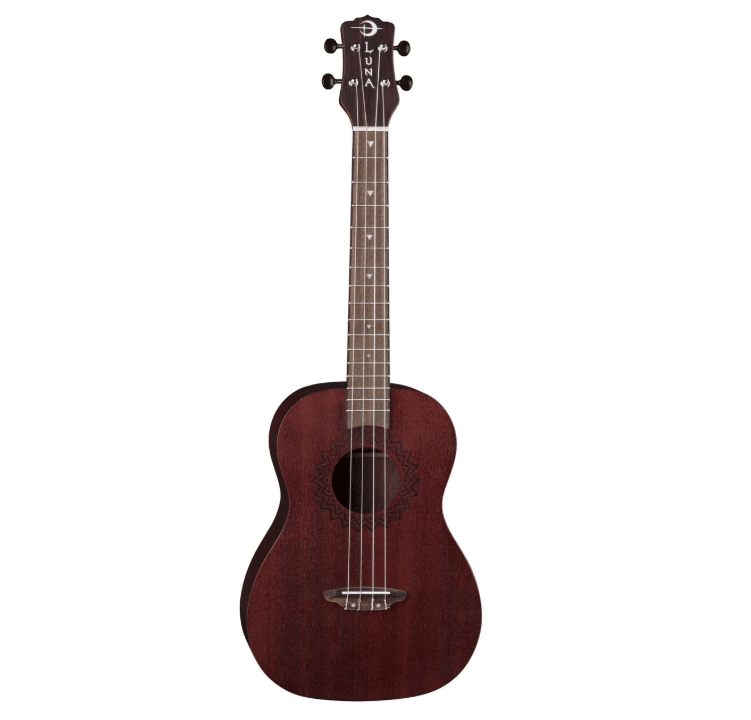 Among enthusiasts, ukuleles crafted out of mahogany are one of the most popular wood choices on the market today. Luna Guitars continues its unique stride in creativity by introducing a full family of Vintage ukuleles dressed in a Red Satin finish, including this Vintage Mahogany Baritone in Red Satin which offers a traditional baritone body, walnut bridge and fretboard, 19″ scale length and beautiful pearl triangle inlays.
The signature laser-etched rosette design around the sound hole compliments its already vivid Red Satin color. Expect that warm, deep bass sound from the larger all-mahogany body and easily keep that rhythm in tune with the sturdy black open gear tuners. A wonderful instrument for players of all skill levels.
---
Kala Mahogany Travel Baritone Ukulele Gloss Natural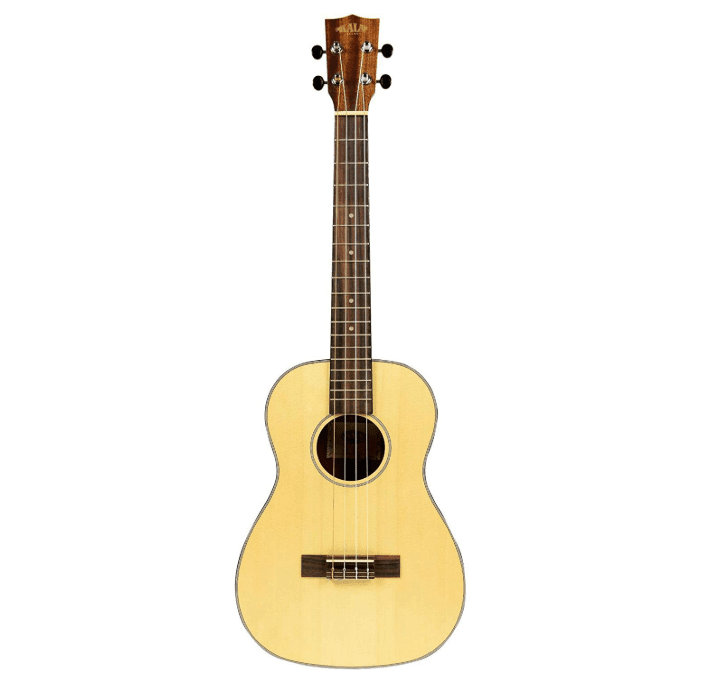 This Baritone Travel Ukulele is the latest addition to Kala's widely popular Thinline ukulele series. The secret to Kala's travel ukes, first introduced in 2009, is evident in the select solid spruce tops, precisely engineered arched backs, and their thin bodies which produce a big sound that belies their size. All Thinline Travel ukes come with their own heavily padded gig bag with embroidered logo.
Other features include mahogany back and sides, mahogany neck with rosewood fingerboard and bridge, die-cast chrome tuners with black buttons, silver nickel frets, satin finish, truss rod, and GraphTech NuBone XB Nut and saddle. The Body depth is a svelte 2.5" making it very comfortable to play and exceptionally portable. The overall length is 30 ½" and the body length is 14".
---
Hamano U-320B Deluxe Baritone Ukulele Outfit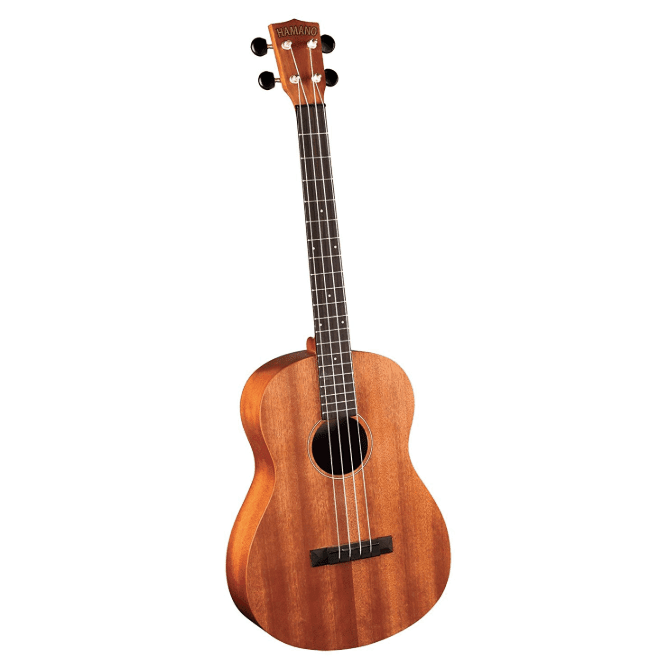 The baritone ukulele is the largest ukulele made and offers the depth and richness of tone of a small guitar combined with the familiar ukulele tuning. Our Hamano U-320B is finely crafted entirely from select mahogany, with the fingerboard and bridge of rosewood. The entire instrument is finished in a clear, semi-gloss shade and the slim neck with its low, smooth nickel-silver frets plays like a dream. The tone is large, full and pleasing–while the arched back helps to increase carrying power.
The smooth turning tuning machines are gold-plated and a sturdy black nylon gig bag is included in the price. The incredibly versatile baritone ukulele is a mainstay in Hawaiian and Folk music and is gaining in popularity every day. Any player wanting to explore the possibilities of the baritone ukulele cannot find a more suitable nor more affordable choice than the Hamano U-320B!