Alto saxophone is one of the most popular woodwind instruments. Beginner band students are often drawn to the alto for many reasons: it's a beautiful instrument, it's not too big for a younger musician to handle and it is popular in so many different types of music including jazz, classical, funk, R&B and more. If you choose to stick with the alto, there are great intermediate and professional alto saxophones to choose from as you advance in your practice.
We have done extensive research and summarized 10 alto saxophones we think are the top models on the market right now, including Yamaha, Selmer-Paris, P. Mauriat, Yanagisawa and Allora. Looking at horns from this collection of manufacturers will give you a sense of the broad array of price points and quality to choose from depending on your skill level and preferred style of play.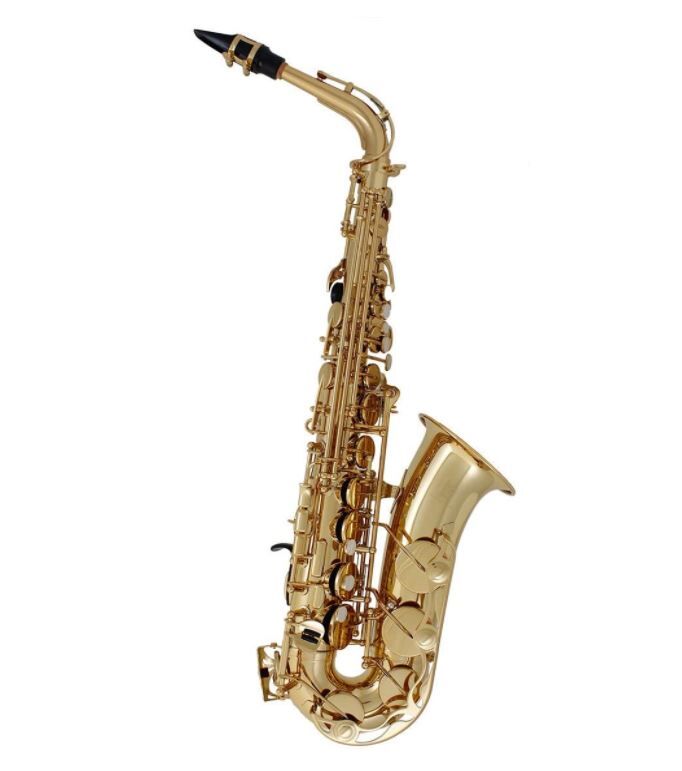 The Yamaha YAS 280 saxophones offer a perfect start because they are designed with the young beginner in mind. Relatively light-weight and ergonomically shaped, they are easy to hold and to play. The intonation is perfect, as you would expect from Yamaha, and it is easy to get a great sound. The Yamaha design offers beginners optimum support, thus greatly assisting both learning progress and creativity.
Based on the highly recommended Yamaha YAS 275 saxophones the new YAS 280 are even further enhanced with a new, more stable neck receiver and a new low B-C# connection for better adjustment The YAS 280 has high-quality features at a student model price, they boast durability, good tone, good tuning, easy playability, and perfect consistency. Similar to other Yamaha saxophones, the YAS280 has an adjustable thumb rest and revised mechanisms for ease of playing.
---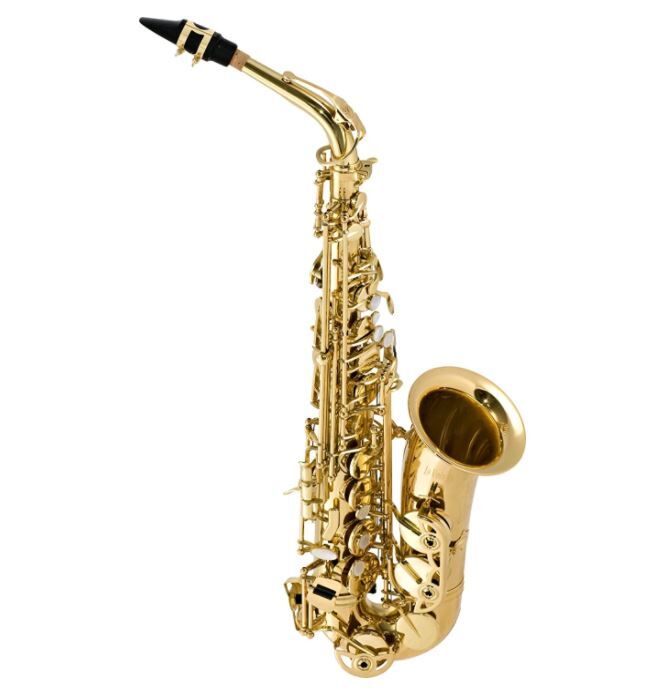 SAS280 La Voix II Alto Saxophone Outfit Lacquer. The Selmer SAS280 La Voix II Alto Saxophone's fluid keywork gives it a relaxed feeling, while its perfect intonation and warm sound make it a welcome instrument both in the concert band or the hands of a soloist. The Selmer La Voix II sax' traditional-sized bell helps saxophonists keep their tone focused and makes blending easy.
You'll like the price of the Selmer SAS280 La Voix alto saxophone as much as its sound. Finally you can afford a step-up sax with features like professional key styling-for accurate fingering-that you would expect to find only on more expensive instruments. Selmer has worked to make the SAS280 La Voix II an alto sax that is easy to play. Pitch is consistent without strain from the low end to altissimo. The La Voix II saxophone can really project and offers you dark jazzy sound when you need it.
---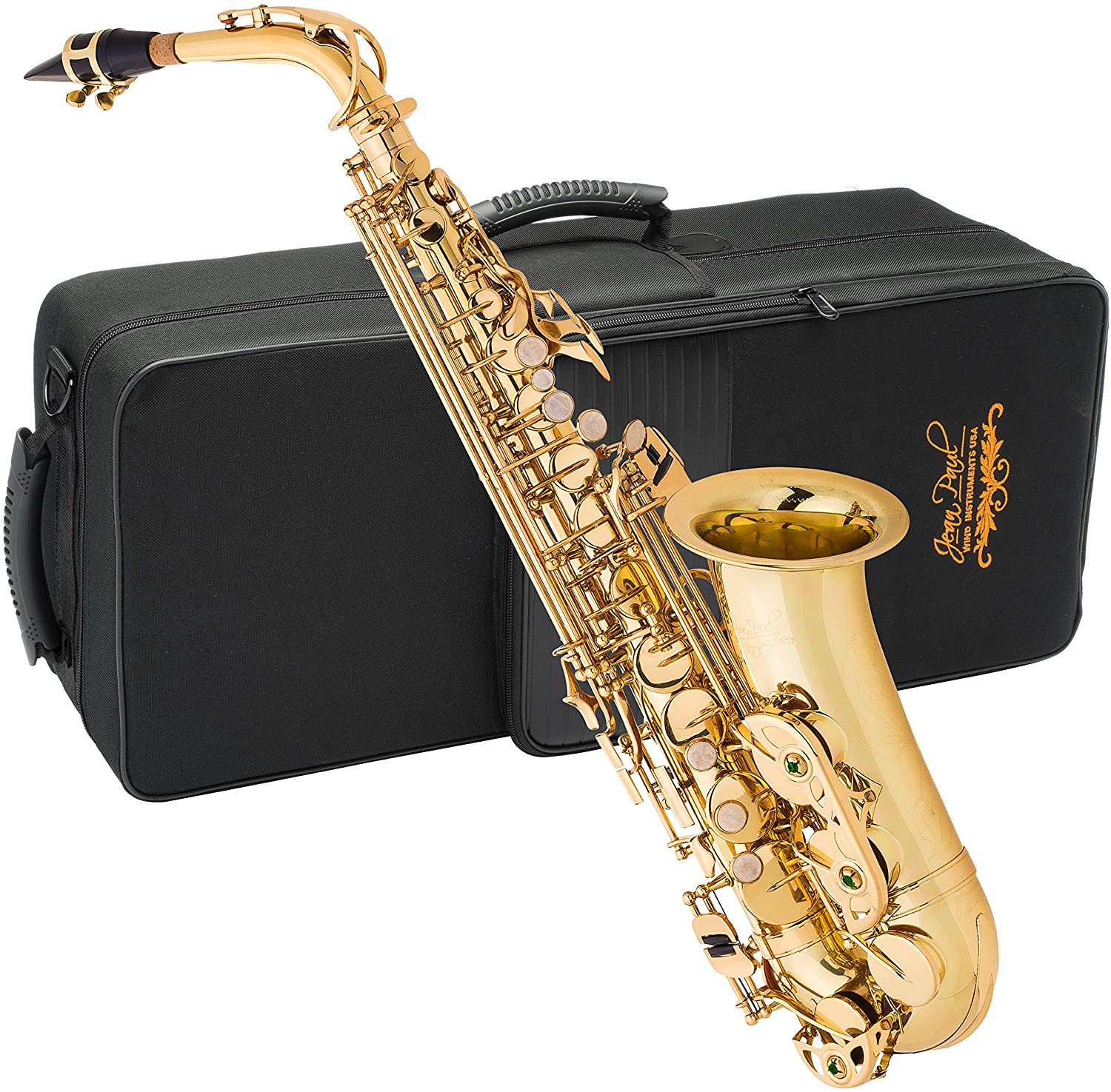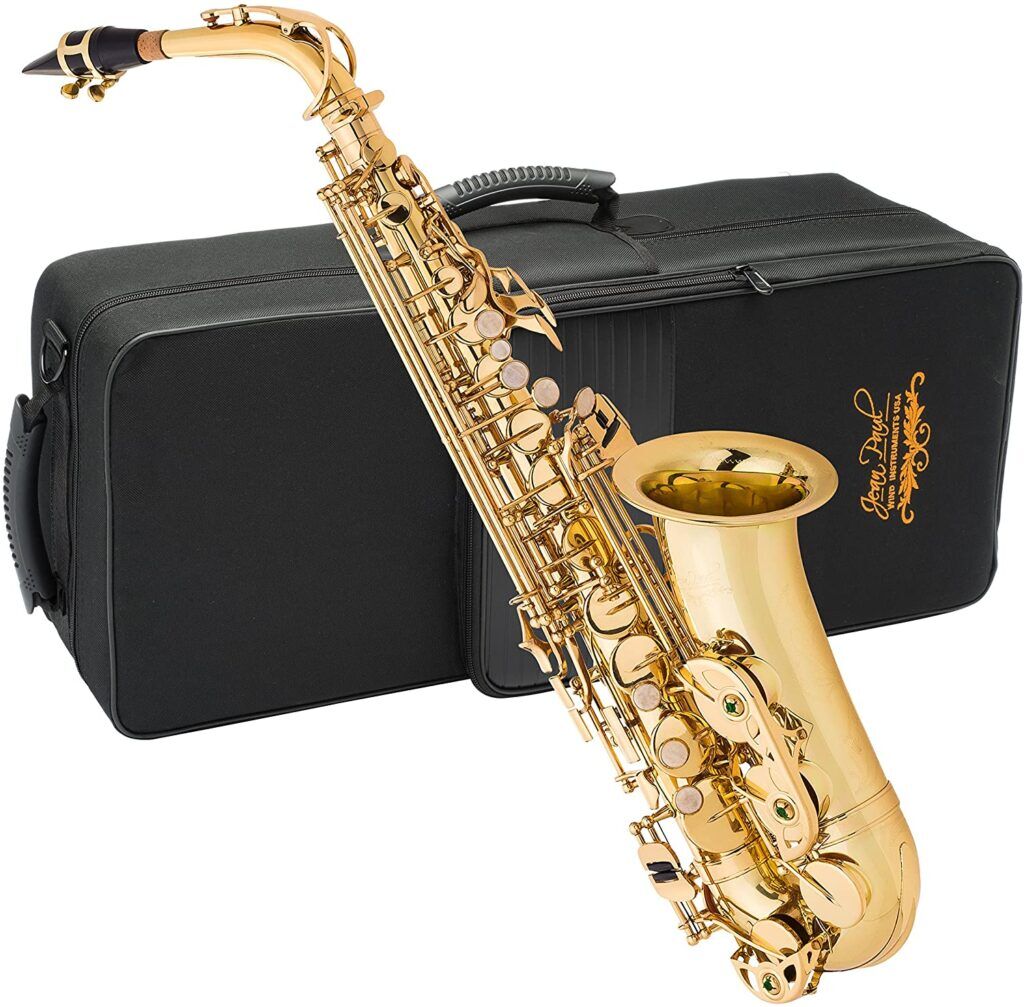 The Jean Paul AS-400 alto saxophone is the perfect sax for beginning and intermediate music students. It offers a superior tone in its class, with even key action and placement that feels just right for Band members. Its fluid key work gives it a relaxed feeling for any saxophonist, while its well-rounded intonation and warm sound make it a welcome instrument in any band.
The Jean Paul alto sax features beautiful Yellow brass body construction, power forged keys, a strong bell Brace for durability, and tapered pivot keys for ease of use. You'll appreciate the value of the jean Paul AS-400 alto saxophone just as much as its sound! Jean Paul has designed the perfect saxophone that is easy to play, Durable, made affordable for All beginning and intermediate musicians.
---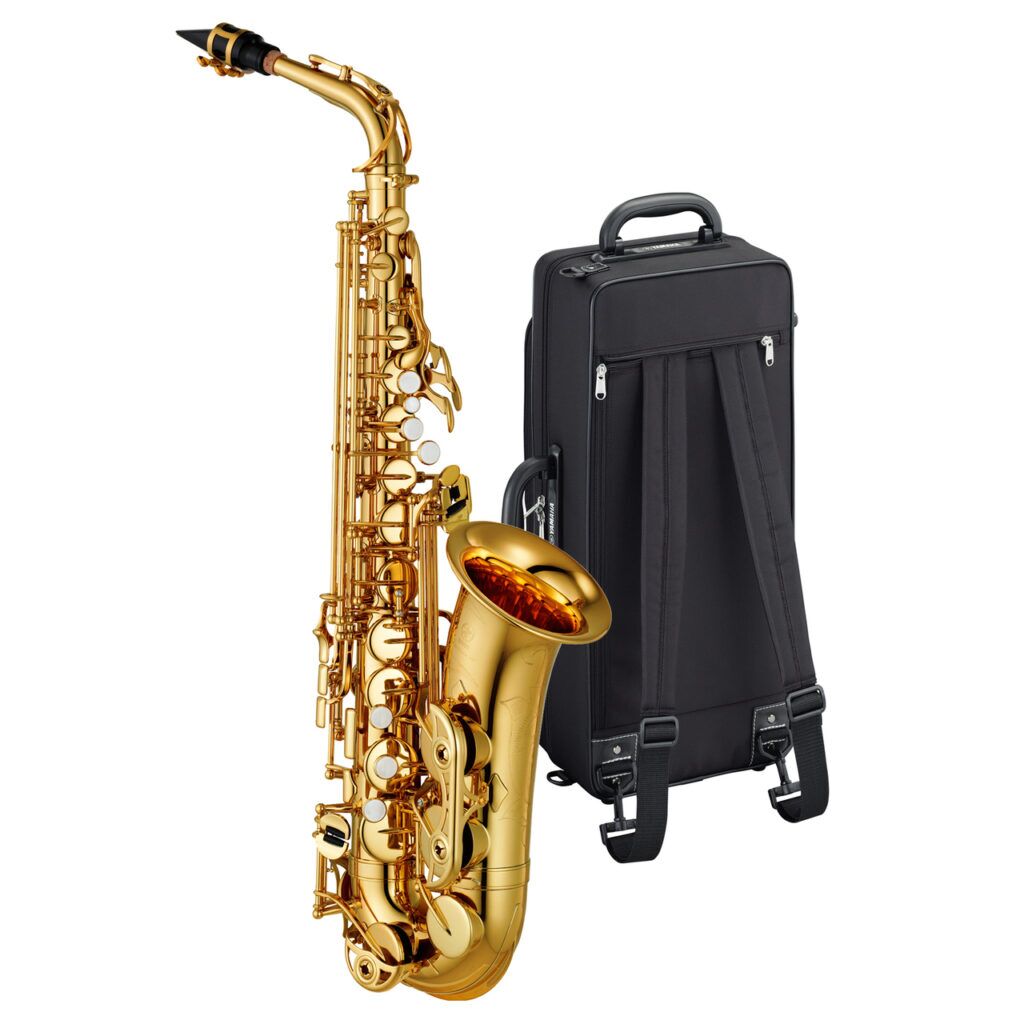 YAS-480 Intermediate Eb Alto Saxophone Lacquer. With a design influenced by high-end Yamaha saxophones, the Yamaha YAS-480 alto saxophone features highly accurate intonation, a warm tone and a quick response. It is lightweight yet durable, and comes with a high-quality 62-style neck for a more mature quality of sound. The hand-engraved pattern on the YAS-480 bell adds an extra touch of class, and endears the instrument to its owner.
The redesigned octave key system gives players the flexibility to choose between the included 62-style neck and those designed for the Custom Z and Custom EX Yamaha saxophones. The included new 62-style neck has been redesigned for improved tone and response. The separate key guards feature adjustable screw cap stoppers for professional-style technical adjustments, and the left-hand seesaw key has been designed to increase playability as well as provide a more comfortable feel.
---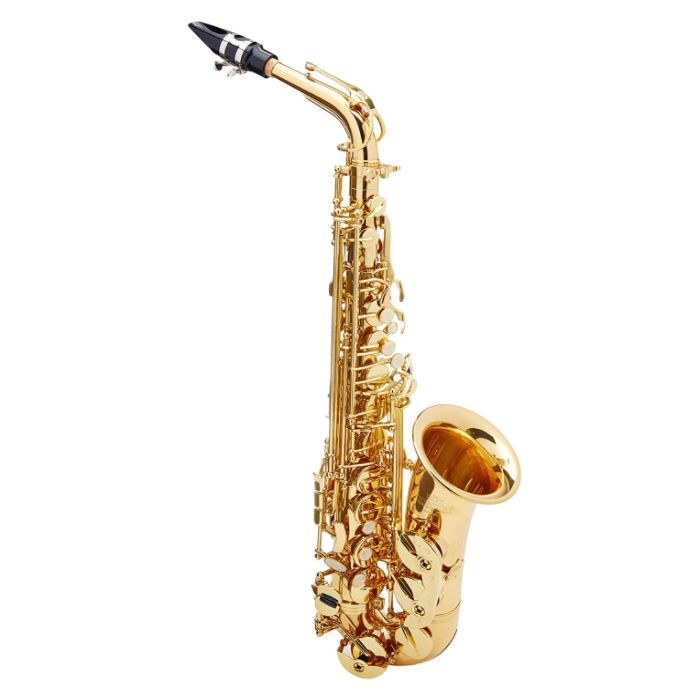 This saxophone features the unique RND neck, which stands for -InchRelaxed Neck Design.-Inch The neck is made up of a special yellow composition and then goes through a special treating process. The body is made up of improved S3 brass, and the result is a fuller, more open and direct sound.
This sax also has a round mother of pearl bis key for comfort a high F3 key and it is ribbed constructed for durability with beautiful hand engraved bell. Features included Relaxed Neck Design, S3 improved brass body, hardened blue steel springs, Pisonis pads, USA mouthpiece, ligature and cap, lacquered body and keys, and a lightweight case and back pack assembly.
---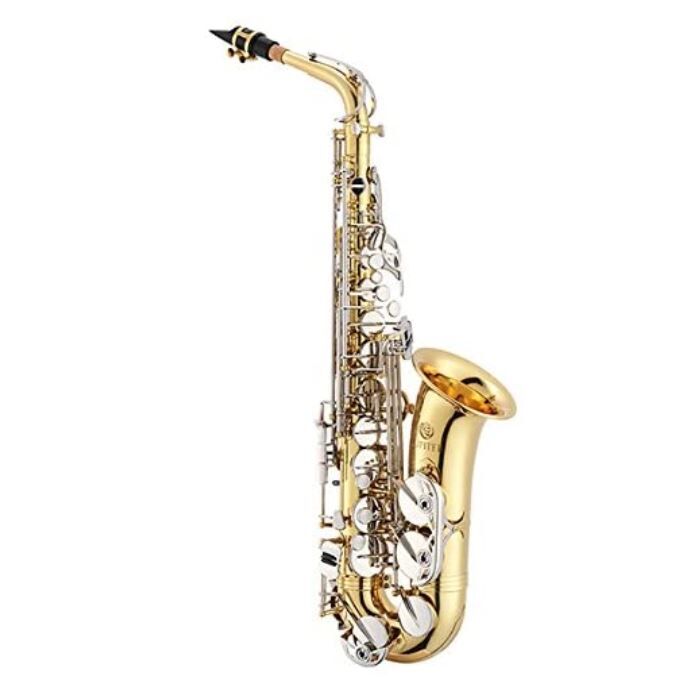 The Jupiter JAS710GN alto saxophone is a beginner instrument with advanced features. Not only is it built to last, but it offers you a rich sound! The Lacquered Brass Body uses state of the art technology to give you the most accurate scale and playability. Nickel-Plated Keys, made from the highest quality tempered brass and nickel, will continue to impress over time with its durable finish.
The Jupiter JTS710GN sax allows for a more comfortable play and added agility with Contoured Left-Hand Table Keys with Tilting Bb Rocker Arm. It comes with a wood frame case, mouthpiece, and ligature. The quality craftsmanship of this saxophones contributes to its durability and polished sound, which is appreciated by many players and teachers. It would be a good choice for someone who has possibly rented for a while so has some playing experience, and is looking for their first purchase.
---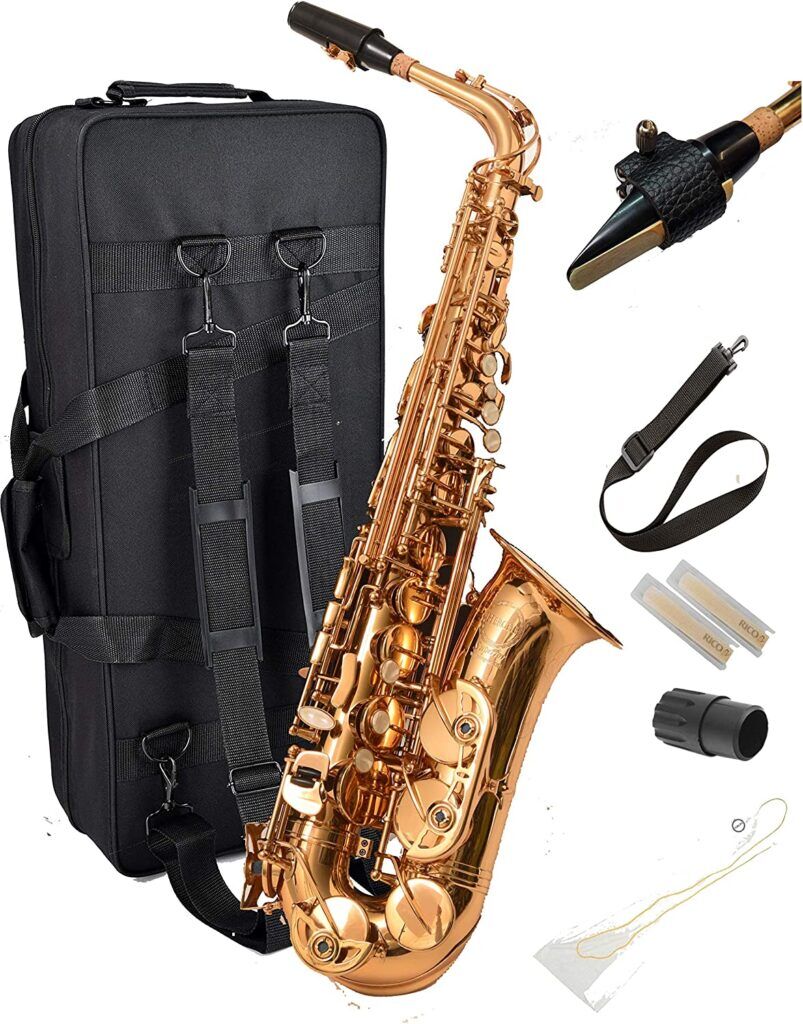 The Herche Superior AS-630 Saxophone produces an unparalleled professional fluid tone in its class. With the new upgraded mouthpiece, Every note is in-tune for great intonation. The warm sound perfectly fits in while the fluid key work and just-right placement gives you a relax feel. Comparable to professional saxophones that cost hundreds more, you'll be blown away by the sound quality at a price affordable by parents and experienced players.
Entirely constructed from solid brass, our saxophone produces a superior sound like you'd expect from a high-priced professional instrument. Herche delivers a high quality solid brass instrument with professional ribbed construction, extended side Bb key making it easier to play, durable leather pads, metal resonators, blue steel springs, all resulting in the finest user experience. Many educators consider Herche to be the perfect choice for student musicians, so high quality is not only necessary but is imperative for successful music education.
---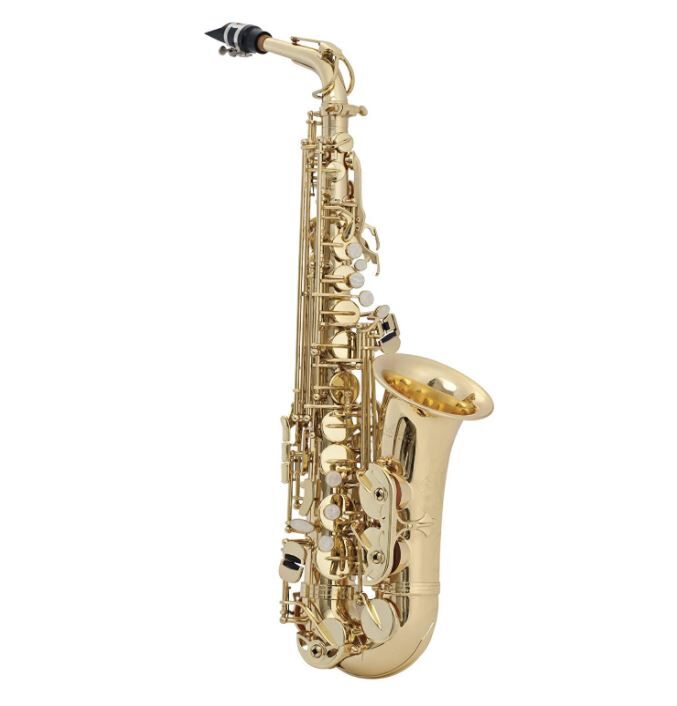 The AS711 alto saxophone key design allows for correct and comfortable hand position. The yellow brass body includes ribbed construction and a detachable, reinforced body-to-bow connection for added strength and durability. Prelude bore design enhances projection. Designed as an affordable option for beginning band students, the Prelude series of entry-level instruments combines value and performance.
All instruments are built to stringent specifications and supported by our ongoing commitment to service. Each outfit includes instrument, necessary accessories, and care maintenance instructions.Features: Left-hand table key rocker mechanism with articulated C# adjusting screw High F# key Molded mouthpiece with cap and ligature Engraved bell Neck strap Dark lacquer body and keys Cork grease Adjustable metal right-hand thumb rest #2-1/2 Reed Kid leather pads with metal resonators Hard-shell case.