The vast world of electric guitars could sound overwhelming to navigate. Though there's no best or worst guitar, guitars are rooted in our collective headspace. There are also guitars breaking limits and being staples of the current musical landscape. Putting aside the latest in guitar tech or unique antique gems, let 's look at models that have players of all tastes, and from all walks of life, happy and inspired time and again. Below are seven of the world's most commonly used electric guitars.
Fender Player Series Telecaster

In 1950, Leo Fender introduced the single-pickup Esquire, and a few months later released a dual-pickup version called the Broadcaster that, due to trademark issues, was later renamed the Telecaster. The Tele® would go on to become the world's first successfully mass-produced solidbody electric guitar. Simple yet elegant, it has been a show-stopper and session magnet since its debut. It's the go-to guitar for twangy chicken pickin' solos, which is why the iconic axe has appeared on the majority of country records over the past six-plus decades.
---
Fender Player Stratocaster Electric Guitar

The Fender Stratocaster, or Strat® (as it's been referred to affectionately for decades), has become a favorite for players of all genres. Introduced in 1954, the Stratocaster ushered in a new era of guitar design and has been instrumental in the development of modern music as we know it. Like its older cousin, the Telecaster, it features single-coil pickups. But rather than just pickups at the neck and bridge, it has a middle pickup and five-way selector that allow for even further in-between tonal variations. Along with being the first solid-body electric to have three pickups, it was also the first to have a self-contained vibrato system.
---

The PRS SE range has offered solid, well-built, great-sounding guitars for years now. It's a wonderful instrument to play too – PRS's expertise making eye-wateringly expensive guitars is evident from the moment you pick it up. Spend some time with the SE Custom 24 and you'll come to realise that there is no stereotype that fits. And therein lies its beauty. It's not a guitar or a brand that concerns itself with cultivating a popular image; PRS has always favoured more obvious metrics like quality manufacturing, great sounds and classic looks.
---
Epiphone Les Paul Standard PlusTop PRO

The Epiphone Les Paul Standard PlusTop Pro sets a new standard for guitars in its price range. Two Epiphone ProBucker humbucking pickups with coil-splitting deliver big slabs of the fat, warm tones, transcontinental sustain, and deep, soulful distortion that made this guitar famous. Crafted with a solid mahogany body and flamed maple carved top, a set mahogany neck, 22-fret rosewood fingerboard, cream body and fingerboard binding, and chrome hardware. The Tune-o-matic bridge and LockTone stopbar tailpiece add seemingly unending sustain and make string changes easier.
---
Gibson SG Standard Electric Guitar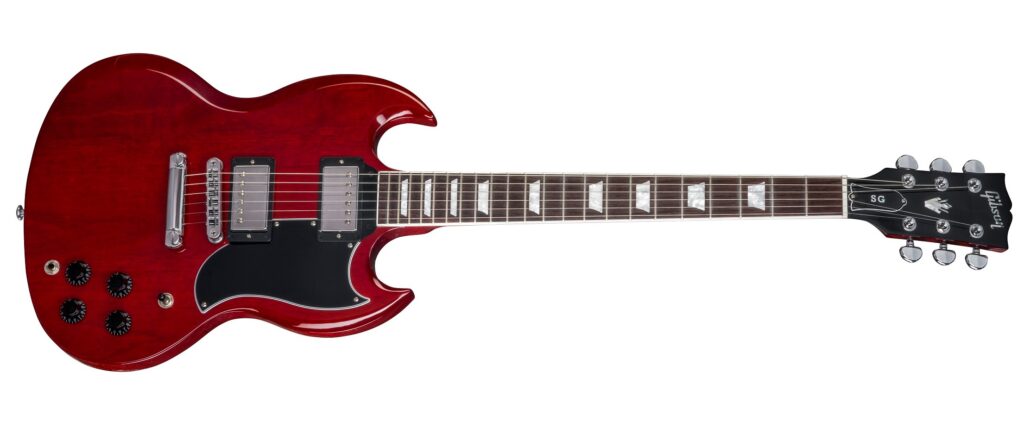 The SG Standard is Gibson's all-time best-selling guitar. It was conceived in 1961, and originally released as the new Les Paul. It featured distinct horn-shaped cutaways, and the neck joint was moved three frets, which made the guitar lighter and allowed easier upper fret access. In addition to these changes, the body was slimmer than the Les Paul Standard, and the neck profile was more slender. However, with Mr. Paul preferring the sturdier design elements of his original model, and due to contractual complications, his name was ultimately removed. Where Les Paul saw a mutation of his original design, others saw genius—from '63 on, the Les Paul name was removed, and the SG, or "Solid Guitar," was born.
---

The Streamliner concept is simple: to create more affordable Gretsch guitars without losing their specific DNA. Two new Broad'Tron humbuckers are controlled in classic Gretsch style by a three-way toggle selector switch on the bass side shoulder, a master volume on the treble side horn, and then a trio of controls by the treble-side f-hole for individual-pickup volume and master tone. The G2622's construction gives a different response and resonance to other new releases from Gretsch and, with these pickups, moves further from the Gretsch sound. And while its construction gives it a more solid, or at least ES-335, character, it's a little more airy and less punchy with a softer, squashier tonality.
---
Ibanez JEMJRWH Steve Vai Signature

Steve Vai's signature guitars have become almost as iconic as the player himself, and now that mojo is more attainable than ever with the Ibanez JEMJR Steve Vai Signature solid body electric guitar. From the acrylic vine inlay to the instantly-recognizable "monkey grip" handle, there's no doubt where the JEMJR Steve Vai Signature came from. For tonal tenacity, you get two Quantum humbuckers and one Quantum single-coil pickup complete with five-way switching. Factor in the double-locking tremolo bridge, and the Ibanez JEMJR Steve Vai Signature is ready to wail.