People usually have quite singular preference on acoustic or electric, but even if you are a fan of acoustic violins, you may find yourself sometimes in need of the features that only electric instrument can provide — loud/adjustable volume, good thing is you do not have to make another investment on electric violin, instead, just get a violin pickup or a transducer.
Ideally, using a pickup will amplify your sound without sacrificing the sound quality. This is especially handy if you are playing in large venue like church, wedding ceremony, outdoor stage or anywhere there are lots of people, you want to to be heard and maintain a good sound quality.
Types of pickups
In general, there are two types of pickups that are most commonly used, one is Magnetic style pickup, and the other one is Piezo style pickup:
Magnetic style pickup
As the name indicates, it is made by using a permanent magnetic and a good quality copper wire which is used in the form of thousands of turns to wrap the magnet. This kind of pickup is usually attached to the violin's body.
When the strings vibrate, the vibrations produced to change the magnetic flux. The resulted signal is passed to either record or amplification equipment through a cable. Besides, there can be a preamplifier (internal) added between the cable and pickup.
Piezo style pickup
These pickups work on the principle of piezoelectricity which refers to the ability of various materials of producing voltage under pressure and converting the sound vibrations into electrical signals. These are a kind of contact microphones that can amplify the sound of violin in live performances, and these can also be used for recording the audio.
They are ideal for amplifying acoustic instruments because they're sensitive to both the actual string vibrations and the resonance of your violin's wood and accompanying parts.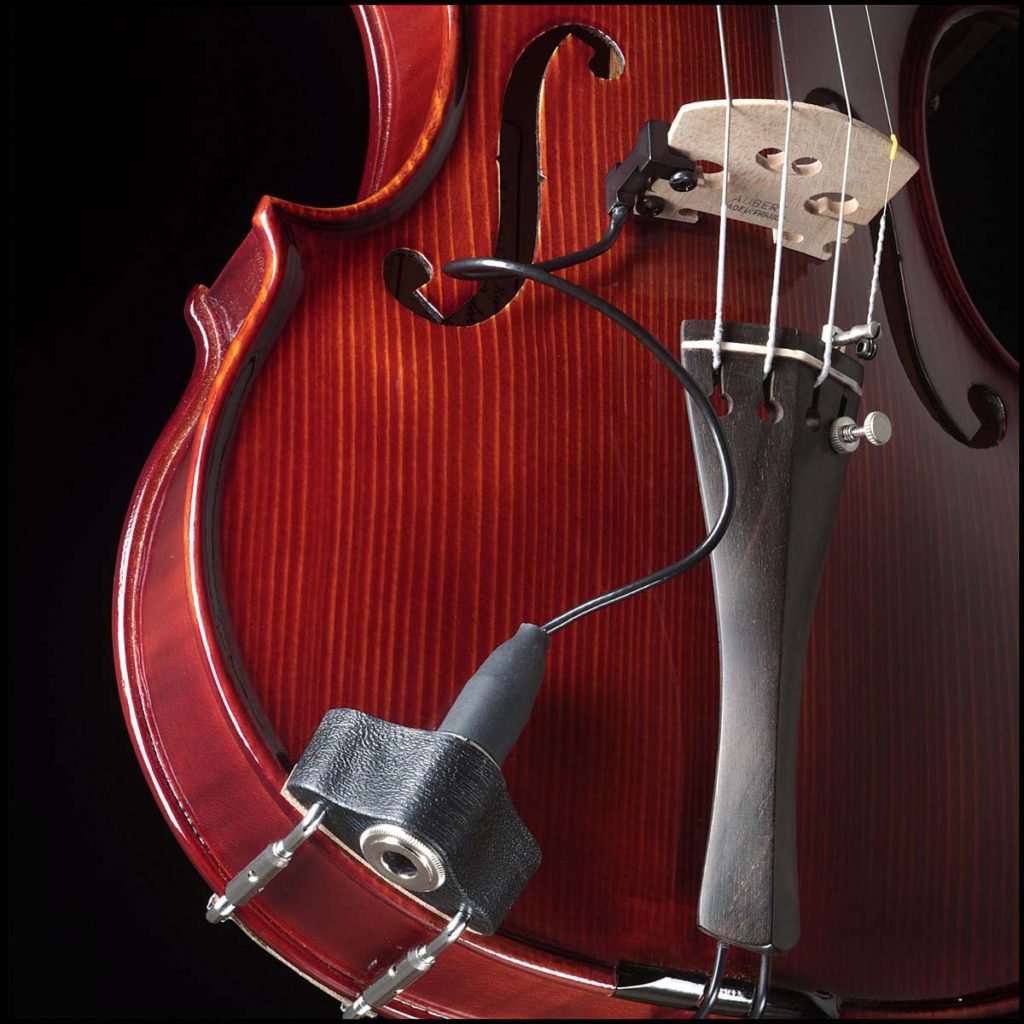 Barcus Berry is a popular name all over the world, and it is undoubtedly the first name that comes to mind when you think of buying a violin pickup. They provide you with a fantastic blend of quality, durability and economic affordability.
This one simply clamps on the bridge, which makes it easy to install, as well as easy to remove. This model is also a piezo pickup which helps ensure superior sound quality. Additionally, it offers a wideband frequency response and an exceptional string balance. The pickup features a feedback rejection element which provides excellent signal isolation for natural and precise reproduction of the violin's sound.
---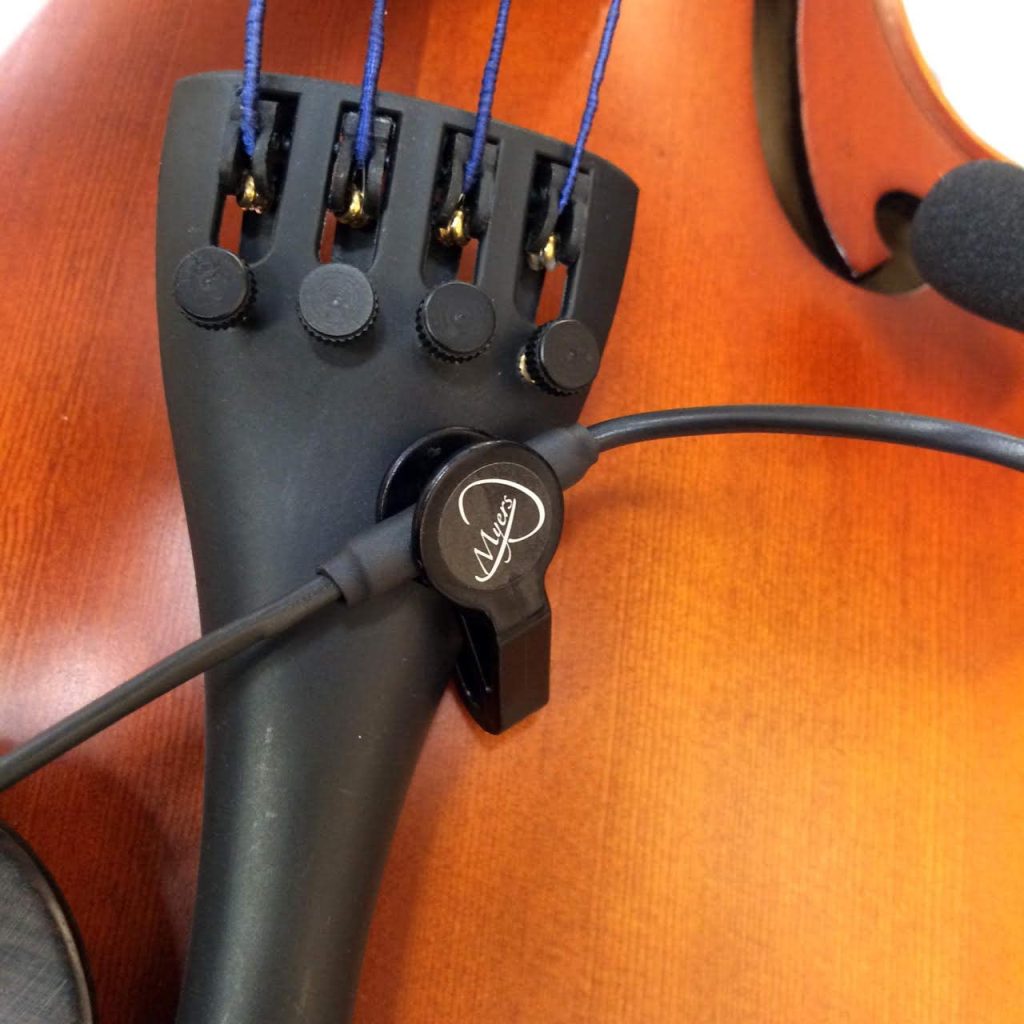 Myers Pickups introduces their new lightweight powerhouse. So light that we named it The Feather. So compact that it can be positioned on a multitude of instruments without modification or permanent installation and still faithfully amplifies the natural tone and beauty of your instrument! Fully equipped with an internally powered, active preamp to produce the richest sound your instrument can deliver! Power-source (included) is pre-installed and each pickup is meticulously tested before delivery. No phantom power needed! Compatible with most wireless systems!
Complete out of the box, plug in and play! All mounting hardware included. Instantly turn your instrument into an acoustic/electric instrument with volume! Compatible with almost any musical instrument! Made in the USA.
---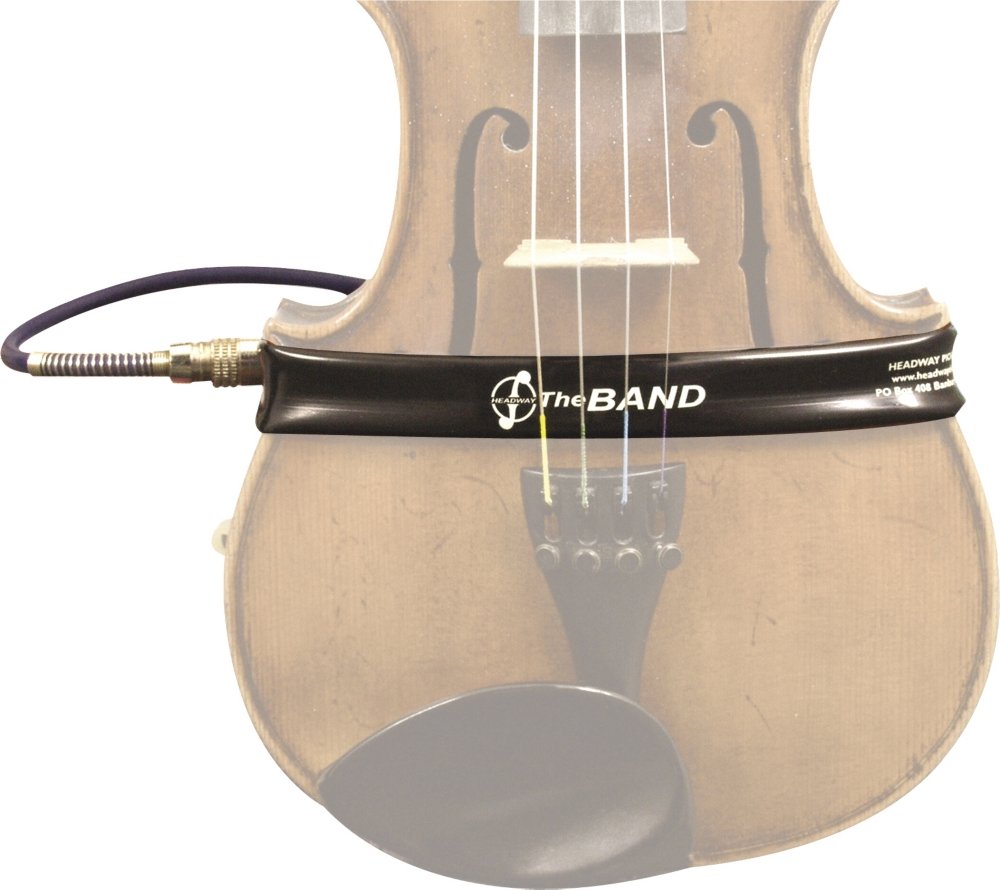 This violin pickup band is unique in the class of acoustic violin amplification devices. The idea behind The Band is that it can easily and harmlessly attach to your violin. It is an instant fit, simply wrapping around the belly of your violin. It's lightweight and not cumbersome during play, despite it visibly having more material in its form factor than a cli-on violin pickup version.
The violin pickup system included here is a highly recommended option by skilled professionals. It features durable structure, compact design, quick fitting, and effortless transferability. You won't need any batteries as the pickup can be directly plugged into the combo amp or mixing desk.
---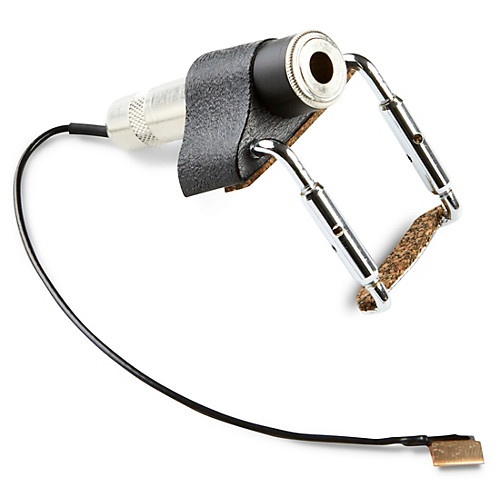 This is one of the top professional violin pickups manufactured by Fishman. It possesses all the properties of the brand and offers excellent operational efficiency, rich and warm tone, and clear sound at a very reasonable price.
The pickup is easy to install and can be easily removed if needed. Because it is a piezo pickup this means that it will not pick up on any magnetic fields, which will help to produce clearer sound quality. It is made to be very lightweight for reducing the muting. Besides, the installation is very easy, and you won't have to do any instrument modifications. It has carpenter style and features 1/4 inch output jack.
---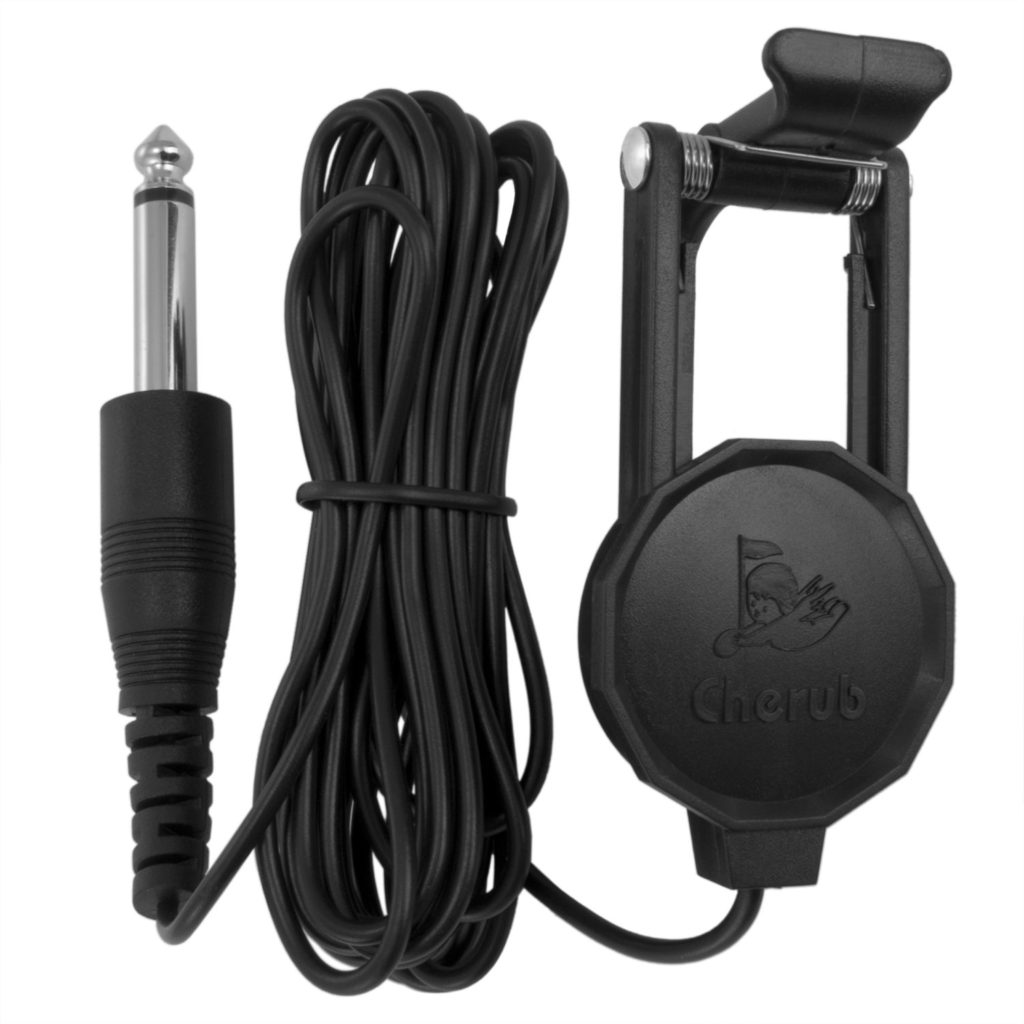 Cherub proudly stands among the reputable manufacturers of violin pickups. Among the vast variety of pickups presented by Cherub, the one mentioned here is excellent in quality, pleasant in visual appeal and remarkable in operational efficiency. It delivers the violin's original sound to the amp.
For those who want to enjoy a bright and amplified sound at a very reasonable rate, here is an appropriate pick. Its sensitivity and tonal quality are comparable to the high-end models, and you won't find such outstanding functional quality at such an affordable price. Besides, the installation is very quick. All you need to do is open up the clip and place it inside f-hole and attach it between the tailpiece and bridge of your violin.
---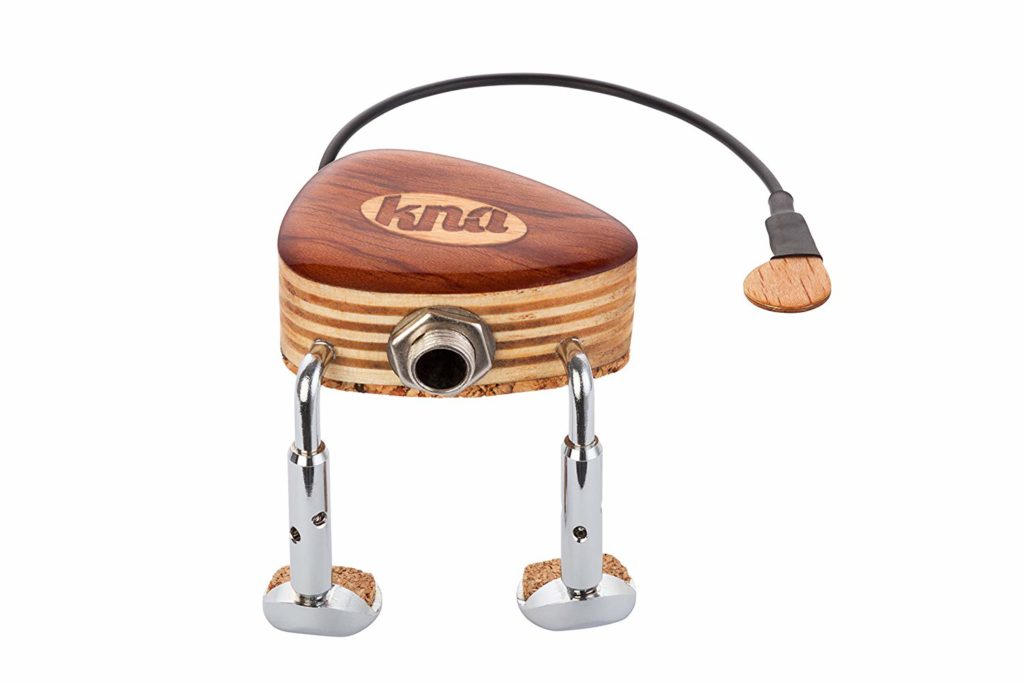 Lightweight, unobtrusive and easy to install, the KNA VV-1 is one of the common pickup solutions for violins and viola. It is encased in a lightweight tone wood and does not require any major modification to attach it to the bridge of the violin.
This pickup is ideal for beginners and amateurs who prefer affordable acoustic solutions. It can be comfortably clipped on the side or wedged in the bridge without it becoming a hindrance to the musician. It is easy to install and remove and provides a good tone. You do not need any professional help to mount this pickup. In fact, there is a very minimal modification to fix the KNA making it easy to use and install.
---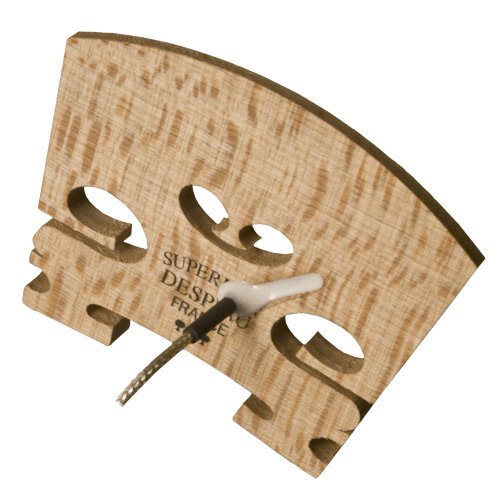 LR Baggs is one of the most trusted brands in the industry. Their products are known for amplifying the true natural sound of the violin. You will not experience any annoying feedback, extra noise or the nasal tone common in microphones when you use the LRBaggs Pickup.
Once you fix the Pickup to the bridge of the instrument you will experience the dynamics of sound where the tone is well balanced and the strings enhance the natural tonal quality of the violin. It eliminates the external noise created when the bridge moves left and right due to vibrations. It also minimizes any finger squeaks and feedback.