Podcasting seems to have flourished in recent years, and Google has cashed in by creating its own podcasting program. The format 's simplicity is what attracts so many listeners and developers to it. Unless you aim to be the latter, it can be overwhelming to pick out your debut podcasting microphone, which is why we've made this guide to find the best podcasting microphone for you.
Types of Podcast Microphone
But before we dive into our recommendations, it's essential to understand which kind of microphone is best for your particular podcasting setup. Primarily, there are two categories of podcasting microphones to choose from. They are:
USB Microphone – These plug straight into a USB port on your laptop or computer. No additional equipment is needed. They're ideal for beginners as they are incredibly convenient. However the sound quality won't be as good as XLR mics.
XLR Microphone – Usually podcasters progress on to an XLR mic after they've outgrown their USB mic. XLR is the standard connection used in the professional audio world. It has a 3 pronged connector that needs to be plugged into some kind of audio interface like a mixer (not directly into your computer).
Beginner Level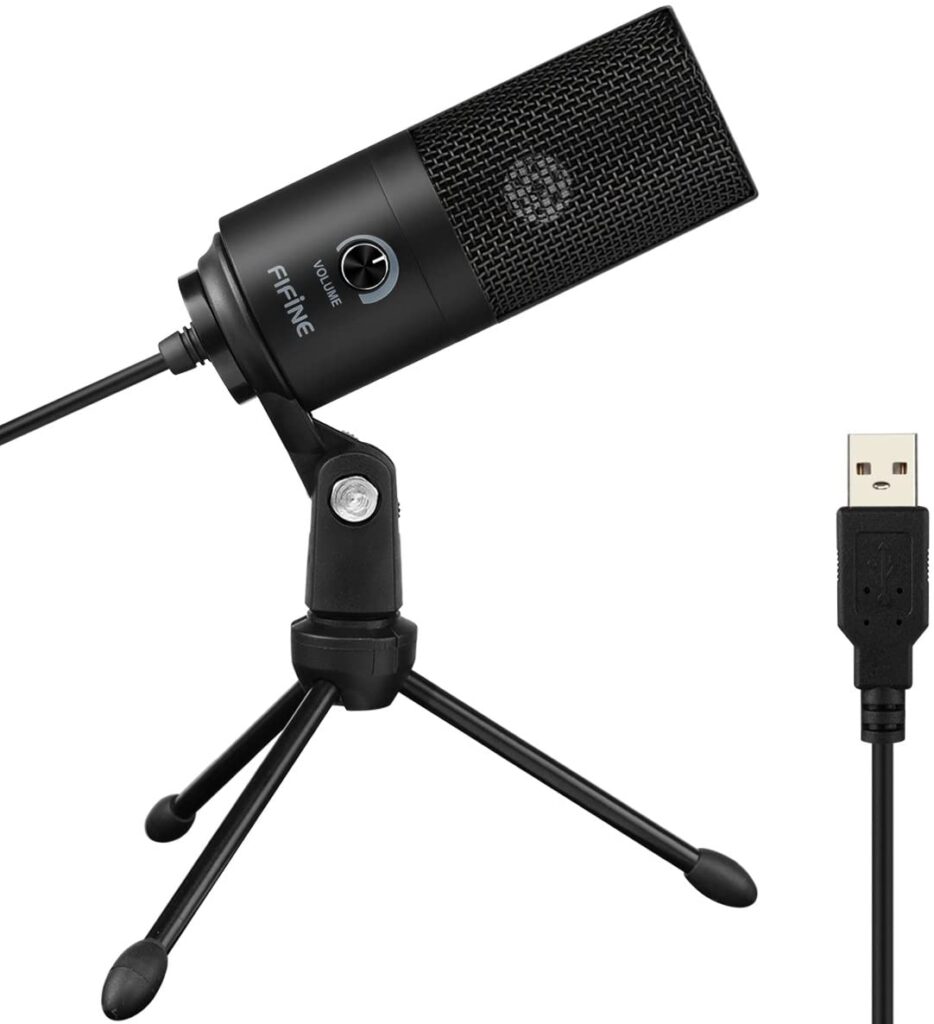 The Fifine K669 USB microphone was designed with value and simplicity in mind. Equipped with its own tripod, the Fifine is convenient and incredibly easy to install on both Mac and PC. It's also sturdy enough to be chucked in a bag and used on the move. To get the best audio you should stay roughly 10-15cm from the mic and play around with the gain setting to optimise your recording. When up and running your voice will sound nice and bright thanks to some in-built EQ .
Cardioid polar pattern condenser microphone for computer captures your voice properly,produce clear smooth and crisp sound without static noise.Great for gamers/streamers at isolating the sounds from the main source and separating them from any background noise.
---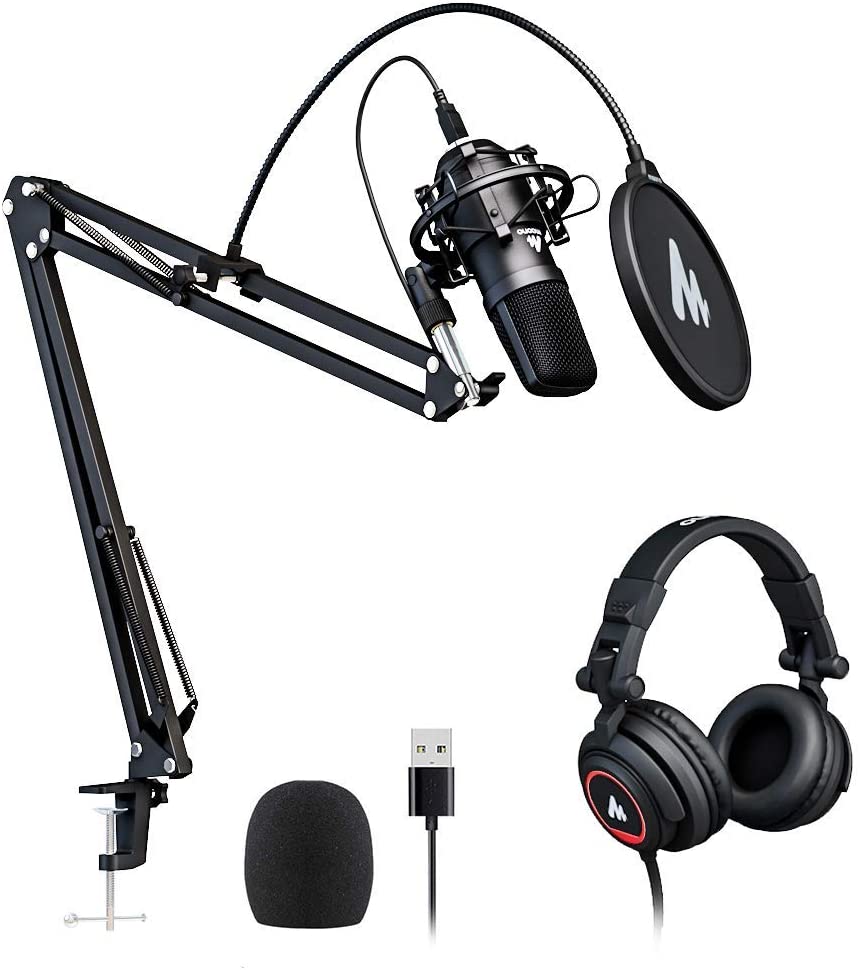 Plug and play Usb recording microphone with 5.9-Foot USB Cable included for computer PC laptop that connects directly to USB port for record music,computer singing or podcast. Easy to use and install on Mac or PC. USB-powered design condenser microphone for recording no need the 48v Phantom power supply, work well with Cortana,Discord,voice chat and voice recognition.
The microphone has USB 2.0 data port which is easy to connect with your computer and Linux operation system, and no need extra driver software, and no need for an external sound card. Double shielding USB cable reduces interference. That makes it easy to sound good on a podcast, livestream, video call, or most any other kind of recording.
---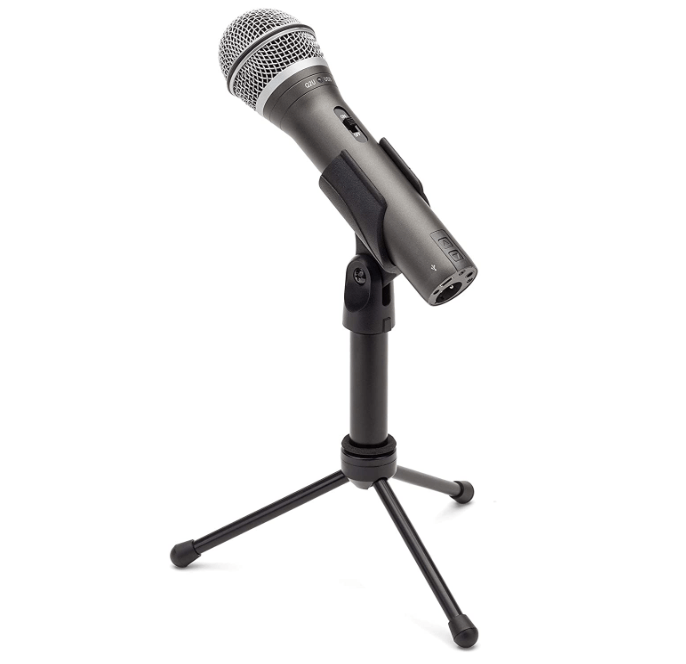 Professional handheld dynamic microphone with USB digital output for connecting to a computer and XLR analog output for connecting to a mixer, audio interface or portable PA system. The Q2U is a plug-and-play device, meaning it doesn't need any special drivers to work with your computer. Just connect the microphone to your computer, launch your favorite audio software, and start recording.
The Q2U Recording and Podcasting Pack includes everything you need to start recording great sounding projects: an extended desktop stand with mic clip that positions the microphone close to the sound source, a pop-filter for reducing p-pops, and USB and XLR cables.
---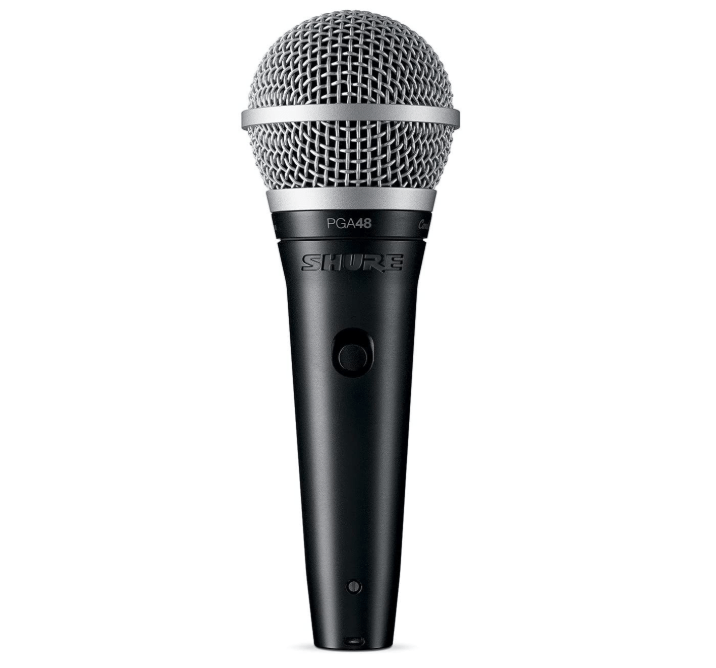 The Shure PGA48 takes us back to the basics. Straightforward and easy to set up, it's a simple microphone that's geared towards a standard frequency range which works best with close proximity speech. Tailored microphone cartridge design specifically for clarity in the standard frequency range of speech.
The PGA48 Dynamic Vocal Microphone is a professional quality microphone featuring highly durable design and construction that delivers excellent sound. Ideal for use in spoken word and karaoke performance, the PGA48 features an on/off switch, swivel adapter, zipper pouch and choice of XLR cable or QTR (¼") cable, or without cable.
---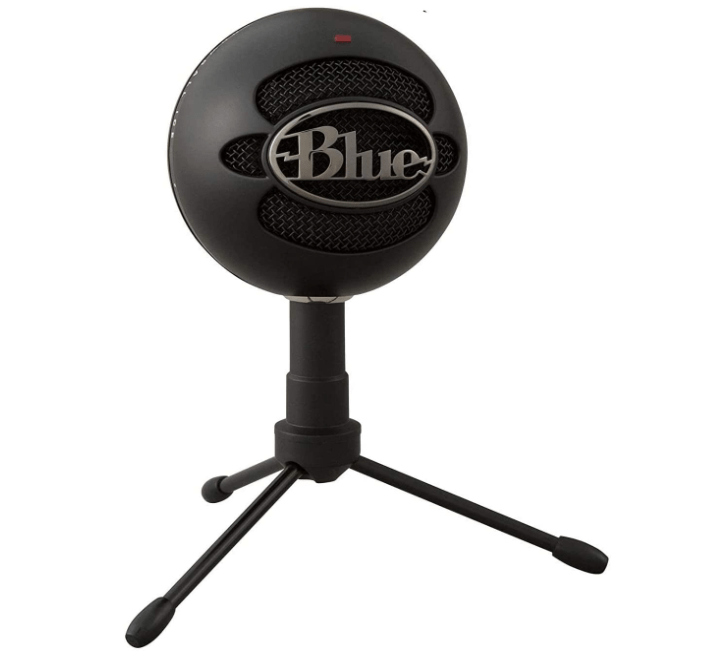 Snowball iCE has a custom condenser capsule that delivers crystal-clear audio quality that no computer microphone can match. And with its cardioid polar pattern, it's one of the most versatile USB microphones around. Snowball iCE is Skype and Discord certified for guaranteed performance. You'll be heard loud and clear with the Snowball iCE computer microphone.
With Snowball iCE, quick and easy recording is finally a reality. Simply mount Snowball iCE on the included adjustable stand, plug the USB cable into your Mac or PC and that's it. You're ready to sit back and start recording crystal-clear audio for any project.
---
Intermediate Level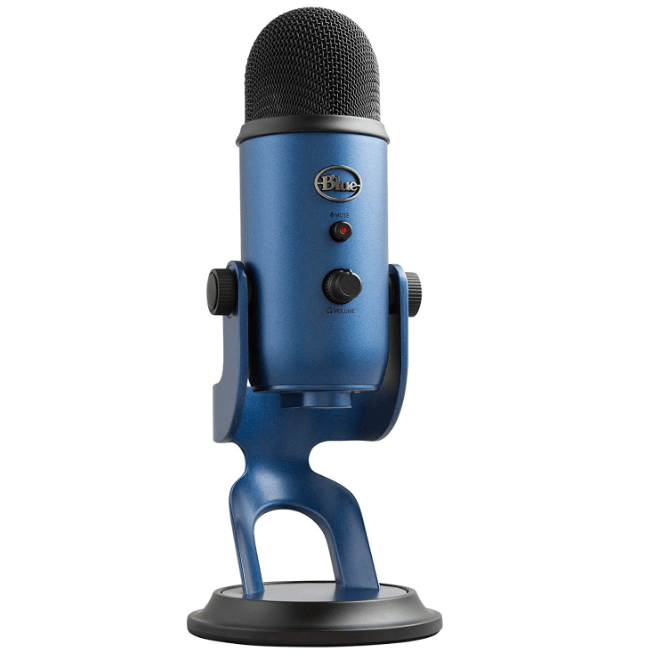 Yeti is one of the most advanced and versatile multi-pattern USB microphone available anywhere. Combining three capsules and four different pattern settings, Yeti is the ultimate tool for creating amazing recordings, directly to your computer. With a sleek Silver finish, Yeti adds style and energy to your recording or broadcasting setup.Featuring Blue's innovative triple capsule array, Yeti can record in stereo or your choice of three other unique patterns, including cardioid, omnidirectional, and bidirectional.
Utilizing a high quality A-D converter, a built-in headphone amplifier for zero-latency monitoring, and direct controls for headphone volume, pattern selection, instant mute, and microphone gain. With no drivers to install, Yeti is the most versatile USB mic lighting up the airwaves today.
---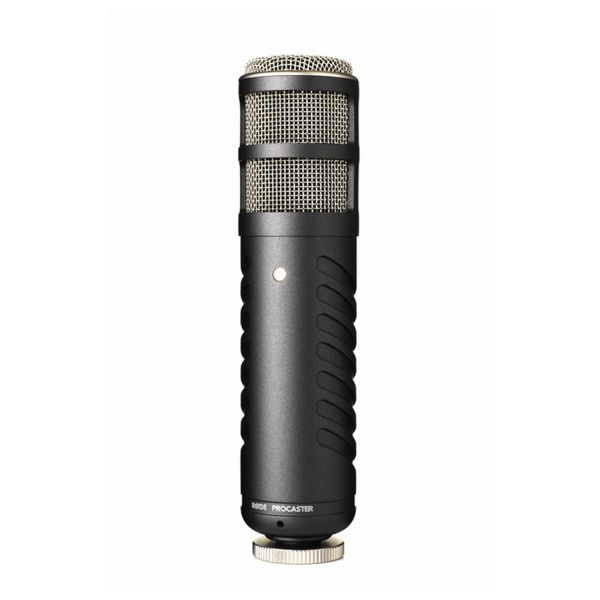 Designed as a no-compromise microphone for On-Air broadcast use, the Rode Procaster Broadcast Dynamic Vocal Microphone is one of the ultimate broadcast quality mics for the 21st century. Featuring a tight polar pattern and tailored-for-voice frequency response, the Procaster is perfect for every application where a great sounding, rugged microphone with superior ambient noise rejection is demanded.
Rode Procaster Features Broadcast quality sound High output dynamic capsule Balanced, low impedance output Internal shock mounting of capsule for low handling noise Internal pop-filter to reduce plosives Robust, all metal construction Designed and manufactured in Australia Ten year warranty Includes RM2 stand mount 3/8 inch adaptor ZP1 zip pouch.
---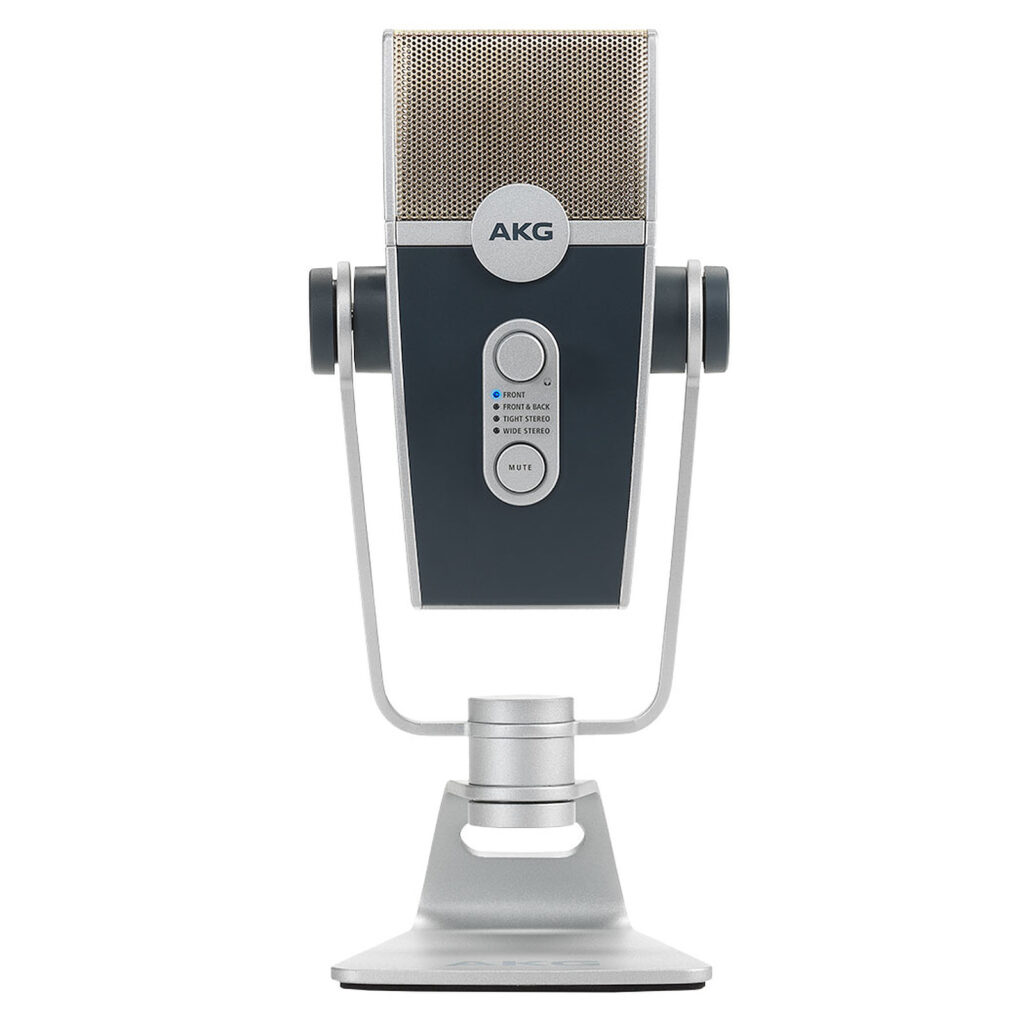 AKG Lyra brings that legendary acoustic engineering to a versatile USB microphone that delivers the highest-quality audio in its class. Inside, advanced circuitry delivers acoustically transparent, 4K-compatible, Ultra HD-grade, 24-bit/192kHz audio resolution. Lyra's internal self-adjusting shock mount minimizes contact noise, and its built-in sound diffuser and AKG's proprietary Internal Element Overload Prevention automatically reduce noise, eliminate pops and improve signal levels.
Lyra works seamlessly with all major audio and video production software and online platforms, and includes Ableton Live 10 Lite recording software. Whether you're going for a polished, modern sound or a classic vintage vibe, Lyra gives you everything you need to bring your ideas to life.
---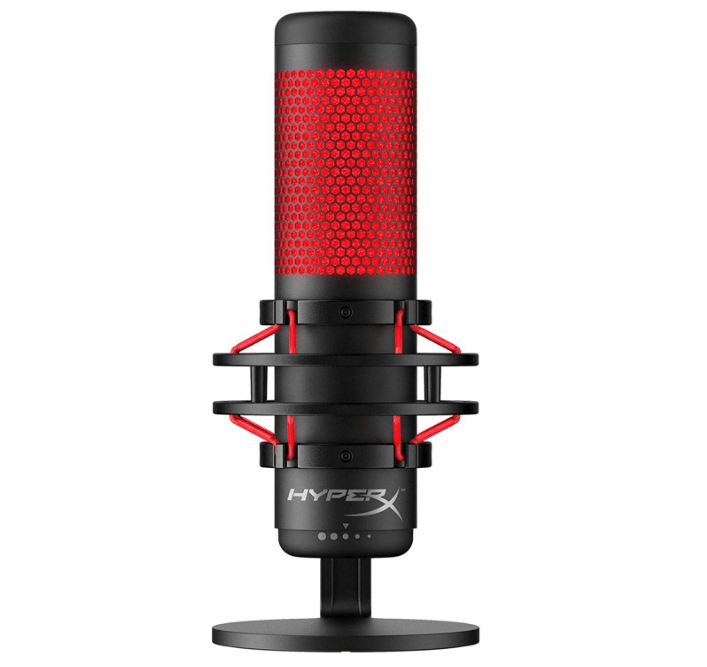 The HyperX Quad Cast is the ideal all-inclusive standalone microphone for streamers, podcasters and gamers that are looking for a condenser mic with impressive quality sound. The Quad Cast includes its own anti-vibration shock mount to help reduce the sound of any movements. It has a built-in pop filter that reduces any muffles or popping noises for clearer voice quality. Instantly know your mic status with the LED indicator and with the tap-to-mute to easily mute yourself without any delay.
Quad Cast is certified by Discord and TeamSpeak to ensure that the Quad Cast is the perfect microphone for broadcasting loud and clear for all your followers and listeners. Whether you're plugging into a PC, PS4, or Mac, you'll be able to deliver quality sound to anyone tuning in.
---
Pro Level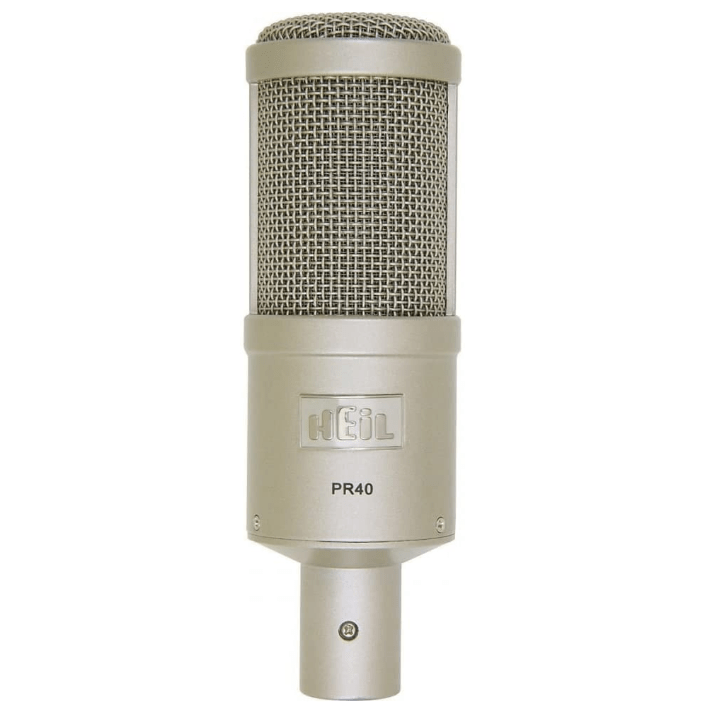 The Heil PR 40 represents completely new dynamic microphone technology designed for a wide range of professional applications such as sophisticated recording, live sound, and commercial broadcast. Producing the widest frequency range available in a dynamic microphone, the PR 40 outperforms most condenser microphones, and can withstand huge amounts of SPL. At the same time, it maintains the 25 year Heil Sound tradition of superbly natural voice articulation.
The Heil PR40 gives excellent value for its price—combining radio broadcast quality that gives a flat audio quality and ability to pick up frequency responses from as low as 28Hz and up to 18kHz.
---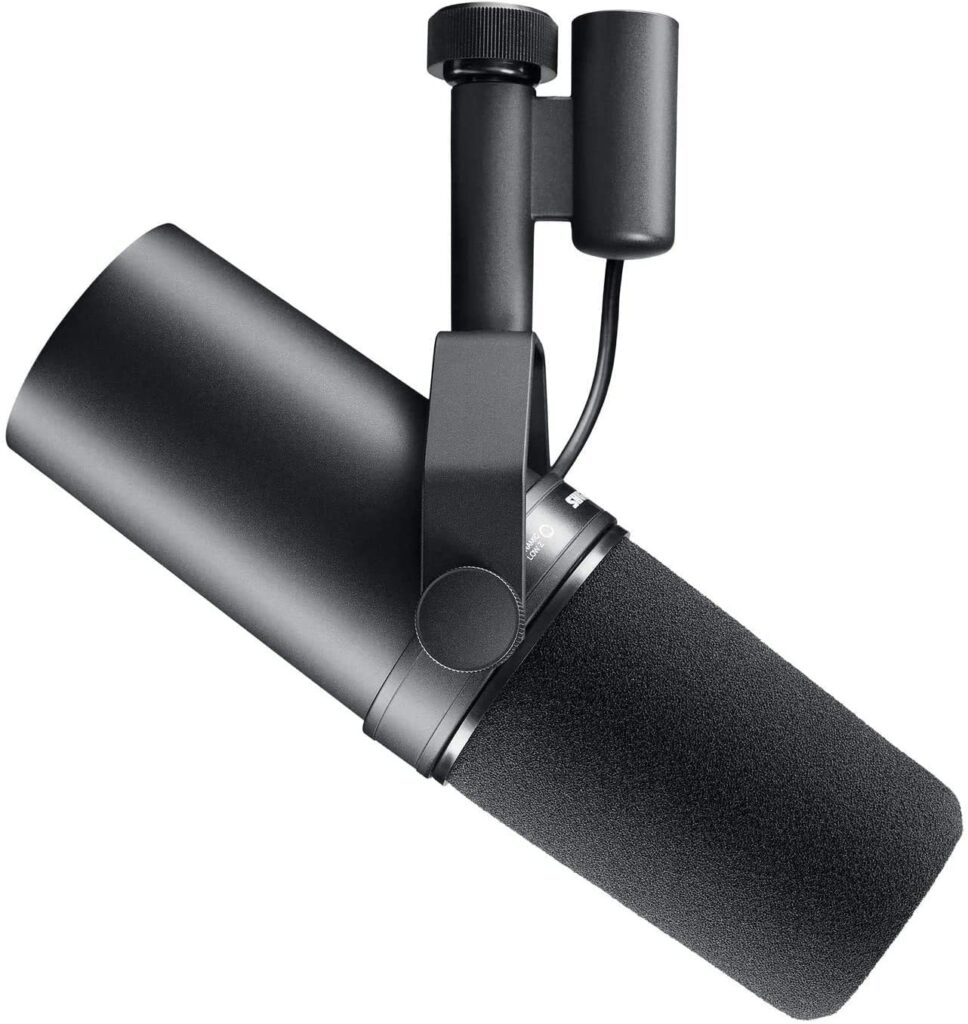 The SM7B dynamic microphone has a smooth, flat, wide-range frequency response appropriate for music and speech in all professional audio applications. It features excellent shielding against electromagnetic hum generated by computer monitors, neon lights, and other electrical devices. The SM7B has been updated from earlier models with an improved bracket design that offers greater stability.
In addition to its standard windscreen, it also includes the A7WS windscreen for close-talk applications. Popular radio and TV mic features excellent shielding against electromagnetic hum. Plus mounting bracket. Impedance: 150 ohms for connection to microphone inputs rated at 19 to 300 ohms.
---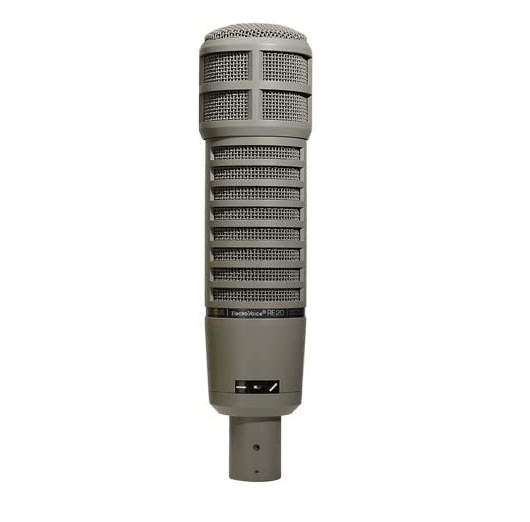 The RE20 dynamic cardioid microphone is truly an industry standard, a firm favorite among broadcasters, podcasters, and sound engineers worldwide. Its popularity also extends into music production as a premium grade instrument microphone. Its Variable-D design and heavy-duty internal pop filter excel for close-in voice work, while an internal element shock-mount reduces vibration-induced noise.
The Variable-D design and heavy-duty internal pop filter excel for close-in voice work, while an internal element shock-mount reduces vibration-induced noise. Great for podcasts, voice-over work, audiobook narration, talk shows, sports announcers, radio, broadcasting, and music production.