The beauty of electric instruments is not it can play low to loud or at any genre, when plugged in, but that it has so much potential to play more than its acoustic sound when plugged in. Being electric gives you the power to manipulate the sound and create something really beautiful, and to reveal that beauty, what you need is guitar pedal, and most possibly, more than one… In this article, we have reviewed tons of popular guitar pedals currently available in the market and present you the list of 10 best ones, read on and find out which ones you decide to get!
What Is Guitar Pedal?
Guitar pedals, sometimes called effects pedals or stomp boxes are small electronic units that alter your guitar's sound. Traditionally, guitar pedals are used to produce special effects such as wah-wah, delay, overdrive, and distortion. However, it is also possible to use effects pedals to control volume, equalization, and other basic aspects of your guitar's tone. To use a guitar pedal, connect the pedal to your amp and guitar, then experiment with different notes and settings to achieve the sound that you want.

wikihow
---
Types of Guitar Pedal
Because there are so many effects that you can make, there are different types of guitar pedals available, some of the most widely used are:
Distortion Pedals
It is probably the most widely used and most useful pedal ever created. It basically takes your signal (the guitar) and distorts it, adding volume, crunch and sustain to your sound and is basically used as a contrast to the natural sound of your guitar. Often used in the chorus of some of your favorite songs. A distortion pedal also changes the sound of your guitar and responds differently depending on which guitar you use.
Delay Pedals
Delay pedals take your original signal, such as a guitar chord or note, delay it and replay it precisely as the pedal first hears it. It can play back the note once or several times depending on your environments or "feedback time." You will often see pedals of Digital Delay as well as pedals of Analog Delay. The big distinction is that digital delay pedals provide longer delays
Fuzz Pedals
Fuzz pedals provide a heavy quantity of distortion to guitarists, bass players and even keyboard players that sounds very distinct from standard distortion sounds. Fuzz pedals make your guitar sound like it pushes your amplifier to the point where it blows. A fuzz pedal totally transforms the sound of your guitar signal into a heavy, fizzy, and highly loud sound that can give a heavy bass sound to a spitting ' broken' amp, depending on which pedal you choose.
Wah Pedals
You guessed it right, the function of this pedal is to make the exact noise they are named after — a "wah" sound. If you slowly say "Wah, Wah, Wah" to yourself, that's the same pedal sound. The Wah sound was likely best recorded by Jimi Hendrix on "Foxy Lady" and thanks to its really funny sounding impact is commonly used in funk and rock performances.
Chorus Pedal
A chorus pedal doubles an audio signal just a few milliseconds out of phase, which creates the illusion of multiple instruments. Imaging a few more players playing the same song as you do, but each one is slightly slower than you. This makes what you play sound a little warbly and thickens your guitar or bass lines.
Tuner Pedals
Regardless of what type of guitar player you are.The one thing we all have in common is that we need to be in-tune to sound good, and that is why a tuner pedal is a must-have for guitarists of all levels. It is a fast and easy way to be able to tune your guitar during live show or at home. They also cut your signal when engaged so no one will hear you tuning up!
Apart from the 6 pedals mentioned above, there are many other effect pedals such as reverb pedal, looper pedal, override pedal, compressor pedal, tremolo pedal, on and on… After knowing what those pedals can do, you may feel like to have them all as they are all very powerful, but if you are new to electric guitars and new to pedals, it is best to stick a few essentials and play them well, more does not necessarily mean better and simple can be beautiful.
---
TOP 10 Essential Pedals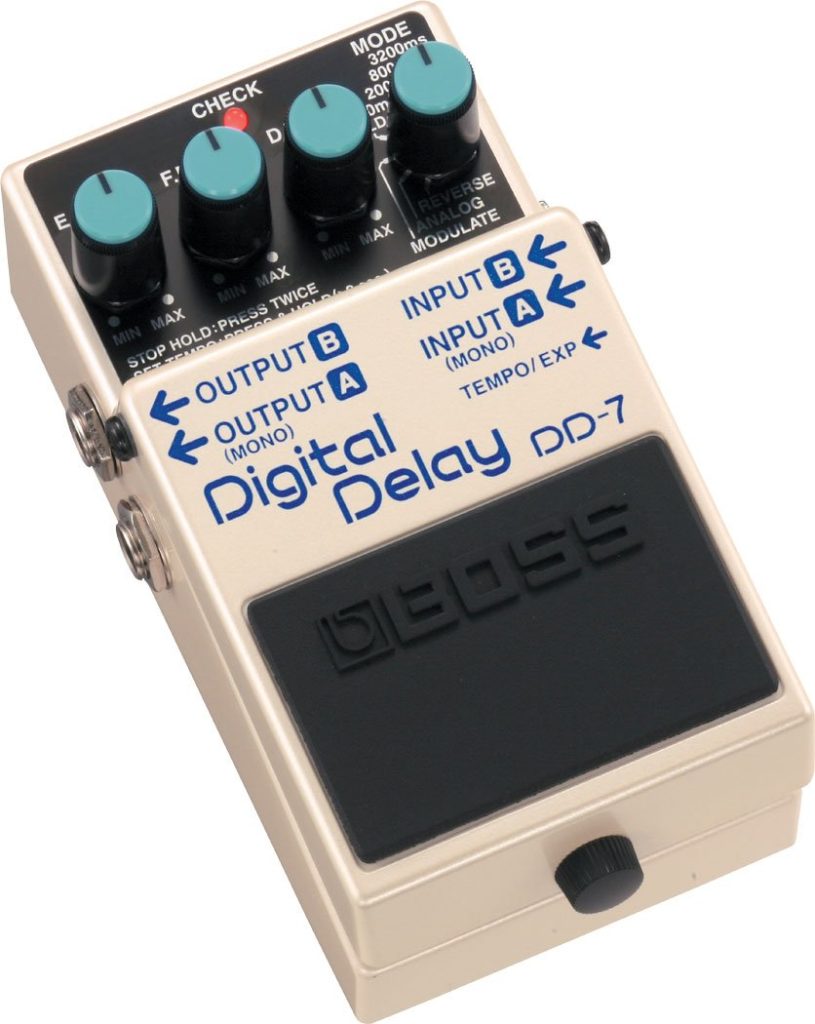 Even with the best-selling delays in compact-pedal history, BOSS continues to push the envelope and innovate. The new DD-7 takes the best features from its predecessors and expands the creative potential with Modulation Delay mode, classic modeled Analog Delay mode, External pedal control options, longer delay time, and more. Up to 6.4 seconds of delay time is available with the DD-7, a marked increase from its predecessor. In addition, Hold mode allows up to 40 seconds of input to be recorded for creating 'sound on sound ' performances
The DD-7 is equipped with two innovative new delay modes. Modulation Delay provides chorus-flavored sounds. Analog Delay offers a modeled simulation of the classic BOSS DM-2, beloved for its characteristic warmth.
---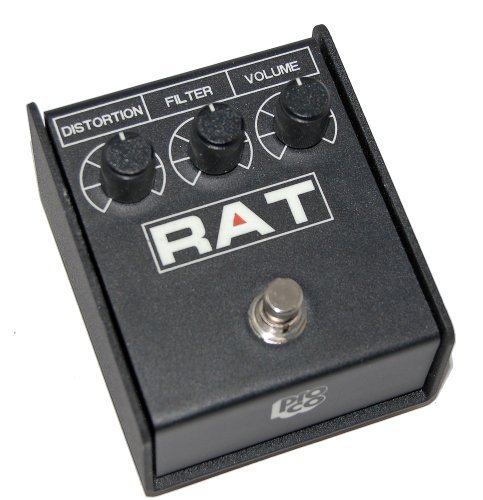 This is one of the more popular distortion pedals in the market. It covers most of the ground you'll need for this type of pedal: distortion, sustain, fuzz and overdrive. This thing really gives you that gritty sound you hear in most rock (and others of course) music. The RAT 2 nails that sweet spot where a tube amp goes from sparkly clean to warm overdrive. Maybe you already love your amp's distortion. Use the RAT 2 as a boost for solos and get the extra kick you need. This is one of the best distortion pedals out there and has been for years.
Just check the user reviews, there are thousands of positive outlines that really praise the overall sound it gives. It's gritty, raunchy, warm, and all other superlatives you can use to describe a perfect distortion pedal. Check the video below for a taste of what you'll get.
---
MXR M101 Phase 90 Guitar Effects Pedal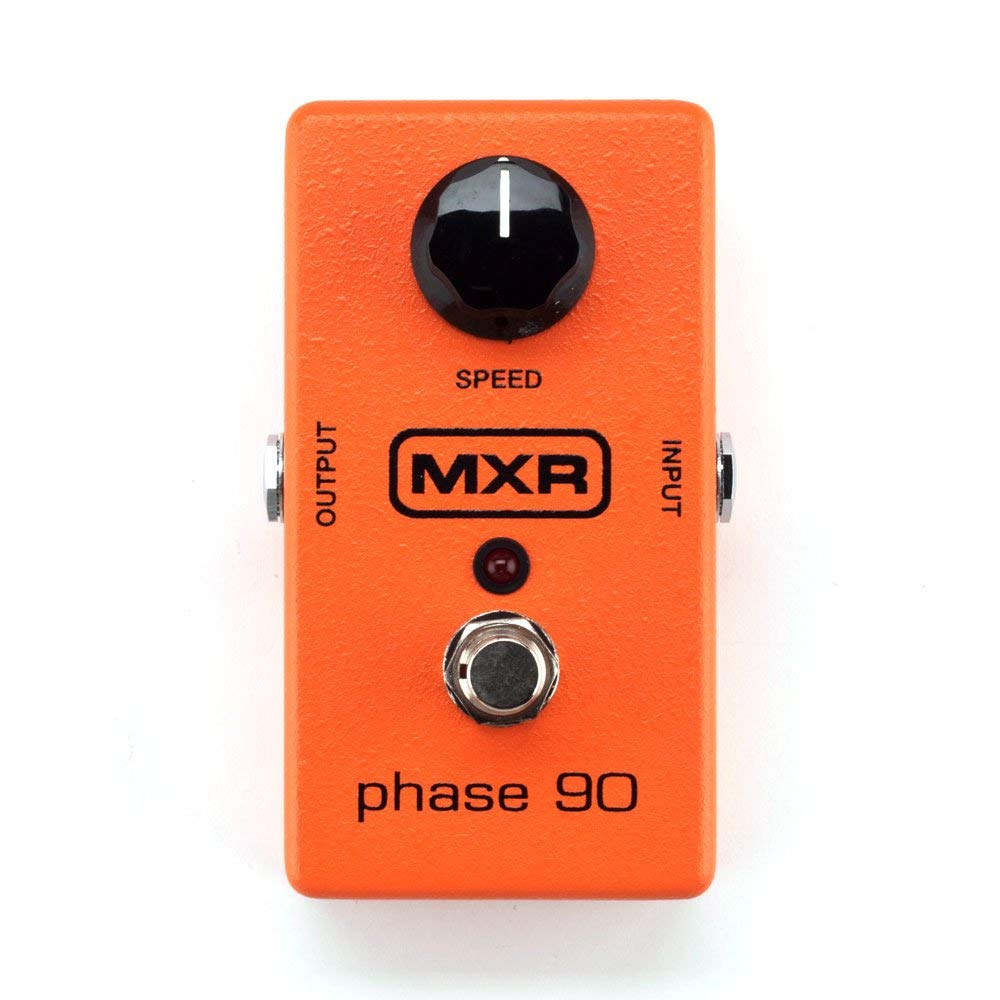 The MXR M-101 Phase 90 Pedal gives you classic phasing with variable speed control. Add shimmer to lead passages or jet-plane resonance to muted strumming. Not just for guitars; it works well with bass, keyboards, and even vocals. It is among the oldest and most iconic effects of this type that are still being used today. By all metrics, the newly built ones are every bit as good as the original MXR produced units.
Vary the speed from a subtle, long cycle to a fast, watery warble with endless vintage vibrations in between. The MXR M-101 is powered by single 9V battery or Dunlop ECB-003 AC Adapter. It is agreed by many professional guitarists that the MXR Phase 90 is one of the best guitar phaser pedals out there. After all these years, it remains the little orange box of magic. And it's priced just right for any guitarist who wants that priceless Phase 90 sound. Get one and become a part of the family of legendary Phase 90 users.
---
TC Electronic Ditto X2 Looper Pedal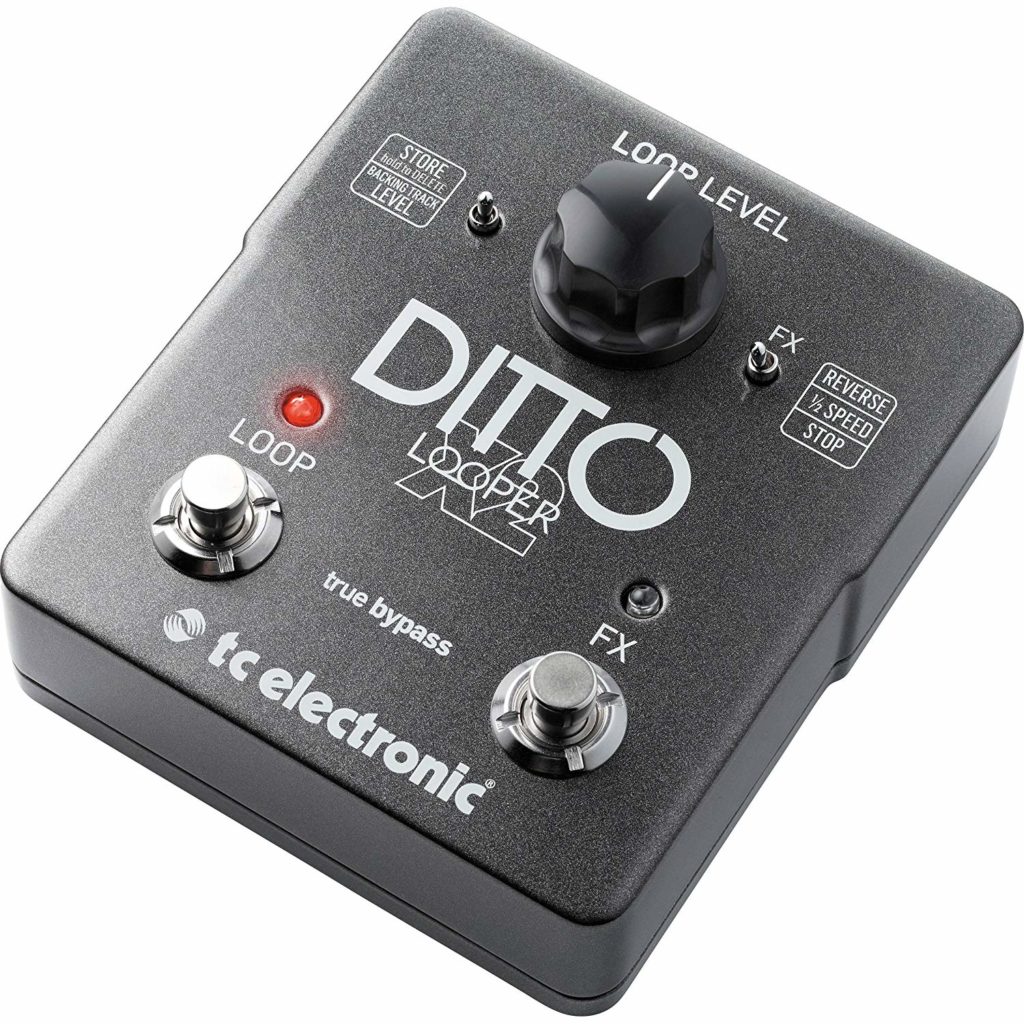 There's an outrageous number of top-notch loopers on the market, many of which are gigantic command centers that let you create a small army of loops to back you up on stage (just look at an Ed Sheeran performance). But what's cool about the Ditto X2 is that it steps up the usual single-stomp micro-loopers by giving you a few more features, while also remaining small enough to actually fit on your pedal board.
With the Ditto X2, you can record up to five minutes of looping (which should be more than enough for most applications), and you can loop it as a straight, unaffected single or reverse it/cut the speed in half. Those two extra effect options open up a world of sonic experimentation.
---
MXR M102 Dyna Comp Compressor Pedal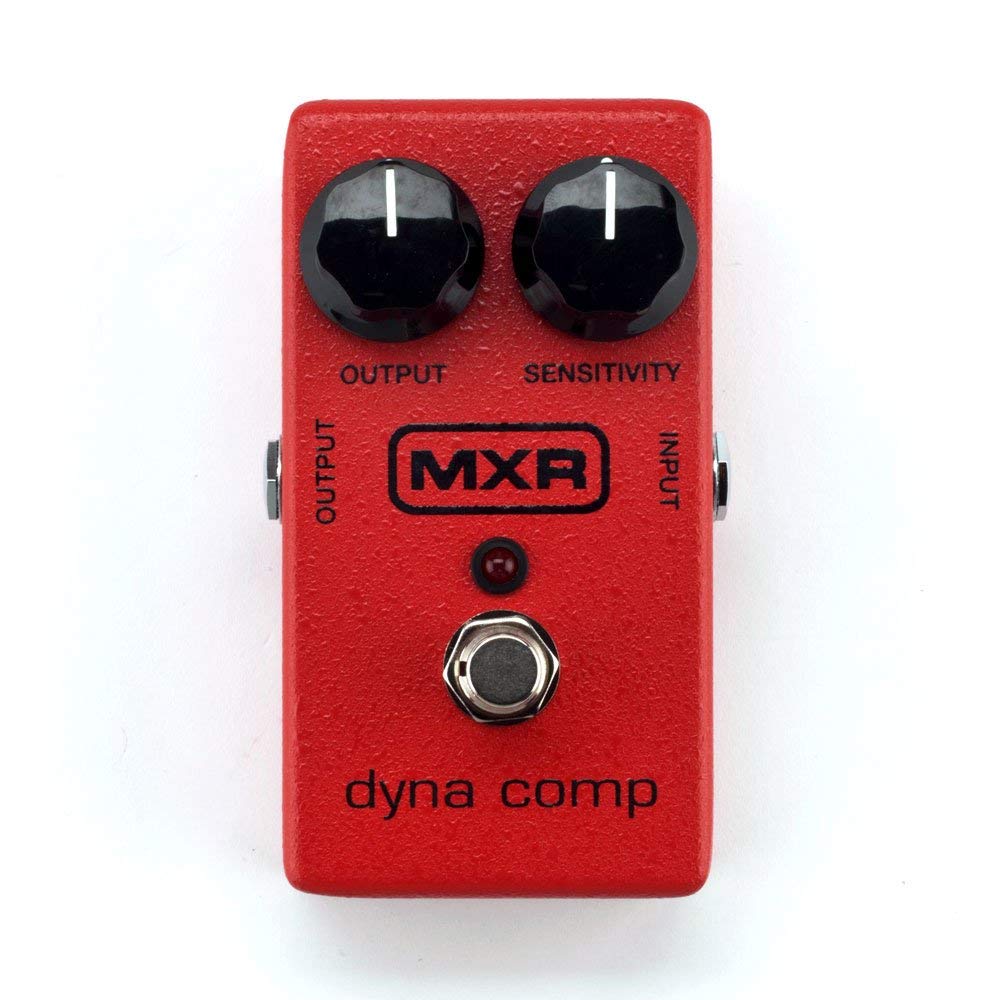 The MXR M-102 Dyna Comp Compressor Pedal creates infinitely clean sustain by means of a signal-limiting processor that varies its gain so the output signal stays constant. Features Output and Sensitivity knobs and LED on/off indication. It allows you to set an output level and the sensitivity at which it kicks in. This device can produce that percussive, clicky sound on a clean guitar – the mainstay of 80s pop players – or a mellow sustain for lead work. The M-102 is designed to capture the sound and performance of the originals which it does with an authentic vintage flavor.
For over 40 years, the MXR Dyna Comp is still going strong. This pedal was commonly considered one of the finest compression pedals out there, and its reputation is undoubtedly understandable. If you want punchy cleans with a lively character or smooth lead tones that ring out with sustain, this pedal is for you.
---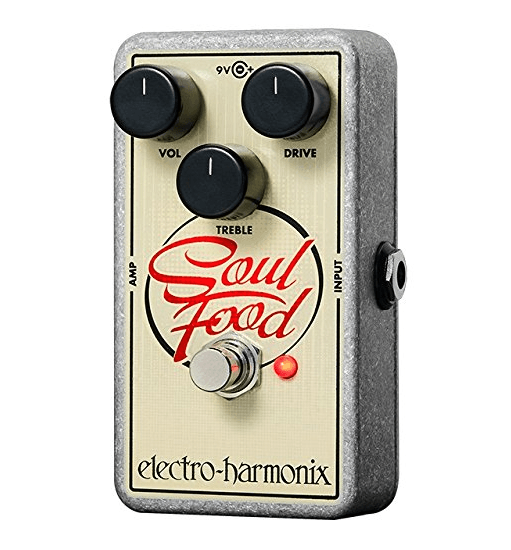 The Soul Food is not a particularly new pedal on the market, but it remains one of the top-selling pedals year after year for a straightforward reason: it provides iconic transparent distortion / boost circuitry at a very affordable price.
The Soul Food is an effort by EHX to recreate the iconic Klon Centaur pedal (which can go for thousands of bucks, secondhand) and place it in a no-frills box. Like many overdrive pedals, the overall sound volume, the amount of treble and the level of dirt can all be dialed. But since this pedal intends to give "transparent" distortion (boosting your amp's noise, not blowing it up), it will act much differently from an all-out overdrive pedal. You will receive individual notes much more complete and a more natural response.
---
Ibanez TS9 Tube Screamer – Classic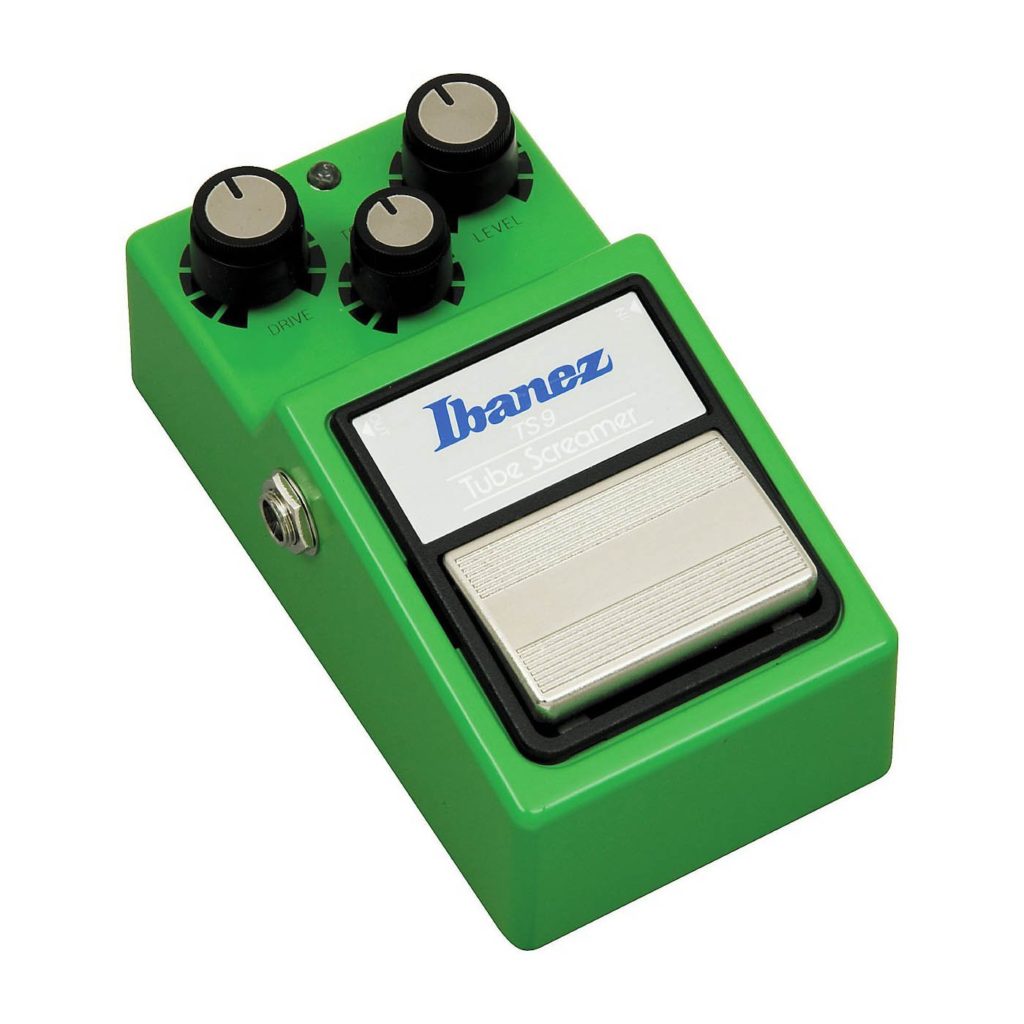 The Ibanez TS9 Tube Screamer is a reissue that's just like the original in so many ways. Same housing, same famous seasick-green paint, and the same crankin' overdrive that made the original one of the all-time classic pedals.
It is a classic for a reason, it produces a fantastic tone and let's you dial in the right amount of overdrive (nothing too heavy though, for that get a distortion, not an overdrive). Not only is it a great overdrive, it also helps shaping the tone of your guitar. The best part of this pedal is the tone control. It produces such a fantastic tone cranked all the way up that my guitar sounds just wrong when this pedal is off. It functions as a booster for your signal bringing out the mids and highs, without killing your low end. Guitar Player called it the best. Plug it in. Crank it up. You'll hear what all the fuss is about. Tone, drive, and level controls.
---
Dunlop GCB95 Cry Baby Wah Guitar Pedal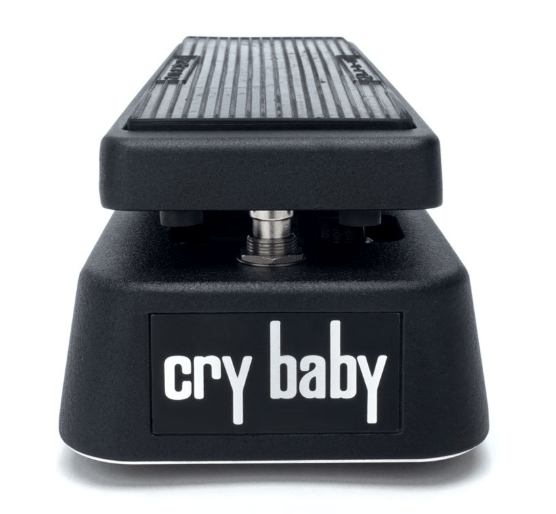 That's it. One of the classic guitar pedals that got it all began. The Dunlop Original Cry Baby Wah Wah Pedal is one of Dunlop's most popular pedals, with wah being one of the most popular impacts ever. This iteration of the legendary Cry Baby Wah remains true to the orginal Thomas Organ design from 1966. The Dunlop Crybaby, owing to its use by some of the legends of Rock, is the original and often referred to in Rock circles. Jimi Hendrix, Eric Clapton, Buddy Guy, David Gilmour, and other excellent names connected with rock music, placed their confidence in the reliable and robust Dunlop Cry Baby Wah and created some of their most famous songs.
The versatility that this treadle offers can be felt by placing down your toe and producing more treble, to heel down to emit more noise (click here for soundproofing). The amount and speed of the impact will vary depending on your style of play. The treadle can also be kept to generate a certain frequency in one place and can be used to create a required overtone.
---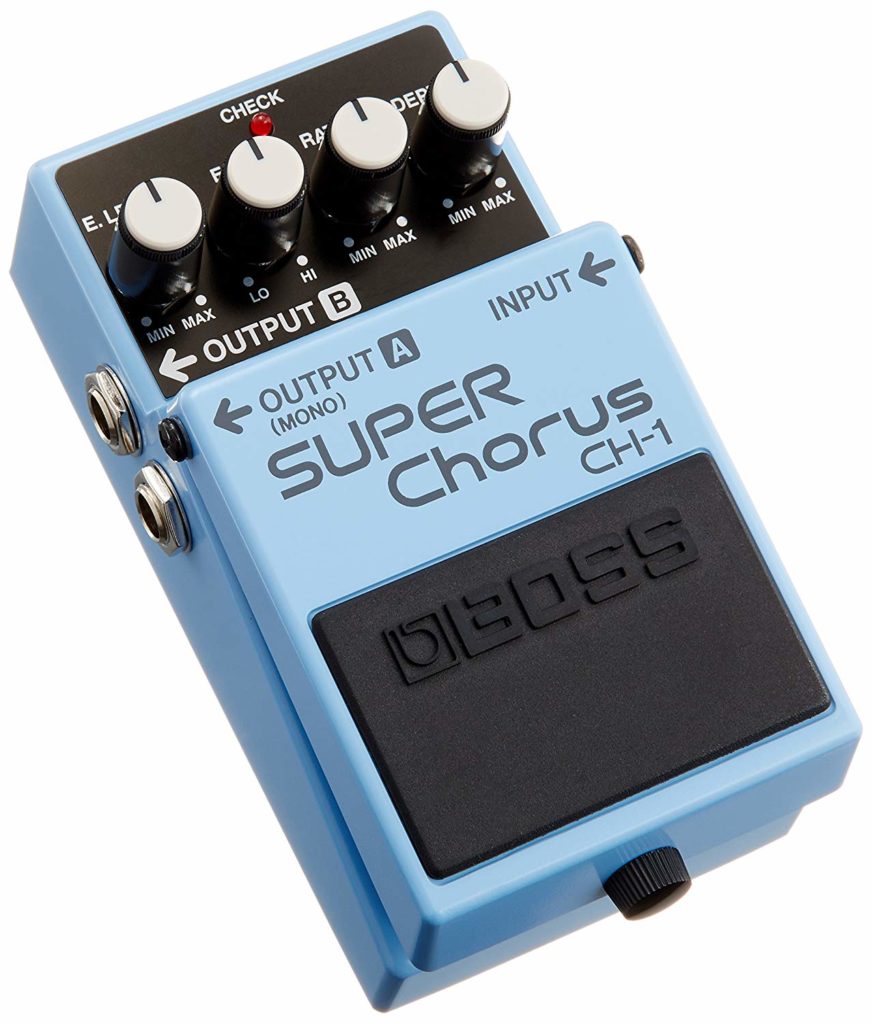 The versatile Boss CH-1 SUPER Chorus produces the swirling chorus sounds heard on many rock, jazz, country, funk, and other popular music recordings. The CH-1 SUPER Chorus delivers a clean, classic sound with crystal-clear highs and a unique stereo effect, variable between left and right speakers if you use the stereo outputs. Effect Level, EQ, Rate, and Depth knobs give you complete control over this industry-standard chorus effect.
The BOSS CH-1 Stereo Super Chorus Pedal, is one of those that has never left the manufacturing process, its high demand and quality have enabled maintained reworks and improvements on this specific "stomp-box" for over 20 years, despite of the competition. Truly a stand-out masterpiece, providing rich and varying effects. If you are looking for a very affordable chorus pedal, often regarded as one of the best by esteemed guitar lovers, the CH-1 will deliver.
---
TC Electronic Hall of Fame 2 Reverb Pedal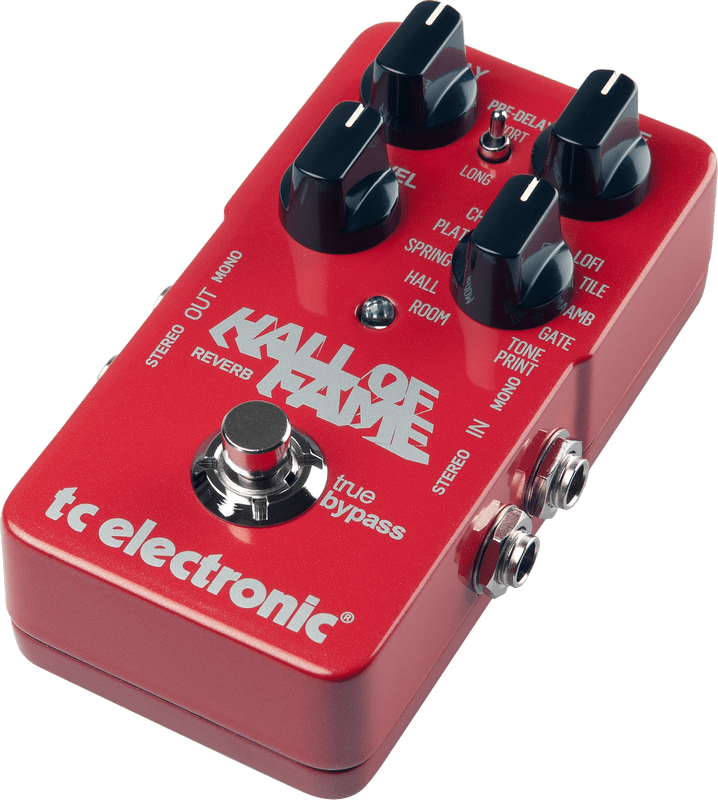 TC Electronic are one of the finest guitar product manufacturers out there, their company is situated in Denmark, with a long lasting reputation for providing awesome quality products. This dynamic pedal offers a plethora of modifications aimed at the slightly more experienced user, or a newbie enthusiast who wants to get in there and try everything out. This pedal features TonePrint, a quality exclusive to TCE, crafted from the ground up with the help of real-life musicians, amazing custom sounds available for tweaking to your preference.
Using the same reverb algorithms found in their studio processors, this pedal is intended to be a compact version of the stompbox, with the added versatility provided by the 10 reverb types of the pedal and Tone Print technology, allowing you to load the settings that artists use or help create. They have two variants , Hall of Fame 2, and Hall of Fame Mini, both worth checking out!