If you don't have time to do thorough research, but you need to find the best student violin, you've come to the right place. After carefully studying several pointers such as customer feedback, expert reviews, we have concluded that the 10 violins are best options for someone who is looking to start learning violin without breaking the bank.
Before we dive into the specifics of violin brands and models, let's first understand what you should be looking for in a student violin.
Rent or Buy?
If you're shopping for a beginning student, you may be tempted to rent an instrument since your student's commitment is unproven. There are some good reasons to opt for a purchase instead. These include:
Long-term rental fees can add up quickly. A perfectly playable entry-level violin can usually be purchased for less than the cost of a year's rental.
A well-chosen beginner's instrument that is well cared for will retain its value and usually return a substantial part of its purchase price when sold used or traded in for a better quality instrument.
Higher-quality violins may appreciate in value over time; their voices "open up" as they age.
Rental instruments may be a bit worse for wear with nicks, scratches, tape marks on the fingerboard, and come with used strings and an already rosined bow. You're also liable for any damage on a rented violin.
Size Matters
Never purchase or rent a beginner violin that is too big. Playing on the wrong size instrument creates serious problems with technique, and can eventually lead to chronic neck, back, and arm injuries. Be sure to know exactly what size will work for your student (or yourself, if you're the beginner). Don't forget to account for age, body size, hand shape, and physical strength. If in doubt, going with a smaller size is better than playing on a violin that is too big.
Tone
Being made of wood means that every violin will sound slightly different. Some violins sound bright, while others sound dark. Some will have sound that varies across the four strings. Some are naturally louder than others. Play enough on each instrument you are considering and you can and will hear these sound differences. Choose the one you prefer.
Verify the Return Policy
In a perfect world, you'd try out several violins, settle on the one that best suits your size, ability, and preference, and that would be that. Once in a while, though, that's not the case. Also, in the case of online violin purchases, you need some time with the prospective instrument(s) to find "the one."
For this reason, most well-known violin sellers offer some version of a return policy. Policy terms may vary, but ideally you should be able to return the violin (in the same condition as it was when you purchased it) anytime between 14- and 30-days from the original purchase date, for a full refund.
---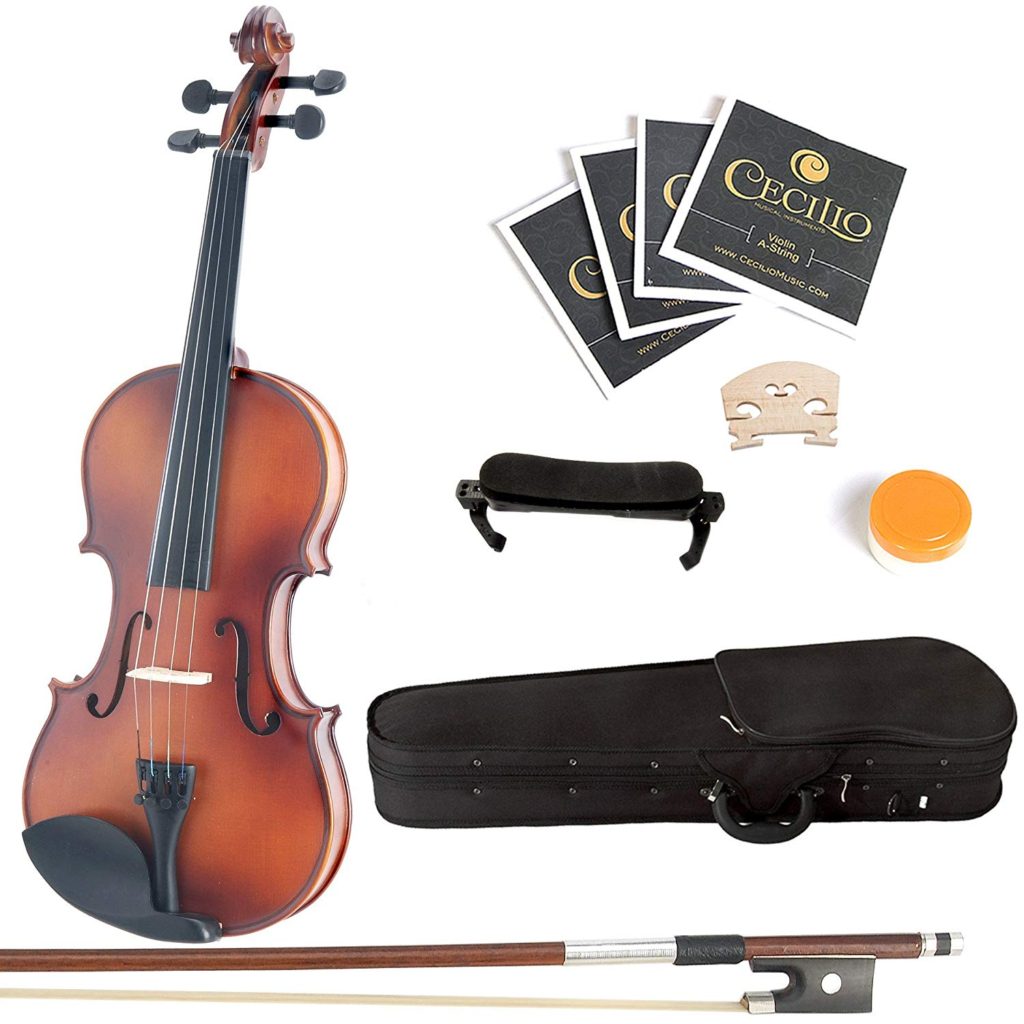 As a beginner, the Mendini 4/4 MV300 full-solid Wood Antique Violin is an ideal violin to use for learning and practice. It is fabricated from solid spruce and is finished with its side wood created from maple. It is completely hand-made so you can be sure that full attention is paid to details regarding design.
An alloy tailpiece includes the chin rest as well as to this tailpiece are attached four fine tuners. To play the violin, you need a bow, and the bow that includes the Mendini 4/4 MV300 is made from Brazilwood and quality Mongolian horsehair. If your violin gets damaged within one-year, you are entitled to a one-year warranty from the manufacturer.
---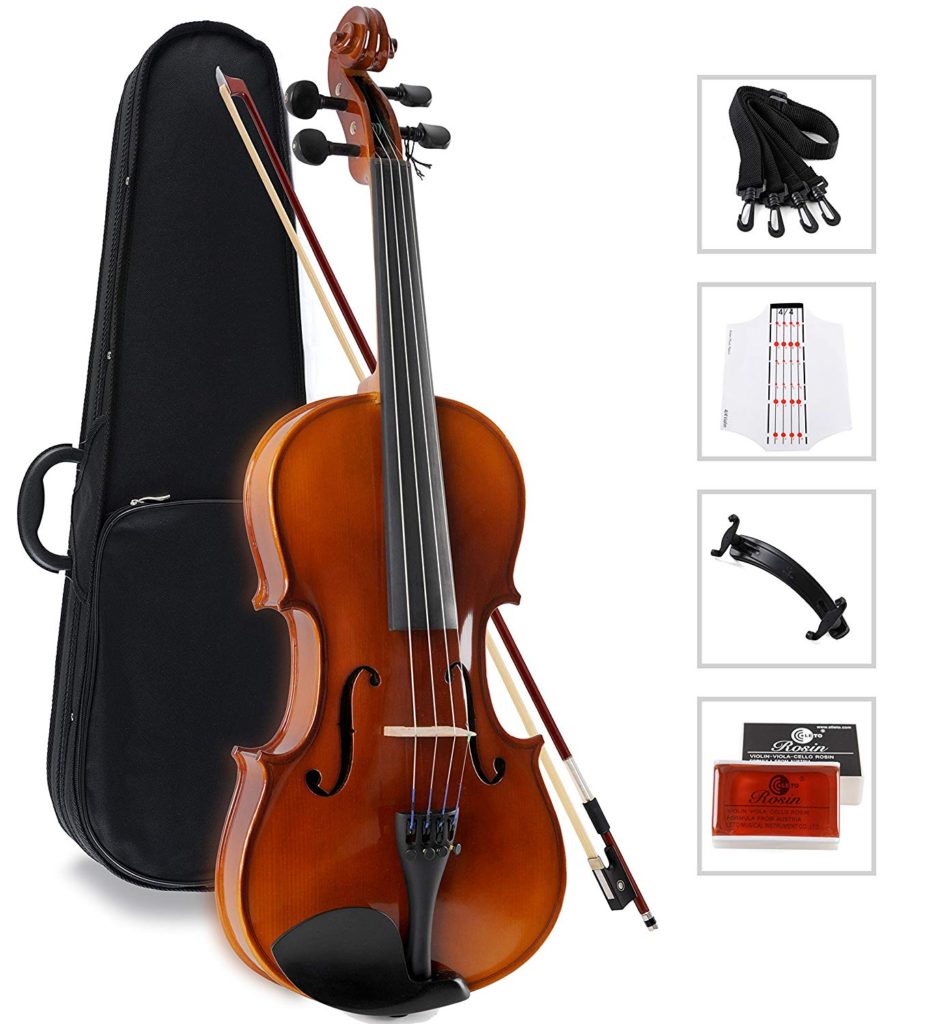 This is a very nice-looking violin that any beginner would be happy to have! The tone is nice and the general feeling the violin gives you is pleasant. A bow, a shoulder rest, a hard case, a rosin and stickers for your fingerboard are included.
The case is water-resistant, which is great since the violin needs to be kept dry at all times- no more running in panic to try to save your instrument! It can be carried with the handle or as a backpack, which makes it easy to bring with you when travelling. It also has a big pocket for you sheet music, which is very convenient. The strings are from D'addario and enhance the tone of the violin.
---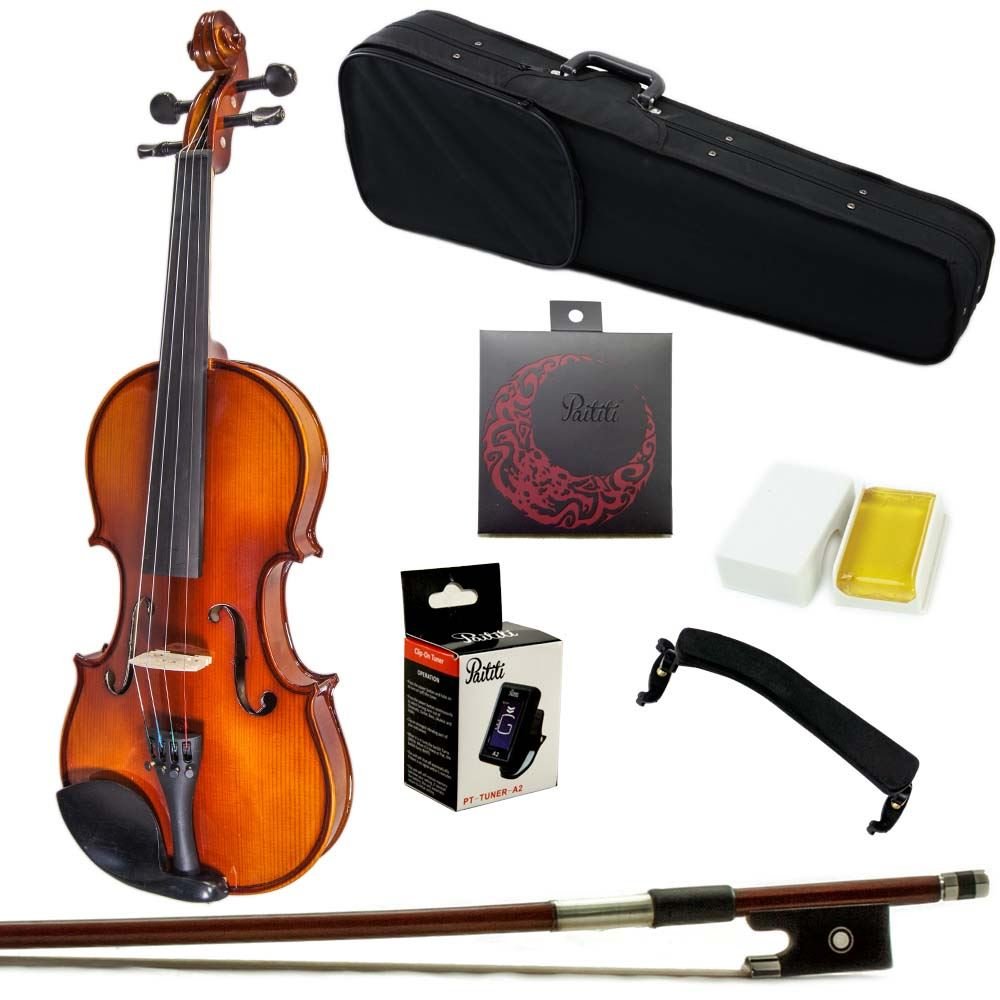 Being a beginner violin player means that you are willing to devote your time to studying and improving your abilities to play music. With the help of this violin starter kit, you can accomplish everything that you've always dreamed of.
Besides the violin itself, the set contains one Brazilwood bow, a great lightweight violin case, and other accessories. One great feature is that the instrument is made of the finest solid maple wood. After you take it out of the box, you can start playing with violin because it is already set up. Furthermore, the violin features top-class rosin cake and a lightweight triangular case with rainproof canvas exterior. The pegs, fingerboard, and chinrest are manufactured from ebony wood.
---
When it comes to a beginner violin, many students and teachers are impressed with the Crescent 4/4 Beginners Violin. It's well-made with materials that you would find in more expensive models, and it works as well as many that cost twice as much.
This is an attractive violin with a smooth, glossy finish. It plays well and has a better sound than one would expect at this price point. The biggest drawback is that it doesn't come with a shoulder rest, but you can add one to your order for just $5, so it isn't that big of a deal.
---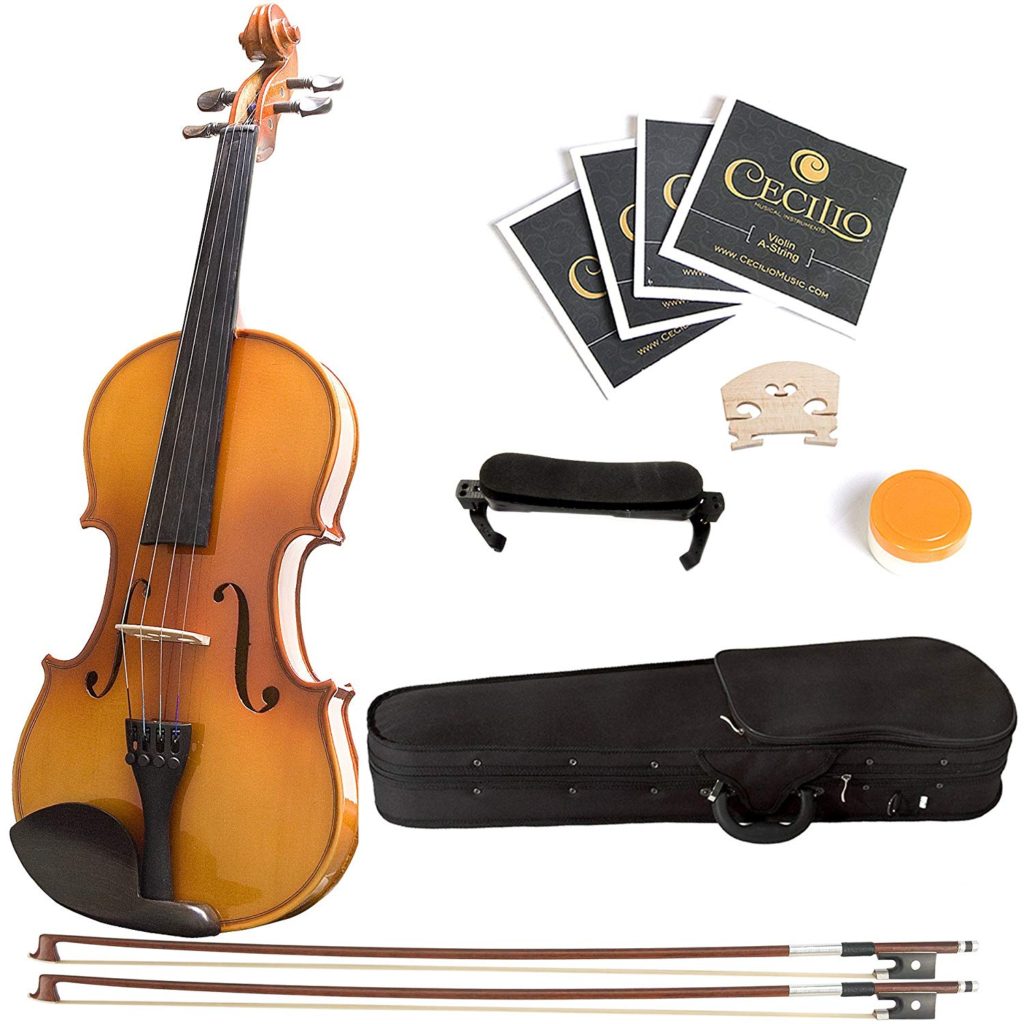 Many people tend to look for student violins and find cheap violin-alternatives. Alternatives that don't sound good, don't look good and are not motivating to play. Luckily, Cecillio took the matter into their own hands and decided to provide the market not only with a good-looking violin, but a very good sounding one, too.
The MV400 is a very popular choice among intermediate students; it may not feel like a Stradivarius when you hold it, but it sounds wonderful for a student violin. If you are tired of looking at cheap beginner violins that give you the worst sound quality, you should definitely take a look at the Mendini.
---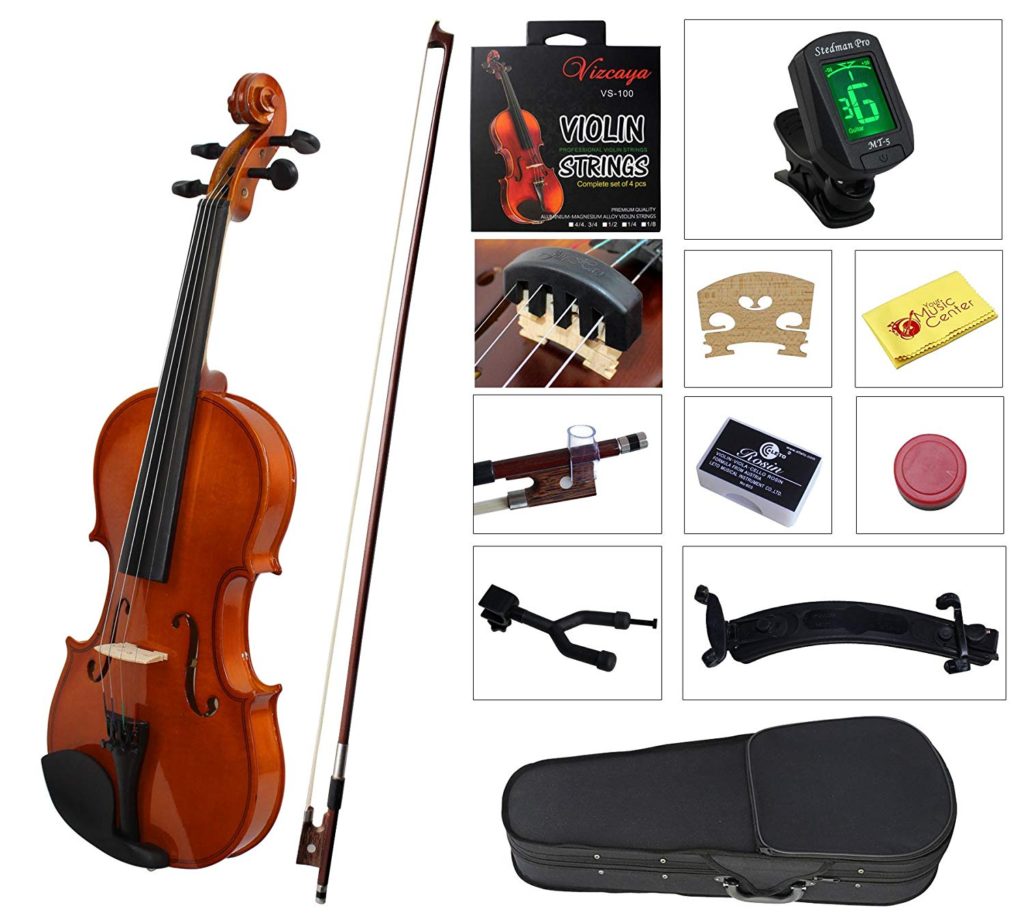 This is another specially designed violin for beginners. Its back and sides are made from maple wood while the top is made of spruce. Violins made from maple wood have been known to come out strong and give a great performance, so the YMC VL-NR 4/4 Violin is no exception when it comes to strong and durable violins.
The durability makes it a suitable violin for beginners to learn, and the good part is that it is a cheap violin. In the starter kit, we have everything you need to get started which include a bow made from Brazil wood, polishing linen that makes the violin shining and a carrying case in which you can carry the violin around.
---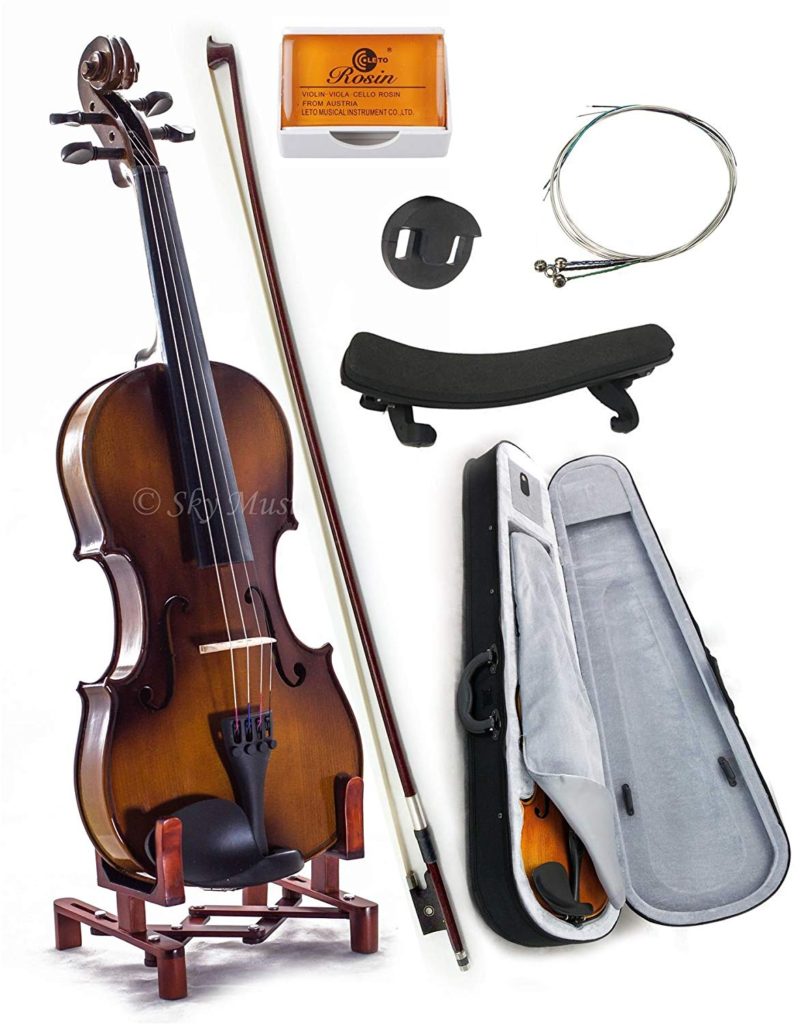 Beginner level violins, these days, now feel and look like professional-level ones. The beautiful Sky Violin is perfect for amateur violin players. It has a professional setup and is ready to be played right away. It has a solid top made from spruce, and the neck, sides, scroll, and back are all made from solid maple that has been well-flamed.
In the package, you will find one violin, one strong shoulder rest, and one bow made from Brazilwood all placed in a lightweight triangular violin case that has a shoulder strap that has a pocket in which you can keep a music sheet and your violin accessories.
---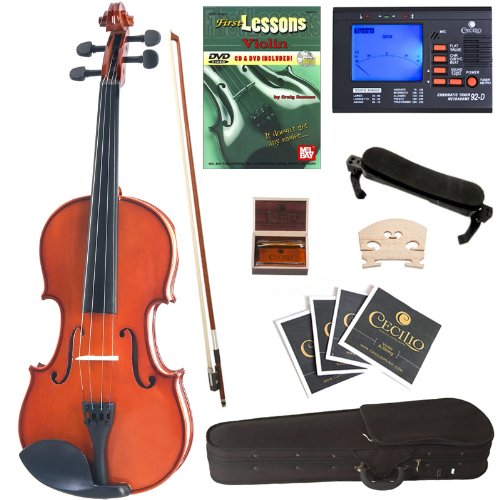 The Cecilio CVN-100 violin is a perfect violin for beginners or students. It includes a hand-carved maple back, hand-carved solid spruce top, and sides completed with attractive varnish. This violin is tailored with a chin rest, maple fingerboard, and alloy tailpiece comprising of four fine tuners which are integrated.
Accessories included with the violin are a Brazilwood bow with unbleached genuine Mongolian horsehair, modifiable shoulder rest with soft foam stuffing and soft rubber feet, a light hard-shell case with straps and pockets (making it ideal to carry if you're in an orchestra or to school), violin bridge, rosin cake, and additional strings.
---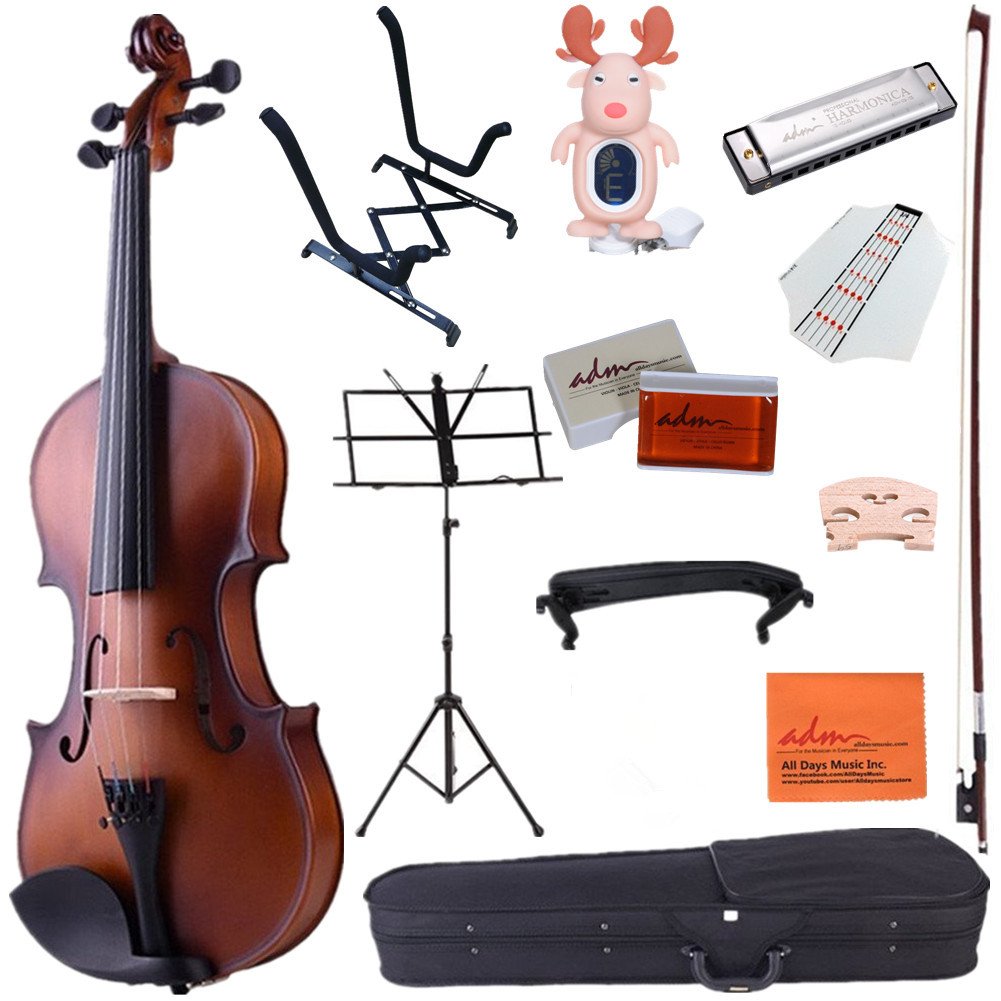 This is one of our favorites because it has all the bells and whistles. It is really a beautiful instrument that is lovely in its traditional look. If you want to try your hand at playing the violin and you don't have a lot to spare, consider this ADM acoustic violin. It is a very low-risk instrument.
It has a solid maple back and sides, a spruce top and a rosewood fingerboard. This violin is made out of tone woods with quality inlaid purfling that will help the instrument stand the test of time and regular day-to-day abuses. It is hand rubbed with a red/brown lacquer to give it a really rich look. The outfit comes complete and then some. The violin feels terrific in your hands and can be ordered in the original red-brown finish.
---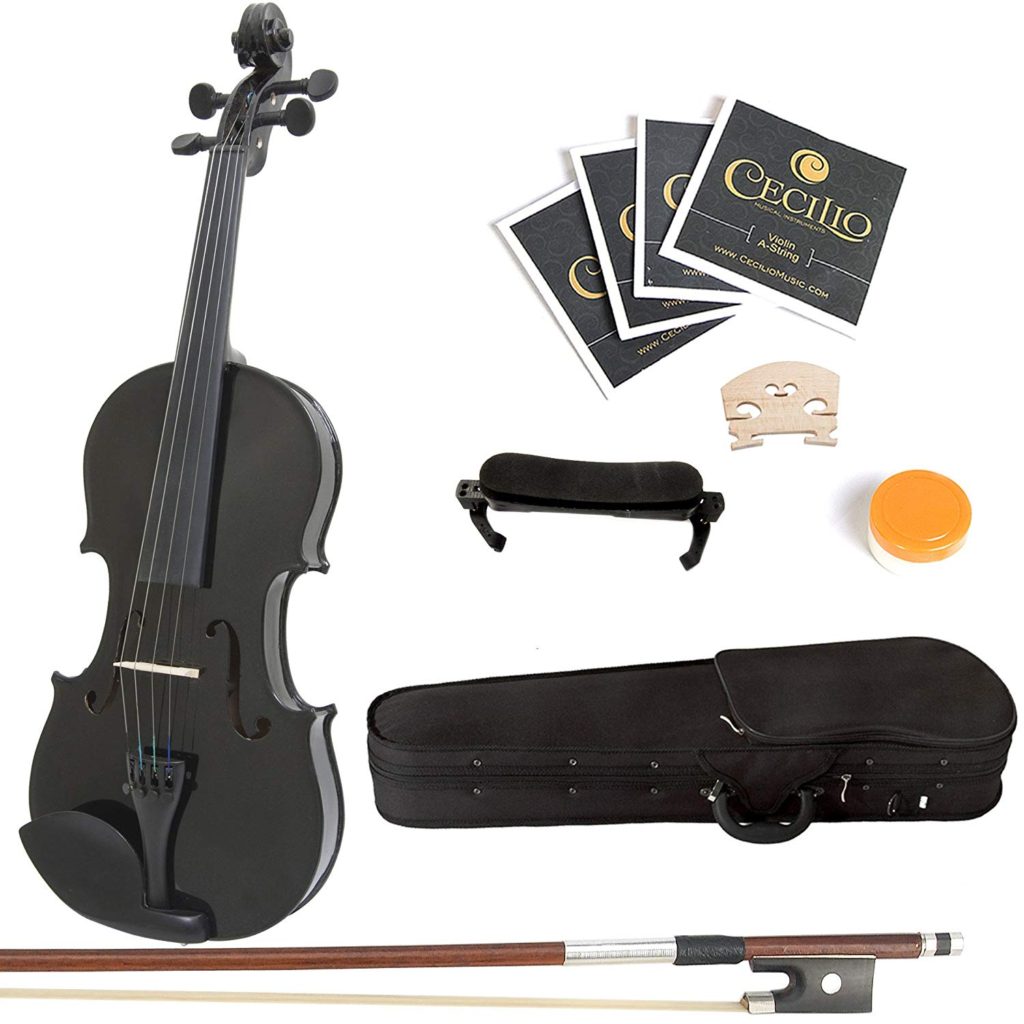 This model comes from Cecilio who is famous for creating really great student violins that are affordable. It offers a solid spruce hand carved top with solid maple back and sides.
It is a really well-made violin that looks great, feels great and plays great. It comes in several different colors with a matching bow. The outfit is complete and very affordable. As an added bonus you get a violin from Cecilio that comes with a 1-year warranty against manufactured defect.