Metronome is an essential practice tool for musicians, as they produce a steady and consistent beat to help you master tempo and rhythm. No matter you are beginner or professional player, no matter you are solo or ensemble player, and no matter what instrument you play, you will need a metronome during practicing, rehearsals and recordings to help set the timing, and to help everyone stay on tempo.
If you are having a hard time figuring out how to choose a metronome, we've made it easy for you. In this article, we've listed 10 best metronomes currently available on the market, as a bonus, we will also show you 5 great free online metronomes, whatever you need, we got it covered!
Types of Metronome
There are three main types of metronomes: mechanical, quartz and digital.
Mechanical metronomes have a pyramid-like shape, with a swinging pendulum down the middle. The pendulum swings left to right, similar to a windshield wiper, and the metronome emits a clicking sound each time the pendulum passes the center of the device.
Quartz metronomes use blinking lights to signal the beat, though you can often choose an auditory cue as well. You can change and adjust the desired tempo using a dial.
Digital metronomes are the newest style of metronome, and are often more portable and discreet than the traditional wooden pyramid block. The best digital metronomes even offer a range of different tempo cues, from clicks to electronic beeps to drum sounds too. Like a quartz metronome, it also has an indicator light that blinks to your desired tempo.
Best 10 Metronomes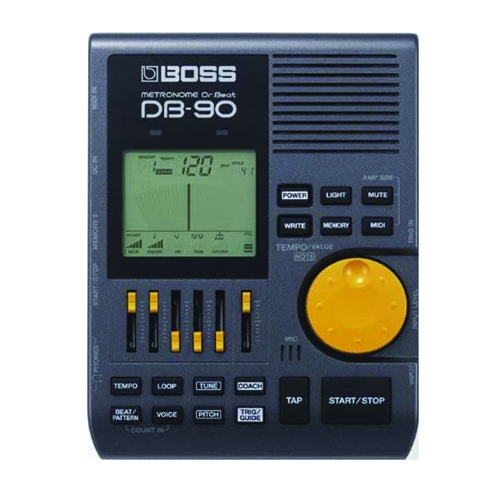 Practice in style with the flagship of the Dr. Beat Metronome line. The new DB-90 is loaded with quality sounds and drum patterns to make your practice sessions less mundane and more musical. There's a Rhythm Coach function with an onboard mic, a reference-tone function for tuning, an Instrument input, MIDI input, and other handy tools to make learning fun and effective. Customize quick rhythms with Note Mixing function or use one of the dozens of built-in play-along drum patterns. Dedicated sliders, buttons, rotary dial, and large backlit LCD for user-friendly operation. Footswitch control for hands-free play/stop, and MIDI input for sync to external sequencers.
---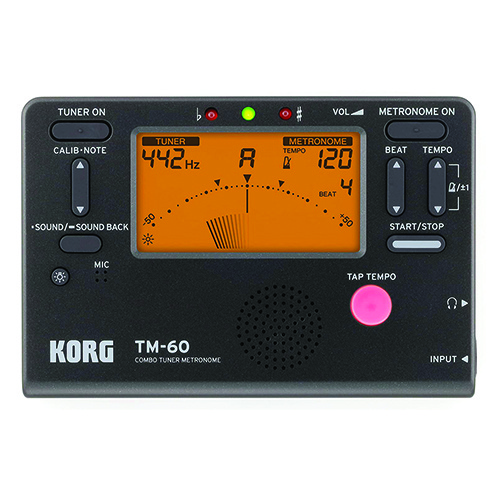 The best-selling Kong tm series, which lets you use a tuner and metronome simultaneously, has been revamped. The TM-60 is the newest model and features a larger display that can show the tuner and metronome simultaneously. The battery life has also been dramatically improved. With the all-new TM-60, you'll be able to enjoy pitch training and rhythm training without having to switch functions or be concerned with battery life. The newly designed stand and battery compartment, as well as the convenient memory backup function, make the TM-60 kora's best tuner/metronome yet.
---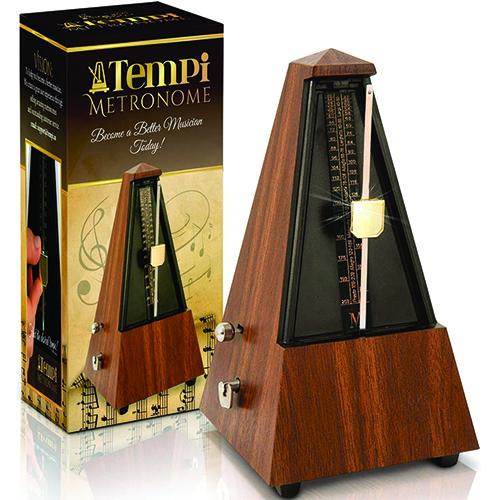 TEMPI technical metronome establishes accurate musical timing, helps play at a proper pace, provides a firm sense of rhythm, develops finger agility and preciseness, shows a visual sense of timing from the pendulum and can be used by a music lover, beginner or musician of any age or experience! No batteries, average 20 minute wind for longer practice and less frustration, steel gears for durability, 40-208bpm for choosing any tempi, and easily adjustable/optional 0/2/3/4/6 beat bell! The outside is a beautiful plastic, mahogany grain veneer.
---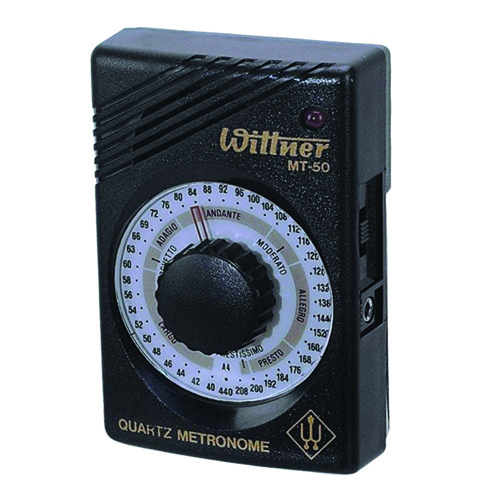 This digital metronome is a great choice if you're practicing on your own, or want to stay on beat without disturbing those around you. The unit comes with a pair of earphones that let you plug in, so you're the only one hearing the sounds coming from the device. Set the tempo using the rotary dial. The tempo range goes from 40 to 208 beats per minute. The audible "tick-tock" sound is more direct and clear than the clicking sound of other metronomes on our list. The metronome is made from a durable plastic construction that won't dent or scratch if accidentally dropped. The metronome comes with a pop-out metal stand in the back to let you prop it up.
---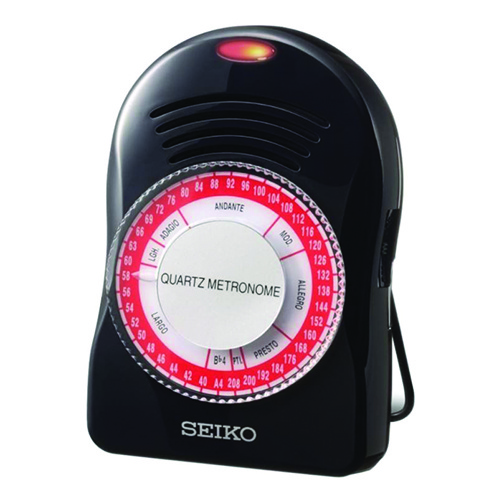 The sq50-v Quartz metronome is an upgrade from Seiko sq50 and features new look, Easy operation tempo dial, adjustable volume, two selectable click tones (high and low), and two tone generators (a and Bb). dial-in virtually perfect tempo settings and an a=440 tone for tuning. Tempo range from 40-208bpm can be set easily from the two-position rotary dial. A red LED can be selected for a visual beat or combined with a click sound for visual and audible beat-keeping. Includes earphone jack. Built-in fold-out stand on the back help keep metronome in position when in use.
---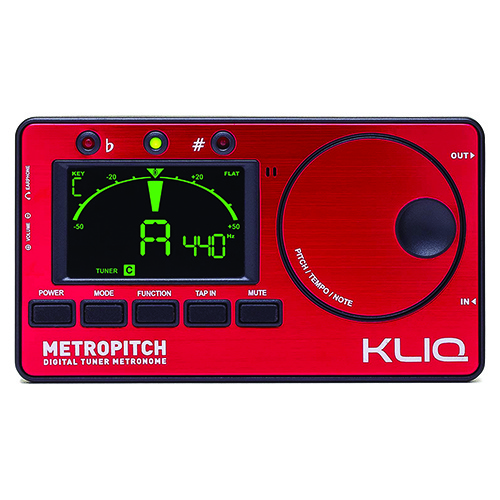 The chromatic tuner has a tuning range of A0-C8 and a calibration range of 410-450 Hz, making it useful for virtually any instrument. There are also preset tuning modes for Guitar, Bass, Violin, and Ukulele, along with transposition settings for Bb, Eb, F, and D Woodwind and Brass instruments. Tune your instrument with the built-in mic or via the ¼" input jack which accommodates electric instruments and clip-on contact mics. The large digital LCD gives you a very easy-to-read needle type display, and changes color from red to green when you are in tune. The 88 Note Tone Generator is perfect for ear training, or as an alternate way of tuning.
---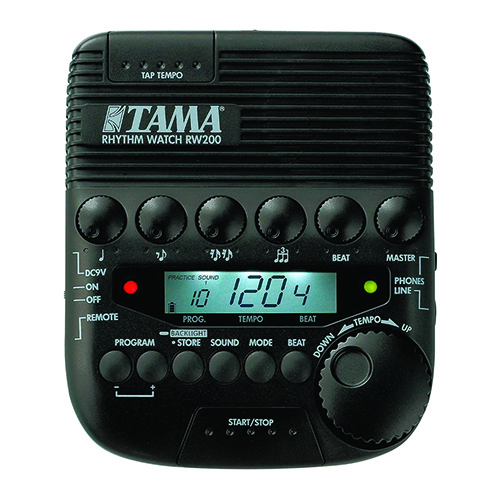 Tama packs every must-have tool you need into the RW200 and gives you the control you need to customize your beat-keeping. It's great for practicing your chops when you're on your own – and also for making sure you're jamming at the right tempo on all of your band's tracks. Store your favorite grooves into memory – the RW200 lets you store 30 different tempo/beats into memory for instant set recall, so you can get right into the groove. The large, easy-to-see fly wheel lets you make fast tempo adjustments and scroll through your settings and the big and brightly backlit LCD display helps you keep an eye on it all!
---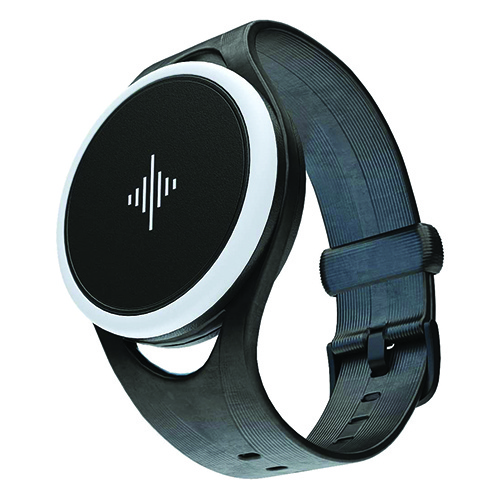 The Soundbrenner Pulse is the metronome for the 21st century – wearable, intelligent, and powered by vibrations. It becomes even more powerful when combined with The Metronome app by Soundbrenner. Using the app, you can create and save complex rhythms, organize them into setlists, and even choose custom vibrations and LED colors. Feel the beat with vibrations instead of annoying clicks. Vibrations are 7x more powerful than the average vibration of a smartphone; you will never miss another beat. Free up your ears to focus on the music. Set your rhythm with tap tempo. Simply tap three times and the tempo will follow.
---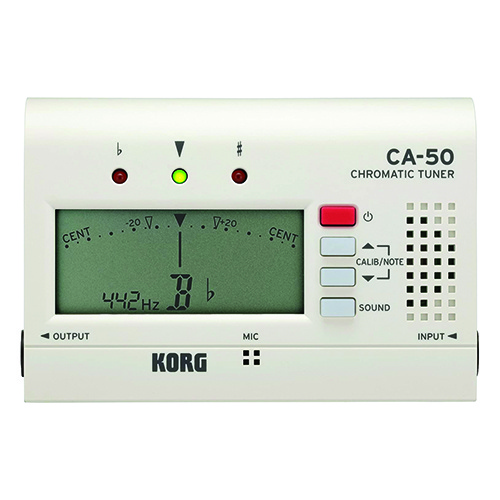 A portable, pocket-sized tuning solution. The CA-50: the standard tuner for orchestral instruments, now with even better visibility. The CA-50 features high-precision tuning functionality and a slim and compact design. The new CA-50's display is now, even easier to read. Long considered the standard in chromatic tuners, the CA-50 offers simple and intuitive operation and a satisfying tuning experience for every instrumentalist. The CA-50 improves upon its forerunner's design in many ways. Its display features larger note name indicators, making it a breeze to read. A new mechanism prevents the tuner from overturning, making it less likely to slide off your music stand. Beyond that, its battery life has been increased to up to 135 hours.
---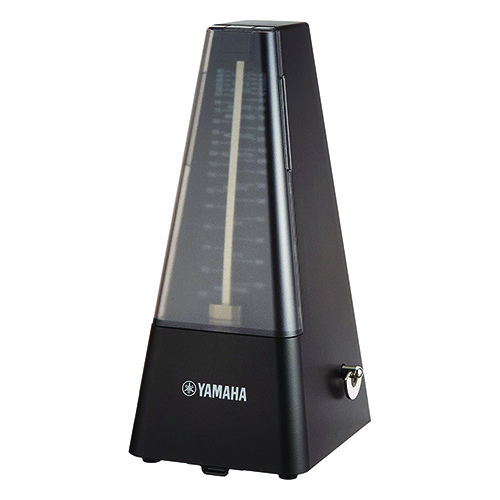 Many people swear by Yamaha products, and this is to be expected. There aren't many musical instruments or accessories Yamaha don't make a version of. This could even be the best metronome for guitar playing as it is loud. This means it is won't get drowned out even if you are playing loudly. Like a lot of mechanical metronomes, this has a pyramid design. The tempo range of 40 to 208 BPM is pretty standard for this design. The metronome noise is a bell sound. The beat bell can be set to 0, 2, 3, 4 or 6 beat which is fine for most practice and performing needs. This is a reliable metronome that should last years if treated right, and it doesn't need batteries.
3 Free Online Metronomes
Of course, if you only need metronome for one time use or do not have a metronome at hand when needed, you can use some of the following free online metronomes:
MetronomeOnline is an Internet classic, and it is often the easiest URL for a person to remember (hence it's popularity). If you Google online metronomes this one usually comes up first. Unfortunately although it is fully functional and does the job it is made for it is also kind of lame to look at. It provides no visual representation of the beat and cannot be set to complex rhythms. Still, for young students who need a quick and simple online metronome this one is usually my first pick just for simplicity.
The people that put together BestMetronome went all out with versatility and that makes this site my top pick for the best online metronome available. From the home page of their site you can access several different varieties of metronomes from an attractive traditional style spring-wound metronome to an amazing fully customizable one that allows you to create multiple measures of custom rhythm patterns. The simple metronome can be embedded in an iframe on your own school or studio web page and it is much more visually appealing to look at than most of the other competitors.
If you head over to the Gieson site you find a very retro looking online metronome that looks vaguely like an old 1970's era police scanner. It has a little bit of customization available but on the whole it is pretty basic. You can change the tone of the beep and select up to eight beats per cycle but beyond that there is not a lot of functionality. The app can apparently also be downloaded to your local computer though, so the ability to have offline use is a big plus.